Cortana now works with more smart home devices and IFTTT
Cortana can now work hand-in-hand with devices from LIFX, TP-Link, Honeywell, and more.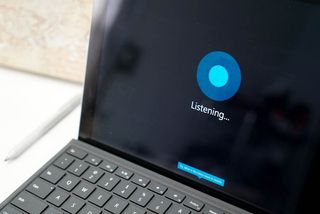 Microsoft added support for a handful of smart home services to Cortana last October, and now it's adding even more to the mix. The company announced today that Cortana will now work with smart home devices from ecobee, Honeywell Lyric, Honeywell Total Connect Comfort, LIFX, TP-Link Kasa, and Geeni.
As with its previous connected home skills, Cortana will allow you to control these newly supported devices with your voice. For example, if you own a connected ecobee or Honeywell thermostat, you could say "Hey Cortana, set the living room thermostat to 72 degrees." Likewise, if you have connected lights from LIFX, Cortana can be used to control them.
In addition to its new device skills, Cortana also now works with If This Then That (IFTTT). With IFTTT, you can use Cortana to trigger a number of interactions from the more than 600 services that it supports. "Using IFTTT, you will be able to customize your experience by creating your own phrases to use with services on IFTTT," Microsoft says. "For example, you could turn your lights off by saying, 'Hey Cortana, let there be light' or put money towards that next concert trip on Qapital by saying, 'Hey Cortana, penny for my thoughts.'"
You can also set up IFTTT with Cortana to trigger multiple actions with one phrase, Microsoft says.
These new skills are currently available via Cortana on Windows 10, Android, iPhone, and the Harman Kardon Invoke. Like the previously available smart home skills, you'll have to log in and set these new devices up through the "Manage Skills" portion of Cortana's notebook.
Windows Central Newsletter
Get the best of Windows Central in your inbox, every day!
Dan Thorp-Lancaster is the former Editor-in-Chief of Windows Central. He began working with Windows Central, Android Central, and iMore as a news writer in 2014 and is obsessed with tech of all sorts. You can follow Dan on Twitter @DthorpL and Instagram @heyitsdtl.
They add all those support but I haven't seen anywhere details on how to use it. I've got a Nest, a assigned Cortana to it, but no instruction or details on what I can doh with it and how.

You open Cortana, go to Notebook, and select Manage Skills.

That's how you connect. I think what wpcautobot was asking was more along the lines of "what do I need to say to achieve [x]?" Or at least that's what I came to the comments to look for. I have now paired my ecobee. Can I say "set to 21 degrees for 3 hours"? Can I say "set to the home profile until noon?" And so on.

Here is some info about commands for echobee https://support.ecobee.com/hc/en-us/articles/360000975492-What-commands-... Looks like Nest doesn't give any information about Cortana on their website.

This page has commands for each device: https://www.microsoft.com/en-us/cortana/skills/featured BTW, this is not specific to cortana, Alexa and Siri don't specifically state each command you can use, you need to guess. But that is kind of the point, you shouldn't need to remember all the commands, the AI should be able to determine what you mean.

You forget the part where you need to move to the US first. An important stage in the process that people need to be very aware of I think, because of all the requisite steps this one takes the most time and money to achieve.

This... I opened Cortana, went to Notebook and realised I don't even have "manage skills" as an option. I feel like region locking these features is actually more work for Microsoft. Why do they do it!?

I bought an invoke and use it in Canada. I've got a Surface 3 on insider and on US region No home automation yet and so far, not finding a need for any of the skills outside from that. Been meaning to use OpenTable skill but usually when I finally decide after browsing yelp, they are not on OpenTable anyhow!

Totally. They keep improving further for US but don't even make a slight move to enable anything that's years old for other regions.

here you go https://www.windowscentral.com/e?link=https2F%2Fclick.linksynergy.co...

Yessssss! This will help with the invoke ! So do I jump on the ecobee or wait for GLAS? I assume with IFTTT I will be able to use it to control lutron caseta wireless dimmers? I have a Smart things hub as well. Now just get Amazon or Google music streaming on the invoke and I'm happy as hell!

I don't have the comparison vs GLAS, but I will say that we love our ecobee3.

Wait for Glas pls.. That's a beautiful looking thermostat. I have a question for Microsoft. Why can't Cortana on my Xbox (or PC or mobile device) control my thermostat if they are all connected to the same wifi? Why do I need a separate speaker device?

On the blog post from today it states "You can control these devices using Cortana on Windows 10, iPhone, Android, and the Harman Kardon Invoke speaker"

Those all show up on Windows 10 Mobile, too.

I highly recommend the Ecobee. Sure, GLAS looks nicer but the ability to deploy sensors in your house that the Ecobee can use to determine what it needs to do to adjust the temp in the areas people are actually in is a killer feature for me

I have a Honeywell Thermostat and some of my SmartThings sensors can tell temperature. So I went with the Honeywell over Ecobee due to that and cost. I can trigger it to do things using one of those sensors.

I suspect this is still US only, but does IFTTT require a connection from the Cortana notepad? If so, I'm screwed. Dammit, Microsoft, wake up already.

Yep, STILL the manage skills option remains a US exclusive. I've been waiting for IFTTT compatibility with Windows devices for an age, and when MS finally manage to get a little bit of it working, they hitch it to the sinking Cortana ship so practically no-one can get access to it. Well done Ol' Nads, another triumph. You do love your slow hand claps don't you. I think it's time we all tried to work on a hack to get this enabled without having to change the region to US (which has many bad side effects). It has to be easier than waiting for Microsoft's staff to stop beggaring about and actually get something done in a practical time frame. I mean come on, the thing already works well with English, it can't be that hard to enable a skills option in a menu can it?

One further reply. I just asked Cortana if she works with IFTTT, and her reply was 'Consider this a polite dodge of the question...'. They've taught her to snub customers pretty well then. Does that count as a skill?

I'm in the UK and it sort of works. I don't have the "manage skills" in Cortana, but I connected to Cortana from within the IFTTT app on my Android phone, setup a couple of recipes and I can trigger them from the Cortana app on my phone and from Windows 10. Two caveats.... 1. The response from Cortana doesn't work (the recipes work OK, but Cortana doesn't say what I've asked her to say back in IFTTT.) 2. The Cortana integrated into Microsoft Launcher doesn't trigger IFTTT tasks, only the Cortana app.

Too bad they broke Cortana on Win10 mobile in the process. Search no longer works through Cortana (believe me, I have tried extensively). Normally I would assume this is a bug that they will fix shortly, but being Microsoft, it is equally likely it will never work again.

Search works fine for Cortana on a Lumia 950XL using the latest release version of the OS. Sounds like you have some issue specific to your handset. Hard reset time?

Exactly. I search all the time using voice on both my 1020 and my 950. The only issue I've run into is that sometimes searching for directions doesn't open the Maps app.

Has anyone seen this - auto discovery of skills on Cortana - that surely beats Alexa? https://techcommunity.microsoft.com/t5/Cortana-Skills-Kit-Blog/Cortana-h...

Mine has had auto-discovery of skills from day 1. I say 'Hey Cortana, what skills have you got?' and she replies 'Erm, faff all I'm afraid, but I can tell you the weather and search. Oh, but the search will be turned off soon... I can tell you the weather though, right? Awesome!'.

Haha, funny. I feel your pain as it sucks it isn't about outside of the US - but I do think this is a pretty neat feature!

Cortana doesn't beat anyone at anything.

I disagree with that, sort of. She (it?) is by far the best sounding digital assistant.

It's a pretty tight race between her, Siri, and Bixby. Bixby is probably last, then Siri, then Cortana.

I have TP-Link Kasa smart-plug connected an in the manage skills section there is nothing listed. It is pretty useless to me as of now.

I connected Cortana to IFTTT as soon as they announced it yesterday and created a trigger for my Kasa smart plug. I didn't even know they'd created a Kasa skill already...

No it's not as I'm living in Jamaica and using my Invoke to control two tp-link mini smart plugs which my lamps are connected to.

For Cortana to succeed Microsoft need to let her work in all regions, America, Europe Africa and Asia on the way they will fix and update her on getting better. Ditch the US only thing It's annoying

I have to wonder if the limitation is due to Microsoft not having good voice profiles worked out similar to the issue Samsung is having with Bixby. Bixby is terrible in the US, but supposedly works great in Korea. Considering it's taken this long to get a few skills added, I wouldn't hold your breath for increased support throughout the world.

Super cool! Oh wait... I live in Poland... I can't use it without workarounds.
I need to find another, more accessible girl like Siri

Means nothing to people outside US. I've already got things setup with my Echo Dot. Cortana presence is non existent.

I've got Google Home Mini's and an Android phone but I still wouldn't mind making sure future smart devices are also compatible with Cortana, especially as I don't have a Google Home in my home office, where I am often on a PC. I think there can be room for both when it comes to automation, it's more of an issue where it comes to reminders you really need to just pick 1 device for that

It's more like a small step in the right direction.

support for IFTTT, but still nowhere near supporting more regions and languages. Sigh.

This only works for a small percentage of the world population.

It's great to see some activity with Cortana and some partnerships with services that people actually use! Hopefully this isn't just one big update before going quiet again.

Why did this take so long when Cortana was available before Alexa? It's, good news, but it's more bitter than sweet for me. I may add some skills to use on my PC just to experiment with, but I can't help but feel it's too little too late. We'll see, maybe they will finally catch up someday, and provide the best experience of all the assistants.

Is there a way to see a list of smart home devices that Cortana has discovered?

Honeywell termostats work only if you live in USA, Canada. Dosn't work in Europe! Only with honeywell US server work. SUX!

I'm just happy Microsoft tis moving forward with something rather than killing another consumer facing product.

MSFT has left Cortana slide, and now anything is too little and too late. Pity.

I assume I can configure Cortana to respond without having to say "hey" all the time. Hey Cortana turn on the light.
Hey Cortana turn off the light.
Hey Cortana feed the dog.
Hey Cortana let the dog out. It's a bit tedious with all the extra hay [sic]. In fact I'm doing this with Alexa (no hay required) and it gets a bit tedious anyway especially when you have to repeat commands. Need to change this to a one syllable name. Bee sting the dog. 🤨 ooh Bea feed the dog. Ash, Fern, Pat, Kim... https://clickbabynames.com/36117/100-one-syllable-girl-baby-names

This is all nice of course but.... still no Xbox integration? smh

Anyone know how to use invoke with ecobee?