Cortana begins to receive China-specific features for Windows Phone 8.1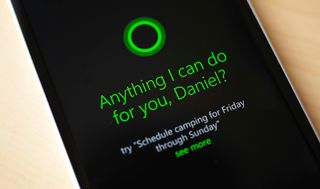 Windows Phone 8.1 is technically out now with the Lumia 630 slowly hitting markets, but its personal assistant Cortana is on a longer release schedule. According to a new report, Microsoft is evidently hard at work to regionalize the service, making it more useful for those outside of the US. LiveSide is reporting that Cortana – enabled through a region hack on Windows Phone 8.1 devices – has some unique offerings for those in China.
Users who have a Windows Phone 8.1 device (or the Preview for Developers) don't need to do anything besides to the region hack to enable Cortana in China.
Once enabled, the Chinese IP address will allow personalized content to the phone, including:
Daily Routine: Beijing driving curbs schedule.
Celebrity: celebrities news and social activities which is provided by Bing Score, a rank service developed by Bing China.
China Watch: public holidays schedule, Bing Dictionary "Word of the Day" and the Beijing Movie Festival schedule.
Lottery: lottery drawing date and results.
Movies and TV: top movies and TV in some categories from Youku.
Weather: temperature in Celsius and air pollution index.
The air pollution index is interesting because it seems to mirror the recent Microsoft Research app 'Urban Air', suggesting that tech is being merged into Cortana. Likewise, even if you're not in China, it's fascinating to see how Microsoft is personalizing the service for each region. While such an endeavor takes time, it gives a much more personal experience, something that is boasted about with Cortana.
If you're outside of the US, what region-specific things would you want Cortana to tell you every day? Sound off in comments with your region and wish list!
Related Reading
Source: LiveSide.net
Windows Central Newsletter
Get the best of Windows Central in your inbox, every day!
Daniel Rubino is the Editor-in-chief of Windows Central, head reviewer, podcast co-host, and analyst. He has been covering Microsoft since 2007 when this site was called WMExperts (and later Windows Phone Central). His interests include Windows, laptops, next-gen computing, and for some reason, watches. Before all this tech stuff, he worked on a Ph.D. in linguistics, watched people sleep (for medical purposes!), and ran the projectors at movie theaters because it was fun.
I didn't see any Chinese word in my Cortana. I am in Beijing...

Try telling...fg xvhfzzfbcxdfbb gh

She better be serving some orange chicken!

Or roasting cockroaches :3

damn dude, you had to go there... and I was so about to buy chinese for dinner....

Will she answer this question?-"how to cause social unrest"

I would like to have the weather in Celsius per default and local Bing news, that's about all that's missing for me. Edit: I'm in Germany

Dem stimme ich zu. (i agree) ;)

In the US of A and want it in Celsius as well. American system is retarded

Yeah, I agree. Below zero degrees Celsius is when water freezes. Makes so much more sense!!!

Not necessarily... And anyway its only water that freezes at that temperature, how is that any more useful than knowing it freezes at 32? It doesn't help you with the freezing point of any other liquid. And equally knowing that water boils at 100 is equally misleading and unhelpful. I would say that centigrade is much less accurate, and therefore less useful. (ever wondered why in the car you're hot at 21, but too cold at 20)? :D

if you want accuracy you would be using Rankine

Thank you! I think it's just cool to hate on Fahrenheit. I have used Celsius a lot as a scientist, but having lived in the US all my life, my brain just translates the F number better to a familiar feeling. Also, I'm from Mars and I'd like the temp to be displayed in Kelvin!

Is not retarded, it just sucks!

In my opinion Fahrenheit is more expressive when not dealing with conversions or scientific concerns because the degrees are smaller. I work with both and it makes a big difference.

You can ask it in Celsius, too!

Yeah but it's annoying asking 'her' to convert into celsius everytime.

I would actually like Cortana to integrate with Waze for traffic updates. Every morning it tells me to leave for work 30 minutes before, when traffic really makes the commun over an hour. WP8.1 allows you to choose your preffered Navigation program, but there needs to be more integration.

Google owns Waze, that's never going to happen.

Google/waze will have to do that and based on history, it ain't gonna happen.

Don't need it, waiting for Cortana to drive my car integrated with Here suite :)

I don't think the Google cars will negiciate lanes properly with Cortana cars... everything will be a mess

Bing/Here traffic are great, are they not integrated into cortana's reminders? I've never tried.

Makes me interested to see what special features they have for us UK users too. =)

UK users will follow US users like their Govt :)

Maybe some local dogging locations integrated into Here Maps, lol

Lol I doubt South-Am will ever see this personalization, but keep up the gj MS

Badly waiting for wp 8.1 update india...any info Daniel :crying:

same dittooo, even no date after 30-35 days of dpp

Should be somewhere in June surely. I'm sick of waiting, gonna upgrade in a few days.

That's correct...June 2015: India :-P

I was asking for official update not cortana release in India in June 2015 :P:P:P

I would like if Cortana came soon to Latin America, this region loves windows phone, and every time there are more people using it, but the Bing applications doesn't have the same support that in others regions, except for Bing sports and weather, maybe Microsoft should fix that first so Cortana could have information to show.

I would like Cortana UK to offer up good winge suggestions for bus/train queues once it's been waiting there for over, say, 20 minutes. Also, if it's raining Cortana should have a more melancholic tone of voice and should occasionally simply respond with '[Sigh] I can't bring myself to do that right now' or 'Computer says no... [cough]'. Much more in tune with the British experience.

Then we will always hear that melancholic tone :(

How cool if the UK version had the voice of the depressed robot from the hitchhikers guide to the galaxy as voiced by Alan Rickman, lol...I would love that!!!

Lol. I'd love it if she ended each chat with 'Share & Enjoy!'.

I am noticing that Cortana is becoming smarter, more predictive and more personalized the more I use her. Very cool feature.

True!
BOTH personally AND global

I'd love to have a notification about Roadside construction works. Highly unlikely but one can dream . My region is Saudi Arabia.

Does it reply in Chinese?

soon it will be all Chinese

I would like cortana to learn all languages so it can be released worldwide instead of English speaking countries alone!

about 15 languages in 2015

I'd like Cortana to better suggest restaurants in my area, in Canada.

Why can't people read the article. Everyone's commenting things that he didn't ask. For Canada, I would simply want:
- the weather in Celsius
- local news
- French language support (not really needed for most of Canada, but for Quebec/Ottawa/Toronto)
- maybe some Canadian jokes? I don't know. She already works really well here except for the above.

uh, hockey scores eh?! and since we are on the topic, i'd like her to throw in an "eh" every once in a while, eh?! eh!

I agree with all the above in addition to usage of the metric system. Seeing distances listed in miles is a bit annoying.

For you Canadians Cortana should be replaced by Terrance and Phillip :D

I would prefer the Queef Sisters

You sir are an uncle ducker

I think saying that any device on 8.1 preview can have Cortana outside is with hack is not accurate and should be changed as pretty much all Windows phone 8x's cannot do the region hack.

Has anyone noticed that search now has an option for "phone" along with the others (images,video,web,local)
It similar to ios and searches almost everything. Emails, messages, etc.
Still no calendar search :-(

Yes. Actually just tried it and it found info in my calendar appointment.

I noticed the weather forecast was in Celsius, in Canada.

Mine are still showing in Fahrenheit. If this is possible, I'd lover to know how to enable this. Do you have any Canada specific settings in your language/region setup?

Just ask Cortana and she will deliver

None, maybe it was just a fluke, it surprised me. I thought Cortana had just remembered my preference maybe.

Yes Spanish for USA and Mexico..

Any news on a UK release, since Cortana's meant to be arriving here the same time as China?

Sweden: Ekot, SR and one free RSS local newspaper (all for local news, in my case Allehanda.se), 2 weather sources to choose (SMHI and YR.NO), SVTplay (TV),
Travel: SJ and SL, Swebus and Y-Buss, Västtrafik, Din Tur and SAS Airways, Finnair should at least be known. Local integration to various stores, Cortana should know what IKEA, Mekonomen, BDS Bildelar, Clas Ohlsson, Hedin Bil, Kjell & Co, Elgiganten, HM, Åhléns, MAX etc is, and what they could offer. That's what comes to mind and what I think and would like. Also, Shazam should be integrated.

where on Asia cortana will be available? anyone have a hint??

2014 China
2015 India, Japan, Russia, ...

That's cool, but I'm still hoping that Cortana will show me temperature in Celsius by default here in Croatia...

After resetting my phone...Cortana is missing even after I set my region to US. Can any one help me out...
625
India

I don't need any Canadian-specific features. I just want Cortana in Canada without the need to do the region trick.

I think, It would be better to release her worldwide now in english without that region hack. Most of her features works great everywhere.

no it will not - think ahead and you'll understand why...just think!

What I meant was, with Cortana I can create events or check the events in my calendar, play the music, check the weather, set alarms, make appointments, make phone calls, open apps, or chat with her and that works everywhere. I don't know, what you mean. :(

When it will be out for India...??

No one seems to be answering Daniel's questions lol.. One person post a comment not pertaining to the questions and it snowballs.. I'm in the U.S. so I can't answer lol

i want local lottery results too, currency rates and voice responses when i ask her how much is 2+2

I am not outside of the US but I would like this..... After I verbally dismiss my morning alarm, I would like Cortana to ask if I would like to hear my daily summary. A "yes" would result in a spoken run-through my day's schedule, the weather, and the previous day sports scores for the teams I follow as well as the next game times. After that, headlines of news stories for categories I have tagged in my interests and a summary of emails, texts, voicemail I have received. After the summary, I would like to conversationally ask Cortana to read specific news stories or messages and allow me to dictate responses to specific messages. All this while I was lying in bed slowly waking up. Getting up and going to the living room or kitchen area, I could tell Cortana to transfer to the living room and that would wake up my xBox One and Cortana would then transfer to there and continue wherever she left off. While Cortana is speaking, whatever she is covering is shown on the phone, TV and my Surface simultaniuously. I know what I am asking for is probably slated for Cortana version 30.5, WP20.1 and Xbox 15 but this would be a major game changer. IT WOULD BE THE FUTURE!!!!!

Celcius instead of fahrenheit. Also would love that cortana can plan bus trips and such, tell me what movies are playing in that nearby theater, and all those location kind of things. (like google now) those are my most requested features. Not just for the Netherlands.

If you're outside of the US, what region-specific things would you want Cortana to tell you every day?Sound off in comments with your region and wish list! Some regional, some more general, some slightly non-Cortana Region: Finland - allow dual-language usage (same for Canada, Sweiss needs 4)
Names understood and spoken in selected or both language
allow mixed mode understanding (example Var kan kag köpä en jakkupuku)
(the nouns are in Finnish - else is the Finnish-Swedish dialect)
Allow on travel to have both location based and Home news & weather
Allow for students (etc) parents Home and own and girlfriends and Mother-In-Laws, too
Allow several Work places
Use tabbed "browsing" on Settings of Cortana (and other Settings) User can arrange and name the tabs and select the sorting on name, location, date&time (last-used, installed,updated), size, "Lens"=3rd Party
Gnerally open up Cortana ASI 2.0 *REALLY* W-I-D-E on the Next Unified Windows


Oh yeah. I'm Finnish-Swedish myself so yeah that'd be great :)

Here in Brazil, people would probably want soccer results (though I don't care much about it). Lottery would be a nice addition as well.

Kind of having my hopes up that we in Finland get Cortana soon since this is Nokialandia, but we aren't actually a 'that' big market like China, SA, India, UK, Germany etc... :(

For the Netherlands I would like Cortana to say: The weather in Dutch Sightseeing recommendations in Dutch, but also be able to correctly interpret and pronounce resluts according to their heritage word name: e.g. hagelslag (hard ch-sound), kroket (crow-kett, not cro-kay), Vechtstraat (fe-ch(hard)tt-str(aaad)tt, not veekt-strad). and also pronounce european cities correctly according to native tongue. I would like cortana to text-to-speech news, internet, audiobooks and blogarticles in Dutch, according to the correct Dutch gramma and Dutch sounds. I would like Cortana to say Dutch names, streetnames and geogrephical locations correctly in Dutch.

Is like to have public transit service status. I don't drive, so traffic isn't an issue

The future ain't what it used to be.

I want Windows phone in general to give almost ANY information in Japan. Surprised to hear Cortana coming to Japan at all so a glimmer of hope. I have my phone set to US anyhow so I have had Cortana since the preview. If WP would come to Japan I want the English support as well. Will not be changing my region anyhow but it is the info that matters.

Localized for new Zealand sports teams would be great

Australia...
AFL footy scores
TV programs ( "what's on Ch 7 at 8:00pm?" )
Sing Waltzing Matilda
Understand and talk some Aussie slang (g'day mate) For all regions.....
Call me by my name (out aloud)
Weather in Celsius
The time and date
Always listening while driving

I think it would be great if Microsoft use the voice of a popular actor/actress/singer for the specific country or language! for example talking with Jackie Chan as voice asistant would be GREAT! or Marion Cotillard in the French version!

does Hong Kong count? HK is always a region on its own....

How about Chinese Traditional? I am a Hong Konger. Microsoft, please give us Chinese trditional with cantonese in Cortana