Cortana on the Windows 10 lock screen is even cooler than you think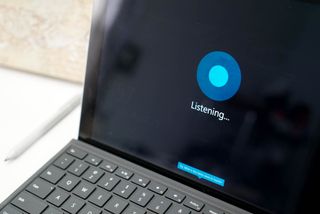 One of the new features introduced in Windows 10 Insider Preview Build 14328 for PC is the option to have Cortana on your lock screen. You can ask her questions or create reminders without having to unlock your device. For example, you can try asking Cortana to tell you a joke, or remind you to buy milk when you leave the house.
When Cortana responds, she takes up the whole screen, which looks great. If your question requires launching an application, Cortana will prompt you to unlock your device. Want to see how it works, but don't want to install an Insider build just for that? That's fine — that's why we made a video to show you exactly how it works:
How to enable Cortana on the Windows 10 lock screen
Open Cortana (Shortcut: Windows key + S) and go to Settings.
Turn on the option for "Let me use Cortana even when my device is locked."
You can also let Cortana respond to "Hey Cortana," but it's not mandatory.
Using Cortana on the Windows 10 lock screen
After following the instructions above, you can now use Cortana on your lock screen. Just tap the Cortana icon on the top left corner or you can simply say "Hey Cortana," if you have that option enabled. Follow up with a question like, "What's the weather today" or "What's 15% of $65?"
Cortana on the lock screen is a new feature that was introduced in Windows 10 Insider Preview Build 14328 for PC. If you would like to try it out, your version of Windows 10 needs to be on a build that is not older than version 14328. You may need to join the Fast Ring of the Windows Insider Program.
Have you played with Cortana on the Windows 10 lock screen? Let us know what you think in the comments!
I already knew this was cool, but I don't know why it's cooler than I thought after reading the article :-p

It is, as this is almost the way it works on phones. Ideally it will go full screen even when not on the lock screen as well. I can see little to no value in squashing Cortana results into a side bar to use the rest of the screen to display stuff you aren't using whilst talking with Cortana. Let's home MS work this out too, before release.

Let's *hope MS work this out before release (and that WC allow us to edit posts in the app at some point...).

Advantage to be smaller when logged in is you can send an email or text without stopping what you're doing. I'd like to see somewhere where Cortana is released from the task bar and can appear elsewhere on the screen. In early examples of Cortana on Xbox One it's shown in the top left corner when activated during a game for example. I do like the immersive experience on the lock screen though

Well this really just a same idea what what we can with the phone already, its actually that the PC version is late having similar implementation. Though they have alot of work in this at the moment especially on UI. There is a need of proper layout to work on as everything just looks big just for the sake of it. The cards needs some slight redesign to make use of the screen space better. Also for Cortana in general, they need to improve the way Cortana execute an action for apps. They still generally requires the app to run first which ends the Cortana experience and just ends you up to the specific UI of the app and requires manual action. These things really need better implementation for apps to be inside the Cortana experience without opening an app. Sent from Turing Machine

I found it to be much cooler than I thought. It looks pretty awesomely fast for a first go of it. I'm sure they have worked at it, but if this gets even faster I'll be ecstatic! Side comment: Has anyone else had issues installing these builds? I can download them, but my computer gets stuck at Step 2 at exactly 71%. It just hangs completely.

I think it is great that this feature finds its way from mobile to PC but it should better integrate into the larger lock screen of a tablet or even PC screen. It is odd using it on a 4k 60" screen and suddenly have it all black with cortana on it.

If this comes to mobile it could change everything

I have to test it bit it kinda is there... Posted from Windows Central for Windows 10 on my Lumia 950! Step off, haters! U-U

Consider "everything" changed. This has been on mobile for at least a year now. I use Cortana all the time from the lock screen of my phone.

The problem I have with it on mobile is that when I'm driving, and Cortana can be especially useful, she'll often tell me to unlock my phone which is the last thing I need to be doing when I'm driving. My low end Android LG K7 has the option to not require unlocking my phone when connected to Bluetooth devices that I specify. (I'd love the ability to specify wifi certain networks, too. Home? No lock screen. Work? Lock screen.) For this to be really useful, Cortana needs to not require or auto-unlock my phone in the same way or recognizes my voice. Supposedly she can recognize my voice and respond to me and not others, but I have never tried to have someone else hack that.

I fully agree. I think cortana should integrate with the driving mode of windows 10 mobile and therefore know automatically that you are in a car or cycling etc. And not ask to unlock. Another trick could be that they should give the ability to unlock via voice recognition. You can already train cortana to only react to Hey Cortana to your voice - why not go one step further? :)

Sounds like a great feature to suggest in the Feedback Hub... If you share a link to your feedback, others can open it in the Feedback Hub, provide comments and even upvote it.

I did not know that it was possible to share - lol. I will look into it to do so. :)

Yep. Look for the Share icon, which will generate a link to the feedback item. For instance, here is a users feedback for unlocking device via Cortana: feedback-hub:?contextid=14&feedbackid=edcaacbf-0606-4ccd-b922-8775e37080b1&form=1&src=2

It seems my feed back is not yet available as I am unable to find it again. :( Once I can find it I will share it here :)

here you go: feedback-hub:?contextid=112&feedbackid=e7d00c07-2e77-42c5-a8d0-a87d22b6654f&form=1&src=2

To me, this is the most useful think about the iris scanner. I just have to lean forward a little and it instantly recognizes me and unlocks, even with sunglasses on. Posted from Windows Central for Windows 10

But still, while driving, I personally would not like to lean forward so that my phone can recognize me. This might lead to an accident.

That *is* true. Most of the time while I'm driving, I have a GPS app running, so that prevents the phone from locking in the first place (so that's one way to work around the locking issue). In the region where I live (the Washington DC metro area), driving anywhere without having Waze running is like asking to get stuck in traffic. As much as the built-in Maps app has improved, nothing can beat real-time, up-to-the-second crowdsourced traffic data. Now if Microsoft can use their recent ceasefire with Google to get them to bring it up-to-date again... or if Microsoft can work out a deal to have the Maps app contribute to Waze data and vice versa... yes, yes, I think that'd work for me too. Hey look, squirrel! (My sincerest apology for this thought-stream) Posted from Windows Central for Windows 10

Yeah Mobile has had this since Cortana was a thing. Windows Central for Windows 10-Microsoft Lumia 640

Indeed, Everythings has already changed! For the past few month, I am using "Hey Cortana" when my phone is locked... This features simply made it from Win 10 Mobile to Win 10 PC !!! Sometime, when response to all "Hey Cortana" is enabled, it will trigger randomly when listening to radio in the car... better train to your own voice if working! (it was disabled in some recent preview build).

Nice! I've been on the Preview builds but haven't tried Cortana on the lockscreen yet.

I wish i could have hey cortana in my 640xl and this lockscreen feature would have been the coolest thing.

Cortana already technically works on top of the lock screen. Its the PC that is late on this implementation. Well Microsoft can still make it better though on phones like the Cortana UX should've be baked on Lock screen, thus when you start Cortana while the phone is locked, it just slides in through the Lock screen, not opening Cortana app. Sent from Turing Machine

I wish Microsoft would finally add even the most basic timer functionality to Cortana. I miss that the most coming from iPhone. Using reminders and alarms or non-voice apps for setting a timer just doesn't cut it. Come on Microsoft! The little things that are missing matter!

yes removed features is sad.

Is it going to come for Windows 10 Mobile? Using Windows Central Universal App on Lumia 730

wait and see. if you have a Hey cortana device like a 950xl it just works.

It's been here since november. Sent from my Windows 10 PC.

enabled her but i dont use her often. also i turned off hey cortana on my pc. says my mic isn't the right one or something also my thoughts are wouldn't that suck alot of system resources running all the time?

It only uses resources while it is doing something... Otherwise it is only listening. Sent from my Windows 10 PC.

No have not played with it. Not available in my region. Language set as en-us. What's wrong?

you need to change your region too.

Its a no go then. Is that requirement a known bug?

MS (directly or in partnership with a 3rd party) should perhaps counter Amazon ECHO? it would need to have ready tie in to a range of services though.

I was thinking the same and they can call it "Bing","Yo Bing".

How do I completely remove Cortana without loosing search functions...? Cortana has nothing to do with Windows OS. Posted via the Windows Central App for Android

Frere Jacques is stuck in my head now...

Animation is kinda weird as it seems like it skips to the left or something but overall this is cool. Posted via the Windows Central App for Android

Well its early implementation so its not yet polished (though even on final, MS seems not even great at polishing things either). Though it seems this is gonna be the final layout of it. I hope they will actually have to work on typography and UI layouts more. Sent from Turing Machine

"Cortana on the Windows 10 lock screen is even cooler than you think" That's not difficult.

Damn... set up all but no Language option of English (United Kingdom)

Is miss call notification in cortana broken in 14332?
Worked like a charm on .218?

It needs some work that's for sure. When I use "sing me a song" it opens up only one song in Groove and plays that. When I said play me some music it opened my Adobe Media player, lol.

I'm convinced by marks demo that Cortana it's cool and practically useful. It's only a shame that it supports justa handful of languages, only useful for select users really, bit not a global practical solution to date. It's all still very easily beta as onlya few languages ate supported that don't align with local markets and business and education. Sure to language barriers. I think it's time for Microsoft to ramp this up by either investing more heavily in more languages, or perhaps increase research spending to increase language recognition for Cortana by more actively combining Bing translate work Cortana to improve on social involvement of improving and increasing digital language libraries for speech and text recognition. Big data business is apparently working. I'm sure Microsoft could think of something with language improvement using Cortana and translate with bots, while academic language and linguistic experts work on building more basic language foundations for Cortana. Good times for academic students learning photos and language to work work Microsoft

Not in my language. Ridiculous.

I want to try the insider program but I'm scared that it will ruin my device :\

I can totally understand, particularly if you use it very very often. For what it is worth, and I'm sure many will agree, it is relatively painless (as long as you're patient) and fairly risk free. I'd stick with slow ring. My family has an Alienware 18, Alienware X51, two Dell 2-1s, Lumia 830, 640, 950, and a Surface Pro 3 and 4, and we've installed previews on them countless times. Though, since Windows 10 went RTM, we have limited preview to only a few devices that are less utilized (its a big time sink keeping all of the devices updated!). My personal experience would suggest to you that if you want to do it, go ahead. There is very little risk and there are reversion options available to you (read and prepare before hand in case they are necessary so that you're not scrambling about).

Wow, she seems pretty fast and responsive for preview functionality. I finally built a nice dashboard for home automation, now she can be used while screen is locked: "Cortana, Trigger, disarm system, authorization delta delta phi zero one", etc. (made possible via Cortana Triggers, IFTTT, and SmartThings)

I may be wrong but i feel, for USA, cortana might be a state of art technology but for most of the countries, its just useless. It is not interacting....it just opens bing search engine with some hyperlinks. Major problem is with accent....do whatever, cortana never learns local accent due to which odd results are generated.

Microsoft should add the ability for us to tell Cortana to "stop listening". This video trigered mine everytime he summoned his.

Cortana is too cool to work in my region

wanna switch to insider preview, but it all but destroyed my lumia 1520....is it safe to do the preview on my surface 3, laptop, and 950xl?

Which build did you install on L1520? And did you do a hard reset after the installation?

Well, that final "Hey Cortana" instruction to post a new tweet almost posted one on my PC. Good one Mr. Guim.

Actually it's "Sonnez les matines, sonnez les matines... Ding, dang, dong" (it's from an ancient French song). ​Besides, that's really nice.

Unfortunatly unavailable in most part of the world. MS should expand to new languages quickly.

"Hey Cortana" is more of a pain in the ass on my SP3. It only works 30% of the time if that. Siri is falling over laughing.

If Cortana isn't working on my lock screen, who can help?
Windows Central Newsletter
Thank you for signing up to Windows Central. You will receive a verification email shortly.
There was a problem. Please refresh the page and try again.