Windows 10 build 14328 for PC and Mobile is here with more features than you can count!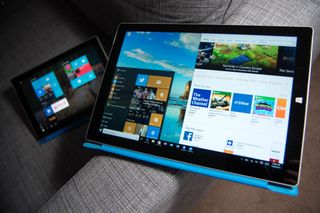 (Image credit: Dan Rubino / Windows Central)
Microsoft is going into the weekend with a massive update for those on the Fast Ring for the Windows Insider program. Build 14328 is going out for PC and Mobile users, but it is those on the desktops, tablets and especially Surface type devices which will reap the most benefits.
Microsoft just announced the update, and they stress that that this update has a lot of new code in it making it "rough around the edges." That tradeoff, however, is met with what is arguably the largest changelog yet from the software maker!
For Surface and devices with active pen support, you will also appreciate the first instance of Windows Ink in this build!
Let's get to it!
Anything new for Mobile?
Before we begin, let's talk about the Mobile update. Microsoft released Windows 10 Mobile build 14327 just two days ago and with 14328 being so close you can surmise that there are not too many new features with this build.
Indeed, we are likely getting some bug fixes and improvements, but many of those new features for Cortana and PC syncing should now work with build 14328 on your computer.
The headline features
Microsoft's changelog for this latest Insider update is nearly 13 pages in length, but here are the highlights of what is new and what to look forward to with the release:
Windows Ink
Updated Start experience
Cortana and Search improvements such as Cortana on your Lock Screen
Improvements to Action Center and Notifications
Updates to the Taskbar and Settings app
Ability to switch virtual desktops with your touchpad
Lock Screen improvements
Updated credential and UAC dialog user interface, Skype UWP Preview app, and File Explorer
Improved battery life for Surface and other connected standby PCs
Improved Japanese IME
As you can see, Microsoft is unleashing a beast with this update as it brings many of the features announced at Build that is destined for the Anniversary Update due later this summer. There is a bit for everyone here so let's go a bit deeper.
Windows Ink
With this update and a Surface or pen-enabled Windows 10 PC users can try out the all new Windows Ink experience. If you recall, Windows Ink was announced at Build and brings the power of the pen to all of Windows 10 including making sticky notes, whiteboard and general drawing throughout the OS.
Developers will also now be able to use enable Ink writing tools within their app for users who would like a pen-first experience. Windows Ink is also built into Maps, Microsoft Edge, and Office.
If you have a device with an active pen e.g. Surface Pro 4 you can now access the Windows Ink Workspace button found in the taskbar in apps that support Windows Ink.
New Start Menu
With build 14238 for PC users can try out the updated Start menu that makes some subtle but worthy looking changes, including:
Merging of most used apps list and All apps into one
Power, Settings, and File Explorer are all now in the left rail so that they are always visible
Recently added goes from one listing to three entries
Additional folders added e.g. Documents or Pictures are now always visible instead of hidden beneath the hamburger menu
Tablet mode changes – Auto-hide is back!
Also under the new Start settings is the return of the grid experience for app listings in the Start menu when in tablet mode. This grid is an older feature that was never present in Windows 10 and returns from the Windows 8 days, but with some small changes to match the new UI.
The feature is accessed by toggling all apps in the left rail of the Start Menu, and it now matches the UI throughout Windows.
There is also now a auto-hide taskbar feature in tablet mode, which is something that many users have been asking for since last year and the debut of Windows 10. The setting is found under System > Tablet Mode. The feature acts a lot like the soft keys on Windows Phone: swiping up hides them and swiping up again will bring it back making the action feel very familiar.
Cortana on the lock screen
With this release, a user can now optionally call Cortana while their PC is still locked. The feature lets Cortana appear on the lock screen with the same immersive experience as when the PC is locked. The feature also works with Windows Hello and it can be found under "Lock screen options."
Microsoft is also a few other Cortana features including:
Photo reminders – take a picture of something you want to be reminded about and it will show up in Cortana later on
Shared reminders – Use the Universal Share picker to send things to Cortana so that she can remind you to read that news store or email later on
Low battery and Find your Phone – Cortana can now tell you when your Windows 10 Mobile device has a low battery, or you can have Cortana ring your phone if you cannot find it
No login – Use Cortana right away without having to sign in. This change lowers the barrier for those who are new to Windows 10 and who may not want to sign into a Microsoft Account.
Deeper file search – Cortana can now search for documents, photos, music and videos stored locally or on OneDrive using search filters. More improvements to file search experiences are coming soon too.
Action Center – Better notifications
Microsoft is adding a lot of new, smaller features to the Notification and Action Center, including:
To the Left - Action Center icon is now on the far left of the taskbar
Cleaner - Notification icons do not repeat themselves for multiple notifications (seen on Mobile build already)
More Cortana - Cortana insights now in Notification Center so that you do not miss any tips, meeting conflicts or reminders
Rearrange Quick Actions – As already found in the Mobile release you can now rearrange and customize the Quick Actions in the Action Center
Wifi Quick Action changed! – Due to feedback tapping the WiFi Quick Action no longer toggle it on or off, but rather takes you to the "View Available Network" flyout instead. This behavior is similar to how it worked in Windows Phone 8 and Windows 8.
Taskbar Clock/Calendar events – Clicking the clock to show the calendar will also show your upcoming appointments. Clicking a date will redirect you to that event's details in the Calendar app. You can also create a new calendar event by hitting the new "+" button.
Clock on all monitors – Microsoft is letting gamers and those with multiple monitors have the clock on all taskbars on all monitors instead of the display designated as "1" in the display settings.
Taskbar badging - UWP apps will now have a notification badge on their icon in the taskbar so that you know certain opened apps have changed and are contextual. Microsoft notes that an Outlook email badge will show you the number of unseen emails (not unread), which is rather nifty. The Weather app shows you when there is a new weather alert in the area. See below for an example.
Taskbar settings - Taskbar settings are now found in the Settings app by going to Settings > System > Taskbar or by using a right-click on the taskbar to go directly to that area.
RIP Insider App
Starting with build 14237 and higher those who want to use the Insider program will not need an app for Mobile.
Instead, the Insider settings are built into PC, and Mobile versions of the OS and they can be found under Settings > Update & security > Windows Insider Program. From this spot, users can enroll, stop Insider builds and change rings.
New File Explorer Icon
In a small but momentous change, the default icon for the File Explorer is being updated with a new Modern monochrome look design language in Windows 10. The icon is all white with some gray for the file holder, but the design team left a hint of yellow on the top as a reminder to that legendary icon in the Windows OS.
Likewise, File Explorer will no longer be pinned to the taskbar by default. Microsoft is looking for feedback on this change so let them know what you think. Of course, you can still manually pin it back at any time if you like it there.
Improved Battery Life for Surface and other Connected Standby PCs
Starting with this build devices with Connected Standby – e.g. low-power mode that allows notifications and low-level functions to occur still like email checking – will have some improvements as well. This Connected Standby feature applies to the Surface Pro 3, Surface Pro 4, and Surface Book devices as well as a few other ones from other OEMs.
Phones are not affected by this change.
Microsoft notes that they have "integrated the same underlying technology that Battery Saver users to quiet down some of the less-valuable activity that occurs during Connected Standby."
Some of this is experimental, and users can configure which apps they want to run in the background using the new features found in Battery Saver e.g. let an app be "Managed by Windows" or "Always allowed in the background" versus "Never allowed in the background."
Feedback on user's experience with this feature is something Microsoft will be looking at closely so let them know how well it works (or doesn't) using the Feedback Hub.
Smaller changes
Finally, Microsoft has made many other smaller changes starting with this build including:
Hidden Email - No longer will the lock screen show your email address for login information. By default, this info will not be displayed, but users can turn it back on under Sign-in Options > Privacy.
Embedded controls - Like the new Mobile build media player controls are integrated on the lock screen for easy and cleaner access to your music along with visible album art!
Wrapping up
As you can see, build 14238 is a rather important update, and it should make a lot of Surface and PC Insiders happy as they get to try out a barrage of new features and improvements.
We'll be deep diving into some of these functions over the next few days so stay tuned!
Windows Central Newsletter
Get the best of Windows Central in in your inbox, every day!
Daniel Rubino is the Editor-in-chief of Windows Central, head reviewer, podcast co-host, and analyst. He has been covering Microsoft since 2007 when this site was called WMExperts (and later Windows Phone Central). His interests include Windows, laptops, next-gen computing, and for some reason, watches. Before all this tech stuff, he worked on a Ph.D. in linguistics, watched people sleep (for medical purposes!), and ran the projectors at movie theaters because it was fun.
So fast, 2 builds in 3 days :)

This was timed right after their earnings report. Bad press followed by happy press.

I like the Wi-Fi toggle in mobile. Hope that does not change in W10M.

Me too. Although I think that they need bubble tips to tell users that holding the button will take you to the settings. Bubbles like they do with the navbar are needed EVERYWHERE. This way people learn the OS as they use it and it becomes super easy.

true, like this is now on every os. i told my friend on his android and he looked at me and he told me i blowed up his mind xD
he had to go to settings/wifi all the time xD

Exctly, and this makes it usefull. I like the same in PC as well. This is bad to change from toggle to opening settings. It should be same as that in mobile, like holding will take to setting, otherwise single click just should work as toggle only. I use it lot of time for preserving battery, This is the thing I hated about Win 8. Hope someone is listening.

And it also works for most settings. BT, battery saver etc..

OMG thank you! I had no idea about the holing the button thing til now.

I was all upset because I couldn't go to Wi-Fi settings from the action center and kept turning it off accidentally . Eventually I figured out to hold it if I wanted to go I to work settings and all was right with the world again.

You just taught me something new. Thanks! L950

Just that everyone knows this applies to almost any settings up there. Tap to toggle, hold to full settings. Our force touch :D

Wish it works for Bluetooth as well :(

Its works also for bluetooth Vaibhav Posted from Windows Central for Windows 10

On my lumia 730, .218, holding Bluetooth, notification bar goes away as if Bluetooth setting would show, but nothing happens after that :(

Nothing to worry,vaibhav.I was having the same problem on my Lumia 730 & 520.Just one hard reset and voila! U can access Bluetooth settings directly from action centre.

I never knew that you held the button to go to wifi settings :(

Great update! Quick too. I just wich that the start menu would have been more consistent with mobile. Instead of power, user and file explorer options being hidden away, the "all apps" list should have been within a flyout menu under the hamberger menu; with just one swipe to acess the all apps life in mobile and Windows 8.

Insiders, it's time for you to celebrate! Posted from Windows Central for Windows 10

Actually, its time for them to test and send feedback. And not the whiny kind either.

Lol. Not "hurr durr my WhatsApp not working (insert useless and crude expletives) I'm switching to Android"

Oh God the complaints are going to be massive. If MS says it's edgey compared to the other builds. The forums will become a nightmare. . Seriously some people need to give up a credit card to be an insider just to confirm their age. Maybe a psychological test to see if they are capable of common sense.

And then people will complain that "Microsoft is planning to switch at some point to a subscription to be an insider!" There's no winning. Just whining and whinnying.

Lol hate to see their losses repair-wise on the 1st year of opening up xb1 preview(does this include 360 preview?)

True indeed. But new builds are always a reason of happiness before you find it too buggy to use :p Posted from Windows Central for Windows 10

Actually they are pretty usable :3
but if you dont want to risk some bugs you can read before you install or never install aint i right? there is a whole agree section before you go insider!

Exactly what happened when i saw 14322 list of features and got frustrated with annoying bugs :P glad to see the 14327 and now this one, keep it up MSFT :D

I hope they keep an option to toggle the start menu between the old and new one. I really like the old design.

Not happening. They can't provide a toggle for everything. Give the feedback if you want the older design.

I believe it's fair to ask for a toggle. It's only a bit more code, and options are good. Especially now that they're getting better and better at actually organizing the settings app to be useful for things.
Toggles are an important part of software. I hate it when I don't get options for things, because there really isn't a reason not to have options. Unless you're absolutely terrified of technology and want to live in a box with no options. But there are platforms for that. Posted from my lovely MS Surface Pro 4 i7 512 16GB - assuming that it currently isn't BSODing or suffering some other horrible software or hardware malfunction.

Come on❗❗ We need something new, and exciting, for mobile!.. And, we need it in a bad way. ~~~~~~~~~~~~~~~~~~~~~~~~~~~~~
ROJO > ARLINGTON, TX > LUMIA 1520 ≥ 950... WAITING FOR 6.2" SURFACE PHONE

Just something cool for the start screen. Somthing useful, and customizable... Remember that feeling when we finally got background images on the start screen?.... Time for that feeling again. ~~~~~~~~~~~~~~~~~~~~~~~~~~~~~
ROJO > ARLINGTON, TX > LUMIA 1520 ≥ 950... WAITING FOR 6.2" SURFACE PHONE

Yes, it would be nice to get some new functionality. But I think they should continue to get the Redstone build working right before doing so. I had to hop back to Threshold on my 950 because it was some of the features most important to me no longer worked.

Software development, and how it works... No, it's not gonna work like that... If they get everything working great then add new features, the new features will break the older progress.. We've seen it happen before.. Granted we are insiders, and we've subjected ourselves to the development ups, and downs... I don't forget that.... But, new features need to be developed right alongside of current features.... Also remember, an OS is never done, so there is no start/stop point.. Nevertheless, I do realize that MS has it's specific plan, and roadmap, for how they execute development.... But, there's nothing wrong with wanting, and asking for, things to get more exciting.
~~~~~~~~~~~~~~~~~~~~~~~~~~~~~
ROJO > ARLINGTON, TX > LUMIA 1520 ≥ 950... WAITING FOR 6.2" SURFACE PHONE

I'd like changing start background pic like on lock screen

You know, Desktop has that feature in settings, and I bet that MS is going to bring it to mobile... In the meantime use "Dynamic Theme".. Daniel did a review on it, and it does just that, and more. ~~~~~~~~~~~~~~~~~~~~~~~~~~~~~
ROJO > ARLINGTON, TX > LUMIA 1520 ≥ 950... WAITING FOR 6.2" SURFACE PHONE

Another option is the Bing Desktop app. While the search component is really not that useful now that we have Cortana, I really like the rotating bing images as desktops. You can also customize which collections to pull images from, and the collections themselves are constantly updated. You can get it here: http://www.bing.com/explore/desktop Posted from Windows Central for Windows 10

Thanks for your mature, and helpful, input. That's exactly what we were looking for.
....
Anything that you think would make the start experience better?

Honestly, all I want is for the Start menu to open when I click on the Start button (I'm on build 14316). I often have to click on it 3 or 4 times before it does anything. I'm looking forward to the tweaks coming in this new build, but after checking for updates about 20 times throughout this afternoon, I've yet to see it show up.

Have you used a programme called Start10?
I had the same problems waiting ages for the start menu to pop up after pressing the start key but with Start10 it's a lot more responsive... Also can be customised to look like the Windows 7 version as well. Posted via the Windows Central App for Android

Thanks for the tip. The thing is, I like and make use of Live Tiles. I got used to them on my phone and love having them on my desktop too. I'd rather not get rid of that experience.

Yes I was talking about mobile =)

There's a few options available right now. ~~~~~~~~~~~~~~~~~~~~~~~~~~~~~
ROJO > ARLINGTON, TX > LUMIA 1520 ≥ 950... WAITING FOR 6.2" SURFACE PHONE

Live Tiles on a Live Wallpaper after a Live Lockscreen might just make w10m more lively... After all I am using a Live Account

Great idea.. I'm also thinking something along those lines.. I wonder what else they could do. The start screen seems to have endless possibilities IMO.

Relax, there re lots of bugs that requires fixes before new features Posted from windows central for windows 10 mobile

Relax.. Will you stop. We've been testing 10 on our phones for well over a year now. There's nothing wrong with expecting stability, and new (exciting) features at thus point.. Don't be such a tool, and so quick to always accept things the way they are. Expect more, so we can get more. 10Mo has been in development for at least 2 years internally, and some of you guys act like MS is just now getting started with it... It's not about relaxing, and getting excited, because the reality is that it's just a phone, but to some people it's one of their hobbies, so let us who care dream.. Lol ~~~~~~~~~~~~~~~~~~~~~~~~~~~~~
ROJO > ARLINGTON, TX > LUMIA 1520 ≥ 950... WAITING FOR 6.2" SURFACE PHONE

As usual, u obviously don't understand how things go and work. Complain all u want, u signed up to be an insider so blame yourself since u cannot wait and show lack of patience. The tool is on u.

What the hell are you talking about? Who the hell is complaining?.. Obviously you see my username and decide you either disagree, or want to say something rude, before you read my comment.. Just stop being a jerk, and grow up.. I said, just that! I addressed that this is part of being an insider, that's what we have to deal with, and you still said what you said... Look, you obviously don't like my comments, and I don't care. So, from now on just ignore my comments all together. If you don't ignore me I'll just take it as harassment and report you.. I'll say it again. Do not attempt to reply to me ever again, or I'll report you for harassment. That's all I will say to you. ~~~~~~~~~~~~~~~~~~~~~~~~~~~~~
ROJO > ARLINGTON, TX > LUMIA 1520 ≥ 950... WAITING FOR 6.2" SURFACE PHONE

Well that escalated quickly... Dude calm down. Obviously you can't write a perfect OS in a day, and also we do want to see new features. All we can do is give feedback and wait until they decide to implement it or not. Bug fixes are more important than new features. What's the point of me features if you can barely use it? So get a grip people. Everyone has an opinion. So rodneyej has valid opinion.

Dude, what are you talking about. Nobody is complaining, and we know that development takes time.. All my original comment was saying is that I want to see something new, and exciting.. Who cares. I'm not ********, just making a comment. I think the problem is that a lot of you guys just like to pick fights, and always have something rude to say, or have something to prove.. If someone here express their opinion maturely then why do they need to be told to calm down? We got a bunch of ****'s around here who are rude, and if you choose to be one of then then YOU need to calm down... Read peoples comments in entirety, think for yourself, and don't follow the crowd.. Don't start nothing, won't be nothing... In the end, I still wish we would get something new, and exciting. I know it's not coming today, and I'm an adult, so I don't need you, or anyone else telling me to wait.. That's besides the point... The main point is that if you don't like someone's ideas then deal with it without being a jerk. That goes for everyone, not just you. But, I'm tired of all this childish bickering over peoples opinions.. If you want to be a part of that then ignore me. If not then cool, we can chat like adults. Either way I'm fine. ~~~~~~~~~~~~~~~~~~~~~~~~~~~~~
ROJO > ARLINGTON, TX > LUMIA 1520 ≥ 950... WAITING FOR 6.2" SURFACE PHONE

Also, you say in a day? It's been 2 years.. Lol. Ok.

Yes, its been in development for a while now, but that doesn't mean bringing in new features to test cant break things. Bluetooth on my phone has been fixed and broken, fixed and broken more times than I can keep up with. The last update broke Hello on my 950 which has worked pretty well since I got the phone on launch. That is the nature of OS development. Everything is connected. You add a feature here, you break three things over there. As long as new development is happening, things will break.

Yeah, that's exactly what I said... But, the point of my original comment is to ask what new features you guys would like to see come, and if there is anything cool, or interesting, as as far as customization, that you guys can think of... What's your ideas, or wants?

But at some point you need to have a ready and working OS... otherwise get rid of all these non-functioning "features" and stop marketing your OS as "it has all these features!"* (* = half of them do not work).

True, and like I said, it's been at least two years, so we need to stop fooling ourselves.. Mobile is far behind desktop in performance... Not that MS doesn't intend it that way, because we know desktop is the priority, but we use a Windows device as our primary device for mobile, so we want it working right now..
.......
I'm quite sure MOST employees at MS either use Android, or iOS, so it's no surprise that they don't consider WinMo a top priority.. Think about that?

What features are they marketing being there the currently are not? Besides the obvious Cortana outside a few countries

no we dont. its dead dead dead. no one buys it anymore and the apps are not there.

Still over 2 million users, so it's not dead, rather in a coma.. Still holding on by a sting. Nobody knows what the future holds. It could go either way at this point. ~~~~~~~~~~~~~~~~~~~~~~~~~~~~~
ROJO > ARLINGTON, TX > LUMIA 1520 ≥ 950... WAITING FOR 6.2" SURFACE PHONE

It's like that crazy but rich aunt nobody likes.

The last update release yesterday was the biggest one they've released so far. Posted from Windows Central for XL

For desktop?.. I'm lost. ~~~~~~~~~~~~~~~~~~~~~~~~~~~~~
ROJO > ARLINGTON, TX > LUMIA 1520 ≥ 950... WAITING FOR 6.2" SURFACE PHONE

Microsoft , true pioneers no doubt!

Ah, what's going on here then, im just getting used to having store notifications back and now we have another build. Man MS you treat us well ☺.

When it is released for mobile?

It's available now if you are an insider.

It's important to note to those unaware of what Insider means, it means beta or alpha software available as an opt-in. The anniversary update will be stable and publically available to everyone this Summer 2016

I'm going to download now

im waiting for my unlimited hours, low on data and its month's end.

downloading this on PC now. when will these be available for non insider regular version? ~DheeraJ~
Lumia 640xl 10586.164

Did you not read the Build keynotes? Anniversary update? Like a year from initial release? So it will be in July or august

The anniversary update is going to be for Windows 10, what Windows 8.1 was for 8...aka what the OS should have been at launch.

If that were the case, we would not have seen Windows 10 until the middle of this year. Which I'm sure you'd be the first to mention, "Soon...". Did you expect all these man hours spent putting in changes from the last few months to be done in a couple days?

Nope, Windows 10 is what Windows 8 should have been at launch. Posted with the Windows Central app for Windows 10 on HP 250 G1 notebook. It is a scary old monster, I think :D

Couldn't agree more. In fact the same could be said for mobile, especially if both Windows 8 PC & phone had of been released with the added advantages of UWP. One could only imagine the app situation would be in a much stronger position giving people a real reason to consider Windows as a mobile platform.

I might run the risk and get this build. I'll image my computer first

14238?!? Or did you mean 14328? Posted from Lumia 950xl

One question only: Is skype uwp available on this mobile build?

i have downloaded it and I can't say it is :(

it appears with the latest builds introducing Messaging everywhere (beta) has taken away the ability to toggle between a regular text or skype :(

The changelog lists the ability to switch between virtual desktops using the touchpad. How can you do this gesture?

Feedback is opened with reverse middle finger upwards swipe?

FINALLLYYYYYYYY!!!!!!! Had this on mac, and it was so annoying not to have it on Windows. It's about damn time. Still waiting for some kind of touch screen gesture to do this though. Sort of hard, since the edges of the screen are used for things, but could copy iPad and use 4-finger on-screen swipe. Posted from my lovely MS Surface Pro 4 i7 512 16GB - assuming that it currently isn't BSODing or suffering some other horrible software or hardware malfunction.

What does it mean: logging in thru Cortana and no more with MSA if you want??

I believe you misunderstand. You can use Cortana directly from the lock/login screen, and I believe you can use Cortana immediately upon logging into a new account without signing into Cortana with your MS Account.

Remember to turn this on in Cortana settings after getting the build. One thing to note, the PC is set to never sleep when plugged in when you first enable this. You might not want that on a desktop since it's ALWAYS plugged in, but you can go reset the sleep option and still keep Cortana on lock screen.

RIP WiFi toggle in Action Center.

Yeah, I use this daily to toggle on and off via work, outdoors, home...

Would have preferred they changed it to be like mobile, but Hold to get the settings - With Flyout on desktop and open the settings window in tablet mode

Yeah, that's what I keep expecting whenever I hold the toggle. I really like the way that stock Android has been doing it for a couple years. It's similar to that, but not quite. Icon is toggle, then there's a little button underneath that expands to show all networks, and you can hold icon or press settings in the expanded window to go to advanced settings. I love it. Easily the most useful feature ever introduced. Posted from my lovely MS Surface Pro 4 i7 512 16GB - assuming that it currently isn't BSODing or suffering some other horrible software or hardware malfunction.

I liked this as it was consistent with the other toggles (Bluetooth, mobile data, etc) - now it's back to being odd. The thing I found annoying with WP 8.1 was wanting to turn off WiFi, but being brought to the wifi page. It kinda makes sense going to this page when you toggle it on.

This is the only new thing I don't like about this build. Posted with the Windows Central app for Windows 10 on HP 250 G1 notebook. It is a scary old monster, I think :D

nobody likes it. lets send them feedback again until its not too late. we dont need the wifi action to bring available networks. we have the wifi icon for this. action center wifi toggle should be just that: on/off toggle.

I want a Settings toggle to toggle if the Quick action will toggle on tap or go to Settings.
Or
Option for the tap action
per each Quick Action.

you can add it back via settings. I'm pretty sure.. I was just looking at that and you can click "add or remove quick actions" in system -> notification settings

Someone doesn't know they're left from their right. Action centre us now on the far right not left (from the screenshot)

This update is HUGE! Posted via the Windows Central App for Windows 10 Mobile

Yes! :'D Posted via the Windows Central App for Windows 10 Mobile

My phone is updating this build faster than my PC!

Because mobile is not like PC. Everything is small in mobile than PC. So it is obvious that it will take less time than PC.

No, phones usually update a lot slower than fast PC's.

a lot more features on PC in this build then mobile, file size surely has to be bigger as well

950/XL owners out there think it's safe to move from Production yet? I'm scared!!! Texts, Emails, Search, Navigation and Groove Music (Bluetooth) are the most important to me.

I'll say yes. A few bugs here and there, but it's good for daily usage.

On TMO :) for some reason on Production my Windows Maps navigation doesn't work. It has super lag issues figuring out where I am. It will find my location and then stick there. For some reason it won't continuously update. I reset the phone and same thing.

if you are on AT&T beware of the slight chance you encounter the cellular data and MMS bug. If you do here is a link to manually fix it. https://apn.gishan.net/settings/os_22_4_windows_phone_10microsoft_window...

Groove music refuses to work when connected on Bluetooth. It's terrible on this build.

Awe. Is that after reset?

LOVE then additions to the Start menu! Yes it's bring back buttons like classic Start but, they are merging with Live tiles. Microsoft is listening! Good job!

We re likely getting bug fixes and improvements but u forgot to mention them as u were carried away with the pc build, I haven't install the previous released build for mobile bcos of it's lack of cellular data ad battery drain so I'd like to know if this build is good enough to go with. Posted from windows central for windows 10 mobile

They probably haven't posted the article yet

They usually post a "what's broken, what's fixed" article later in the day.

I thought they didn't release one build because of cellular data issues but I haven't had any problems with released builds

Let me drop my unpopular two cents. Seeing that, so far, Windows 10 Mobile new builds are all cosmetic updates and mostly bug fixes, is MS really justified for dropping over 50% of their users from the update cycle seeing that they were already running it in a very buggy state? I mean with 8.1 users having the option to downgrade back to 8.1 why not give us the option to upgrade anyway? Now builds are coming out like clockwork and my relatively new Icon and M8 are stuck on 8.1. I thinks MS is just being lazy and wants to cater to a few windows devices to easily streamline their products and W10M which might be justifiable to some but completely unfair to consumers who purchased their products in confidence.

Yes, MS didn't update your phone because they are lazy. It has nothing to do with HTC or Verizon or the fact that a lot of the phones that aren't getting it have horrible ram and/or ancient hardware. It also has nothing to do with insiders giving feedback and saying that they wouldn't recommend the update for the majority of phones that are being left out. Lets also not forget that MS hasn't given you any other options to install the update. No, it's pure unmitigated laziness and they totally stole your money. And yes, that was all sarcasm because you are completely ignoring any other options that might be open to you.

Yeah let's keep blaming Verizon and HTC. HTC already tweeted that Micrsosoft wasnt willing to work with them. http://www.mobipicker.com/htc-blames-microsoft-unfairly-leaving-htc-m8-w... , so yeah keep blaming Verizon and HTC. Hope you enjoy your dead platform.

Who do you believe... The owner of the software who wants it everywhere or a carrier and an OEM that hasn't ever cared? Posted from Windows Central for XL

And HTC already said they had no plans to further support the Windows version of the M8 due to too few customers while Verizon dropped support for the Icon forever ago and never released 8.1 for it officially. You should own the fact that you made a poor choice in brand and carrier to support and that the only company in your entire tirade that threw you a bone was MS. And yes, I'll continue to enjoy my "dead platform" that is still actively being developed with a phone that does what I need it to do. As always, the power to do something about your situation is completely within your hands.

My roommate is with Verizon. They left her then-year-old Moto Droid Maxx as a paperweight when they refused to release a baseband update for it. The company is horrid, and their service is abysmal. I'd blame them for the Holocaust but they'd just deny it.

What are you talking about? You can all update... Posted from Windows Central for XL

Unsupported phones get easily the old Windows 10 Mobile via Wibdows Insider app by selecting "Insider Release Preview"
but "RedStone" needs some hacking and it's not so much compatible.
=>
It's time to buy a more modern CPU = phone.... with Continuum?

So happy I didn't downgrade my phone to the production ring after the update last week. Something told me we'd probably get some quick updates considering how close we are to the anniversary update.

ya more updates more bugs to find. i will start the download.

They mainly need to stabilize the mess they made with 14322. Adding new features on top of known bugs ... and rather bad bugs at that ... is anti agile. 14322 made fast ring unusable. That's all.

Is Stickey notes a UWA or a Win32 app?

Great modern UI, wouldn't you say?

Sticky Notes is Win32. The new notes coming with Windows Ink is a UWA

The new app is called Sticky Notes too... he wasn't talking about the current one.

Builds are exciting. Other than that, apps is still a problem!

Can we turn off Cortana on Mobile yet?

I've been able to since 10166

Except the ability to turn Cortana off on Mobile went away 2 builds ago (22). I can't turn it off in 27 either.

Unless you never turned it on in the first place. Then it gets kinda disabled, kinda not working. LOL.

I never had it on. I didn't want to use it. Now, it's on anyway, and I can't turn it off. I'm deblierately not using search on my phone because I don't want it.

Action Center in the far left?? Pretty sure it's the far right :) Also you forgot "adding" in... "Microsoft is also a few other Cortana features" Great update!!

You know I forgot all about Lumia 435! I was looking on amazon and saw it

All this talk of new features for windows 10, but I have yet to be able to get Windows 10 mobile on my AT&T Lumia 640!

I thought it was a global release. Maybe something to do with your carrier. Tried using the upgrade advisor app?

We were promised 3 years of software support. It's almost 3.5 years now. Supporting legacy hardware is a drag on development.

Wp8.1 had 18 months of support. Not 36. Posted from Windows Central for XL

http://news.softpedia.com/news/Microsoft-to-Support-Windows-Phone-8-1-fo...

Ah, yes. 8.0 phones were 18 months. 8.1 was 36. The 920 was a...?

http://www.phonearena.com/news/Microsoft-extending-Windows-Phone-8-suppo...

No love for the Samsung Focus?

Well, you could get the "old" Windows 10 Mobile on your stone aged S4 CPU Lumia 920 using the Windows Insider app and selecting the "Insider Release Preview"
First 10586.107 then updsye again for the latest version.
The future RedStone needs some hacking... and is not compatible.

Already on Insider Preview version .164

really exciting! hope it become stable soon.

I thought the toggle WiFi option was perfect! Why change it! Tap for toggle, hold for the settings flyout was PERFECT! Please say there will be an option for this behaviour!

I couldn't agree more. I wonder if people were not aware of the option for long press.

Love the long press taking me into WiFi settings. Gaaaahhhhh

i really do not know what you all are talking about the long press of the wifi button still allows me to go into the wifi settings. I am using L950 on AT&T with latestfast build

I really can't wait for the anniversary update! Posted via Windows Central App Win10 Tablet/Android Phone

What are they thinking with that horrendous all apps screen in tablet mode? There's way too much wasted space.

I like it, and I'm the only one who matters around here. I'm joking :) it was voted on though

They just need to use the space on the left and right. Seeing more apps on the screen at once is better. The all apps screen in 8.1 is much better since it doesn't waste all that space.

The empty space looks worse on the left side of the screen. Still an improvement but I commented it was weird when they did the survey about the changes initially. Maybe they will make more use of that space in the future. Overall, Tablet mode / full screen start is much better now - Glad to see some improvements to it but also hoping for some further focus on it to make Windows tablets better. The experience was getting there on 8.1, but I get why they had to drop it and Windows 10 is much better overall on Hybrids and desktop/laptops, it's really only dedicated tablets that suffered, and they aren't even that bad

Still pretty stupid to be leaving behind Verizon users with the high end Icon. Shoot, if they can't support it, get a flagship phone for Verizon users already. This idiotic behavior of ignoring a large mobile base is really wearing thin. What kind of ism is it when you refuse to deal with someone different than you?

You act like Verizon has no control over what phones they accept onto their network. It's kind of at the point that trying to get a high-end Windows based phone on Verizon would be like MS pouring their money into a black hole because their aren't enough customers and Verizon treats the Windows mobile customers they do have like trash.

This is not a Verizon issue. They don't make phones. They only offer them. It was Microsoft who didn't pay for the hardware and the measly fee to test the 950 and 950XL for Verizon users. Microsoft could have done this all in one motion, but wasted an opportunity. Verizon users likely won't see a new flagship, much less a new Windows phone, until the end of the year or beginning of next and that is ONLY if the Surface phone will be made available to the largest phone market.

Actually you are only half right. In order for a phone company to offer a phone they also have to be willing to a) pay out to obtain stock of the phone and b) be willing to assume responsibility to support the phone. Don't you believe for one second that it was a simple matter of Microsoft skipping the certification fee and that you don't have a phone because of that. As I said before, Verizon's dealings with MS and Windows phones in general have been crooked for years. I'm not going to say that MS did everything right because I'd rather you have a nice, shiny new phone instead of being left out in the cold. But I am saying that history makes me completely disbelieve that Verizon was totally on board with an expensive new Windows phone and mean ol' Microsoft just told them "no".

Complain to verizon or just install it already. Posted from Windows Central for XL

Thanks for paying attention. YOU CAN'T INSTALL IT ON AN ICON! It's a flagship phone and you can't get any of the Redstone versions. This is not a Verizon issue. They don't make phones. They only offer them. It was Microsoft who didn't pay for the hardware and the measly fee to test the 950 and 950XL for Verizon users. Microsoft could have done this all in one motion, but wasted an opportunity. Verizon users likely won't see a new flagship, much less a new Windows phone, until the end of the year or beginning of next and that is ONLY if the Surface phone will be made available to the largest phone market.

I thought you meant W10m. Which you can install even though Verizon doesn't support it. Anyways, the 930/Icon is outside their support periods.

The 930, from what I've read, gets the Redstone builds. The Icon (929) does not. I have the other path of Windows 10 mobile on my phone, but can't try out Redstone. Not sure why the bias, except it's probably MS hating on Verizon again instead of hardware limitation.

Yeah. Verizon refuse support.

Praying this fixes that horrible Bluetooth issue with groove that started two days ago.

Me too, I can't play anything in my truck. It cycles through all the songs then errors out stating there is another app that is controlling the music. Needless to say, my 30 min commute to work was quiet.

That is such a lovely update. I may have to upgrade/dual boot my Mac to this now and put my Surface Pro 3 on fast ring again. This is what it should have nearly been on release.

This update change log looks like an MMO game update log.

Still no UAC2 support for mobile? :-(

Were people unaware of the long press for the WiFi toggle that there was so much feedback?

Mixview tiles please doing with all of this new stuff

i dont get only one thing. why should the wifi toggle from action center take me to available networks instead of turning it on or off, when i already have wifi icon on tray area of taskbar which does exactly that thing. i get you listen to feedback ms, but dont listed to stupid one too. action center toggles are exactly that...toggles...not shortcuts. especially not for things that already got a shortcut...

What I want is something like the Quick Settings app on Windows Phone. I don't use that ugly, annoying action/notification/whateverwearecallingittoday thing and I have everyting turned off on the system tray that I can. I want a tile or nothing.

Haven't been able to receive the last two insider updates on my phone .... still running on 218.... have changed the rings and tried a lot of times now but not happening

Buildgasm. Posted from my Lumia 950

Bricked my phone - Lumia 930

i just noticed on W10M with the new messaging everywhere beta you no longer have the ability to switch between regular text or skype :(


That's good, they removed the skype and Message integration

Did anyone notice in the action center that it is now indicating app updates? Does that mean the store might be presenting app history finally?

Cortana available from the lockscreen I could see potential issues with this. "Cortana, what upcoming appointments do I have?"
"Cortana, please mail all my contacts to noprivacy at fbi dot gov."

Lol. Anybody could ask her and find out about that embarrassing doctor's appointment

Similarly to Windows 10 Mobile, only some operations will be available while locked. If it requires access to your data or needs to launch another app, Cortana will prompt you to unlock, and then will continue with whatever you asked. Either way, this is an opt-in feature. If you don't want Cortana available above the lock screen, you don't need it enabled.

I hope the start menu returns to as was. Not liking seeing all apps all the time.

New build 14328 old bug,s. Camera still mean green on my lumia 535 what to do ?

when i updated the apps
Got a notification in action center after the update is completed

Anyone else checking for updates and still not seeing this new build? I'm currently on 14316. My wife is still stuck on 14295. She finally got a cumulative update for 14295, but still no sign of 14316 or this newer 14328. And yes, we're both on the Fast ring. Posted from Windows Central for Windows 10

Well hello works on my XL, so we're in for a good start ;-)

To me, hello is worthless anyways

Please do something for file transfer. The effort you made in wp10 is great. There are problem existing when we transfer file via zapya,xender as well as in shareit. Please do something.

Forgot the word "Insiders" in the headline. Yet again.

So Many build...i am completely lost now ...where would I get if I rolled back?

You can only go back one build. So whatever build was installed prior to the update you're at now...

Had just sat down by my PC to get my phone ready to roll back as 14327 has not been kind to me on my 1520 (Had no issues with 14322) and then do my wife's 830 tomorrow to get us out of Insiders but like an old fool I see this, 39% downloaded, maybe it will fix some of my issues, if not its back to production build tomorrow.

Oh I got a question? Can I cast my screen to my pc on my Lumia 640?

I believe you can. You'll probably have to connect with a USB cable, but I'm pretty sure you can do it. Also, with non-Continuum-capable phones, it will mirror what's on the phone screen rather than show a different app or window on the casted screen. If you use the older Project My Screen app, I know it would correctly show landscape if you turned your phone that way. I'm assuming that the newer Connect app would behave the same.

Am I the only one that has issues since the last update when receiving sms the phone gets stuck in continuous vibration and have to reset the phone by vol down and power ? Lumia 930.

I kept my Lumia 630 512mb RAM on W10M ever since they announced it to not get any upgrade. Just now I got an update message for build 10586.218 I'm so happy right now!!! Posted via the Windows Central App for Android

Seriously? Is no one else having the issue where Groove music says another app is controlling the sound, and refuses to play music? This seems to only happen with Bluetooth

I wish they would start to incorporate the features from Tetra Lockscreen/Live Lock Screen Beta ( anyone remember those?? ) into the Windows 10 one especially as those apps are no longer available. Posted via the Windows Central App for Android

I bet it was absolutely killing them not being able to release this out to us earlier due to the PCI Express bug (and possibly others they found). Such a massive update.

Is there a fix yet for apps in the app list appearing as a double item that shows pending even when the app is installed already?

This news made me scream BIKES! like that comedian Tom Segura! Huge weekend of Feedback awaits :D Posted from Windows Central app, Built for Windows 10.

Well not much for mobile but hopefully to fix more bug issues like custom text tone not working on the next build.

My lumia 925 no build long time.

I really like this build. The new clock/calendar events looks really clean. Im excited to use taskbar badging. Rearrange Quick Actions was much needed. Player controls on the lockscreen was one of my feedbacks. Its almost there for tablets. Bring edge gestures, and horizontal scrolling mode please!

Not really liking the new start menu. To busy. From left to right: Icons for the folders I want to see quickly, then icons and text for all apps, followed by the live tiles I want. Just to busy. Please bring back the all apps button so I don't have to see them unless I need to.

I had trouble with 327 and 7 apps error during updates. then upgrading to 328 and 9 apps not updating . Error. However, this was restoring. Did a reset with no restore clean install and then install all my apps as needed and all seems to work now. This is where I hope MS focuses. I don't mind doing this and playing around but for the less tech savy this will ruin their experience.

I'm stuck at preparing to install updates 100% for more than an hour. It's not restarting.

There seems to be an improvement on the battery life and Mobile Data crash with dual sim Lumia 640 with this build ...14328. The mobile data works with two sims alive in the phone without a hitch now with this build unlike in the past builds 14322 and 14327, where I had to remove one sim to be able to use the Mobile Data. Posted from Windows Central App for Lumia 640 XL

My action centre buttons still can't be added back in, I can only have one since the update at the beginning of the month

On mobile, Cortana is no longer talking to me... She just open the websites..

Language and speech packs solved on mobile?

I think I should move to fast ring to get this.....cant wait untill Microsoft releases for slow ring...!!!

Good thing on my Lumia 540 now running smooth and mid perfect. The camera are working now from build 14322 and can use it. Bad thing list is: 1. Cellular Data not working properly and hang/stuck my Lumia 540. Settings on Cellular Sim are gone so need to reboot and go to Settings> Cellular Sim to look if you can use it. 2x need to reboot before use it. 2. Opera Mini, UC Browser are not working. Start only on blank screen and after that automatic close.

I'm currently on the Fast Ring on my 5 year old gaming PC. Do you guys recommend also enabling it on my SP4 and Lumia 950XL? I like having the newest stuff, but are there any risks involved doing it on these modern portable devices?

After installing I now have 1 app (Twitter) stuck in 'queued' on my Lumia 930. 2 hard resets have not removed the problem. MS must bring out an easier way to sort out apps stuck in 'queued' without any way of deleting them. The options to pause and remove are not showing and the app is greyed out in my list of apps. Hopeless.

Well I'm upgraded to 10586. Is there a sequence to numbers of updates?

Only flaw I've noticed yet is that the letter A is gone when doing in edge...

And a few others... Xwy.. M Goes to notes for some reason

What if I don't WANT any of that garbage visible all the time? I currently turn off File Explorer, etc. so they don't muddy up the clean-ish view of the full screen Start. I'm trying to make this look and function as close to Windows 8 as possible. Microsoft seems bound and determined to crap all over this kind of effort by creating more ugly mud in Windows 10.

Hi I have put together few feedback post after playing with the new start menu/screen layout. Feel free to upvote by copying the feedback urls to the browser please make the notification&actions bar sticky with the taskbar while being in the desktop mode
feedback-hub:?contextid=339&feedbackid=5387db3d-1606-4ebe-b651-9bc74d43b870&form=1&src=2 give us possibility to customize all the elements of start menu and start screen
feedback-hub:?contextid=203&feedbackid=0dd698a5-6d1c-4be9-bda9-b18be470d14a&form=1&src=2 make the start menu aware of the taskbar location and orientation
feedback-hub:?contextid=213&feedbackid=9de1c646-b42e-4ded-a905-44ed71a6b5b6&form=1&src=2 bring back the all apps button please and let it expand the all apps list all over the place where tiles usually reside upon pressing the button
feedback-hub:?contextid=203&feedbackid=99e53916-538b-4e50-a8c0-e8c8662e2f68&form=1&src=2 please change the new all apps start screen layout to be more thumb touch friendly
feedback-hub:?contextid=203&feedbackid=d5611bc7-7ab7-4d0d-b41e-99d01efcd75c&form=1&src=2
PiGeonCZ

On my TMobile 640, I seem to have lost Wifi calling as of build 14327. Still no settings available in 14328 either. (not that it worked all that well anyway. )

Any one try it in L830 or L930??? From WC L830.

They changed the file explorer app (so sad, really like the yellow folder) to "fit the windows monochrome design language", but they're not changing Edge? Definitely need to get on that, because then edge will stick out way more than it already does. Posted from my lovely MS Surface Pro 4 i7 512 16GB - assuming that it currently isn't BSODing or suffering some other horrible software or hardware malfunction.

Is this available for 1320

Cortana and start screen killing my battery after updating this build

The Action Centre button is on the far-right, not far-left..?

I just put my Nextbook Flexx 11 on the insider program (it was previously on the release build). It is putting the finishing touches on the install of 14328 right now! Looking forward to getting hands-on with it! :-) Cheers!

14322 nearly broke my 950 DualSim. 328 fixed it!!! Been using it as a daily driver since Friday evening and it is super stable. All my apps work, battery life is back to lasting a whole day of moderate use (and all the while with WiFi on, BT on, location on, motion on, both Sims on), my band 2 is working, no BT hiccups., Cortana working! Even Hello! is back to working as advertised.
Dare I say it? Nah.
Ok, fine, I will:
***They have a great product finally!*** Now we just need Microsoft to market themselves and sell some hardware.

Really buggy on 930.
Dont recommend updating this one. Previous builds were survivable, but this one is a bit much. Im hanging in there for the next update.
Windows Central Newsletter
Thank you for signing up to Windows Central. You will receive a verification email shortly.
There was a problem. Please refresh the page and try again.