Messaging Everywhere and additional Cortana languages part of Windows 10 Mobile preview build 14327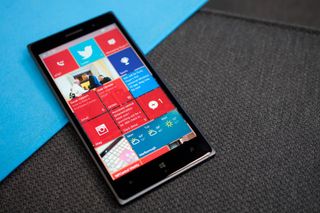 Microsoft has released its Messaging Everywhere feature as part of the newly launched Windows 10 Mobile preview build 14327 for Insiders. It has also added more language support for Cortana.
In a blog post, Microsoft's Windows Insider head Gabriel Aul stated:
Make sure you are signed in with your Microsoft Account (MSA).
On your phone – make sure "Send texts on all my Windows devices" is turned on.
On your PC – make sure you have chosen which phone to send messages through. You do this in the settings of the Messaging app on your PC.
Aul also mentions that the Skype integration in the Messaging app has been removed in this new Windows 10 Mobile preview build:
Finally, there are more supported languages for Cortana in this preview build:
14322 destroyed my 640 in terms of usability so I DO NO RECCOMEND downloading this for your phone if it has anything other than a snapdragon 800, 801, 808 or 810.

My 640 works fine with 14322, its even better than the Prod TH build.

My brand new 640 was horrible on 14322. I don't know what you use your 640 for but mine is an everyday phone and I have apps installed on SD and Spotify music downloaded offline and everything was immensely slow and cumbersome and it never worked in crunch time when I needed it to.

My brand new 640 was horrible on 14322. I don't know what you use your 640 for but mine is an everyday phone and I have apps installed on SD and Spotify music downloaded offline and everything was immensely slow and cumbersome and it never worked in crunch time when I needed it to.

I use my 640 as my primary phone, apps installed on SD card, I watch Youtube videos on 1020p, play HD games (like asphalt 8 on high graphics) etc, use office (Word usually) and practically use the 640 to it's limits sometimes while just casual at other times, and on the recent fast builds I've not noticed any deal-breaking things about my phone like you have said. Maybe you need to hard reset your phone? It's registry may have became corrupt over time and slowed down your phone. Because the 640 is more than capable of running this build with practically no issues. There is the battery performance compared to TH builds however even then it's not ground-breaking. :p +640 on Windows10Mobile

My 640 was 4 days old when I installed the preview. Shouldn't be any registry errors or problems. Perhaps before the next build I'll do a reset after upgrading but I'm tired of losing texts.

Yeah but going from 8.1 to 10.0.10586 to 14322 could corrupt some things

This build actually synced my texts back up finally, just had to tinker in the app settings. It even showed text I had deleted a while ago sooooo +640/Win 10

Why doubt you back up your texts:
Messages>settings>sync messages between devices. Posted via the Windows Central App for Android

Mine def faired better on 14322 than previous. Hard reset with these builds can go a long way.

The build seems to work fine on my 730, which, as you without a doubt know, does not have any of the aforementioned processors. In fact, it works much better than the previous build.

Compared to the stable release build it was not usable whatsoever. I'm not sure how yours is but mine was absolutely dog ****

Ah well, maybe Microsoft doesn't like you. xD

it didn't worked well for me, what is ur battery backup in fast ring ? mine not more than 12 hrs with moderate use - From Windows 10 Nokia Lumia 730

The battery back up is messed up but everything else works fine.

Mine was faster but battery life was terrible..hardly 6-7 hours..so rolled back to 10586..will give this new build a try..

But this is build 14327? Posted from my Lumia 950

If you notice, they didn't say "bug fixes and performance improvements" so I assume the reliability is about the same as 14322

There's a separate article on that. Lots of the issues have been fixed.

Yes 14332 was the first stumble my 640 has ever had on the inside program. Ended up with Black screen with sad face emoji and then continual reboot and back to emoji again and again. Rolled back eventually to 10586.214 and that's where I'll say for a while.

First thing my 1520 ever encountered that really messed with it. Freezes, black screens, SD card errors, camera lock ups, and horrendous battery life.

Except for Messenger not opening, my 1520 worked fine in 14322. In fact it was snappier compared to previous builds.
I worked around that Messenger problem by opening the app through FB app or from notification.
Have just updated to 14327 so I'll know how this performs in a few days.

14327 already feels a bit quicker, there's no delay loading tiles when scrolling quickly. Cortana pops up much more smoothly. It's more refined than 14322. But the biggest concern for me is the battery life.

I just hope its somewhat better than 322 in that regard.

Using it on 830, better than previous builds. And 830 has same internals as the 640. I suggest you to do a hard reset without backup (fresh restart) if you really are dedicated to try the new RS builds because sooner or later RS will become the official build and you will be forced to use it, whether you like it or not.

I did exactly that when I downloaded this build. It's just not usable for every day.

you can't know that... the phone needs a few hours to download all the stuff after a clean install (after hard reset) wait at least a day and comment then.

Like somebody said, Microsoft hates you LOL

I agree, 14322 did much damage to the reliability of my 950. Store has many issues with apps that are installed but still showing in the list on PC and Phone. And my 950 Windows Hello is very broken, and this might be fixed in 14327 - but 14327 isn't available on my Phone, and some of the insider menu options are not present. Redstone really has broken a lot :(

I'm currently on a metered data plan. Can someone who updated let me know the size of the update?

NICE !! Sent from Windows Central on Windows 10 Mobile. ;)

That's awesome!
​Too bad 630 has been removed from the Insider Program.

I hear you bro
all the unlucky 630 users gather here :(

Don't really care about these new features, but did they fix the Windows Hello and glance screen issues with Lumia 950XL? Well i'm downloading it right now, i think i'll find that out by my self, if only my internet or Microsoft servers were faster!

don't ask for fixes, people will down vote u - From Windows 10 Nokia Lumia 730

too bad for losing skype interaction on messaging app, even though it never worked for me. waiting to see the new app. Posted from Windows Central for Windows 10

That's stupid as hell, removes skype integration and Not put the uwp preview. Wtf like i want to use that old battery hogging skype app e.e

Skype integration was one thing I was using most. Only issue I had was slecting notification was launching skype app not messaging app. Well that is gone now. Hopefully microsoft will remove all ambiguity related to skype and make it more use friendly.

I agree. But I'll personally wait how the experience will be with the new Skype UWP , then I'll rant. Or maybe not, if the experience is good.

I was using that daily and it was awesome, you just needed to make messaging+Skype qs default skype app, options were within the Skype settings. Posted via the Windows Central App for Android

So... Cortana Just for Mexico or all Latin America?

Weird thing is, I could use it for mexico since the first Redstone build.

I have a 920 and a was waiting for cortana in spanish mexico too long... So sad about 920 and Windows 10

Not a huge build. Sorry to see Skype integration go. Windows Central for Windows 10-Microsoft Lumia 640

Bye, bye skype. As I told before, if they'll remove integration, there's no reason for using it (for me). Everyone around me uses whatsapp and only max. 2 people uses skype, if they are at their PC's. Skype seemed great, when it was integrated, even if I used it only with few persons, but I'll never install full app just for skype. Sad. I liked those moji, emoji and animations.

Look at it from the other end when Messaging and Phone integrate into Skype. Bye big moeny for the Telco's.

The new Skype UWP barely uses any resources compared to the old one... so I don't see any problem with having it installed. In fact, the old Messaging app was really resource intensive with Skype integration, so I'm really glad they separated it. It's especially confusing for consumers who would wonder why there's Skype on iOS and Android but not on Windows because it's hidden in Messaging. So I'm glad they separated it.

How on earth is it possible for you to know on a mobile build how much resources Skype UWP uses since it is not released!!!!!!!!!!!!!! Why are users talking and spreading crap info??
I for one will miss skype in messaging, it always worked for me and the fact they removed it without having Skype UWP available is a retarded move.

Looking forward for Cortana in Turkish.

Windows phone 7.x has MSN messenger integration. MS buys Skype, decides to axe messenger. Integration removed from phones, by 8.1 but hey we should be happy that we get Skype since it's supposed to be our go-to messaging app. Bloated, laggy and horrid. Have it integrated into messaging in w10 mobile, no app needed. Finally, something that lets us catch up to hangouts or imessage maybe? Hell no, skype integration removed, use the app instead. Trying really hard to convince myself that this is not some long-running joke on Microsoft's part.

Read their blog, if you hear it directly from the Skype guys maybe it might make some sense...however little I suppose. http://blogs.skype.com/2016/03/24/skype-universal-windows-platform-app-p...

I feel you man, sometimes I wonder if someone is brain damaged and in charge of decisions at Microsoft cause this is how it feels to me.
The urge to buy an iPhone and just drop the Windows Mobile is increasing by day.
Also keep in mind this, I don't mind bugs, battery drainage but features, design and stuff like that matter so much to me, and when they do retarded moves like that, it drives me crazy.

I feel the same way. But I wouldn't switch back to an iPhone if my life depended on it. I'd rather have a flip phone. Or candy bar phone. Just saying - Sent From Mars

No. From the original Microsoft post: "As we stated previously, only devices which are eligible to receive the Windows 10 Mobile upgrade will be able to get preview builds from the Development Branch going forward."

At least I installed builds before they did that so they haven't been able to take them away lol =p

I don't understand what will happen with the skype integration with messages... Will we have a new Skype app with witch we will be able to send SMS and Skype messages?

wtf? Seriously Microsoft, get your **** together!
First integrating it really well in the messaging app (I actually liked it).
Second, removing it? Do they have a plan or something?
The new Skype UWP should be really awesome (not like the ****** WP App) or I will really think about if I will invest money in a corporation that seems to be led by a teenager in his puberty.

Greece is one of the 24 countries that windows phones' sales are higher than iphone's, yet no Cortana for us. If you don't support your loyal customers, then how can you succeed? Posted from Windows Central for Windows 10

Makes me wonder what's wrong with Greece that more WPs are sold than iphone lol

Maybe Socrates used Windows phone?

You are far too rude to talk. When you learn about history and a proper way to communicate, come and talk to me.

Maybe Greek people aren't led along by commercialism

So Abraham Lincoln was using iPhone?

Makes me wonder what's wrong with the US that more iphone are sold than WPs lol

You want them to do it right, trust me...You can't just have an American Cortana trying to help anyone in Greece, that's like me trying to help you now and not knowing anything about you. =D

Since last build Cortana is available. All set to Greece except for the Language.

OK, but Mexico and Brazil already have Cortana in Mobile for about three updates before. I did not get this part...

We dont, tho. We had it for PC for some months now.

I have it here in Brazil since the first Redstone Mobile build that was available for older devices...

Is the PC Insider build also required to try out Messaging Everywhere?

That sucks. I'm not doing insider builds on my PC... too risky.

I love this, as I'm often on my laptop, and texting back that way would be awesome. I wish they'd but skype back into messaging, just for sending media, as it would stop me using WhatsApp so much for this. It's a shame Microsoft never bought WhatsApp :'(

I couldn't tell for sure from the article, is PC Build 14322 capable of Messaging Everywhere, or will we need PC Build 14327 to try that? Thinking about jumping to fast ring for build 14322 as I think I can deal with the bugs on that build in order to try this feature out. Sent from Ultimate Toaster 2.0 Deluxe

I'm wondering the same thing, I'll let you know once my phone is done... ;)

Can't wait to try this but there is enough bugs on the production version of Windows on my 830. I don't want to deal with anymore.

Sms restore syncing after hard reset yet?? Deal breaker. And pending apps in store??

Messaging Everywhere Beta works fine on 950XL and PC with 14316 AFTER getting the settings correct. Very FAST messaging app.

only has a couple of hiccups on the PC side, where conversations don't add the new convos you just added too quickly but yeah, I think texts go out on the phone pretty quick and notifications sure do great. =p

Where did you go on the phone settings to turn on "Send texts on all my Windows devices"?

It's in the settings of the Messages app.

Yeah, I figured it out. You have to go to the settings menu located within the actual messaging app.

No settings to set in my messaging app. 14316 PC and no updates available in store. However my laptop has a SIM in it. Unless that breaks it?

They shouldnt remove skype interogation it was awesome:/ i hope at least the UWP skype app will give the same experience :3

So does my PC/Laptop also need to be on the latest Insider build to take advantage of this?

Not working for me on pc build 14316 on my Surface Pro 4. It showed my messages at first and text box as read only.

So, am I the only one who actually is using this new feature? While the rest of you are in here complaining, I've been sending and reading my texts at my desk without having to dig the phone out of my pocket. Very liberating.

I will definitely use this feature. I just don't want to install the Redstone build on my laptop. When they fix the cellular bug, I will update to the next build on my phone.

Great to see new Cortana regions! So then, after Mexico what would be the next biggest Spanish region? I hope it's us Argentina.

my 535 was having a lot of dual sim issues so went back to production....

This build also has app download notifications from store. Insider settings UI has also been revamped just like the one on PC.

Hey Skype integration was one of the best features! What are you guys doing? Posted via the Windows Central App for Android

My point, why on earth would they remove the integration again... It's just stupid!
I don't want 5 different clients on my device just because some of my contacts choose a different one. I want my messages centralized, even if it means loosing some features like stickers I use only rarely. I still can use the app for those.

So happy with Wp8.1 Lumia 830

Finally here in Brazil!! And only 4 months later. Microsoft is really stepping up their game here!

For those that are using the Messaging Everywhere feature, where in the settings for the messenger app on your PC did you tell it about your phone? I'm on 14316 on both my laptop and PC, and neither has an option that i can find. TIA

I reverted back to build 14295 few days back. Now my machine shows no updates available, How to force to intall latest insider build? Any help please

Message Everywhere does not work on 950 XL and Insider buuld latest on the both PC and Mobile

Whats is the expected version for the Messaging app on Windows 10 so "Messaging Everywhere" works? Mine:
PC: 2.15.29011.0
Mobile: 3.16.11004.0 PC's Messaging shows no available Phones to connect to.

John, Perhaps you or someone could dig for some answers from Microsoft. Messaging everywhere is now working across PC and Mobile with same OS Build and app version on 14328.1000 for PC and Mobile. However, there has been no informative resources as to how to fix syncing of old conversations from Mobile to PC's. Greatly appreciative if youd look at this as something to get answers on.

Am I the only one who likes the messaging integration? I wish I could have and fb messenger and skype all in the messaging like wp7
Windows Central Newsletter
Get the best of Windows Central in in your inbox, every day!
Thank you for signing up to Windows Central. You will receive a verification email shortly.
There was a problem. Please refresh the page and try again.