Could this Nokia Atlas be the Lumia 820 variant for Verizon?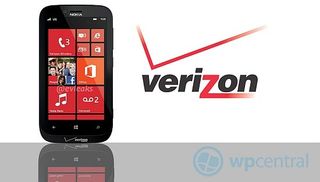 Late last week we wrote in length about the unwarranted uproar caused by the AT&T exclusive Nokia announcements. At the centre of the controversy was the notion that there would not be a Nokia Windows Phone 8 device coming to Verizon. [Actually, it was about them not getting the Lumia 920 -Ed.]
We could be seeing the first signs of life from the coming Nokia refresh for Verizon as The Verge reports, via @evkleaks, on this Atlas device.
Very much in line with what we predicted, the Atlas will sport a 4.3" display and takes on a nicely curved design. It's likely this is either the Arrow device we saw earlier or based closely on it, either way it's looking pretty handsome. Now we have seen the T Mobile Lumia 810, it's becoming much clearer how these "exclusives" are going to play out with Nokia's marketing switch to provide carriers with differentiation in hardware.
The Verge reports that according to their sources, the Atlas should be arriving in November alongside the HTC Windows Phone 8X. They also add that Verizon should be announcing this in the coming days, which is likely of great relief to those who are struggling with their original Windows Phone devices.
Nokia has already stated that they were going to work with the carriers to produce specialised devices. Here in Europe our carriers don't usually go in for these exclusives, but in the US the main carriers seem to do business this way. It can be a good way to generate a little more excitement and to make sure if you are marketing a product, those dollars aren't helping to boost a competitor.
The Atlas, if based on the Lumia 820 spec will be a fine replacement choice for those reaching their contract term on Verizon. What we still don't know but are highly sceptical about is if there will be a Lumia 920 device made available too. Many would certainly like to see this but as yet we haven't seen any indication that Verizon are going to get one. That could be due to a stricter AT&T exclusive or simply the case that with the Atlas and the HTC 8X Verizon don't see the need to stock such a handset.
Based on this new information, are our Verizon readers happy with Windows Phone upgrade choices? Would you leave your network just to secure a desired handset?
Source: @evleaks (Twitter) via The Verge; thanks, everyone, who tipped us!
Get the Windows Central Newsletter
All the latest news, reviews, and guides for Windows and Xbox diehards.