T-Mobile US officially announces the Nokia Lumia 810. Coming within weeks.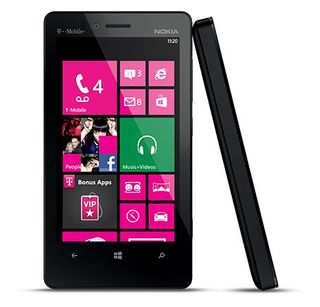 As we expected, T-Mobile today finally announced the Nokia Lumia 810 is coming to the carrier "within the coming weeks" with of course no pricing given, as it expected these days.
The 4.3" device features an OLED WVGA Clear Black display at 800x480 with an 8MP rear as well as a 1.2-megapixel Skype HD certified front-facing camera. In addition, T-Mobile will offer to interchangeable back overs in black or cyan to add some style.
It's an interesting name change from Lumia 820 to 810 but we strongly hinted at this in our editorial last week on the matter of "exclusivity". Here, T-Mobile is claiming exclusive to the Lumia 810.
Read the whole press release (opens in new tab) after the break…
2012-10-08 15:10:25
T-Mobile USA, Inc. and Nokia today announced the upcoming availability of the Nokia Lumia 810 — an exclusive to T-Mobile. The new Windows Phone 8 smartphone offers an enhanced camera, simple design and integrated navigation features. Combined with the only unlimited nationwide 4G data plan, T-Mobile customers will see a superior value with the Lumia 810, the latest addition to T-Mobile's expanding lineup of Windows devices.
"The Nokia Lumia 810 features a sleek design and high-quality hardware, combined with the efficient and intuitive Windows Phone 8 operating system," said Olivier Puech, President, Nokia Americas. "When combined with applications such as Nokia Drive and Nokia City Lens, the Lumia 810 ensures that T-Mobile customers are getting the best experience possible out of their smartphone."
Sleek Unibody Design and State-of-the-Art Wireless Charging
Featuring a 4.3-inch OLED WVGA Clear Black display, the Lumia 810 offers high-end performance in a compact package. The new smartphone is powered by Windows Phone 8, making it easy for users to personalize their device and experiences and always stay connected to friends and family. T-Mobile will offer exchangeable shells in cyan and black, which will allow the device to take advantage of Nokia's convenient and innovative wireless charging solution.
New High-End Camera Features to Capture and Share Quality Photos
With an 8-megapixel camera engineered with Carl Zeiss optics, the Lumia 810 takes crisper and sharper pictures, bringing memories to life. The device also features a new 1.2-megapixel Skype HD certified front-facing camera, providing a high-quality mobile video chat experience. With the Lumia 810, users can capture, share and relive life's moments with new camera features such as Cinemagraph, a lens that creates animated GIFs, as well as panorama settings and Group Shoot, which allows the customer to choose the best faces and smiles from a burst of photos and stitch them together to produce the perfect group shot.
Enhanced Navigation Experience
The Lumia 810 also comes with new and enhanced navigation features including Nokia City Lens, which overlays information about restaurants, shops, hotels and more on the surfaces of buildings, providing a new augmented reality experience. The smartphone also provides a comprehensive, integrated mapping experience through new enhancements to Nokia Drive, a voice-guided, turn-by-turn navigation system, as well as through Nokia Transit, which provides directions to a location using public transportation.
Easier Entertainment
The Lumia 810 also comes with Nokia Music, which features playlists that are curated by an expert team of global and regional musicologists, spanning a wide spectrum of music genres. Completely advertisement-free, and requiring no registration or subscription, Nokia Music allows consumers to enjoy the songs of their favorite artists without disruption. Nokia Music can also be enjoyed offline so consumers can listen to their favorite playlists anytime, anywhere.
Availability
The Nokia Lumia 810 is expected to be available in the coming weeks. For more information on T-Mobile's devices, visit http://www.t-mobile.com. For more information on T-Mobile's Unlimited Value and Monthly4G plans, see: http://family.t-mobile.com/phone-plans.
Windows Central Newsletter
Get the best of Windows Central in in your inbox, every day!
Daniel Rubino is the Editor-in-chief of Windows Central, head reviewer, podcast co-host, and analyst. He has been covering Microsoft since 2007 when this site was called WMExperts (and later Windows Phone Central). His interests include Windows, laptops, next-gen computing, and for some reason, watches. Before all this tech stuff, he worked on a Ph.D. in linguistics, watched people sleep (for medical purposes!), and ran the projectors at movie theaters because it was fun.
Ah, this is good news. The 820 was listed as 'exclusively for AT&T'. But here they are using the variant loophole for T-Mobile. There is still hope for Verizon...

Very interesting to see the 820 listed as the 810 for T-Mobile.

Hope springs eternal for us Verizon folks again...

YES!!! I am so happy about this. THIS will be my next phone. I love the unlocked iPhone 4 I've been using the past year and a half, but I can't wait to upgrade to my first Windows Phone. =)

Hold at for the Samsung ATIV for tmo you'll be happier.

The Samsung Ativ? Looks good on paper but Samsung really failed at promoting the phone. The only announced phone without any hands on videos or real press. But it could be great. Just wish Samsung put in a little more effort.

Well, There is just that tiny little problem that WP8 hasn't been released yet nor did the Ativ S hit the market already. There is nothing to promote or advertise since the devices are not yet available. But I'll agree with you if I don't see any promotion after October / beginning of November. :)

But neither has the Lumia 920 or HTC 8X hit the market but there are at least 5 videos a piece that you can find demonstrating them running the device and showing some of the features. That's what I meant in that respect so hopefully sometime this month Samsung will attempt to show us why we should get the Ativ S rather than the other offerings. Let's see what happens.:)

They are busy with their Note 2 stuff. Wait until they finish that first.

Lol! The story of the 'Samsung WP' experience - "wait, Android is primary concern, and when we feel like it, we'll give WP glance if we have time after checking in on Tizen".

WP is a afterthought for Samsung and for them to expect more than a handful of consumers/WP fans to 'wait' for them? Surely, a handful of people will wait, but Nokia and HTC it seems will get the bulk of WP business.

Not everyone wants a phone that big.

Except, if you would look at the actual dimensions instead of pigeon holing screen size with size, you would see that it really isn't that much bigger.

Hmm, very nice glad Tmo getting some Nokia love.
Now only if the 920 would become available on Verizon.

The 920 should be on all carriers.

There is hope yet. Come on T-Mobile, bring on the Lumia 910.

Headline and initial paragraphs inconsistent with the remainder of the article, as well as Nokia's announcement linked to at http://forums.wpcentral.com/upcoming-rumored-devices/198606.htm

Update: fixed!

Any ideas what is different between 810 vs 820, besides frequencies?

Nothing probably. It's Lumia 820 variant with different freqs and different design.
You can even change the covers like on Lumia 820.

But it doesn't look like the 820 covers will be compatible with the 810 and the 810 is only going to have a cyan cover (for now). Not sure why our wireless carriers are insistent on selling phones only as plain black slabs.

Because they are hoping to sell a high margin color shell as an accessory perhaps? You know, just a wild guess....

Is does the 820 have an oled or an LCD like the 920? They say here the 810 has the same oled screen as the 900

Nevermind just checked they both have oled

its a different body than the 820

http://cdn.conversations.nokia.com.s3.amazonaws.com/wp-content/uploads/2...



I like how it looks a lot like the rumored Surface Phone:
http://www.geeky-gadgets.com/wp-content/uploads/2012/06/surface-windows-...
The Surface Phone concept stil looks better but I do like the 810, mainly because it looks like none of the other Lumias (or Windows Phones for that matter). It is a simple looking phone but thats a nice change from all the 820s, 920, 8Xs and 8Ss out there.

There was a photo that Daniel posted like a month before the 920 launch that was supposedly the Arrow or whatever that looks 95% identical. If only Daniel would look into that...

Different body and different back. Basically, it is a completely "new" phone while staying almost the same.

Thats good to here! However, why is the guy calling it the Lumia 810? Lol..... 8X or 820? Tough decision.

Hear (as in to listen), not here (location.) And didn't you read the article? The Lumia 810 is a variant of the 820, specific for TMO, where the 820 is for AT&T.

The 810 and 820 are different phones
http://www.nokia.com/us-en/products/products/?action=catalogsearch&ps=sm...

Indeed. And the 810 looks more iPhonish than Lumish (pardon my French).

So does this give any hope of the Lumia 920 coming to T-Mobile as the 910?

Not, kind of the opposite.
They announced Lumia 810 and nothing about 920.

Though it does give slight hope about variant of Lumia 920 for Verizon.

Doubtful. If so, why not announce it now?

Verizon never announces anything until it's available. Making subscribers go Loony waiting to hear anything. The one exception being the worshipped iPhone.

That doesnt look like a 820 at all.

Hmm...love the 8X, and was content on getting it, but this brings a little interest to me. My interests and use for my phone aligns with what they 8X offers, but the 810 is a decent competitor. I'm more than likely still going with the 8X, but I want to play with both in store before I make a final decision.

Too bad the Lumia 8x0 phones are stuck with the WP7.x screen resolution.

Does it matter?.. You are getting a awesome phone with awesome support and apps..

Actually, screen res is one of the most important features to me. So yes, it matters.

It definitely matters if a "910" isn't coming to TMo.

That is very interesting. The 820 is larger and heavier than the 810.

Model comparison on Nokia's site also shows 10+hr talk time on the 810 vs a couple hours less for the 820. Could be as a result of AT&T's tests of the 820, though.

Can you link the spec sheet I cant find it anywhere

Sorry, don't have a link (just closed it), but it's just on Nokia's product page.

http://www.nokia.com/us-en/products/compare/?action=productcompareaction&site=85048&products=1871828-1811114&operation=show

Please find what the real difference is between 810 and 820. Different freqs is common sense so that doesn't count

You mean other than the fact that it's an entirely different phone with a different body?

http://www.nokia.com/us-en/products/compare/?action=productcompareaction&site=85048&products=1871828-1811114&operation=show

That's nice to see on T-Mobile. But how about a high-end variant of the 920 please? That would be better.

Yep. Just tweeted Tmo that the 810 was great and adding the 910 would be even greater.

Lumia 710 now Lumia 810 makes sense. No lumia 900 for tmobile so I find it hard for them to make something like 920 but still have my hopes as they did carry the HTC hd2 one of the hottest phones ever.

Looks like the 810 is also going to have wireless charging. Pretty cool.

It's bittersweet because I want the best of best (920) but T-Mobile always seems to settle for second best. I still worry about the flash space.

This is my phone or the 820.. am sure it is not going to be as cstly as 920..:)

No Lumia 920 on T-mobile? Time to say goodbye to T-mobile.

So.. this looks like a completely different phone from the outside. The body, the back. So yes, it is in fact exclusive to T-Mob. This might actually open up a window to Verizon getting a slightly different 920

Wait so does this mean the back covers that Nokia is selling for the Lumia 820 won't work with the 810? And once again the phone will only be sold in black with the only option the Cyan color back cover? How are we spinning this into a positive? Nokia's Lumia marketing strategy is being deconstructed in North America by wireless carriers. The color variations of all of their Lumia phones are being blocked for the North American market. This is terrible, in North America Lumia is being sold as just a plain black slab just like any other black slab.

Now don't be so US-self-centered. Carriers around the world pull that off too. They usually offer only one or two colors, and it's always the black one in stock when you go to their store. The colorful versions in retail cost a fortune + VAT (Here in the Old World we can buy phones in electronics stores just like PCs, washing machines, TVs and other applicances for their real price, not subsidized by a two-year contract - that's what credit cards and payment plans are for).

Do a comparison on Nokia's site of the two phones...they are different. Similar though. Looks like Nokia made this different enough from the 820 to keep its contractual obligation of exclusivity.

Guess there really is hope for a 920 variant for other operators!

http://www.nokia.com/us-en/products/compare/?action=productcompareaction&site=85048&products=1811114-1871828-1809776&operation=show It looks like the 810 will be thicker and with a bigger battery. 820 is 9.9mm; 810 is 10.9. talk time on 820 is 7.5hrs (3G); talk time on 810 is 10.2hrs (3G).

I bet Verizon will get the 910.

So tmo is not bringing the real bad boy 920! Or is there gonna be any exclusive like 910!!

Probably not. They would have announced it with the 810. I could be wrong though.

The back looks like the 920. I think the phone looks really good!

http://i.nokia.com/image/view/-/1871782/medRes/4/-/NUSA-PP-810-Section-Image-03-png.png

I will pass.... Moving to ATT for a good phone. T-Mobile no way you are going to hookup me in a 2 Years contract for this low end device and pay the same as 920 in ATT $199.00
Thank you

Sounds like they didn't want to confuse customers from the 710

710 is the worse NOKIA phone that I had.
I'm not going to try 810

Same here the worst smartphone I owned.

Reminds me of how blackberry curves were named...dont really like it but oh well, I'm not getting this phone anyway

Just make it bigger and add the 920 hardware in it and I will buy 2

Quite frankly, I don't see a difference between the two. This "810/820" Blackberry-esque mess is stupid. If Samsung can come up with a flagship and call it the Samsung Galaxy SIII on all carieers then so should Nokia, why resort to RIM like tactics and confuse consumers?
Honestly, they need to step above this petty carieer politics and try to get their devices in as many hands as possible. This "exclusivity" crap is really getting annoying (and even then you "exclusives" with Rogers which is only "exclusively" offering the color black - have you heard of Lays only exclusively offering the Salt and Vinegar flavour at Safeway?). They need to step above this and present a unified front because this is only helping people move away from their products.
And announce the phones on all carieers soon.

That's what they are doing globally. They even have Lumia 920 and Lumia 820 on 650 million customers in China via China Mobile.
Something that HTC didn't manage to do. It just seems like Nokia doesn't have the pull in USA.


Not that i care as a AT&T customer who will get Lumia 920 on launch.

You don't see the difference? It's a far less superior phone to the Nokia 820 which is even more inferior to the Nokia 920. Now I'm thinking if Nokia does make a Verizon phone it will be a handicap version of the 920. Sigh, HTC 8x it is.

@BlackWindow8: I don't. So far, all I have heard is "it is just that tiny bit thinner, has a little bigger battery and the dimensions have undergone some tweaking" - that's hardly enough to qualify it as a different phone. They still look the same to me. I definitely appreciate the improvements but the naming is stupid. Not that it takes away from how good the device is, but still...lately Nokia just hasn't left me impressed with the deals they have struck with carriers here.

If only the 920 looked like this I would consider a Nokia phone. Looks slick.

Yes! So t-mobile will get another Nokia. Possibly my next phone. Looks like it gets a better FFC compared to 820

Ok this reminds me a bit of certain SURFACE PHONE render that appeared inlate June. Nonetheless, the design is very nive i like it.

That Black is so deep man

Great news!!! Why would any of us on tmo be upset about this announcement? I mean, who needs the best phone out there - the 920, when you can settle for the 810?!?!

Very pretty device. I like the styling of the 810 over that of the 820. As others have said it looks like an iPhone 4 with Windows Phone on it, and as the only carrier of the big 4 without an iPhone, I'm sure that was done on purpose.
If I was on T-Mo and couldn't get the 920, I think the 810 would definitely get consideration for purchase.

hey Daniel! do you remember the leaked glasspanel where we debated whether it is the one from the 920 or not? looks like we both were wrong xD Its the one for the 810... nice phone though...

This numbering system is going to confuse a lot of consumers. -- Is 900 better than 820 because of higher number? Are 810, 820 & 822 equivalent models? Would a 720 be better than a 800 because it is newer generation, or worse because it is lower tier? This was always always a problem with Nokia, even with their chocolate bar phones. Consumers need a clear and simple hierarchy of model numbers.
Windows Central Newsletter
Thank you for signing up to Windows Central. You will receive a verification email shortly.
There was a problem. Please refresh the page and try again.