Crackdown 3 delayed into 2018, no longer an Xbox One X launch title
Crackdown 3 has been delayed into 2018, killing its status as an Xbox One X launch title.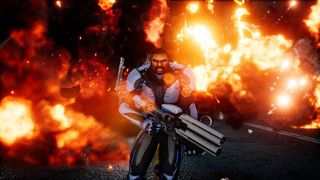 Microsoft has moved to delay the launch of Crackdown 3 from November 7 to a more general release windows of "spring 2018." In a statement to Polygon, Microsoft Studios Publishing general manager Shannon Loftis confirmed the delay, noting that Microsoft felt the game needed a little more time in the oven to deliver the "right quality." Says Loftis:
In particular, Loftis points to the game's visuals, which were a point of criticism when it was shown off at E3. The extra development time will give the team time to "focus on the visual polish," Loftis says.
Aside from being a blow to fans who will now have to wait a tad longer for the game to arrive, the delay also signals a blow to the launch lineup for the Xbox One X. Crackdown 3 was due to launch on the same day as Microsoft's new console, acting as a platform to show off its power with enhanced 4K visuals. Loftis remains optimistic about the Xbox One X launch lineup, however, pointing to a number of other games that will soon arrive with enhancements for the console.
Preorder at Microsoft (opens in new tab)
Windows Central Newsletter
Get the best of Windows Central in your inbox, every day!
Dan Thorp-Lancaster is the former Editor-in-Chief of Windows Central. He began working with Windows Central, Android Central, and iMore as a news writer in 2014 and is obsessed with tech of all sorts. You can follow Dan on Twitter @DthorpL and Instagram @heyitsdtl.
The guys over at IGN called this during an Unlocked podcast around e3. Really takes some of the sails out of the Xbox One X launch. Sad to hear this but I'd rather have a polished game later than a buggy game.

Yep. A good late game will generally be forgiven, and is soon even forgotten as being late. But a bad/buggy launch for a game is forever stigmatized, no matter the number of subsequent updates and patches that may fix the issues (Mass Effect Andromeda, No Man's Sky etc come to mind...). Better they take their time to deliver a very polished experience.

I think they pushed it back cos Agents of Mayhem is similar in some ways and is generating decent reviews. I enjoy it though I wish it were co o.p thats where CD3 will shine. I just want to play it soon! Upset it got pushed back but maybe theyll add more badass stuff

Not a bad move as Microsoft was about to release "the most powerful console ever made" with a main AAA game with rather weak graphics. Also, it highlights the hole in XBox's first party lineup, which is also lacking.

Call this, when they showed it at E3. It doesn't look like a graphical powerhouse. Not a title, you want to launch with powerful console. Still stoked for Xbox X.

So...the 7th iteration of a redundant racer and a total unknown from a dev who hasn't made a good game in a decade...that's your XB1X launcch content, Microsoft? This is why I'm sitting on the XB1S--they've done an embarrassingly bad job at investing in exclusive content.

Looks like they are struggling with the multiplayer and to get the power of the cloud working on this. Wasn't this initially suppose to be coming in 2015? Now it's spring 2018! It just doesn't look good when MS rely on a generic yearly racing franchise, smaller indie game and a game that was announced in 2014 for the so-called exclusives. Oh and MS lying once again. Cuphead isn't an xbox exclusive.

I don't think I've ever seen Cuphead being announced as an Xbox exclusive.

Did you even read the article?

"Not only are there several new Xbox exclusives such as Forza Motorsport 7, Cuphead, Super Lucky's Tale,"

Wow-.-- Nadela and the nutjobs around Redmond don't know how to handle anything related to consumers.

It needed to be delayed. It looked and played like the original Crackdown and didn't look like any progress has been made. MS generally looks like it is struggling on exclusives in a big way.

For me, it's just that they aren't investing enough on making games. Game development cost a lot. It's probably a lot cheaper to work on features like BC, xbox pass,..., have timed deals with small indie studios and rely on 3rd party games...