Create short stories from your photos with Flipagram, now on Windows Phone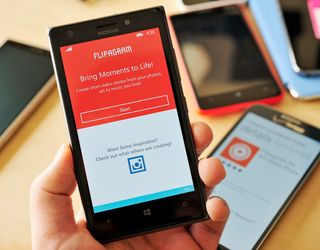 Flipagram, which lets you create short videos by using your photos, has launched on Windows Phone. The app uses photos from Facebook, Instagram, and your phone's camera to create these little stories, which you can set to your own music and share with your friends.
You can customize your stories to your heart's content. You can set the timing between flips in your videos for any length. You can set your title in any font, color, and size that you choose. You can pick music from your library, and check out a number of song previews for free. Instant Preview lets you check your timing and edits that you've made. Your stories can be shared through Facebook, email, text message, or a public link, and they can be saved to your Camera Roll.
Flipagram requires Windows Phone 8.1, and works on devices with 512MB of RAM. You can download Flipagram for Windows Phone for free from the Windows Phone Store.
Thanks, @eDrumms, for the tip!
Windows Central Newsletter
Get the best of Windows Central in your inbox, every day!
It's a bit late...the Flipagram craze started and ended last year.

Flipagram is still widely used on instagram,and it's nice to see another popular app come to WP.

It is dying down though...

I'm Windows Phone centric so I've never heard of it. Glad its here just the same.

Not available for my Lumia 1020 on AT&T running 8.1/ Lumia Black (still waiting for Cyan update).

Too late no one uses it anymore

Google play and ios stores would have you think otherwise, there's reviews placed as recent as today? It's also good to get an official app because people who move platforms MIGHT still use it and if it isn't there... well, strike number 1!

I see it constantly, everyday on instagram.

I see it used everyday on my I feed

Was jus watching a couple flipagram videos on instagram and wondering when are we going to get this app. Sweeeeeet......

It may start again. Still, its great to see that windows phone store is having many new and popular apps added everyday.

No direct upload to instagram - Rudy help!

Ahh.... See? Why? Makes the app useless... Another 'nearly' app...

"useless" as in "no use"? Not quite. I will post to facebook and send some to individuals via email and mms.

Ahh.. No.. I mean the app works, but if you can't upload to Instagram there doesn't, on the surface at least, seem much point in downloading it...

We have had 8.1 for how long and he still hasn't added video upload? I would not expect it anytime soon.

You can upload the video to Instagram importing it to Movie Maker 8.1 ;)

You know... Nokia used to have a slideshow feature in the gallery on their Symbian phones, especially the N series...it was a sweet feature where you could choose your background score & the pics would pan & zoom. Miss that! Does this app do something like that?

Tried the latest Nokia Storyteller version?

Good app, but can't adjust the pictures, music, fade in/outs to my own will. It needs much more customization options.

Time for my inner teenage girl to come out

Why they don't use the native Facebook Connect feature?

Except we can't upload videos to Instagram!

Can't upload videos keeps getting errors whole trying to share. Sharing feature sucks really bad. So you may have to import into movie maker but you might as well just use movie maker and movie moments to make your flipgram

I hate everyone that makes these stupid things.

This app is crap! I dont know why they bother releasing apps without thorough tests. I've been able to create only one flipagram and I'm beginning to think that was even a mistake. I keep getting all kinds of errors ughhh! Are there any flipagram alternatives for wp?

What am I missing...my store doesn't have "flipagram"...but has "flipagraph", which seems to be same thing...im on 8.1 dev preview if that matters but wouldn't think so. I thought it might be typo but everyone in comments calling it flipagram to?...hmmm?

Great to see an app like this come to Windows phone along with instasize recently. Only issue is you can't upload video to Instagram from the official beta app or 6tag.

Not available for my 930 anyone else?

Is it exclusive to Nokia? Unavailable for my 8X 8.1DP

Why i can't download it? I've a lumia 620. I'm italian.

Not availiable for 1520.. or my region, which is US

I have 520 and region set to us because of Cortana and even I'm not able to download it.

Unavailable for all? May be It's a private beta?

Won't let me download on HTC 8X in the USA

Unavailable. 1520, WP8.1 Dev Preview, US region

I was able to download it

Unavailable on my Lumia 720 too. WP8.1, US

app is no longer available

No go on 8.1 Dev Preview :-(

Why can't I install it? The store says my region is the problem.

Not available for 520 or India??

Same here no install possible 1520 8.1dp us att west coast dst

Installed it on my Lumia 1020 last night (uk) and my phone ground to a crawl (tiles were showing blank, scroll speed was rubbish, tried rebooting handset but it was still virtually unresponsive), uninstalled the app and my phone came back to life, so I'm glad it had been pulled ( it now says not available)

Unable to install on my Lumia 520, dev preview 8.1

Why not available for Lumia 925 I have windows phone 8.1 cyan update????!!!

App is no longer published!!

This app is no longer published - that what i`ve got in store Oo

Not available yet in the Store. L520 India.

App is no longer available. L720 WP8.1 Preview, Brazil.

Not available on my Lumia 925 with WP8.1...

It says not available on my Lumia 720, on WP 8.1

Please update us regarding the availability. :(

I have a 920 running WP 8.1 and I can't download it....(I'm in Canada but my region is set to US so I an use Cortana) help?

Not available for my NL1520 Dev Preview 8.1... :(

Not available on Lumia 1520 running Cyan in the United States

15 days later this app is still not available.

I cant get it I'm running 8.1 and cyan?? Why can I not get it

It shows unavailable for my Lumia 520 (India)..

JUL 31, 2014 | 12:03AM UTC
Flipagram replied: Hello The Windows team that we have working on this pulled the app from the store due to certain issues. We hope that it is back in the store soon. Thank you Flipagram
Made with Love in Los Angeles, CA.
www.flipagram.com
Twitter: www.twitter.com/flipagram
Instagram: www.instagram.com/flipagram
Facebook: www.facebook.com/flipagram

It actually totally messed up my phone. I needed to wipe and re-do my entire phone from a backup.