Cyber Dust pulls Windows 10 Mobile support for its messaging app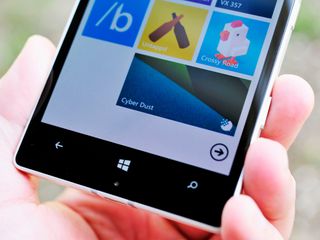 The Cyber Dust app for Windows Phone, a security-focused messaging platform with features similar to Snapchat and WhatsApp, will no longer work with Windows 10 Mobile devices.
Cyber Dust first launched for Windows Phone in December 2014 and offered users self-destructing messages, like Snapchat, combined will full encryption like WhatsApp. Among its investors is Mark Cuban of Shark Tank, and famed developer Rudy Huyn helped to make the Windows Phone version.
While the app itself is still in the Windows Store and apparently still works on Windows Phone, we have received emails from tipsters who have told us that it no longer works on their Windows 10 Mobile phone. Those folks contacted the company and they received the same response:
Thanks to Sam and dmakuta for the tips!
Download Cyber Dust from the Windows Store (opens in new tab)
Another one bites the dust....

This tym...it's cyberDUST Posted from the Forever stylish- Lumia 830

It's the first I'm hearing of that app. Doesn't phase me one bit

The word you wanted to use here is "faze"

I did it on purpose, mean My life wont change one bit. Like from liquid to solid or vice versa. But your word is correct.

Didn't want that app anyway, right? It's the same thing every time an app gets pulled from the store.

Well WengWeng, this app was billed in this site as the replacement to SnapChat when that company quit on us... "Who needs SnapChat if you have CyberDust" we've been told by good fellas like you... And as expected when it leaves you all deny it existed in the first place.
I've stopped daily browsing on this site as it has become riddled with your likes, it is impossible to see any future for this platform or for the community surrounding it. sad!

Just as well. Don't know anyone who uses this app.

I tried to convince some of my friends to switch from Snapchat to Cyber Dust some months ago... well, useless. That's how I stopped using Cyber Dust myself as well. I don't know anyone who uses that either. Posted from Bikini Bottom via my Pineapple PineBook XPS 13"

Horrible name too. I wouldn't figure out it's for chatting just by the name..

Yeah when people think cyber they either think old-school sex chatrooms, or they think like complex cyber-security stuff. Neither of which are mass appealing. Also they tried to use the term 'dusts'. 'Send me a dust'. Just sounded stupid.

sad AF everyone's leaving us this is why I have trust issues

Then, with a username like mine, we should be friends... Posted from PornHub

What's the issue? Trust no one and you will never be perplexed... =p

I didn't even know about this app. I'm not going to be like "never used it so don't care hurr durr". That's really not good news.

I'm closing my account. Telegram here I come. Those who can't be bothered to support my platform, gets nothing from me either.

Our market share has been obliterated. We are almost on par with blackberry. We have 0.7% and they 0.2%. My guess is it's going to keep dropping.

What's THEIR market share in the world of messaging apps?

That's a good question. I don't know anyone who uses this app on Android or iOS either. Posted via my Moto X Pure Edition using the Windows Central App for Android

Paul Thurrott said that WM's market share is at 0.1% currently.

Latest Gartner shows it at 0.7%. http://www.gartner.com/newsroom/id/3323017

Though that's new purchases (and just estimates at that) and not overall market share. Also, never listen to Thurrot. He just makes a living by being a 'Microsoft' guy that just posts clickbait negative articles on Microsoft all day.

WC is still showing the link... "Download Cyberdust from the Windows Store"
LOL!

Still works on Windows Phone, as stated in the article..we are talking about it pulling support for Windows 10 Mobile

Not working on WP8.1 for me anymore...

Still waiting for WC to report the 0.7% worldwide market share for WP from Gartner.

Am so sad right now that nomatter how i love windows phone, its high time to let go, its 99,3% dead. Posted via the Windows Central App

It's shipment share, not market share. A not-so-slight difference given that the former doesn't count installed base. But sure, it's convenient to forget about that bit since it makes news more sensational. Which isn't much news, anyway. And WindowsCentral did report the Kantar numbers, http://www.windowscentral.com/kantars-latest-market-report-shows-deep-de... - not sure how you missed that since trolling is your area of expertise. When you become Editor of some news site, you can get to decide what is newsworthy and what is not. Until then, STFU. Posted from Bikini Bottom via my Pineapple PineBook XPS 13"

Trolling on articles about stuff that doesn't concern me? Clearly, I'm not the butthurt one. ;) Posted from Bikini Bottom via my Pineapple PineBook XPS 13"

Keep going, I'm going to get my popcorn. Posted from PornHub

You're referring to the *install base* which is different. The numbers there aren't much better, in the 2 range depending on what report you read, and that's only likely to shrink with the rumors (from Windows Central in fact) that Microsoft will no longer produce Lumia devices and will rely on OEM partners. 97% of all existing Windows Phones are Lumias. Devices from Blu and Acer barely make a blip in that small market.

Often we've discovered being misunderstandings of support stuff, i guess they will update it the future

oh....it's now official that ....Microsoft gonna Close down it's Mobile device Section or Band it towards Enterprise costumers or Business Users.

Where is this official news?

in near future....after surface phone....

So its not actually offical then? lol

What's with The random Capitalizing of Words?

Never heard and never used :p

And everyone here is agenius whom ms does not hire.

I always get sad when I see any app leave, hopefully they'll be back. I couldn't get anyone to communicate with me over this app or Threema, people just are not there. It's kind of moot now that WhatsApp turned on end to end encryption though.

Oh that is sad, I liked the idea of it

This isn't much of a surprise. I mean, how many people even use this on all platforms? I can't imagine much. You can really only have one kind of app like this (at least in a single country), and it's Snapchat. Not that it's good to see an app get pulled, but this one is not surprising at all.

Yall all thought uwp was suppose to do something should of kept android apps on windows and stfu about native apps and let there be whatever apps on the store period now eat crow and get android lmao

Thanks for the kind suggestion but I think I'll stick with win10m. It's none of my business what phone OS you use, so I'd have thought it would be the same for you +640 on Windows10Mobile

Damn I'm sorry for all you WP/WM users it was the alternative solution to Snapchat especially for my brother. Then he gave up and got an iPhone he misses WP though. Posted via the Windows Central App for Android (V10 or 5x)

Your momma raised a quitter. Posted from PornHub

Yeah right, cyberdust as an alternative to Snapchat? Please don't make up story like this. Just be happy to use your Android phone and don't come here to troll.

This is unfortunate. They announced the Windows 10 version last year and said they were waiting on the official mobile release of Windows 10. I asked the Cyber Dust team about the Windows 10 version a month or two ago and they said to be patient and it was coming soon.

This was an alternative to SnapChat when the third party apps for that got shot down on Windows. I tried it out only because of that. I have to say though, I never found it to be very good. SnapChat is way better. Not happy to see support pulled, but I have to say if I were them I'd probably consider pulling out everywhere haha

Not exactly, similar to snap yes, but it was for knowing FOR SURE texts,photos or video are not able to be in the local police or NSA's hands.
Also fact it notified you if anyone attempted to screenshot was awesome, along with fact that they couldn't when trying..
Pretty sure it was backed by Mark Cuban

https://www.youtube.com/watch?v=rY0WxgSXdEE

"Derp derp, I've never heard of it, must suck let's go back to WhatsApp...."
Cyber dust was for top shelf deals, now its back to Telegram..

I think people are reading this wrong. They are saying the wp8 app will not work on w10m. It says nothing about them leaving the ecosystem.

Who..? Posted via the Windows Central App for Android

Not nice... Just a week ago I got 10+ people to start using and recommending Cyber Dust instead of crapchat... Now they do this? Well, no more dustin' with the pals I just delivered....out of the belief they'd be available on Win10Mo...

I get a "can't login message" when I try to login on my phone. No longer in Windows Store on my W10M device and their website no longer shows a Windows Store offering, just iOS and Android. Sad to see this go. It was a a big deal when they came to Windows Phone as an alternative to SnapChat.

Hopefully this means Snapchat is officially coming to WX mobile.

Meh, had this installed, but never really used it. I wish I cared more, but I really don't...
Windows Central Newsletter
Get the best of Windows Central in in your inbox, every day!
Thank you for signing up to Windows Central. You will receive a verification email shortly.
There was a problem. Please refresh the page and try again.