The Daily Mail app is available on Windows 10 PC a few weeks after its Mobile debut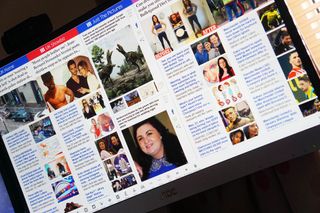 In early December, the well-known UK-based newspaper The Daily Mail launched its Windows 10 Mobile app, with the promise that a version for PC was in the works. That app is indeed available to download from the Windows Store, making The Daily Mail the latest major universal Windows 10 app.
As with the mobile version, the Windows 10 PC app for The Daily Mail gives users all of the paper's online content, including its popular and extensive coverage of celebrity and entertainment news. The app itself includes Live Tile support for the Windows 10 Start menu, along with a way to show images from the site on the lock screen. It also offers a way to download articles so they can be read offline.
Download Daily Mail Online for Windows 10/Windows 10 Mobile (opens in new tab)
Via: Neowin
Windows Central Newsletter
Get the best of Windows Central in in your inbox, every day!
Can anyone tell me why I cannot download windows insider.#L730(ind)

Way offff topic
Use the forums, that's what they there for.

Can anyone tell me why trees no download kink in the windows central app?

Trees? Kink?
Are you high bro?

Great news for those who read the Daily Mail and no, I don't lol.

It's also great we're seeing more official apps in general, though admittedly this is one of the few we could do without plaguing our OS of choice. But hey, if it gets more people to convert over then all the better right?

Love it or Loath it The Daily Mail is the UK largest sellng 'newspaper '. So it is a good sign if they if the need to adopt the Windows 10 Universal App Platform. Could mean a lot of readers undtanding the bene of Live Tiles.

Shame the mobile version runs so slow. Had a response from DM who blame it on FlipView Control being slow even on my 950

I'm rather surprised they didn't blame it on immigrants, as the Mail appear to think they are to blame for everying else that isn't the EU's fault.

It tabloid news.. With article covering all possible sides.. Having said that know from at least one German that is pretty bad for women there.. Government has covered up my cases of abuse by immigrants. Just saying..

It was me who replied to you review on store review and I'm Dev. If you are technically inclined read this post by a Microsoft employee.
http://mtaulty.com/CommunityServer/blogs/mike_taultys_blog/archive/2013/... The work around requires hacks. The performance isn't bad Windows 10. It was unusable on WP81.. If you clicked on 100th article, you go make a coffee. I had to swap it with Pivot. Even in my office I had explain this issue over and over including just yesterday as I was about to release update

hermitd, perhaps you can let me know why my phone always shows old news articles in the app? (also your link is 404) I have background news update enabled. Windows 10 Mobile. Thanks

http://mtaulty.com/2013/02/28/m_14591/ The chap i think moved server some time ago.. that was a saved link :) here is the link on current blog. Open settings > Preferences > Channel View.. top stories is managed view and default. Latest is the one that will refresh very often. Having said that there is a bug and i am trying to fix it (when you have scrolled down) it no longer updates the channel.. I will fix it in next release PS I was sure i replied to you first

Incorrect context. Removed

Yes. Where is proper BBC news App?

Can anyone tell me why I cannot download windows insider.#L730(ind)

Because you are not able to read?

How will I write if I can't read... Retard spotted

W10M fanbase has these kinds too!!!

Last time I was using w10 but it was not stable so I downgraded to win8.1 .now when I try to download windows insider its giving me msg saying Attention Required!!so I just want to know whether Microsoft have stop the preview program for some reason. Common buddies we are here to help each other no to make fun of others .

My friend don't you think this is the wrong post for asking this? Please go to the relevant forums!!!

That question was covered in great detail in an article about the Mango update to WP 7. Do a quick search on that and you'll be all set.

Sad to c rude people everywhere

Looking in the mirror? Hijacking a thread by posting way off topic is generally considered rude.

Mobile app is not bad but slow. Worst thing is the news is always old in it. I have the background news update on but it doesn't update. Maybe they fixed some bugs in this new version.

By default, the news shown in top stories. In settings there is option to get latest news. Please try that. Hermit PS there a known issue with content refresh, I'll fix it in next update. PS2: I am developer responsible.

The mobile app has had two updates, prior to the first update the comments section showed replies but after the update it was no longer there, is it still the case with this update? If yes, why?

The API to request comments includes and option to include replies.. i dont think i have changed that but i will check and if necessary fix it.

Just checked(after updating) for you, yup, the app still doesn't show comment replies. It used to

Maybe i messed it up somewhere.. API request still has it... let me check what i did to screw it up... Thanks and this is be fixed in next update.. will try to push it out as soon as possible

The PC app has always been available

Good to see more "fictional writing" apps in WP10...

Wonderful to see more universal apps and especially from such well established papers as the Daily Mail.

I know that many here are, rightly, pouring scorn on the actual paper for been tat, but it is great that it is available. Daily Mail is very popular.

hermitd, I wish you the best. Thanks for this but please work on the identified bugs as soon as possible. Cheers!

Tunde, I am working as quickly as i can to fix as many possible issues. Next release will be a bug fix release. Right now I at home (no work today and possibly tomorrow) as I am unwell Regards, Hermit

Oh how I can't wait to read the Kartrashians like Porn Star Kim with her horrid and disgusting sisters like 'supermodel' Kendall and blow up doll Kylie Posted via the Windows Central App for Android on my Frost Nexus 6P

As an Android user you could already do that :P I enjoy finding interesting articles amoung the many and there are those as well.
Windows Central Newsletter
Thank you for signing up to Windows Central. You will receive a verification email shortly.
There was a problem. Please refresh the page and try again.