Dashwire Mirrors Your Phone's Content Over the Web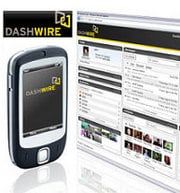 So I'm checking my email as usual and I see an email from Dashwire saying my phone is ready for their software. I'd like to think my phone was ready all along and it's just that their software was ready for my phone. Anyway, I have the Treo 750 so I decided to give it a try and am already loving it.
The basic idea is it will invisibly back up much of your smartphone's content to their servers with little to no interaction on your end. The thing I love about it most is the fact that it syncs your contacts, photos, text and even videos to an online web site wirelessly. Now you never have to worry if you uploaded that last picture or if you added that contact to your friends list.
The best part is that it
Windows Central Newsletter
Get the best of Windows Central in your inbox, every day!
I really like the idea of Dashwire.... now I only wish Palm buys them; put it on the Foleo 2 and sell me one!

No thanks. I'd rather backup my device contents to my own local storage card.

No go for me either. As cool as this looks, I don't trust all the contents of my phone with some website. Sprite Backup and microSD for me...

This looks like a very interesting piece of software - similar to Blue Nomad's BackupBuddy.net for Palm OS. Live backup for mobile is going to happen, and already does for exchange users.. it's just going to be a matter of time and building trust (perhaps running your own server to talk to)

Definitely get that some people don't like their stuff all up on the web (or don't necessarily trust a small start-up with all that info). About a year or so before Dashwire (while still at the Soft), I wasn't too thrilled about all my data on the web either. Then Facebook and others came around, and that sensitivity flew out the window for me.
Still, it's a personal comfort zone thing. If it makes you feel any better, we don't do anything with your private data and we fully plan on being around for a long time ;).