Death Worm for Windows Phone 8, devour and destroy everything in sight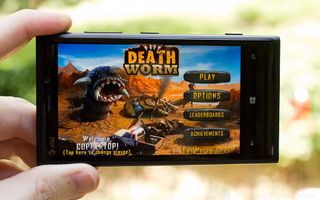 If you're in the mood for utter destruction the Windows Phone 8 game Death Worm might be your cup of tea.
You control a man-eating, camel-eating, "devour everything that moves"-eating worm who has to work it's way through sixty levels that spans four worlds. And it's not all destruction. You have dangers to avoid and power-ups to collect. The death worm can take on damage and too much damage results in...well...death.
Death Worm is an entertaining and addictive game for your Windows Phone 8 device. There's room for improvement but overall, Death Worm is worth a try.
The main menu for Death Worm holds options to play the game, access the game's options, view the game leaderboards, and view your achievements. Options cover sound/music levels and on-screen control orientation.
Death Worm has three game modes; Campaign, Survival and Mini-Games (three of them). Campaign is the sixty level game that you have to devour a set number of items before advancing to the next level. Survival is just that... devour everything in sight and survive the attacks.
The three mini-games include Super Dash, Air Defense and Countdown games. Super Dash is a racing game, Air Defense has you battling air craft and Countdown has you catching as many underground creatures before the timer hits zero.
Game screens are fairly universal. From left to right you'll find your score, the death worm's health, worm size, gaming level, fireball and speed boosts information. On-screen controls line up along the bottom of the screen, your campaign goals are displayed in the upper left of the gaming screen and your upgrade alert in the right. It sounds like a lot of information on the screen but the developer did a nice job of managing the clutter.
A virtual joystick controls the worm and you can gobble up creatures beneath the surface, things on the surface and jump to take out those things in the air. Enemies can be eaten or smashed with the worm's body. Along the way the natives get restless and start shooting at the worm. Health appears to be regenerate with time.
You can collect fireballs and speed tokens and collect enough, you'll get a boost. When the upgrade alert flashes you can increase the worms size, speed, skin, fireball power and more.
Death Worm is a fun game that has an addictive quality to it. Game play challenging, animations nice, and sound effects painful (with those that get devoured). There are over fifty different enemies to take out. Add the four worlds, sixty levels and mini-games and Death Worm is a rather healthy game.
There are two downsides though with Death Worm. First, there is no help section to at least explain what all the boosts, displays, and feature do. Next, there isn't a trial version available to let you try things out before buying. Death Worm is a great game to pass the time with but it may not appeal to everyone. Hence the need for a trial version.
Death Worm is currently running $1.99 for our Windows Phone 8 devices and you can find it here (opens in new tab) in the Windows Phone Store.
George is the Reviews Editor at Windows Central, concentrating on Windows 10 PC and Mobile apps. He's been a supporter of the platform since the days of Windows CE and uses his current Windows 10 Mobile phone daily to keep up with life and enjoy a game during down time.
Woot. First
Awesome game!

A Classic! (until they made ass blasters in the sequel, lol)

"-Hey, this valley is one long smorgasbord" :D

Bought this yesterday. Soooo much fun! Highly recommended.

Got this when it first came out, great game!!!

ooo nice i remember playing this on my iphone


Didn't Daniel review this a few months ago?

Pretty sure, I bought it after his review.

My Lumia 920 feels very hot when playing games... Do u have the same issue??

Yup .. same here !
Heating & Battery drainage, 1308 update.

No trial...no buy
Do they never learn?

Super fun. But so is it always to destroy stuff :D

No Trial = No Buy
I'm not sure why there's a trend in certain games/apps that won't let you try before you buy... developers could make a lot more money if they just added a demo.

I don't normally buy if no trial (rayman) but this is cool game!
Windows Central Newsletter
Get the best of Windows Central in in your inbox, every day!
Thank you for signing up to Windows Central. You will receive a verification email shortly.
There was a problem. Please refresh the page and try again.