Deep Rock Galactic is getting its first major update since launch on October 8
New missions, content, tools, and cosmetics.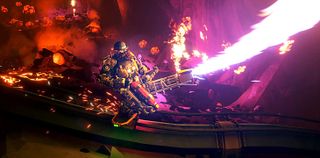 (Image credit: Ghost Ship Games)
What you need to know
Deep Rock Galactic is a unique game that melds procedurally generated environments, mining, and intense combat with co-op.
The game came out of early access back in May, and is now ready to receive its first major update since launch.
Update 32: Roughnecks at Work, will add two new mission types, as well as an astronomical amount of changes besides that.
The new update will drop October 8, 2020, alongside new DLC and cosmetic packs available for purchase.
One of the more unique indie games to come out in recent times is Deep Rock Galactic, a unique game that encourages co-op play, and sees players take control of dwarves, who are armed to the teeth and prepared to do whatever they need to do to mine for valuable resources and complete their objectives. The game officially launched out of early access back in May, but the team has announced the first major update to come to the game since launch.
Update 32: Roughnecks at Work, will be a huge update that adds lots of new changes, including two new mission types, to Deep Rock Galactic. Beyond give players a lot more to do, there will be smaller technical changes, weapon balances, and a whole lot more to make the game feel more fresh.
Some of the highlights of the update include:
On-Site Refining mission. This new mission type has players building huge and elaborate refinement systems for the purpose of extracting Liquid Morkite.
Escort Duty mission. Players will have to escort and manage the huge Drilldozer and protect it from threats, in order to hopefully secure the mysterious Ommoran Heartstone.\
New DLC packs. Players will be able to choose from Fall Collection, with new beards, hair styles, and helmets and a new cosmetic DLC. There will also be Roughneck DLC, giving players four new armor types, helmets, and paintjobs.
Miscellaneous changes. Update 32 will also include an improved Assignment Board, new achievements and milestones, new dwarf-shouts, a new Roughnecks at Work Assignment to train players on the new mission types, and various changes, fixes, and weapon balances.
Update 32: Roughnecks at Work drops October 8, 2020 on both PC and Xbox, and should add plenty of new stuff for players to sink their teeth into.
Image 1 of 4
Don't dig too deep
(opens in new tab)
A co-op mining adventure.

Deep Rock Galactic, from Ghost Ship Games, is a 1-4 player co-op mining adventure featuring procedurally generated caves, destructible environments, and endless hordes of alien enemies.