Dell launches several new Windows laptops and PCs, curved monitor, at CES 2015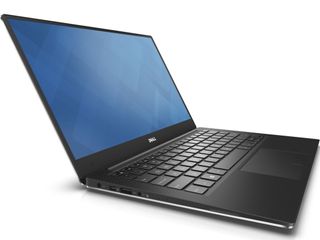 Dell launched a number of new Windows laptops and PCs today as part of CES 2015, including a 13-inch notebook with a 15 hour battery life, two new gaming notebooks from its Alienware division and a curved 34-inch monitor with a 21:9 aspect ratio.
Dell showed off all of their new products, most of which are available to purchase right now, at a CES 2015 press event. Stay tuned as Windows Central will have some hands-on impressions of all of these new products.
Press release:
Dell Reveals Best Portfolio of Consumer Devices in Company History
Dell today announced at CES 2015 an expanded portfolio of award-winning devices featuring premium materials, stylish finishes and the latest technologies from its XPS, Alienware, Venue, Inspiron and displays families.
"The new products announced today raise the bar in every category, with style, substance and software solutions customers can only get from Dell," said Sam Burd, vice president, Client Solutions Product Group, Dell. "Whether you are a gamer, always on the go or buying a laptop or desktop for everyday use, Dell is building in the features and functionality customers care about."
XPS 13 and 15: Elevate your computing experience
The XPS family of devices has always been designed to be the best balance between form and function. Taking that mentality to new heights is the Dell XPS 13, the smallest 13-inch laptop in the world with a virtually borderless infinity display and the power to get work done anywhere. The XPS 13, with Windows 8.1, is designed to be the best-performing notebook of its size, featuring the longest battery life of a 13-inch notebook with up to 15 hours of run time on a single charge. The laptop's optional UltraSharp Quad HD+ infinity display, with 5.2mm bezels, boasts an incredible 5.7 million pixels, so movies and presentations burst with eye-popping color and precise detail. The 5th Generation Intel Core processors and solid state drives provide performance and responsiveness, and the remarkably light form factor starts at a mere 2.6 pounds. Connecting while on-the-go has never been so effortlessly stylish.
The XPS 15 continues to surpass expectations by delivering vibrant color and resolution in a new UltraSharp 4K Ultra HD touch display, coming soon on Dell.com. Boasting more than 8 million pixels, the 4K Ultra HD screen option is the highest resolution panel available on a 15-inch laptop today. Rich, saturated color and stunning brightness allow users to see more content and enjoy finer details, perfect for watching movies, consuming web content, or editing photos and videos, and delivered with the XPS 15's trademark powerhouse performance and ultrathin form factor.
"I recently switched from a MacBook Pro to Dell XPS 13 and couldn't be happier," said Scott Stedman, founder, Northside Media Group. "The touchscreen is a game-changer and has transformed the way I work. It allows me to pivot between business development and design throughout the day. While I'm responsible for growth and operations, right now we are deep in product development for a new web app set to launch in 2015, and the XPS has allowed me every tool to navigate these varied responsibilities."
Alienware 15 and 17: Gaming excellence on-the-go, desktop-class graphics at home
The Alienware 15 and 17 Windows laptops are the newest members of the world's most iconic family of gaming systems. Both systems pack the latest gaming technologies, including optional Intel Core i7 quad-core processors and NVIDIA GTX 980m graphics, and are also compatible with the innovative Alienware Graphics Amplifier. The new Alienware 15 and 17 are both more than 20 percent thinner than their predecessors and feature full-powered performance components without throttling. The notebooks enable their graphics cards with 100 percent of their rated wattage to deliver maximum graphics performance when a gamer needs it. Intel Core i7 models will even automatically overclock when you plug your laptop into the Alienware Graphics Amplifier (sold separately).
The new Alienware 15 and 17 laptops are suited for every gamer's needs and designed for performance and gaming scalability whether using the Alienware Graphics Amplifier to power a command center at home or taking high frames per second (FPS) matches on the road.
Per the Alienware brand's commitment to quality materials and a superior user experience, the new notebooks are constructed with elements such as copper, aluminum and carbon-fiber composites for a rigid and performance-focused mechanical design.
"My partnership with Alienware allows me to power my innovative vision, both in the studio and on stage," said Morgan Page, American progressive and electro house DJ and music producer. "In the studio, I rely on Alienware's powerful systems to push the limits of digital audio production, and my live performances employ 3D imagery that encircles the listener in an entrancing audio/visual experience driven by Alienware's unrivaled graphics horsepower. With the new 15 and 17 laptops, I'll be able to bring my audio and visual productions to an unprecedented level."
Dell Inspiron 7000 and 5000 Series: Stylish PCs with innovative new features
The Dell Inspiron family is proud to unveil a new suite of standout offerings, including the Inspiron 15 7000 Series laptop with Windows, a 2015 CES Innovation Award honoree. The Inspiron 15 7000 Series launches at CES with new 5th Generation Intel Core processors and a 4K UHD touch display option – the sharpest, brightest display ever offered on an Inspiron. The 4K Ultra HD display gives people an astonishingly clear, crisp, wide-angle viewing experience, ideal for watching movies or editing photography or video while on-the-go. The ultra-mobile Inspiron 15 7000 Series notebook's sleek, lightweight design allows you to easily bring your 4K projects and entertainment with you.
Today, Dell also launches the innovative Intel RealSense 3D Camera Front F200 on the Inspiron 15 5000 Series laptop and Inspiron 23 All-in-One desktop. The 3D camera enables new ways to interact in gaming, entertainment, collaboration and content creation, allowing users to download from a library of new apps in the Intel App Showcase that take advantage of the camera's depth sensing capabilities. Users can play with gestures in the immersive apps and use the Intel RealSense 3D Camera Front F200 for 3D scanning and 3D printing. The Inspiron 15 5000 Series also boasts the new 5th Generation Intel Core processors for responsive performance and almost 8 hours of battery life.
Dell also announced that it will release an exclusive Special Edition of the Inspiron 13 7000 Series 2-in-1 device in March, part of Dell's "Only @ Best Buy" collection. The Inspiron 13 7000 Series will debut in a new design with curved edges, a metal palm rest and a diamond cut touch pad. The 360-degree hinge design rotates between four modes of use for ultimate flexibility enabling users to flip between laptop, tent, easel and tablet mode to suit their varying work and play needs.
Inspiron 5000 and 7000 Series laptops also feature True Color display technology for exceptional visual clarity and color fidelity that allows movies to look how the director intended and photos to look as they did when you were there. True Color offers several profiles, allowing you to tailor your display's color temperature, vibrancy and tone, and giving you the ability to adjust color to compensate for the lighting hue (fluorescent, incandescent, etc.) where you're using your laptop. Both the 5000 and 7000 Series offer Dell's new precision touchpads for exceptionally fluid panning, pinching and zooming, providing users an experience that's touchscreen-smooth and quick.
Dell UltraSharp 34 Monitor : See, feel and live every moment
First previewed at Pax Prime in August 2014, the curved Dell UltraSharp 34 Monitor will be available for purchase Thursday, Jan. 8, on Dell.com. Users will enter new dimensions of gaming and multi-tasking with an immersive, panoramic, curved screen that surrounds the senses with amazingly detailed WQHD resolution. At 34 inches with a 21:9 aspect ratio, the U3415W is the ideal size for a curved monitor. The curved screen optimizes the field of view and minimizes eye movement to deliver a more comfortable viewing experience than a flat screen. Rich and engaging sound from the powerful 18W integrated speakers transports users further into the digital world, while connectivity features support multiple monitors and peripherals for massive screen real estate.
Get the Windows Central Newsletter
All the latest news, reviews, and guides for Windows and Xbox diehards.