Denim update rolls out to the Lumia 1020 in India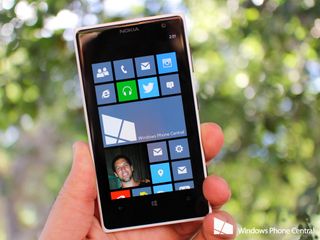 Heads-up to those in India with a Lumia 1020: your Lumia Denim update has arrived. This comes after a previous rollout last week to a swath of other Lumia devices in India.
We reported last week that Microsoft India was aiming to have Denim on all Lumias by the end of February, and it seems to be making decent headway so far. Here's the current list of phones eligible for the update:
Lumia 525
Lumia 535 (dual SIM)
Lumia 620
Lumia 720
Lumia 1020
There are still a number of other Lumia devices left to update in the country, so we'll have to sit tight and see if Microsoft nails its deadline.
Be sure to keep an eye on Windows Central, as we'll bring you news on more updates as they arrive.
Thanks to everyone who sent in tips!
Source: Microsoft (opens in new tab)
Dan Thorp-Lancaster is the Editor in Chief for Windows Central. He began working with Windows Central as a news writer in 2014 and is obsessed with tech of all sorts. You can follow Dan on Twitter @DthorpL and Instagram @heyitsdtl. Got a hot tip? Send it to daniel.thorp-lancaster@futurenet.com.
The first lumia came out will be the last to get the updates.. %@#@!!!

The Lumia 635 US still doesn't have Denim. Still on Cyan

When in the US? See how annoying that is, people in India? ;)

It's alright boy..You'll get it one day just like your Icon got Denim.

US carrier discussions I.e. AT&T, are worse than wen in India here! Just scroll down....

Yep, that's cause the update situation in US is worse than here in India.

At least US discussions aren't about some paranoid "Microsoft doesn't care about us" rantings, as of Microsoft has any power to control these carriers.

You mean the 820. Which hasn't been updated anywhere.

The microsoft support has always been in questionable situation. Users need to wait until the loyal users make another switch. After sales support must always in priority. IMO.

Still with buggy explorer and apps that shut down randoomly 920, maybe installing w10 would have fixed that....

Where is AT&T with Denim? Everyone in the world already rolling on Denim and we in the US are left behind.

Kinda odd.... att is usually one of the first..... Premier carrier?.... Hummmm.
........
The only technical issues that I would think could be holding up the update are radio issues???? .... IDK.. I mean, the US 1520 isn't THAT different than the others.. Weird.

Are you having a pulmonary rectal cardiovascular embolism over there tonight❓❓❓

Yes, a rectal embolism. Lol

Then the issue lies with MS's piece of shit update.

Are you sure about that❓❓❓❓
.........
Why do you think that?

Why would ATT take so long to test something as camera improvement... For basically old devices...

I believe they just prioritize other platforms first... Simple as that... The few times we got updates quick were just luck.... Or Nokia.

I'm to the point I just don't care anymore... This thing been previewed and leaked since lest year...

Lol!... I guess you're right... We know W10 is gonna have all these features any ways...

At least the updates are safe. Remember Lollipop? It crippled many Nexus 5s here in India. Remember iOS 8.0.1? It broke cell service and Touch ID. We are far better off. I'm on Cyan and I'm happy with it :D

Yep... Here where the market share is low....
..........
Oh, well..... I guess 4% of 100,000 is more than 10% of 100.... Maybe it's justified.

Yes. Of course. At last 100(out of 1000) will be greater than 80(100),

Microsoft must NOT be playing whatever game there is to play with the US carriers. I rarely see Windows Phones on display in the AT&T Corporate stores and have had to ask for them. Even as AT&T advertised the 830 with the FitBit bracelet, I had to have my local AT&T Store in downtown Providence, RI order one in as they didn't stock them. I spend a lot of money with AT&T every month and am treated very well by them, but they always try to sell me an iPhone or a Sammy when I walk in to look for a phone for someone on my account. They never mention Windows Phones.

That's because we have a serious Marketing issue that's effecting marketing from every level for WP...

I don't believe it is a marketing issue. I believe it is a sales issue.

You don't believe it's a marketing issue... Well, call it whatever Richard wants....

The only thing that is probably holding it up is they are trying to make sure the bloat will still work and they must be having issues with it.... Still waiting

Makes no sense.. I'm going to be less impressed when it comes out.

Ohhhhhh.. Montpbm isn't going to be as impressed.... We should probably alert the king.. Lol.

Ooooo! You almost told a joke...I am the king lol.

If I'm not mistaken, I think I remember reading something a while back that Lumia 1520 for ATT should have the update by the end of February. Well, this week is the last week of the month. If it does get pushed out, I will will be extremely happy. I'm disliking having to use the stock camera app. I miss Lumia camera. I have the app, but can't use it until I get Denim. Between now and Thursday seems to be the average days updates get pushed out. If we don't see it this week, we may not see it until sometime in March. I'm starting to feel like ATT is losing their interest in WP. This is why MS needs to hurry up and put out several high end variants on all carriers. That iis what people are waiting for. But, that's just a pipe dream. They aren't planning on putting out a high end phone until Win10 is completed. It's a shame, really. If it is taking this long to get Denim, how long will it take to get update two?

That's why Microsoft need to make a phone that does not depend on the damn carrier to get updated... Why Google with the lollipop and the iPhone can do it but not Microsoft? It does not make any sense.

Actually, only iPhone seems to have that privilege. Even Android updates have to go through carrier approval. It just seems like they don't, because carriers will sometime lush out updates as they get them, to popular high end phones. The factor is, if you have a little pertinence and know how, you can flash updates to devices that have not received the update. l

Android updates are hit and miss.

Google with the lollipop = also waiting on carriers. T-Mobile took forever to release it for the galaxy S5 compared to others.

AT&T doesn't have lollipop on GS5, yet, either. Seems they only care about updating iPhone with any timeliness.

Last word I heard from AT&T was "soon" with no dates attached. And that's only for the 1520.

My 830 with at&t has denim :)

Didn't think 920 was getting denim update, only in name.

I'm really hoping the firmware/OS Story for 10 is completely changed rent if the radios are untouched

What about my Lumia 1520?? Microsoft os taking pretty long for the HK variant.

Ditto. I'm generally pretty patient and don't make a fuss about updates... But I bought a CV to avoid waiting on carriers and their BS, to have a flagship 1520 CV and be waiting along with the last few models is becoming rather annoying :( especially as I was hoping to have it for an event this past weekend and the upcoming weekend to take advantage of the better camera algorithms *sighh*

My 830 with denim take crappy pictures. At&t

What's so special about this variant and still being left out?

This is extremely annying, Im in Australia with HK variant, I didnt buy it just for earlier updates but I was always pleasantly surprised having the new updates earlier than my Australian counterparts. I guess this time I am the one waiting while everyone in Australia is flashing their Denim 1520 camera around. One day... One day.

My 630 BURRRNSS!! (me too)

Hopefully by next week Denim hits US? *fingers double-crossed*

I have the Lumia 1520, through AT&T. No Denim update in sight. US carries are reprehensible regarding their glacier like distribution with new updates.
...
AT&T........you are terrible.

Do you mean Glacier like as in huge, deep, cold, slow moving, bluish white, heavy, old, floaty, or entombing❓❓❓❓❓❓

Nope Verizon is takes that crown

wen in India? Damn you AT&T!! My 1520 is still waiting :(

AT&T is not in India bro. All country variant phones here.

U obviously didn't get the joke bro.

Lmao everyone in here's pissed

What I wanna know is... When in India?! ;D lol

See above comments.."LOL"

At&t Lumia 1520...feel like crying

But I thought Lumia 535 has Denim inbuilt isn't it?.... So is it an update to fix some bugs and problems or what?

It has some minor updates like allowing you to be able to toggle data settings in the action centre.

Grats to those in India. To those of us still waiting for Denim, no amount of complaining will bring it faster... Just sit back and relax... Soon you too will have your bloatware back!

Updating my dad's phone.... My 1320 is still waiting

U mean Lumia 1020 right...weird when iam checking on mine it's not showing any update....shld I disable dp...

U can try to disable DP and check again.

Ok so with 6 days left (4 if you count only the business days) for February to be over and no denim in sight from AT&T. This really shows that they don't care. What are they testing so long, some killer features that no one else is getting? C'mon AT&T

I went to the Microsoft store the other day with my 1520. Asked them if they had any cases. The guy went "lol, that phone is over a year old...we may have some in the back." This. Problem identified. Nobodoy gives a damn. Let's just dump $20 handsets all over the world and hope that works. AT&T cares not any more.

Really ? where is denim for the 1520, I hope since the 1520 gets denim last, it gets windows 10 first

Hey why my l720 not getting denim, should i have to leave dp program to get that??

720 got denim I have updated two days back also sent the tip here but seems no one want to post that here

How can u get the denim. Please tell me the process

My phone just showed notification that an update is ready to download then simply downloaded it or simply check for updates In setting

When is Lumia 1520 RM-937 for Hong Kong getting Demin Update..

I don't know I'm sick of waiting too :-(

Also tired of waiting.. Used to think buying factory unlocked phones had an advantage to getting updates quicker. Apparently not.

Yupp my 1320 is still in DP, but I'm waiting for the W10.... But what about 535 guyzz.... Wasn't it to be Denim preinstalled?

When is 625 getting the update????
It's Feb 24th already..... Only 6 days left.....

LoL .... February has only 28 days... So only 4 days left...

Please provide denim update for my Lumia 1520. Waiting from a long time.

What exactly does the 1020 even get from Denim?

.. I think it gets Live Folders and maybe a faster camera startup time. The rest of the changes you won't even really notice.

Live folders are already available via dp and the rumors say no camera improvements because of processor limitation.

News flash - this update literally only makes a difference to those with 1520, 930 & 830, the rest of you are holding out for NOTHING

Man Daniel Rubino should put a like button or something in the app to signify a like. Give this man a cookie. LOL my 635 isn't getting anything from Denim unfortunately.

+1 my 1020 is going to remain the best and slowest camera phone. I just hope that Denim for the 1020 will at the very least make the 1020 stable and reliable!
And my 1520 with the "ok camera" is going to get faster..... Go figure. :)

I already know it won't do anything for my 1020 on developer preview but I would settle for fixing the yellow cast on photos with the flash.

There is a solution to this. Shoot with manual shutter from a speed from 1/50 to 1/200. I found 1/125 was a good choice for most situations and produced awesome flash shots with no yellow. Issue is the camera shoots a too slow shutter with flash

That's not a solution, it's a 'work around" - the way the 1020 is now, I can only use it like a manual camera.
Each time I.leave the Lumia Camera app and go.back in, I need to manually re-set, turn off, several of the auto features.
It's pretty pathetic that every photo taken of my niece and nephew during a basketball match is all yellowy-brown.
I die a little bit every time I get a photo from them - best and worste camera ever. I never should have got one for everyone in my family.

The whining here never stops

Is everyone here impatient??? The guy said SHOULD not WILL! US carriers lag too much

It does, but only when you don't check...

The sad fact is without the whining, nothing much happens. Microsoft does best when pressed, not when left alone.

I dont understand why all don't get at once. Overall I think phones work more smoothly than PC. But not in this area. An update should come straight from software provider one would think. I guess they want to add their crap on top of it

That's not completely accurate. There are many problems that a batch of phones with faulty and/or buggy firmware can introduce back onto the network and screw things up for all users, regardless of brand and OS.
Remember when the iPhone 4? was released and all the new iPhones crashed ATT and other world wide carriers networks? - I remember because I couldn't make or recieve calls on my non-iOS phone downtown for a couple weeks.
However, I did get a couple months of free service from ATT.

What about 1520 users in USA? Microsoft is just losing customers by delaying the updates. This is why nobody wants to buy a Windows phone.

Yeah. That's exactly why ...

Isn't because there's no snapchat?

Yeah, and everyone buying a Samsung etc. do the best by not giving updates. Sheesh. The 920 is as old as S3, yet it will get 10, don't think the S3 even got kitkat.

From your reason, all android OEM should lose customer

so what? if you already have 8.1 GDR1 you basically got "denim" I don't really see the point, why don't they call it GDR1 on "old" phones and end the confusion once and for all

Lumia 830 users in India are badly cheated. They highlight Lumia camera 5 in press releases, promos and ads, but till date no update for Lumia 830 here. If they will not update before Feb end, I will claim complete refund of my money. I am waiting for that camera app from last 4 months and in twitter they say "we ask you to wait patiently as update roll out is coming soon, following partner testing and approvals". Testing my foot....

I have 1020 with developers preview...
But I still not got update...
So tell me what should I do to get updat???

log out of dev preview in the app and try checking for update again

I don't think 1020 gets new firmware number.

Microsoft Cortana should make predictions on which phones, on what carriers will get the updates!
The odds are pretty good that she would get it right.... I hate not knowing!

Pffft, bring on Lumia Emerald already.

When will released Lumia Denim for Lumia 1520 in India. When when when????

Please give denim update for Lumia 625 in india

???? Lumia denim for Lumia 1520 in India

But Lumia 535 running denim yet?

All three new models starting from 535, 730,735 and other have Denim and older phones are yet to get them. I already have Denim but feels bad when others don't get the update on time. I have been using WP since 2011 and I feel its time to rethink about my decision.

Try Android. 20% of phones have Lollipop after 5 months.

This is not fair coz higher variant waiting so long for Lumia 1520 in India

It takes time to cover such a long by walk for lumia 1520 ;)

Lumia 535, This is first variant released already

Answer must be reasonable

Why Microsoft is making a habit of manufacturing fuckin dumb phone & OS that doesn't even support the fuckin phones.

What are you talking about troll? Microsoft is the only company except apple who upgrades their two/three year old phones.

Rogers? Hello? What about Canada? My 1020 needs some denim

can I update my L1020?? Itz out but still its showing my device is upto date? Pls help

If you are on the dev preview, log out, restart your phone and then check for updates. I'm assuming you are from India.

Why is even INDIA is in the list of updates when updates don't even make things right Lacks, hangs , freeze these are the new possibilities of wp8.1 denim . I need to tell the people who are wondering what will denim give them . Its just another dumd shit by Microsoft. Actually Samsung's right Android is for India not WP.

My friends are using denim on 520, 720. And they don't get any hang, freezing problem. Even, their phones battery life is improved after denim update

Even w10tp improves my 630s battery life, remove resuming screen

Denim improves the whole experience. No lags or hangs. But yeah, go Android and give them all your personal data. Currently they have 5 month old Lollipop on 20% of their phones.

What a shame! Why don't you release an update for all the devices together ? This is totally unfair. I have got denim but others are still waiting to get it.

Preview for developer users can download Denim update or not??

Fools are not only born in April. The most sophisticated Smartphone Lumia1520 awaits Denim since Q4 2014 when Microsoft promised that it will get it first, happy fooling by Microsoft. This shows the commitment towards customer care of such a great company

Dear Chavda, I really very much appreciate your words, I also very astonished About last year infor.

Dear Mr. Chavda, This is the exact reason Windows Phone sales is so poor and they are loosing customers due to this. Not sure if they are reasling this.I also have so called flagship 1520 and waiting for Denim. We know it is not end of the world if we dont get Denim now or never but as you said correctly Microsoft did promise that 1520 will be one of the first phones to get Denim. The exitement of Denim is dead now.

Still waiting for Denim on 925 in U.S :/

When getting Lumia 920 update it February end is coming ....only 5 days left.

Very lazy working Microsoft.....

Shame! 1520 will be last it seems.

1520.3 must be soon !! Well i hope so

I gotta tell ya I only.feel bad for you guys a little, being an Icon owner and waiting 10 months to get any update. We were on Black until 2 weeks ago...

lets move to india! Coz theres no place on earth but india! The only place MS knows is INDIA!!

After moving don't ask us why are all products heavily priced in India

India is No.1 country to live with low cost!

AT&T 1520 US on T-mobile. C'mon already....

Denim update has a faster battery drain problem

Hey where's the update for most wanted Lumia 920??

dont put your hopes up. 920 might not have it. Cheers!

Yeah even m wondering about the denim update for Lumia 920. What is the use of having flagship if it gets the last update

So that means i get no new feature on my Lumia 525, i am a PFD user though.

Why no update for Lumia 1320