Microsoft India says Denim to be on all Lumias by the end of February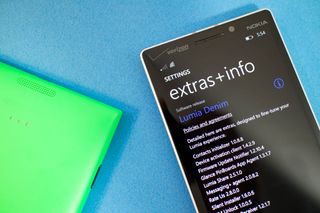 The Lumia Denim update is like a glacier melting, slowly but surely happening. Microsoft have been quite forthright about updates saying "early 2015", which for some means January 2 at 12:01 am, for others by March 1. Indeed, every day we are getting random tips from people around the globe noting they now have the update.
India is arguably one of the largest Windows Phone markets, but so far only the Lumia 520 has Denim in that country.
Now, Microsoft India in personally responding to many inquiries that all eligible Lumias should have the update by the end of the month.
Going further, we can even read the Twitter account's responses as suggesting that all Lumias, worldwide, should be updated by the end of February. This release would keep in timing with Microsoft's "early 2015" estimate and seems plausible giving the amount of time that has passed.
However, we should remind users that, technically speaking, what you know as Lumia Denim is nothing more than some OS fixes and improvements for non-PureView phones. In other words, only the Lumia 830, Lumia 930 and Lumia 1520 are getting the major new features like 'Hey Cortana' and the new Lumia Camera 5.0. For all other phones, you are getting build 14219 or 14226 of Windows Phone 8.1.1 with no significant new features or firmware.
Having said that, if you do have a Lumia 830, Lumia 930, or Lumia 1520, Camera 5.0 will blow you away and take our word for it, it is worth the torturous wait.
There's still no word from AT&T or T-Mobile about their Denim updates. We do know the carriers are testing it, but so far, no ETA is on the table to our knowledge. A "by the end of the month" estimate is certainly not out of the question though, even for them.
Source: Microsoft India (Twitter); Thanks, Sarang D. and Kumar C., for the tip!
Daniel Rubino is the Executive Editor of Windows Central, head reviewer, podcast co-host, and analyst. He has been covering Microsoft here since 2007, back when this site was called WMExperts (and later Windows Phone Central). His interests include Windows, Microsoft Surface, laptops, next-gen computing, and arguing with people on the internet.
All lumias. Should that not be All compatible Lumia. :)

Denim is compatible for all lumias

Yeah..namesake for some..big improvements for others

brings EQ to 630 ... not namesake :P

Lumia 900 owners rejoice! :) :P

So I can get it on our old 800.

Lumia 800 is a Windows Phone 7.5/7.8 OS and it does not have the required hardware for 8.1. Denim update is only for Windows Phone 8.1 users.

Ooh, so the good ol' Lumia 800 will finally rise from the dead? Good news, thank you! /s

Don't expect it on a Lumia 800.

Unless your carrier disavows any knowledge of your phone. My 810 can't even get Black.

Well my 810 that has only Amber has something to say lol

Well dev. Prev user like me just exited the program .! And since the dev. Prev and denim have no changes just after exiting the Lumia cyan changed to Lumia denim :) therefore m having Lumia denim in India on my 720 already XD

Should be all Lumias that carriers feel like updating.

Indian market is not controlled by carriers.

It will be "all lumias running WP 8.1"

Not what the article says. MS India has back tracked and now says 8.1 models.

As an icon user I remember when they said 8.1 will be rolled out in summer. 6months later, jerks at Verizon finally released it so I don't have much faith in these kind of statements.

Not as late as AT&T though. You know, Nokia/MS exclusive partner here in the US.

I don't understand why OS updates have to go through the network provider to reach the user of the phone. What's the logic behind that?

Some more fantastical dynamic stitching type of shit.

1. I believe it's something to do with the band frequencies of the carriers network(s) and the handsets to ensure compatibility, otherwise it's useless. 2. Could be some sort of control mechanism over the consumer after the purchase, idk These are my best guesses, i may be wrong though Thank God for no carrier interference in India atleast

It's not logic, it's business. Welcome to reality.

What business? Carrier or MS business? Because my 820 is country variant, no specific carrier, but I still don't have Denim..

It's like how your broadband provider has to approve firmware for your modem before you get it. They want to rule out the possibility of a bug causing unneeded network traffic is probably the most logical answer (if we're being generous to their intentions).

Not to mention, carriers need to clue up their support staff (Not that many take any attention to what they are reading off manuals on their screen).. As people don't call OEMs for support but their carrier. If MS had the support network and had stores around the world it would be another story entirely.

Even i am waiting for my L1320

Read the article.. Feb end

You should ask:"Why in India"

I got it!.. It should be "when" instead of "Wen" :p ..but in india some people invent their own language..LOL

Indians do invent their own language like Hindi, Urdu..just saying..!

I know brother ..i'm also an Indian! ..please don't mind :)

Everything fine mate..cheers!

I feel your sarcasm has been wasted

I am still laughing minutes later. So much win.

Daniel Lumia 532 released today here in India for 6499... Pls publish the news here...

Damn, that's so cheap comparing it to the MOTO e and even the 435. MS better drop 435 to 4.5k else its a flop

Yeah the camera is the biggest turn off at that price

But it's not available for lumia's preview for developers

Its already available
Unless you have 1520 , 930,830 its not
Just go to the app , un-tick the box and hit done and then go to extras and info it will show denim instead of cyan ;)

My 535 already have denim update.

It was released with denim update.

I love that. It makes me laugh every single time, baby

Soon I hope... All phones are unlocked here anyway so it shouldn't be held up any more.

Lol. Proper funny. We will still get it in every article after this one though. Wen in India?

Att I'm waiting on you +1520 probably then we can get the windows 10 tech preview too

Battery in windows 10 is the most feature MS needs to take care, especially for Lumia 1520.

What about lumia 925 is cortana and hey cortana will be there in lumia 925 denim update??

Cortana will be there but hey cortana will not be available as it requires certain hardware(snapdragon 800)

Do you even read bro ? XD

Everyone keeps saying "Wen in India?" so I thought I should throw in a seems faster.

Oh thank u Mr. Rubino :):) but like others I have the same question. Will it come for those who are on preview for developers?

Same question... Cause I own a lumia 520 and on preview... But still haven't got the update... Unlike the article says

What about Lumia 720??? Does it have any changes like folders in start menu....

Of course, all Lumias will get the OS features only firmware features changes based on the model!!

No need denim, give us 10 or 8.1.2

I have Denim, but I want 8.1.2 for the additional language support (BN-BD) I don't want 10 at this stage. /just saying, ikr this is not a proper reply.

Still waiting for my Hong Kong Lumia 1520 to get denim. Taking very long. Who knows how long I will have to wait for windows 10

My sister has the same phone from HK. While I thought hers is going to come before mines since I had a Lumia icon. But I'm pretty sure it won't be long, cause windows 10 is coming soon.

"Lumia Denim update is like a glacier melting, slowly but surely happening." Daniel, I'm a fan of your writing style. This clearly justifies that how much you are eligible at what you are. You simply inspire me. And BTW, thanks for the information. You guys at Windows Central update me when I don't have the time to check twitter. Thanks again.

Me too, many of his metaphors are clever and hilarious!

I'm going to hard reset my 1520, after installing the preview for developer, my microphone is acting up. While on speaker it just doesn't work. I cant record any audio note nor send a voice message on whatsapp, viber etc...

Will hard resetting solve the problem? My 1520 with preview for developer after the denim update is also acting up. The camera sometimes fails to launch which is embarassing when i want to show it to my friends. But the most annoying problem is the accelerometer. Veeery slow to respond to movement especialy during games.

Well, it worked for some people, I hope it's not an hardware problem. it doesn't make any sense to me anyway...

I did the hard reset thing, it didn't work, but i'm surprised I got finally got the update for Lumia Denim

Sigh, so no need to reset, just wait if windows 10 will sort this out

I'm already having fun with Lumia Denim on Lumia 630 in India. :)

Probably developer preview.

A question: Lumia Denim gives the ability to swipe to hide the virtual navigation bar on 630, right?

But from preview for developer u only get OS 8.1.1 updates no denim,right?

No that's not same with 630, nav bar stays on all the time.

Sign up for Windows Insider app for W10 for phone tech preview and check for update, there would be 2 updates (1) showing Performance and Stability Improvements (This is Denim if the phone runs cyan).
(2) W10 tech preview for phones (if want to give a try).

No 1 iz interstd in denim... We all need win10

+1520
Am so eagerly waiting for Denim, nearly desperate :-)

But I have the Lumia denim update since January 29th..... Though the Microsoft page says the latest software release for Lumia 525 is cyan..... How could this happen. In relation to this is worth mentioning that I got my cyan update on my Lumia 525 three days before the actual release via Lumia software recovery tool.

My 525 has cyan, am waiting for denim, is ur region set to India?? I hv bn checking for updates everyday but no luck yet!

If you use preview for developers and you are enrolled in the program(box ticked), you'll see denim in extras+info, otherwise cyan on all phones other than the 520. Some bug with the OS. My personal experience. Lumia 525.

It's the opposite for me! :P
I just unchecked PfD and voila! I'm on Denim!

I unchecked developers preview and just then found the denim update.

Don't know..... It was automatically downloaded and installed.

Cyan in my 525 here but thanks to windows inside I'm up with Windows 10TP.

What! You got win 10 tp for 525?

my 1520 PH variant is waiting... =)

635 received new firmware with Denim. Not just OS.

http://forums.windowscentral.com/showthread.php?t=339081

What about Lumia 925??????

What about reading the article?

MS is late by 2 month to their promise.

No sign of it on my 525, 520 got it 2 months ago

It says 520 on this country is available but once I check on my mom's phone it doesn't find it... I wonder if it's because I installed the preview on that phone. but I will wait to see if this week it appears and can be installed.

Check it with both preview enabled and disabled. Or your phone might be another country variant just sold in India. It happens. My Lumia is the Chinese variant, but got it in Pakistan. :)

Tell me if it is unlocked in all countries please

That depend on your carrier!

Already have denim on my Lumia 820

Really?? i tried in tooo many countries but nothing! where are you from??

I remember reading somewhere that there is an extras+info bug that says your phone has denim if you have a specific build or newer. Therefore, for a phone that does not need firmware updates (non pure view phones), some phones on developer preview may show that your phone has denim. I'll let Daniel verify this.

My Belgium L1520 indeed says it has Denim, but I assume it doesn't because Lumia Camera 5 still tells me to update.

In two - two months new updates are delivered , customer buys phone for updates only is this a jokes , microsoft is embarrassing it's reputation . ...two months Before cyan , now denim , and then after few months windows 10 will be delivered. .. fuck off microsoft , all the famous social app are in beta version no official youtube app , looks like a 17th century phones , made a mistake by buying lumia.i better should gone for an android , I should kill my friend who promote me to buy wp by telling me fake adventures story of lumia , it is this it is that .. Posted via the Windows Central App

Facebook..Twitter do have official apps .. Coming to you tube go n complain your fav Google for not permitting MS to have an official app ..being said that there couple of best third party apps with lots features for you tube!!

Did you use the Android Twitter app? If you want apps get an iPhone. Btw, Cyan is Nokia's mess

Yeah ! U should have chosen lagdroid over WP and we too get spared from your shitless nonsense. It's not upto MS to release official apps. Its totaly upto google developers to release an official app for WP . Plus MS is the only one who let the consumer test the early build and who actually listen to their consumers.

Yes there are lot of problems with Lumia many apps are in beta stage and remained as prototypes since ages.. Example flipboard,mx player vlc and many more, no Bluetooth received folder for file managers, there is no better video player none of them reads all folders... Lot of app gap, lacks many games, no voice recording app as they say Lumia have rich recording, action centre is not impressive as android, music and games are a mess after 8.1 update, lot of delay of updates, no sd card support for flagships, most of the apps and games are clones rather than official app....

You want me to send a link to buy iPhone or lagdroid? Walk yourself out of this community pls :\

I joined that club .can't even sell this 630 no body wants them

It's not for pure-view, otherwise even 925 should get it. Camera 5.0 is just for 830, 930 and 1520. For rest everyone just stripped out Denim. Nothing hyped. For me, it's just better IE. Live folders and rest is crap.

L 920 is also a pure view phone. Will it have the denim update with the camera 5.0. ?

No, please read the article.

But I got Denim over a month ago in Lumia 620!!

I am already using Windows 10 Technical Preview in my Lumia 630 DS . Its quite stable a bit buggy but still happy with lots of new features - inbuilt file explorer , camera 5 ( earlier Lumia camera ) , in photo gallery layout , full screen background wallpaper etc.

No denim.. now we want windows 10.

Don't we want the GDR2 first?

Finally. Hope you stay on your words

I want Lumia Camera 5 so bad!! I have an 830 on Rogers in Canada and the wait is killing me. Hopefully soon!

I wish Microsoft Colombia cared as Microsoft India care for their users.

We'll see. Also still waiting for denim update for lumia 1520 in the Netherlands. Almost all the other phones have the update. It should be about time now. Was hoping it was here a week ago, so that I could use the use camera features during a ski weekend. Unfortunately it didn't. Fingers crossed.

Skiing is next week for me, still waiting indeed. Also from the Netherlands.

It's not about firmware anymore (for older phones) it's about having the latest OS ready when you do Recovery Tool, for example. If I needed to flash my L920 I'd have to go back to Cyan and then use PfD and update several times before reaching Denim...

520 is not hey cortana ,, why ??

Coz cortana woke up by only rich hardware voices :D

Neither did ur reply nor did his question made sense.

Snapdragon 800 devices get it due to hardware support. He asked why the 520 doesn't have Hey Cortana...

Was it that hard for them to speak straight?

520 does not have the high-end hardware necessary to run Hey Cortana.