The greatest Quake player ever on eSports, Overwatch, and games with nuance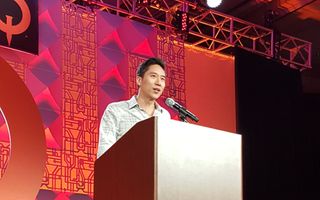 At this year's QuakeCon in Dallas, TX, Dennis "Thresh" Fong became the second person inducted into the Esports Hall of Fame. Thresh made a name for himself as one of the best Quake and Doom players in the world in the 1990s, eventually winning a Ferrari from Doom co-creator John Carmack. We spoke to Dennis about his eSports career, the games he plays now, and more!
Joining the Esports Hall of Fame
The Esports League (ESL) is the largest organizer of competitive gaming events in the world. Having been founded in the year 2000, the ESL has finally started to recognize outstanding individuals in the world of eSports via the Esports Hall of Fame. Emil "Heaton" Christensen became the Hall's first inductee in June. During last weekend's QuakeCon 2016, Dennis "Thresh" Fong became the second.
The Esports Hall of Fame induction ceremony took place on-stage during the QuakeCon Tournament Finals. The actual Finals started an hour later than scheduled on the final day of QuakeCon. Once the unfortunate delay finally ended, spectators were treated to Fong's induction.
"The cool part [about my induction] is my small contribution to the world of eSports will be remembered someday," Dennis told us.
Dennis began playing the original Doom in 1993. His initial nickname "Threshhold of Pain" was too long for many games, so he shortened it to Thresh. He really is a pioneer in the world of eSports, having participated in Microsoft's Doom tournament 'Judgment Day' in Seattle in 1995. Somewhere around 200 people witnessed Fong's victory there, at the first known eSports event.
Thresh's most famous victory came at the Red Annihilation Quake tournament that took place in Atlanta, GA in 1997. In the final match of the tournament, he beat Tom "Entropy" Kimzey 14-1. Dennis doesn't get nervous during tournaments, which must surely be a competitive advantage. But he did feel a sudden tinge during the last few seconds of that fateful match, once the realization of his impending victory hit him.
The grand prize for his Red Annihilation victory was Doom co-creator John Carmack's custom Ferrari 328. Fong didn't know how to drive a manual transmission car, though, let alone an insanely fast sports car. Carmack went above and beyond the call of duty and gave the victor several thousands of dollars to ship the car back to his home in California.
Where is the Ferrari today? Dennis kept it for several years, but found that maintenance was too troublesome. Carmack had so heavily modified the car that normal shops wouldn't work on it. Fong had to get it to the original Texas mod ship every year in order to keep the thing running. And despite the Ferrari's obvious beauty, it was too showy for Thresh's tastes. Eventually he sold it to a collector.
Popularizing the WASD control scheme
In the early days of PC and FPS gaming, players used strange control methods such as using the ESDF or arrow keys for movement. Keeping one's left hand on the WASD wasn't standardized yet. Fong's older brother used to play with trackball and keyboard. Dennis initially played Doom with only a keyboard, which made it hard for him to compete against his brother in multiplayer.
Fong could never beat his trackball-wielding brother until he tried the mouse as an aiming method. After he switched to mouse and keyboard, he consistently crushed his brother and started winning competitive matches online. He built up a name because he "never lost."
John Carmack included a file called 'Thresh.cfg' in Quake II in thanks for Fong's help with multiplayer balancing on that title. This allowed Fong (or other players) to run the Thresh file in order to load up Fong's preferred WASD control settings. That feature probably contributed to the control method's popularity.
What games he plays nowadays
Dennis retired from eSports in 1999, but that hasn't curbed his love for competitive gaming. Although he seldom revisits the classic games like Doom and Quake II that brought him to fame, he still plays some of the more popular competitive PC titles.
One of the games to hold Fong's attention the longest has been League of Legends, which he played regularly for several years. To give you an example of how well-known Dennis and his "Thresh" nickname are in gaming circles, Thresh, one of the League of Legends playable "Champions" characters, was named after him. Dennis is also the only non-Riot employee to have the same username as a Champion.
Fong doesn't actually play as the Champion Thresh because it's a support-class character, which has led to teasing from other players. "Why aren't you playing Thresh, Thresh?"
For his part, Dennis teases the developers he knows at Riot that the rocket jump available to another Champion, Tristana, should've gone to his namesake. The rocket jump (in which a player jumps into the air and fires a rocket at the ground in order to gain extra height on the jump) was one of Fong's signature moves during his competitive Quake days.
In the last few weeks, Dennis has gotten into one of this year's most popular shooters: Blizzard's Overwatch. He describes the game as an amalgamation of all the best shooters and MOBAs in one title. The first Champion he played as was Pharah, an Egyptian Army Officer who wields a rocket launcher and wears a jetpack-equipped combat suit. Remember, Fong favored the Rocket Launcher during his Quake days. He says that he has been "pretty decent at it right off the get-go."
Despite his preference for PC gaming, Dennis plays at least one mobile title: Clash Royale, the card-based strategy spin-off of Clash of Clans. He's currently the top-ranked Level 11 player in the world. A common thread with Clash, Overwatch, and League is their popularity. Dennis is attracted to games with large and competitive player bases.
Quake Champions and Doom
Fong made a name for himself as a champion-level Quake player, so naturally fans want to know what he thinks of Quake Champions, Bethesda's upcoming first-person shooter for PCs. Quake Champions marks the first mainline entry in the series since 2005's Quake IV (which launched alongside the Xbox 360 as a terrible port).
When we met him just before the ESL Hall of Fame induction, Fong hadn't played Quake Champions yet. He expressed cautious enthusiasm for the title though, saying he hoped to play it very soon.
According to Fong, "you don't really know what a game is like until you spend at least 30-60 minutes really playing it." He hopes that it feels crisp, has fast weapon switches, and other nuances that make a good Quake to him. Graphics don't matter to competitive players like Fong. He'll either stop noticing the graphical frills or turn them off to minimize distractions.
Surprisingly, Dennis has yet to play the 2015 Doom. Friends told him the game's multiplayer component wasn't very good, and so he chose to avoid it. Fong's tastes are almost exclusively for competitive multiplayer games, although (against type) he does enjoy Fallout 4. But he prefers to focus on only one or two games at a time, so he sees it as a waste of time to dabble with a game that he doesn't expect to appreciate.
If anyone knows about becoming skillful in multiplayer games, it's Dennis. That constant desire to become better at a game is exactly why he usually concentrates on only one title at a time. Fong believes that a lot of learning and improvement happen subconsciously while outside of the game. He says things will just click for him in-between games (such as while showering), but that only happens if he's fully immersed in a single game.
"All these tiny nuances that the average player doesn't notice… When you add them all up, [that's] what makes a good player a great player," Fong says.
Windows Central Newsletter
Get the best of Windows Central in in your inbox, every day!
Paul Acevedo is the Games Editor at Windows Central. A lifelong gamer, he has written about videogames for over 15 years and reviewed over 350 games for our site. Follow him on Twitter @PaulRAcevedo. Don't hate. Appreciate!
Trip down memory lane here.

I enjoyed this story. Was this an interview you conducted Paul? The message about the nuances at the end is the reason I will never be great skill wise at video games. Too many fun games out there to concentrate on just one.

Glad you liked it! I was one of a group of journalists who conducted a roundtable interview, which I then turned into this story. :) I'm with you - it's hard to only play one game and forget about all the others. I do play a lot of Neverwinter, but not so much that nothing else gets played.

Very nice writeup Posted via the Windows Central App for Android

I would love to see how he does in Rainbow 6 Seige

He's not in to tactical FPS. He would be decent but there's a bit of a difference.

Oh true..I take it just plays arena or twitch shooters

Nice article! Is he a American born Chinese?

Enjoyed reading this. Agree with above poster that it was a trip down memory lane. I can remember playing FPS with just the keyboard. Even started playing Quake this way. When I finally changed to keyboard + mouse, it was like nirvana...

This was a great story to read!

Weird about DOOM. It lacks enough players, but I'm not sure why it would be called bad. I wish he had expanded on the complaints. I really like it, it's just too often missing full rosters. Loadouts are the only core thing I don't cate for. I would have preferred the big weapon wheel and map spawns for everything.

Very nice article Paul! I don't really pay attention to the eSports scene so it was cool to learn something new. It has to be insane to be so good at games that you can go from one to another and remain near the top. Keep the unique articles coming!

Interesting to read the thoughts of a high level player
Windows Central Newsletter
Thank you for signing up to Windows Central. You will receive a verification email shortly.
There was a problem. Please refresh the page and try again.