A desktop version of Windows 10 for ARM-based chips may be in development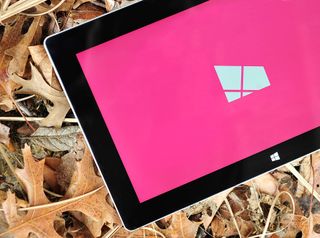 Is Windows RT coming back from the grave in a new form? Some recent support documentation from Microsoft shows that the company may be developing a version of Windows 10 for PC desktop users that will run on ARM-based processors.
The Audio Engine Core Test page on Microsoft's MSDN site lists, "Windows 10 for desktop editions (Home, Pro, Enterprise, and Education) ARM" as among the operating systems in its specs. It also shows a listing of "Windows 10 Mobile x86", which may confirm that the company could release a version of the mobile OS that will run on x86 processors made by companies like Intel.
However, it's the Windows 10 ARM desktop listing that's more interesting. Microsoft launched another ARM-based OS, Windows RT, alongside Windows 8 in 2012, which was used for their first Surface tablet, among other products. However, the OS couldn't run any legacy Windows programs like Windows 8 could, and that limited its apps considerably. Microsoft chose not to offer a full update to Windows 10 for Windows RT-based devices.
As Petri notes, it's possible Microsoft could offer an emulator for Windows 10 ARM desktop users that can run older x86-based apps. However, there's also the question of how well they would run in an emulator.
Get the Windows Central Newsletter
All the latest news, reviews, and guides for Windows and Xbox diehards.
They couldn't think of an emulator 4 years ago?

They didn't have the x86 bridge in development back then. Anyway, I'm just hoping they won't go to the effort to develop Windows 10 ARM and then say it won't be available in old Surface RT models...

What do you consider OLD when it comes to RT devices?

I personally have an original Surface RT, but I'd put Surface 2 in that category too. And then, of course, there's the Nokia equivalent device as well that I know was well-liked by some, but is fast becoming more and more of a door stop since many applications are moving to Universal apps, which don't run on 8.1...

First of all that is quite interesting. I hadn't thought that they would attempt to port App-V to ARM, but given the article and your comment I kinda get to thinking that might actually be what they are doing. That would also explain why Project Centennial is taking so long. I mean if they were just making small adjustments to App-V on x86, it shouldn't really be taking so long. It might also be related to some of the changes made to the OneCore in the latest build. If they could ensure that any .appx packaged win32 app would be runnable in a virtualization container, regardless of processor architecture, even ARM, that would be really powerful. One challenge, of course, is that virtualization would require a lot of processing power, which is why I would be concerned if they could make it run on older Surface tablets. This makes me think that we are going to see the death of Windows 10 Mobile too. I mean once they have "big brother" (get the wordplay?) Windows run on ARM, then little brother (or sister) won't be needed, just as long as they make sure that the big brother UI will adapt to phones. Now think of what Continuum would be like when you connected your phone (or ARM based HDMI stick) to a big screen. You could have FULL desktop. Pretty exciting if true. I'd also like to see a remote control friendly UI for when a running on an HDMI stick. This could even be what would be running the rumored entertainment only Xbox smaller sibling. Btw. just a disclaimer for those that got (or didn't get) the wordplay: I do not believe that Microsoft is spying on and selling all of your private data, it was just a sarcastic pun. There, now I went and ruined it, but it's that or troll food.

Could not agree more, although I don't think Windows 10 Mobile will go away that quickly... Remember, Windows 10 Mobile runs on both ARM *and* x86. That's really useful for lower spec devices, including those of the Intel variety that would struggle with the non-Mobile version of Windows 10. Honestly, I would completely settle for Microsoft relaxing their seemingly arbitrary 8-inch maximum screen size for Windows 10 Mobile, particularly now that we have Continuum. While I know not everyone would like this option, but I would personally *love* to be able to install Windows 10 Mobile onto my original release Surface RT.

You dont need virtualization. Any ARM compiled Win32 binary would run natively unter Windows 10 RT as it would run natively under Windows 8.1 RT The issue as far was, that Windows RT did signature checks, such that an ARM compiled Win32 binary was rejected to load (without jailbreak).

Actually, if you read the source article, you'd know that the listing for someone that worked on the x86 to ARM JIT was lists working on it over 2 years ago. Plus, this "they couldn't think of that" argument is silly. Hindsight is 20/20.

Well, in a way, this is reverse of what the Xbox One does to play 360 games. So they're part of the way there.

Emulation is really hard. Therefore, I would disagree the "It's the Windows 10 ARM desktop listing that's more interesting." I want to see an AMD64 Windows Phone.

Sadly amd is more interested in developing arm applications for the server market

AMD64 just means a 64-bit CPU architecture, not strictly AMD itself. AMD made the 64-bit CPU architecture so that's why it looks like that. Open a command prompt and paste in echo And even on an Intel based PC, you'll see AMD64 come out.

This is true however taking it at face value and not architecture value, I would love a amd dual core cpu with their compute cores for the gpu with their 3d memory modules. Basically say an A6 chip in a phone

AMD64 doesn't mean a "64-bit CPU" in general. AMD64 is the common name of the 64-bit version of x86 instruction set, called x86-64. There are some other 64-bit cpu arch like PowerPC, MIPS and even a [Intel] IA-64 (but abolished in favour of AMD64). And afaik there's an arm64 too. :)

it's a shame .. Windows rt is the version of windows they should have released in stead of the current windows x

But let's see: if Windows 10 ARM will be released sometime in the future, those who are left behind with Win10-like start menu UI on Windows 8.1 can also be upgraded -- if their hardware is supported, though.

I don't understand, you have full Windows 10 on a stick, but you can't make the original Surface RT and Surface 2 RT run Windows 10. Come on, what's with that.

The processor man, that's always been the reason...idk, what they're doing here with this now. =[

Different architecture. Intel chips and ARM chips are two separate things.

The Surface RT/2 ran a processor with an ARM architecture, while these compute sticks are x86. So basically, you could have a super high end tablet with 128GB of RAM and 56TB of storage, and they still couldn't run Windows 10

Why not Windows 10 mobile then?

Licensing restrictions. I'll admit to not being an expert in commerce and law, but I believe the technical reason that they can't upgrade it from Windows RT to W10M is because it's impossible to just buy a license for W10M, so technically, Microsoft has no way to license it to themselves.
There's also the fact that that requires flashing the BIOS and putting high quality drivers for the Tegra 3 and 4 in W10M. That's honestly a lot of work for a product that didn't sell well.

If this article is correct then they are working on an ARM version of Windows 10 now. It cannot be ruled out that this (hypothetical) Windows could run on ARM based Surfaces.

I don't want to run x86 apps on my SurfaceRT but if it could run Win10 universal apps it would come out from down the side of the sofa and make a great media consumption device..

Is it offering good back support there? lol ;p

Well said. That would be amazing to have a cheap, low powered device like that in ARM

As long as it is built on Windows 10 mobile and not desktop. Windows 10 desktop blows as a tablet OS.

I want an emulator... Even if it runs nuts!!!

THIS. Keep 8.1 on Surface RT/2, just upgrade Windows RT's WinRT runtime so it can run Windows 10 Universal Apps. Windows 8.1 is better on handheld devices anyway. Coolest task switching that was gutted on 10.

Agreed 8.1 is much better for tablets. If they could just upgrade the runtime we would have a win-win situation for Surface 1/2 users.

Also the support for Windows on ARM64, which means that W10M will finally catch up to 2014 and offer a 64-bit OS! Edit: Oops, Hristo was right. I mistakenly called it Win64 for ARM in a haste, when it is really called Windows for ARM64. My bad.

The other mobile OS are 64bit? I never knew that lol =p

Win64 is for x64 arch, which is Intel. But ARM64 seems interesting development, although that would double the minimum system memory requirement.

64 bit ARM code still uses 32bit encoding for instructions. Likewise datatypes do not magically grow. So no, minimum system memory requirements do not increase.

Just like Windows 7 64-bit and 32-bit ones, they typically shares the same minimum requirement.

Windows 7/8/8.1/10 -> Min operating memory 1GB(32bit) / 2GB (64bit) - Yep there is no difference in min requirements.

ARM & Intel use almost the same instruction size in 32 & 64 bit modes so there is minimal difference in program size. But while running there is considerable difference -> most operating memory is pointers, which on 64 bit systems are twice larger than 32. If you're not convinced or studied system architecture, look at the windows min requirements: -------------- x86 (32 bit) ------- x64 (64 bit) RAM -------- 1 GB ------- 2 GB Storage ----- 16 GB ------- 20 GB

I hope you're aware that the Lumia 950 and Lumia 950 XL processors are indeed 64bit. I highly doubt that the OS has been installed with 32bits.

Actually, while both phones do have a 64-bit processor, they run in 32-bit mode https://twitter.com/DrPizza/statuses/687363131555725314 Microsoft doesn't even have a 64-bit ARM toolchain, so they're really far behind.

So what would having a 64 Bit OS on a tablet or phone do for you now?

Depends on the phone/tablet. For things like the HP Stream or Lumia 550, I probably wouldn't notice a difference. For my Lumia 950, I wouldn't really do anything different, just better. 64-bit allows for better stability, more channels for (theoretically) doing the same thing faster (processing huge amounts of data from the camera comes to mind), and better encryption. Nothing mind blowing, but they'd help.

But until OEMs start to offer 4gb ram phones its not much an issue yet

There are other reasons to want a 64-bit OS. See above.

No there isn't. You made those reasons up to feel better about 64-bit. Were you not around during the desktop 32/64-bit discussions? It's no different for mobile devices.

You know the differences between processing numbers in Excel 32-bit and 64-bit one using =POWER(2,50) right? That's another reason of 64-bit OS is required, because 64-bit can do more complex computation where 32-bit CPU can't, thanks for a wider data bandwidth available.

And what real life mobile application will take advantage of this? Instagram? Candy Crush? Snapchat? Also list the hardware requirements for the mobile applications that you are conjuring up. Waiting...

Not at all. The changes will be small, but quite welcome.

Just to clarify, IA64 or x64 is a 64 bit architecture, I386, and x86 mean 32 bit. That's why if you run a 32 bit program in 64 bit Windows, the program is put in the "Program Files (x86) folder

Boom boom ! Its surface phone OS.
And Next lumias are also gonna be awesome

Yes, that seems like the most probable explanation. The "desktop" will be an emulator app. Hope this makes it to my Surface 2, but I also suspect that's too much to hope for.

Here we go again with more rebooting and confusing versions.....

Seems pretty straight forward to me. An average consumer will never know the difference between the processors (I have many friends with AMD laptops that don't know what an AMD chip is), so as long as the bridge works properly (and we already know the amazing feats that they pulled off with Astoria), it won't be a big deal.

With universal apps, it would not matter. The only confusion is when you want to run native apps, but I suspect that more and more software will move to apps rather than native.

Not anymore, dude. Now, Windows 10 will be pretty much like Android, while they're in the different kernel (Windows is x86 based and Android is ARM based), they can emulate the different architecture to run on their own (ex. Windows 10 ARM will run x86-based programs, and Android can run ARM-based apps with their Intel x86 CPU).

Surface mini re confirmed ?

I'd buy that for a dollar. Not sure this is worth MS's development time in terms of resurrecting the old Surface RT or Nokia tablets (and the few other RT-based devices out there), as there weren't many on the market to begin with. Then again, with the stated goal of 1 Billion devices running Windows 10 MS may be looking to add anyone they can. Personally I'd love to get my SurfaceRT back in the mix as a daily driver instead of it's current role of bedroom Netflix/newsreader. But I think this development path is likely looking forward as a means to bring new ARM devices to market en masse.

So if this happens can we finally get Win10 on our Surface RT?

If this turns out to be true, then MS should offer it as an upgrade for surface, surface 2 and maybe other RT devices too. The people who bought RT tablets should not be left in the cold like this.

Kinda got excited on the possibility of my Surface RT getting W10 (highly unlikely) ... But I won't be sad if it doesn't happen after all, my Surface is filling all my needs perfectly.

The death of Windows RT was a premature announcement. It actually never died. ​What architecture do people think is Windows 10 running on Lumia phones?

Unfortunatly Windows Mobile is no full (desktop) Windows as RT was.

To me it's the x86 for mobiles that's more interesting. We've seen RT and it didn't make it. Maybe they'll reinvent it. But the true game changer might be the mobile x86 connected with a truly powerful phone hardware. That would be the ultimate personal computer.

Yes mobile x86 is possible. Coz when I got form for "lets build together" ... It gave me option for 2 chips.. Both were of Intel.

New life to my surface rt ☺

This makes Continuum sound even better as a possible desktop dual-boot solution for phones. It also gives a Surface Phone more for chip manufacturers, not having to solely talk with Intel, and lets the next line of Qualcomm-based Lumias possibly get into the party for running desktop software.

It makes sense, just take all the best parts of Windows RT, Windows Phone 8/8.1, and Windows 10 IoT along with Project Centennial to run classic Win32 apps to make a fully-functional desktop version of Windows 10 for ARM chipsets. The bigger question is whether anyone will buy a redux of Windows RT this time around.

I take it as a glimmer of hope for an eventual update to Windows 10 of my Surface RT.

That makes the rockchip claim more realistic

Windows 10 Mobile x86

Surface phone confirmed!

Right on l would love to run Windows 10 mobile on my 2520. Who cares about legacy apps, l don't! I want to be able to talk on my LTE tablet!

The 2520 has had a sad, miserable life. All it wants, is to be loved and care for. I really feel for it and anyone who bought one

Windows 10 for ARM ... I want this on my Raspberry Pi 2 ...

Windows 10 for ARM is already available for your Raspberry Pi 2, it's called Windows 10 IoT Core :
https://dev.windows.com/en-US/iot

Well this is interesting. Wont this cause confusion wrt Windows Mobile tablets?

Folks MS CEO Nadella and Other Microsoft heads have to find out why some developers are not making apps for Windows 10 devices and eliminate these obstacles. Worst comes to worst Microsoft should hire new programmers an make apps for their own devices. After all Microsoft is Primarilly a software company. They can make great soft ware for their own products and other folks products. All Microsoft smart phones and Tablets that use ARMS CPU's have gotten lousy responce from some leading developers since Windows 7 smart phones came out.I am not Radical when i think Microsoft should make an Intel CPU x86 smart phone that can run all it's windows 10 current and future Desktop computer Windows 10 store Apps and Microsoft's NEW Universal apps and also run some of the Millions of Desktop PC programs that an Intel x86 CPU smart phone chipset can run well.this is Microsoft's best bet in mobile

Yes. Millions of viruses to run and then having to pay for proper AV.

And so for their Androids, but they never give a damn about those Android viruses.

Kinda disagree. Microsoft has become a great hardware company, but s h i t t y software company.

I am also one of those who would love a surface rt update. I still feel that I could have lived with only universal apps. I have a laptop and a desktop if I need full blow programs. I was and still am quite content with the way the surface rt is. I just like windows 10 so I would like Windows 10 in some form on the surface.

W10m is wrt with continuum and tablets...

Isn't this related to Windows IoT core?

I don't think it's exactly this, but I am sure it's part of the Windows 10 everywhere... let's be real, there is already Windows 10 and continuum. how is that not a part of this? Microsoft is trusting on universal apps to grow and become better, besides the bridges. even win32 to store sounds good. So I am sure it's just to make Windows Mobile more like Windows desktop, and Windows desktop more like Mobile. One Core and happy life, almost same OS everywhere, but "same" apps. and bridges that would fill many gaps that Windows RT failed at.

Is it needed, though? As an upgrade for older devices it's cool, but in terms of new devices, you can get cheap, full blown Windows 10 tablets that run just fine, so this isn't really needed, surely?

How about fixing W10M first.

AMD just released ARM server processors. OneCore runs Windows 10. OneCore works on ARM, x86, etc... Just a matter of time before PC's have ARM SOC's in them. Screw legacy apps. Universal Apps are the future for devs.

Actually, if you mean Win32 and Win64 apps, they can be compiled for ARM, Windows CE tools already could compile a single Win32 codebase to ARM, x86, MIPS, SH3, etc... The only thing really needed for desktop apps that are still supported by their developpers is a good ARM compiler for Win32 and Win64 included in Visual Studio.

Visual Studio is shipping with ARM compiler, and indeed you can compile Win32 apps for ARM with it. Actually this is how Win32 apps were compiled for Windows RT.

How about they focus on what they have now. W10 and W10M is buggy as hell

That's why they're fixing their OneCore subkernel before proceeding the development again. Once their subkernel is fixed and optimized (and yeah, their bug's nest), they will start adding features and killing remaining bugs around their system.

Microsoft is trying to demonstrate to their competitors they can upgrade older models . And that thing with 1 billion devices. They want to make the noes arc . Bring it all on board. Think about wp 7.8 devices. Posted via the Windows Central App for Android

They learned from Windows Phone 7.8, and with Windows 10 and their dream of getting 1 billion devices installed with Windows 10, they're gonna making some BIG changes, starting with OneCore.

Don't make this please! Concentrate on improving the user experience on Windows 10 tablet mode and desktop mode and make a killer Surface phone. Leave Arm alone!!!!

I agree. Bad strategy. This only has a potential if the store apps gets anywhere near the offerings of a Win32 app. I think they should create their own chipset for their ARM devices and not go with the conventional sources like the B.S Snapdragon chips.

Why not just let us run Win10 mobile on the Surface RT/2?

Well I did some more searching on that "Windows 10 for desktop editions (Home, Pro, Enterprise, and Education) ARM" .. and I found quite a few support pages that list that.. Like this, "Boot from USB (ARM)" specifically for Windows 10.. https://msdn.microsoft.com/en-us/library/windows/hardware/dn941354(v=vs.85).aspx or this, "Wave Test - Basic" for a bunch of different Windows 10 versions.. https://msdn.microsoft.com/en-us/library/windows/hardware/dn941960(v=vs.85).aspx

Who would make the devices for that? If it's MS, who would trust them to not abandon it?

w10m x86 makes more sense than that, if intel can keep up with QUALCOMMs battery/perf ratio, and it will put lumias in a level of their own like the surface tablets

How is autodesk going to compile their Autodesk software into this ARM device? Is Microsoft finally going to open Visual Studio to make software companies compile their code and allow ARM to run win32 libraries (dll and exe)? If that is true, then its a homerun for Microsoft If not, then its going to have the same issues that the Surface RT had and it will be a writedown of billions, impacting Microsoft's finances.

This would be cool I still use my RT, but I won't get my hopes up.

Sweet! Despite having SP3 and Pro 3's the Surface 2 is still a feisty little tablet. Would love to get a version of 10 on it.

This Is good news for mobile users right? Posted from my awesome BlackBerry Passport

Want a rom for windows 10 mobile installable on tablets and laptops. I want it on my tablet really bad. 16gb internal isn't good enough for win 10 apparently.

Sweet, I'll be able to sync my itunes library from my Lumia 950xl to my iPad Pro. >:)

Surely this wouldn't be too difficult to create for them given that Windows 10 with Desktop & start menu on ARM already exists through Windows 10 Mobile with Continuum. They have most of the pieces there already, only it would be limited to Universal apps or virtualised apps.

My heart can't handle yet another leap of faith, sorry. Exactly half an hour ago I was able to sell off my Surface RT (I've sold yet another Surface 2 two weeks ago).

Well, that sucks for us Lumia 2520 people. :( We're stuck on a Qualcomm MSM8974 Snapdragon 800 which does not support 64-bit (ARM7 as 64bit was introduced by Qualcomm in ARM8). Bummer. :(

I'm confused. I did a search for fir Windows 10 on Arm to see if there were known issues with specific wifi adaptors. I have access to an Arm based msi netbook that previously had Windows 7 on it. I successfully updated it to Windows 10 Pro 32 bit and it runs fine albeit a little slow (1gb Ram). Only issue, Qualcom Atheros wifi is flaky. Am I missing something?

Ooopz, nevermind. It's an Atom processor, not ARM. My bad.