Despicable Me: Minion Rush temporarily pulled due to 'superpowers mode'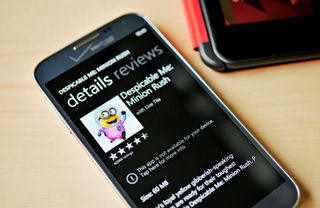 File this one under funny, but Despicable Me: Minion Rush is now missing from the Window Phone Store.
Don't you worry though, we're expecting the game to pop back probably within in a few hours and here's why. This morning, an update went out for the popular and adorable endless runner. Some of our readers have even reported better support for 512 MB devices (meaning yes, it seems faster), though we have not been able to verify.
The reason it was removed? Evidently this morning's release had a 'dev tools' section, which gave users superpowers, including "Invincibility, the ability to add bananas and tokens, unlock all costumes, puzzle pieces, spawn any powerups [sic]", so says Reddit user groznyjgrad and a few others.
In short, the developers goofed on the XAP submission and have yanked the app, at least temporarily. Luckily with the new improved Store submission process, the correct version could be live in the next few hours, and that's what we expect.
It's a funny little story and if you have the special, super version, chime in on comments (and maybe avoid the next update?). Check on the status of the app by following this Store link.
Daniel Rubino is the Executive Editor of Windows Central, head reviewer, podcast co-host, and analyst. He has been covering Microsoft here since 2007, back when this site was called WMExperts (and later Windows Phone Central). His interests include Windows, Microsoft Surface, laptops, next-gen computing, and arguing with people on the internet.
I used some of the cheats. They are so awesome lol

Where are these dev tools in the game ?

There's a colourful button at the top of the menu in the game

There's an icon near the 'high score'. It looks like the new ios game centre icon...

I will never update this game again

What version do you have? I have 32!, is this under the settings button?

I have 34, don't see any difference...

I got a notification for update and when I updated it it got stuck at downloading. I had to delete it. Now I know what happened. :/ sad I have to download the data all over again.

Not at all working on my device since I used those minion combinations for unlocking new content, couldn't even tap on store,and after the update, always gets stuck on 94% (in game downloadable content) installation, hope any one can help

Same prob wid me stuck at 94% so i deleted it.

Same here. I redownloaded it from the Windows Store and the in game download is still stuck at 94%. Need a fix quick, dying to play the game. Does anyone have any idea how to fix this?

Yeah,I got the solution, it will take really long to download it dude, thankfully it's not stuck, it's just taking long, :)

I was just going to tip about this as I cannot find it on the store..You are fast as usual

"You are fast as usual"

That's what the ladies tell us....wait, ignore that

Dan you are in a very good mood today.. holiday effect ? :-)

My girl never tells that..;)

That's because silicone can't talk;)

I see what you did there master chief...

Send your girl she will also not tell :P

You dudes have orgies? Respect.

Now not support for 512 mb ram devices...?

LOL Daniel,first time seen you make a punctuation error ,so quickly edit it before the grammar nazis arrive :p Second para,first line, "*was removed"

Mondays are killer. Combo of scotch and sleep meds don't help, lol.

Game is little laggy on 512 Mb ram

Yes. It is behaving mysteriously after the previous update, sometimes the minion will get replaced by a black arrow thing and I have to go back to menu to correct the bug.

Same thing happening to Temple Run 2 on my Lumia 625.In a nutshell, everything is blown out of proportions.Bonuses appear every meter, the wheel bonuses give out crazy bonuses (like 300 gems and 50k coins per roll).It didnt bother me much but now its just ruining my game.

Haha, that is hilarious. Leaving in the dev tools. Would definitely turn off auto update. Lol

I ve got same problem. Stuck at 94% for a long time. Twice happen this. At third try I made it

You aren't 'stuck' on 94% the game is just installing what it downloaded at this point, Keep it on and be patient in like 5 mins you'll be good to go.

Luckily I was able to download the update and now i have unlocked all minions and upgraded all powerups. Hahahahaha

Shit, I wanted to update it, but I skipped. This sucks.

Darn, I missed it! Wondered why the update notification disappeared. :P

Downloaded the update earlier didn't look at the game until I read this. The cheats are crazy god mode and all sorts im not updating the app again lol

Oh dangit! Should've updated it!! ;)

It's because Gameloft are greedy bastards. This is the crap I do when these kinds of games are on Win8. To be truthful, this game is heavily XORed. Can't edit values.

So mad I didn't have minion rush installed now....:(

Any region where it's still not pulled yet ? :|

Best update ever .. LOL.. XD

I have the dev version, so cool!

Good its pulled out due to download error i lost time & data...stuck at 94 % :angry:

I have it also, so sick man :)
Ask if you want to know about anything, I can try to put some SS.

never instaleed it again since it is laggy on my 520.Hats off to imagni for making temple run 2 smooh on 512 ram devices.

Temple run 2 is more laggy compared to minion rush on my 520

No Whatsapp, no Viber, no Minion Rush, OMG, WTF is going on?!

Microsoft keeps changing APIs and barely has any :(

"meaning yes, it seems faster" Love it Dan

Too bad i didn't update mine. :(
Windows Central Newsletter
Get the best of Windows Central in in your inbox, every day!
Thank you for signing up to Windows Central. You will receive a verification email shortly.
There was a problem. Please refresh the page and try again.