Despite being out of support, over 100 million people use Windows 7
By Sean Endicott published
100 million people or more still use Windows 7, even after it fell out of support.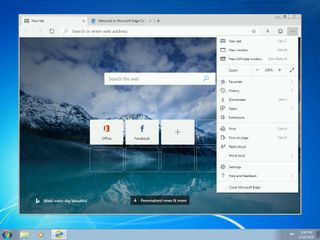 (Image credit: Microsoft)
What you need to know
Windows 7 still has at least 100 million users, according to several analysts.
Microsoft ended support for Windows 7 at the start of 2020.
Out of support operating systems don't receive security updates.
Despite being out of support for a year, Windows 7 still appears to have at least 100 million users. Microsoft hasn't released figures for Windows 7 users in some time, but ZDNet recently gathered together information from several areas, and the figures point to at least 100 million people being on the out of support operating system (via The Verge).
Figuring out the exact number of people on Windows 7 is quite complicated. Determining the market share of an operating system isn't an exact science, with different outlets reaching different figures by using different methods. Additionally, finding out the exact number of Windows PCs running any version of Windows isn't easy.
Microsoft estimates that all versions of Windows put together have a user base of 1.5 billion. NetMarketShare has Windows 7 market share at 21.7 percent. StatCounter Global Stats has Windows 7 at 17.7 percent market share. The United States Government Digital Analytics Program states that Windows 7 usage dropped to 7 percent, though it's worth noting that the United States Government Digital Analytics Program measures actual usage of PCs across U.S. websites, not a total number of PCs running an operating system.
These figures varying isn't the fault of analysts but does create a large window (pardon the pun) of figures to deal with. Even with conservative estimates, it appears that at least 100 million people still use Windows 7.
While 100 million users is high, it's dramatically lower than where Windows 7 was at the end of 2019. ZDNet estimated that roughly 200 million PCs still used Windows 7 at the end of 2019.
Sean Endicott is the news writer for Windows Central. If it runs Windows, is made by Microsoft, or has anything to do with either, he's on it. Sean's been with Windows Central since 2017 and is also our resident app expert. If you have a news tip or an app to review, hit him up at sean.endicott@futurenet.com.
No they're not. It's the computer running the the dyno
the makeshift covid 19 duty station
the wheel alignment touch pc
cctv
parallel port print server
mugshot operator interface
POS, ATM.
factory control

I know at least 2 of them. They just refuse to upgrade to Windows 10. I even offered to show them how to still get the free upgrade. They're just stubborn and don't like change.

With Windows 10 Microsoft controls the pc. I have lost lots of data due to them rebooting my pc because they done updates. Even if u schedule and reschedule restarts they still reboot it by force so I uninstalled Window10, will never install it again and I don't recommend anyone else installing it as well.

You should not delay updates so long, it creates security issues. MS does not want to give users manual control at default because otherwise people would just delay it indefinitely like in the XP days. As a result W10 is much more secure OS (heck even less malware than MacOS relatively speaking). Anyway a device that restarts to update is normal behavior, even Android or iOS phones do it.

I know what you mean -- if you have unsaved data in an app, and leave your computer overnight while still signed in, and you've been ignoring notices of an update pending install for multiple days, it will just reboot to force it. But that's a lot of IF's and easily avoidable. Even Notepad now autosaves and resumes the way it was before the reboot so you don't lose text in there (and all Office apps have always preserved state following a reboot). If applications don't save the state for the security reboots, that's really on the app you're using to fix their coding so they work properly with Windows.

Onboard Carnival Spirit back in 2019, they were still using Windows 7 on their Fun Ship POS terminals and it wasn't Windows 7 Embedded; it's the real deal Windows 7. Indeed on Legend in 2018, I was at a bar when the terminal decided it wanted to do a Windows Update. The bartender and I watched it do its restart and apply updates. I don't see Carnival replacing these terminals any time soon. Personally, I still run two Windows 7 machines for Wineries Media Centre

Mainly because Windows 10 was horrible when it was first released. HORRIBLE. Yes, it has gotten better. But the non-stop updates remain for the suckers that are running the Home version. I only moved from 8.1 Pro to 10 Pro last year, and 8.1 still has 2 years of support remaining.

I still use it on my primary machine with esu and very happy. I don't have to put up with Microsoft's Windows 10 rubbish.

Dude, why do you still comment here?

Windows 7 was good. Windows 10 is just better now.

W7 is overrated anyway by modern standards. It was a good OS but W10 does about everything better and is actually more stable (if you delay feature/big updates) and it is much more secure than older Windows versions were. Heck you can even put the W7 Start menu in W10 if you miss it.

Agreed. With a few exceptions that only apply to some very limited groups of users (e.g., Gadgets, Windows Media Center), there is virtually nothing that Win 7 does that Windows 10 doesn't do better, possibly with some customization if you prefer Win 7 default behaviors (e.g., easier to change quantity of items in a Jumplist in Win 7 than in Win 10). Win 10 is by far the best Windows to date, as it should be being the newest.

That's a lot of grandparents who are allergic to touchscreens and don't know about ChromeOS.

Windows 10 is without supplementary cost.
Modern hardware users have a support oeprating system.
Not supplementary cost.
Windows Central Newsletter
Get the best of Windows Central in in your inbox, every day!
Thank you for signing up to Windows Central. You will receive a verification email shortly.
There was a problem. Please refresh the page and try again.