Destiny 2 Free-to-Play PC review: Is it enough to make me return?
It's a brave new world for Destiny 2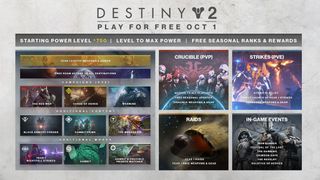 It's hard not to smile coming back to Destiny 2 after a couple of years. I last played in 2017, banging my head against the game's Calus raid hard enough to get most of the gear and a stack of shaders, but not enough to finish the thing.
Then, in what was surely a Calus related grump, I stopped playing the game and didn't look back.
Moon's haunted
Face your fears

The Shadowkeep expansion sends players to the Moon to fend off a new nightmarish foe, all while a Vex invasion looms on the horizon.
Destiny's New Light free-to-play offering then, is a perfect opportunity for a player like me to dip back in, but is it enough of an offering to make me want to get back on the gear treadmill? That's what I'm here to find out, rather than mooning at how pretty my character looks after I've ported him from the PS4 to the PC, playing in 4K for the first time.
A wealth of content
Players on the Xbox One and PS4 series of consoles can try out the free-to-play New Light edition, and with the addition of the Destiny 2 cross-save feature, you can import your character from anywhere you want to wherever you want to play.
New Light comes with every planet and hub available in destiny, including the DLC patrol areas of The Dreaming City and Shadowkeep's The Moon. You'll have full access to the public events, mini-quests, and other events, although complete quests, dungeons, and raids from DLC areas will remain locked between their respective DLCs.
Players will also get access to an entire wedge of Year 1 content, with access to the original Red War campaign — this made up the base game at Destiny 2's 2017 launch — in addition to Curse of Osiris and Warmind, the first two DLCs for the game. All of the Raids from the first year are available too, giving you the Jake-defeating The Leviathan in addition to The Eater of Worlds and The Spire of Stars.
Then there's the PvP Crucible mode, with every mode, map, and playlist available to players coming in free-to-play. Also, you can earn Crucible-exclusive weapons and armor by completing matches and bounties. Toss in the PvE Gambit and all of the Year 2 activities like the Black Armory Forges, Gambit Prime and a handful of the Year 2
That's four paragraphs of stuff, and I'm confident I've messed a few bits and pieces. The point I'm over-laboring here is that there is a vast amount of content, all included as part of the free-to-play offering.
Worth playing even if you don't want to play an MMO
It's good stuff, too. The single-player campaigns are worth playing even if you're not into the concept of Destiny 2 as an MMO, because it's just so satisfying to play. Sure, Destiny's Crucible doesn't quite have the kick of the Halo multiplayer efforts that Bungie was involved with. Still, it's a million miles ahead of most other free-to-play shooters out there in terms of the mechanical feel of the gunplay and visual polish and fidelity.
This is clearly as close to Destiny 3 as we're going to get, and Bungie has retooled their entire game to turn it into a live game that can grow and change as they need. This free-to-play retooling is an excellent example of what Destiny's got. I've hammered it this last week with an enthusiasm I haven't had since the original 2017 release.
However, they are a few issues. As a player that played the game at launch through all of the content shipped with it, the content offering in terms of the raw story felt somewhat anemic, and the fact that most of that gear is now totally obsolete was slightly heartbreaking.
The poor relative
To play with my Destiny obsessed friends, I also need to buy two expansions (Forsake and Shadowkeep), which come to a combined cost of £50. That's not a bad wedge of content for the price, but it does make me feel like the poor relative when all of my friends want to run the latest raids, and I'm stuck with just the free content, however generous it may be.
The new stuff just feels more exciting, and it's a shame to be locked out of that, even if Bungie is incredibly generous already.
So I have two completely different opinions about Destiny 2 free-to-play. I think it's an incredibly generous version of a game that you should play. It's tight and engaging, and in co-op with a friend or alone, even casual shooter fans will get a kick out of it. Then, if you decide you want to re-up, you can buy an expansion pack. If you don't, enjoy what's there for free and don't worry about it.
On the flip side, Destiny 2 Free-to-Play doesn't feel like it's made for me. I've enjoyed the opportunity to revisit the game. Still, the fact that the bleeding edge of the game is locked behind an — incredibly reasonable — paywall means that I'm left out of the bits I really want to play, but not enamored enough with Destiny 2 as a game to want to drop the cash and the time to get back to the top-level content.
But if you've never played or you've had some time away, you should be playing this, as it's one of the best free offerings I've seen.
Guardian force
Face your fears

The Shadowkeep expansion sends players to the Moon to fend off a new nightmarish foe, all while a Vex invasion looms on the horizon.
Get the Windows Central Newsletter
All the latest news, reviews, and guides for Windows and Xbox diehards.
Jake Tucker has been writing about video games and technology for a decade, which he loves. He is better at this than writing about himself, which he does not. He's on Twitter on _Jaketucker.