Check out Destiny Stats, an unofficial Destiny companion app for Windows Phone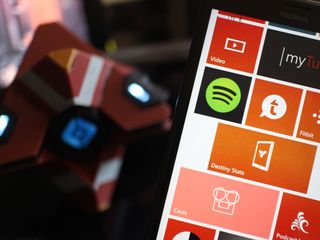 Playing Destiny on your Xbox One (or Xbox 360)? Then you're probably bummed that Bungie didn't make an official companion app for Windows Phone. They're currently have no plans to make a Windows Phone app, so no good holding your breath. Instead, try out Destiny Stats for Windows Phone. It's an unoffocial app that gives you read-only access to your Destiny data.
It's not perfect, but Destiny Stats is a worthwhile app to check out if you're playing Bungie's latest open-world shooter. It's also view-only, so you don't be able to customize your Guardian like you can in the official Destiny apps on iOS or Android. That's not at all a fault of the developer, just a limitation of the circumstances.
That said, Destiny Stats for Windows Phone is a great app to keep by your side when you're playing Destiny. It's fun to use the app to check out your last game stats in the Crucible. You can view game information like kills, assists, K/D ratio and more. You can also check out your Guardian's gear and see what sort of weapons you've unlocked in the game.
Right now the app isn't loading an image of your Guardian, but we're sure that's something that could be worked out in short time. The game did just launch yesterday, so we'll give the developer some time to suss out the kinks and get this app fully up and running.
It's a free app for Windows Phone and the best app to download if you're playing Destiny. Check it out and leave some feedback fro the developer!
Thanks for the tip everyone!
Very cool. A hat tip to the developer.

This is great and all but this is also one of the biggest problems on WP! We get so few current apps and games for example can anyone explain why angry birds Stella is on the amazon phone and not WP yet? Also like most of the time when the app/game does become available it's cause the developer is trying to milk the last ounce cause everyone moved already....

It's because Windows Phone's market share is small, and 50% of the devices that ARE out there are phones that cost under $100 dollars.

To answer your question further, games end up on Amazon phone because it is android and there is no real porting required for it to run on Amazon devices. WP apps run under different code (i.e. C# and so on) while Android is still Java no matter which Android phone it runs on. If the game is developed to use the certain versions of teh SDK then it will work on any Android phone that the SDK it carries .

Thanks for explaining that. It still feels like WP is being treated as a third and sometimes four class citizen and for as much as we hate it and yell at developers I feel things won't change unless something magical happens with Windows 9 & WP9!

Downloaded
...and deleted. App looks good, but after viewing it I just didn't see any use for it myself.

Awesome! Looks great as well.

I would be playing Destiny, if I could get sound from it. Weird ass Xbox.

Yea you have to go to the home page & close the game. (highlight the game press start select quit ) then relaunch it and youll have sound

I've found when there's no sound to go back to the dash then resume the game. I've not had to close the game and restart yet.

You don't need to quit game.. Just hop out to home screen then back into game.

Next best thing to a OEM since we were left out

Shocked MS don't do more of these. Battlefield, COD, FIFA, Trials Evolution, Xbox Fitness, in fact, most games would benefit from it. I'm also thinking that Xbox Rewards in an app would be awesome. Particularly if they make them for WP first. Oh, and the WPC app has stopped working in the forums, says an API is the cause. The Verge app has stopped too.

It would be nice if there were separate apps, but I would be happy if they just supported smartglass... It's there, they should use it.

I'd take anything. But it is a huge omission. Is there not a spare intern?

FIFA companion app would be AWESOME! :D

Beautiful design. The colours especially, they just blend together so well.

The official app doesn't show my guardian either.

The official android app is not showing my guardian either on my nexus 7.

What we need is a PS4 companion app.

Bungie already released an official exclusive app for PS4 version. Xbox one version is what we need. But bungie sees no reason to make one. Bastards. They got a Sony finger in a dark place called destiny.

I like seeing all kills I got on any particular mission. Saw one where I apparently killed 115 enemies. May have been a patrol session.

Clicking the iPhone "App Download" link on websites searches for that so in the Windows phone store. Odd... That's how I found this app. I went to download the official app, selected the iPhone version and I was lead to find this app lol.

This looks slick. Won't know how useful until I get the game. Hate that I have to wait a bit. :(

Says the app isn't available for my device. Lumia 1320 w/ 8.0 and Lumia Black. Also, I'm in the U.S.

It may be a WP 8.1 app and not have a version for WP 8.0. I currently have the L920 with DP 8.1 firmware Lumia Black and was able to download the app.

You are correct it will only work for WP8.1, it will soon be a Universal app.

The app keeps crashing for me everytime I try to select my guardian. I have already sent a crash report to the dev.

Uninstall the app and reinstall. He will be publishing a fix soon.

Talked to the developer he said universal app and 3d characters are incoming soon.

This why I won't be buying this game. They want me to pay the same price as everyone else and give lesser service in return

Very cool app, just waiting for the guardian picture

I'm glad that the app also has the PlayStation network function,
For being a WP app I thought that it would only support Xbox

Not only is it the best Destiny App on WP its the only Destiny App on WP

It says its not available for my region (my acccount is US) or my phone (L925). Would be great if this error message were clearer and upfront about the reason... :-/

For some reason it's case sensitive - log into Bungie.net (or check on your xbox dashboard) and enter it in the same case that it's displayed... caught me out at first too!
Windows Central Newsletter
Get the best of Windows Central in in your inbox, every day!
Thank you for signing up to Windows Central. You will receive a verification email shortly.
There was a problem. Please refresh the page and try again.