Dial2do: Another Hands-Free Solution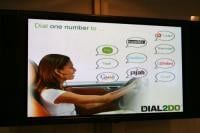 We recently showed you how to go hands free with Vito Voice 2 Go and many of you use WinMo's built-in Voice command, but both take up quite a bit of RAM. If you're still looking to go hands free and control your phone with your voice, then you might want to try dial2do. Although less robust, it doesnt take up any memory on your phone and is a killer hands free GTD application.
Instead of hibernating on your phone's memory, it's all done in the cloud. Simply call into 12133252615 (usa) and tell dial2do what you want to do. You can say things like text, email, calender and more. Its social friendly, so it works with some of your favorites like Gmail, Evernote, and Remember The Milk. What separates this app from competitors Jott or Nuance? It's free. If your phone is memory sensitive or you just want to control email and others with your voice then dial2do may be worth a shot. You a voice-command junkie? Tell us your solution in the comments.
Get the Windows Central Newsletter
All the latest news, reviews, and guides for Windows and Xbox diehards.