Dirt Rally review: The past master is back
The gravel master is back at its powersliding best.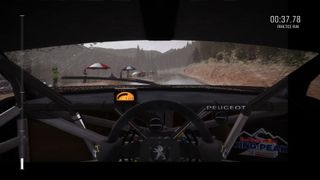 Rally games have been with us for many, many years now, but there's one series that began with one very famous name on the box that captured the excitement of armchair racing drivers everywhere.
I'm referring to Colin McRae Rally, of course. The great man has since departed this life, but his legacy, like Codemasters' series of rally titles, lives on.
Dirt Rally is the latest in a long line of gravel-tastic video games, and while some of the previous titles deviated from the core Rally aspect, such as Dirt Showdown released on the Xbox 360, this one goes back to its roots.
Rally. Uncut and Unplugged.
Having spent some time in Steam Early Access prior to its PC launch, it has now finally made it across to consoles to take on the likes of WRC 5 and Sebastian Loeb.
Disclosure: This review was conducted on the Xbox One version with a review code provided by Koch Media.
Dirt back on console
Dirt Rally represents the debut from Codemasters' long running series on the Xbox One. Showdown is playable via backwards compatibility, but this marks the first time a new title has launched on the current generation consoles.
It is, however, not a completely new game. Having been available on PC for a while now, some may have even been playing through the Steam Early Access program.
For all intents and purposes this is the same game, just released on consoles. So that means you lose some of the graphical prowess, but where it matters, it's still pretty even: Gameplay.
Four left, don't cut
Image 1 of 2
If you've never experienced rally before, either the real deal or one of the many video games that have been released over the years, there's a learning curve to get your head around.
A big part of that is the co-driver's notes. The description of what perils you're about to face at some speed. I'm no rally driver, but it's fairly easy to deduce the authenticity of the experience.
Phrases like "don't cut" "five right over crest" and "two left tights into one" will soon become second nature. Don't ask me what they actually mean, but the higher the number, the faster you can go. Or that's how I've been playing it.
There's a real art to mastering Dirt Rally. You get little arrows on the screen to show you the type of corner to expect, but I've found it's much less distracting tuning those out and zoning your ears in on the audio descriptions. They're only a corner or two in front of what you're going to face, so you can easily slip into auto pilot and just go with it.
Until you get brave and fall off the edge of a high mountain pass.
Feel the gravel fly at your face
Racing games are a little easier to make look pretty than something like Quantum Break. Since you're moving, the detail is more important on the car and the immediately surrounding area. The further distance can be scaled back a little since you're not actually exploring it.
And it's also pretty linear. You're following a single path; there's no massive open world to beautify. But great it looks and smooth it is. I've not come across any significant, noticeable drops in frame rate as yet.
As such, with Dirt Rally you get something that looks great, if unremarkable. The environments are engaging, and the weather effects are fantastic. The way water beads on the windows is Forza-esque.
Image 1 of 2
But unlike something like Forza, you don't just have the weather. Gravel, snow and ice and darkness are all something you'll come across in the course of regular play, all producing their own highly effective visual effects.
The night time driving isn't quite on a Forza 6 level, but is compelling in its own way. It's terrifying driving the Col de Torini stage on the Monte Carlo rally in the dark. You don't see much, the road is narrow, and even a VW Polo feels like a truck.
There's a pretty accurate damage model, too, both in a sense of what you can see and what you can't. If you slam into a big rock, expect to see the front of the car fall off, along with repercussions such as rising oil temperature. Slide into a wall and watch as you get a potentially rally-ending puncture. Your co-pilot handily keeps you informed of what's going on, with damage having a very real effect on your outcome.
And when you total it properly, there's a delightful motion blur and slow-motion video effect to watch as pieces of whatever you're driving fall off in front of you.
The cars are all well modelled on a variety of different, real world rally cars, with my only slight critique being that some of the liveries used look a little flat and lacking in visual flair.
Pick your rally style
Prefer something a little different to powering through the hills of Europe? How about a little Rallycross or Hillclimb? Both are styles of rally driving and both present their own unique experiences and challenges.
Rallycross is circuit based with a series of heats, semi-finals and a final to determine the overall winners. Dirt Rally allows you to try your hand at a selection of real world courses in three classes of car. From the old-school Mini Cooper up to the RX spec Mini Countryman.
Hillclimb is similar to regular rally in a sense that you're on a road course, but the cars are very different. In fact, the modern Peugeot available in this mode is the most insane car in the game.
Seriously, try it in the wet. It's ridiculous.
Nerdy set up tweaks
A big part of the authenticity of the experience on hand is that you're able to tweak a whole bunch of the setup of your rally car. Suspension, dampers, brake bias and more, you get both basic and more advanced settings to adjust.
And you'll want to get handy with this. More so than a circuit racer, the behavior of the car is absolutely critical to getting the fastest possible stage time. Massive oversteer might look the bees knees, but it slows you way down and puts you more at risk of spinning out of control.
The best part of the set up screen is that once you're happy, or you think you're happy, you get chance to shakedown the car and try it out before committing to the live race.
These aren't unlimited and vary in quantity across the games modes, but as you get more experienced with both the overall game and the car you're running you'll probably need these less and less.
Play on your own or take on the world
No racer is complete in the modern day without a compelling online multiplayer offering to give you the chance to take on, beat and generally show off to the world. And Dirt Rally is no different.
You'll need a Racenet account from Codemasters, which is the only real negative, since it'd be super swell if they just pulled your Xbox Live account instead. But once you're in you've got the usual kind of offering, including leagues, which give your online play a course of progression.
Or you can keep the excitement localized and enjoy a career mode on your own. You've got cars from the sixties through to the present day to enjoy, so there's lots to like and keep you entertained.
And naturally, since this is on Xbox One you've got a whole raft of achievements to get stuck into. Including one for rolling the car and landing back on four wheels.
Needless to say I unlocked that one almost immediately.
For a full run down on the achievements check out the list here
What more could you want?
The only real drawback to Dirt Rally is the quantity of available circuits and stages. Rallycross and Hillclimb are both fun to play in their own way, but a wider variety of locations for both wouldn't go amiss.
The fact that all are real world venues is great, but more would be even better.
The master is back
So, to wrap up. Dirt Rally is sublime. I could have probably told you that based on playing it on the PC. The Dirt series has fielded some great titles in the past, but it lost the authenticity that you got back in the days of Colin McRae Rally.
That is back in spades here, with real cars, real locations, real gravel. OK not real gravel, but you feel like it could be. It's so easy to get sucked into the rally world, zone out on everything else and just focus on what's in front of you and being told not to cut.
Seriously, don't cut. If you do you'll probably hit a rock or something.
Pros
Great looking cars and environments
Authentic experience with a genuine challenge
Silky smooth gameplay
Cons
A little lacking in location selection
Online play requires a Racenet account
INCREDIBLE
4/5
It looks great, it's smooth and packed with real-world rally cars to get your motor running. It would benefit from a wider variety of locations, particularly in Hillclimb and Rallycross, but what you do get is very much worth playing.
See at Amazon (opens in new tab)