Disney's Words of Wonder is a wonderful word search game for Windows 8 and Windows Phone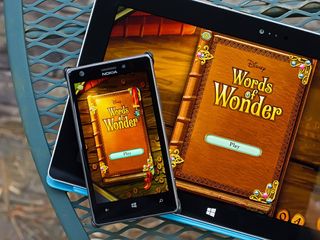 Last week, Disney released yet another game for Windows Phone 8 and Windows 8 devices - Words of Wonder. The game is word search game that has a match three game ( Maleficent Free Fall, Frozen Free Fall, etc.) feel about it.
The game has you following the Disney character Watson the Owl as he fights the grey curse that is erasing the color from his storybook. You use the power of words to unlock bonus items and restore the color to the book.
Words of Wonder is a simple, yet challenging for players of all ages and a nice addition to the Disney Windows 8/Windows Phone gaming collection.
Words of Wonder's Layout
With Words of Wonder is available for both Window Phone 8 and Windows 8, we are going to approach things a little different by looking at the Windows 8 version for this review. Both versions or the game are virtually identical, so it's not a very radical departure.
The layout is simple and straightforward with the game centered on the storybook map. The game's storybook has sixteen chapters that contain over seventy levels of play. The first few levels will have Watson the Owl guide you through game play and as new gaming features become available, Watson will appear to walk you through the new features.
At the top of the storybook map you have the gear cog the will drop down the settings menu (sound/music on or off, help section, exit the map) with your energy and gold levels displayed next to the settings cog. Energy is used to access each level and is replenished as you successfully complete a level, with time or you can convert gold into energy. Gold is used to unlock additional maps, buy boosts and re-charge your energy levels. You begin the game with 25 gold bars and can add more to your inventory through In-App Purchases.
As long as you complete the levels on the first try, your energy level shouldn't be an issue in that you seem to earn back the energy you use to play the level, when you complete it. However, if you fail a level then you will see your energy levels drop. If you don't want to fool with IAP, energy levels will increase over time.
Words of Wonder Game Play
Game play follows suit with Words of Wonder's simple layout. You are presented with a playing board filled with lettered tiles. You are tasked with created words by tracing adjacent letters (vertically, horizontally or diagonally). Words have to be at least three letters long and as you create a word, the tiles are removed from the playing board, with new letters falling from the top of the board.
Each level has a goal to reach in a set number of moves or before time runs out. The goals range from collecting a number of letter tiles, removing all the tiles stained with ink, dropping items off the bottom of the game board and more. Boosts become available that will aid you in your quest such as adding bonus moves or shuffle the tiles around.
The game screen for Words of Wonder has your statistics displayed across the top of the screen that includes your move count or timer, a progress bar charting your objective, a display of any boosts available. Your score is displayed at the bottom of the screen and as you create words, a banner will appear spelling the word out as you connect the letters.The game board rest center screen and comes in a variety of shapes and styles.
Once you've reached your goal, Watson will appear to launch a Word Burst, which will award you bonus points (much like the Free Fall portion of Disney's match-three games). Each level has a target score to reach and the closer you get, the more stars you are awarded. Levels can be re-played to better your score and increase your cumulative star count.
Overall Impression
The more I played Words of Wonder the more the game grew on me. The limitation on the number of moves you have to complete your goal requires a little strategy and when you're racing the clock, it calls for a quick eye and hand. Words of Wonder may come across as too easy of a game for some and I have to admit the first handful of levels are a little on the easy side. However, if you are a little patient the game picks up in challenge around level ten.
The Windows Phone 8 version plays just like the Windows 8 version, you just have a smaller screen to play from. The challenge does seem to pick up a little quicker with the Windows Phone 8 version though.
While you do have in-app purchase opportunities, you can live without them. Boost become available as you progress through the levels. You may have to sit the game aside for a little while so your energy can replenish but that only gives the game life a little more longevity. Still, I would have liked to have seen a way to earn gold during game play to avoid the in-app purchases completely.
All in all, Words of Wonder is a fun, casual game that is a good choice for those times you need a little help passing the time. The game is appealing for all ages and I can see it being a fun game for the younger crowd that can double as a spelling lesson of sorts. I can Words of Wonder coming in handy at the restaurant while waiting on a table or sitting poolside. Words of Wonder is a puzzle game well worth checking out from both platforms.
Words of Wonder - Windows Phone 8 - Free - Store Link
Words of Wonder - Windows 8 - Free - Store Link
Get the Windows Central Newsletter
All the latest news, reviews, and guides for Windows and Xbox diehards.
George is the Reviews Editor at Windows Central, concentrating on Windows 10 PC and Mobile apps. He's been a supporter of the platform since the days of Windows CE and uses his current Windows 10 Mobile phone daily to keep up with life and enjoy a game during down time.