Disqus UWP app enters into beta and hits the Windows Store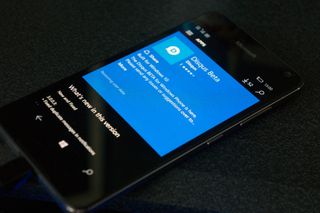 The Disqus team has launched a new version of the official app for Windows and this release enters into the Universal Windows Platform realm. If you're a massive fan of the commenting and social platform, you may wish to check out this UWP listing for both your PC and smartphone.
This is a beta so it's worth remembering should you encounter any issues. The app was previously in closed beta but the developer has now opened the testing up to the general public. Here's what is new, according to the store listing:
Access to the thousands of new Disqus channels
Create discussions on channels in the app
Upload images for your comments and discussions
New notifications
New feed filters
Design enhancements
Rocking the latest update? Let us know how you're getting on.
Download Disqus for Windows (opens in new tab)
Windows Central Newsletter
Get the best of Windows Central in your inbox, every day!
Rich Edmonds was formerly a Senior Editor of PC hardware at Windows Central, covering everything related to PC components and NAS. He's been involved in technology for more than a decade and knows a thing or two about the magic inside a PC chassis. You can follow him on Twitter at @RichEdmonds.
Loging in with Facebook is not implemented yet right?

If you've been with them long enough you wouldn't have an issue signing with your original account
DOWNLOADING... and it's not available to my device. L950 running V10...14393.67

Why login with Facebook anyway?
Disqus is for the discreet.
Its a great place to vent your frustrations.

I have registered to Disqus with Facebook, so can use this app yet

That will come later, but every Disqus user should have an email/password associated with their account. You can always reset your password if you forgot: https://disqus.com/forgot/

The app is showing as not available for my device. I've been experiencing this with apps (beta and non beta) for some time now. Im on a 950xl with the latest fast ring build installed.

There's something seriously wrong with deployment in the store lately. Too many apps were said available for download when no one could download them.

Yeah I've been trying to download the updated Amex app since it became available again, but it's been "currently unavailable for your device" since it's release.

Don't even see that on the Store. I have the X3.

Available for me, 950Xl, Production Ring

Hmm.. Must be an issue with fast ring builds

Issue or deliberate? Let's face it, a beta app running on beta OS is the worst possible testing combination ever, it'll be hard as heck for the developer to know whether a bug is app or OS related. I wouldn't be surprised if they're actively blocking insider fast ring users from downloading it.

We're not blocking anything as far as I can tell, but Microsoft may be. That said, the rollout seems to be anything but smooth. I can't even download the new app on my desktop computer, and the description/screenshots still haven't updated yet on mobile (even though the app is updated). I assume these should be sorted out soon.

The App was unavailable for me as well,but after a few hours it became available and I've downloaded it.It opens a bit faster and it's got great UI and it's efficient.Few bugs here and there of course.Not and issue of whether you are at a fast ring build or not.

The link goes to the phone version of disqus with the traditional side swipe style.

I'm a huge fan of this app!

Yes, but are you a 'massive fan'. Only those fans are eligible for the download.

Yes I am!!! And it is now on my phone and PC!! Lol!!!!

I'm on that 950XL using Fast Ring noticing the same problems with Beta being unavailable even on previous FR releases.

I guess it's time to submit some feedback to ye ol twitter and see what comes back. Although I'm usually ignored on there. I'll hit the feedback hub as well.

950xl on fast ring = unavailable

If that's true and is not since I'm on fast,
A single setting change will alter your device to slow ring.

Thought it said Discord at first, oh well.

I am on the AU Production on my X3. Not available for download.

all those who cant install apps like these or lumia refocus etc this trick will help you.. 1) open disqus beta.
2) search for an app which never downloaded before.
3) press install followed by fast press back which bring back to disqus beta page.
4) after few sec disqus beta app will start downloading.

Doesn't work anymore. They closed the hole.

Thanks for sharing this but if you weren't aware, this has been fixed.
Doesn't even work with 14393.87 and latest Store.

I have the 950 XL... I was able to download the app, but the notification settings aren't working

This almost worked, but the app threw an error while acquiring the license

Already better than the old app. I don't have to open pages in the browser to share anymore

Now, if only Windows Central would move their comment system over to Disqus.

I'm much happier with their comment system and the ability to control notifications, etc.

Disqus is better because you can block individual users. Windows Central's comment system doesn't have that. Disqus also offers full control over notifications too.

It said it was not available for my device about an hour ago, I just went back through the link in the Windows central app, same way as before, and now it's available. I downloaded it, and it's a lot smoother than the old version. L950XL, fast ring.

Just downloaded it myself and it's awesome!!!

Glad to see them supporting it with a new app, they always had okay-ish support on WP8.1 but wasn't sure if they would do a UWP, glad to see it

Crazy that anyone is still developing full UWP (including Mobile)...very much welcomed, but crazy nonetheless. (I have a 950XL btw)