Dixons and Carphone Warehouse announce merger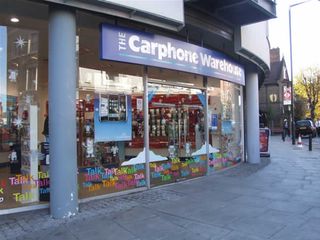 As widely reported last week, UK tech retail giants Dixons and Carphone Warehouse have revealed that they are to merge, creating one of the biggest high street technology brands in the country. Dixons CEO Sebastian James announced the news today while reporting trading details for the financial year, according to BBC News.
"Today we also announce that we are setting out on a new journey with Carphone Warehouse and it is good to be in such a strong position as we embark on this adventure.", James is quoted as saying. "The ability to take what we have built in electrical retailing and add the profound expertise of Carphone Warehouse in connectivity would make us a leading force in retailing for a connected world. Together we can create a seamless experience for our customers that will enable technology to deliver what it promises - that is, to make their lives better."
Precise details of the merger have not yet been confirmed, but earlier reports indicated that the new Dixons Carphone Group would be formed as part of a £3.7 billion ($6.2 billion) deal in which both Dixons and CPW are equal partners.
Source: BBC News
Get the Windows Central Newsletter
All the latest news, reviews, and guides for Windows and Xbox diehards.
This is probably the closest we will get to a Microsoft store in the UK!

I have never seen a Dixons in England and dont even know what the store sells

Dixons is the group name, there main stores are Currys and PC World

Dixons Retail is the group name, Dixons was a chain of stores which shut down after becoming online only and failing then 'becoming' part of Currys. It was also part of Dixons Retail.

I thought they went bust over 15yr ago when all the stores shut down

They traded online after that but are the group name for Curry's and PC World.

All the Dixons stores became Curry's in Aug 2008 and dixons.co.uk ceased trading in oct 2012. As menitioned above all Curry's, PC World, pixmania and now Carphone Warehouse operate under or are part of Dixons Retail Plc.

Ha. Not really British then, are you?
Dixons plagued high streets across the country into the mid 2000's, and Currys was its retail park brand. They settled on Currys across the board for all shops, except computer superstores (PC World) and closed lots of the smaller Dixons.
Dixons remains online and in the airports. If you've ever been here or lived here and are remotely into tech then it would be abundantly simple to you.

Dixons still has shops I walked past one yesterday. It is a bad move by CPW they are a good company that put customers first & there service is first class. Dixons is another story they have bad customer relations poor service, Bad move CPW

LOL But the choice of WP's is patchy, like the carriers. Be great to see a supplier in the UK with a full range of WP, Surface etc. Maybe a MS Store is the answer??

It is the answer. Try telling Redmond to support the UK though..

News 24/7 WPcentral :), good night all...

In my town this will give them approximately 7 stores, selling the same thing. This is all in a fairly small area. Overkill?

well like the EE Merger they will eventually close the stores not needed anymore

7? I live in Manchester - the Arndale and Market Street will be decimated when they merge. There's like 4 CPW's alone.

Dixons (DSG retail) owns pc world and currys. The problem is this restricts competition. Dixons merged with pc world and curry's and drove other computer and tech retailers out of business (Comet et al). Best buy tried to introduce competition but failed and pulled out of the U.K. market. Now if you want a computer you would have to go to pc world. Their prices are unreasonably high, poor service and their attitude to customer care stinks to say the least.
Now that they have taken over Carphone warehouse what happens to all the phones4u retail outlets lodging in PC World stores? We will end up with a situation were finished like phones4u are driven out of business. I wonder what the competition commission is doing?

That would be a shame as phones4u do exclusive deals and low, low prices for sim free. In fact they are cheaper than Amazon often.

I don't think I'd ever buy a PC from the high street anyway, let alone PC World. Last time I bought a computer from them was before the internet was established.

Wouldn't want to lose Phones4u, I bought my 1020 from them after Carphone warehouse wouldn't sell me a sim free one. Why would you turn down a £500 sale?! Phones4u also replaced my faulty phone without quibbling.
PC World are just useless.

When new phones come out they aren't enabled on the system to sell SIM-free. They make no real money as a company with Sim-free phones

You do not have to go to PCWorld for a PC. You can go to Tesco or Sainsbury's, and probably get a better deal. It is the ill-informed consumer who may go to PCWorld for their PC to be overcharged, oversold and generally misled by a 'helpful' sales adviser.

You will find Phones4U in quite a few Curry's stores. However with this deal i would assume this will change. "In July 2010, Phones 4u partnered with electrical chain Dixons to place 49 concessions inside a small number of Currys and PC World stores. Since then this number increased to over a 100." - Wikipedia

John Lewis is their main rival now and JL have already said they are looking to open new tech only sites

Hope they do. With 2 year warranty and matching competitors prices they are the first visit for me. Maybe they will sell WP in the future?

Blackhove - well said.
There's john Lewis (great when you price match) and then the on line retailers, amazon and ebay.
The high street is being decimated.
Both cpw and curry's pc world lack knowledgeable staff... What is this monstrosity going to be like?
Well, good luck to the staff.

I think I will get all my tech from John Lewis. How did I ever forget they existed. They need to advertise their tech bussiness more. I just spend about £2500 a year on computers and it pains me to give my money to pc world. I don't like online stores especially with huge tech and warranty issues when you have to return goods. I prefer to attend the store and talk to someone rather than a faceless fool reading of a list trying to tell me to turn it off and on when that's clearly not the issue.

I reseted my phone. Have downloaded US keyboard, started us region still I can't find cortana in applications. Please help

Does this mean I have to stop calling them Carphone Whorehouse?

Carfraud Whorehouse and Frauds 4 U. Hate both of them.
As mentioned above, John Lewis is the only real electronics retailer as an alternative. I don't shop at Tesco for moral reasons and to be brutal with other supermarkets I just don't trust them to retail expensive goods. Even Argos is only good for shower curtains and Brita filters.

You could call them Dixons aforemened-house instead???

Currys and pc world , the 2 stores I'm actually looking forward to seeing crumble off of the high street.
This will only be sped up by this merger for sure!

And don't they own phones4you. Too

no - http://en.wikipedia.org/wiki/Phones_4u

Nope, P4U rent space in Dixons stores

Looks like phones4u's lodging days at Currys / PC World are soon going to be over.

Last pc I brought was 2011 and from Comet, next pc will be from anywhere but pccurryswarehouse

Bought! (Sorry pet peev!) Learn to build one, assuming you want a desktop that is. It's very easy to do, saves you money generally and allows you to use better parts.

Absolutely agree!!!! It can be daunting but honestly, provided you do some homework, so much more rewarding! I've been buying from amazon and their customer service is spot on. You can build a beast at a fraction of the cost!!!!

Sorry bought a PC! Yeah I got a very basic one got home stuck in 8gig ram, 1tb hard drive and a new video card. I'm OK with computers but don't want the hassle of completely building from scratch. But for about £600 had a mid range gaming pc . still good now 1080p 60fps Posted via Windows Phone Central App

I get a lot of my tec from Argos, 6 months interest free with my Argos card

Well isnt that a sweet deals with all thos interest free credit:O Just like all those sweet mobile phone deals on contract :) /s

Great. Hopefully they'll go out of business quicker now. DDDDDDDDDDDon't care much for either of them.

Worked well when they were taken over by best buy...what could go wrong?

I never shop at any of them. I get all my stuff online at a fraction of the price.

This news is so WP specific

Isn't it obvious? It's a phone that is also a car, a transformer of sorts

Its describes a del boy attitude to business. It's still evident in their dealings today. I can't wait for the day both Carphone warehouse and Dixons go out of business. I hope they take that talk talk thingy to the gutters with them when that special day comes.