Do you need motion controllers for Windows Mixed Reality?
By Jen Karner last updated
You don't need motion controllers, but they are handy.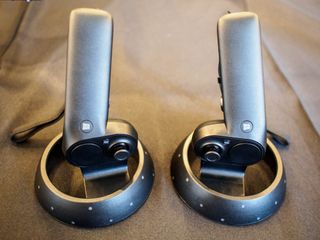 Windows Mixed Reality has arrived, bringing a new way to experience VR with your desktop. With an array of experiences that range from fantastic games like Arizona Sunshine, to the apps you already know and love like Hulu and LittlStar VR, and the full range of UWP apps, there is a lot here to delve into. It does of course beg the question, with everything that Windows Mixed Reality offers, do you really need motion controllers?
While they certainly make things more immersive and interactive in VR, not every app and experience requires motion controllers in order to be enjoyed. We've got the breakdown for you here.
Your keyboard or game controller can handle most things
For checking out most apps, viewing videos in 360 degrees, or watching your favorite television shows with Windows Mixed Reality, your keyboard or an Xbox controller can easily get you from point A to point B.
This means that you can adjust and customize your Cliff House, jump into Hulu or Netflix, and check out unique VR experiences, all with the keyboard that you already use when you aren't in VR. For most of what Windows Mixed Reality offers, you don't need any hardware past what you've already got for your PC. Adding an Xbox controller to the mix can make things a bit easier if you're moving within your playspace, without having to get to know an entirely new controller in the process.
Motion controls are needed for gaming
While you can get by with a keyboard, and an Xbox controller for many of the desktop apps, the same isn't true of all the games that are available. In order to enjoy many of the VR games, you'll need to pick up a pair of motion controllers.
Awesome games like Arizona Sunshine (opens in new tab), Fantastic Contraption (opens in new tab), and SuperHot (opens in new tab) all require a pair of motion controllers in order to play. That's because in many cases they were developed specifically for play in VR with motion controllers.
So if you want to play the best games available to you, then you'll want to either grab a headset that already comes with controllers or pick them up separately. In either case, for gamers, these motion controllers are absolutely mandatory.
Do you want motion controllers?
While motion controls aren't necessary to enjoy most of what Windows Mixed Reality has to offer, you will need it if you want to enjoy many of the games that are available. This means that the decision on whether or not motion controls are right for you is a pretty personal one.
In reality though, to get the absolute most out of your new Mixed Reality headset, you're going to want to be able to jump into any app, game, or experience that catches your eye. For all of that, you'll definitely want motion controllers. Thankfully, depending on which Windows Mixed Reality headset you end up going with, controllers may come as part of the deal.
Jen is a contributing writer for WindowsCentral. She's an avid gamer, especially when she gets to kill zombies, craft things, or use a bow. She can often be heard yelling about her chainsaw while playing Gears of War 4. You can follow her on Facebook, Twitter, and Instagram.
Keyboard? That's painful. But yeah, you can use it, I guess.
But IMHO VR controllers complement the experience in a natural way, and help bring a new level of immersion. If you're going to use a keyboard or an Xbox controller, then the VR headset is little more than a screen attached to your head.

What Headphone and mic setup do you guys recommend with like the HP Headset? The Samsung headset has them built in.

No, no, no. First, I only do PC gaming BECAUSE console controllers disgust me so much. Second, on a PC, the keyboard and mouse combination is much faster and easier for FPS games, and for games like Elite Dangerous, stupid hand controllers like the ones coming with Mixed Reality set don't make any sense. So, no, hand controllers aren't necessary. Also, from what I've seen of the laughable Windows interface for MR control of the OS, the whole thing is horrible, for which those hand controllers don't make sense, either. The only kind of controller that makes any sense for OS interaction would be glove-based.

Got my controllers yesterday, and it is so much better using them than the keyboard and mouse. The Xbox controller was ok, but being able to aim and click with the VR controllers are so much better. Keyboard/mouse/xbox controller will do, but the VR controllers are so much better. The only problem I found with the VR controllers is which button you press to select something, there are 6 buttons per controller. But as the use model settles the buttons to use in which situation will work its self out.

I would like it if the Microsoft Stores would sell them for the people who ordered the dev kits. I think they'll do it, just not sure how long I'll have to wait.

In the UK for example, you can already get just the controllers on their own. Dell sell them for £100. Might be worth looking into.

Yes - I do see that I can order them via Dell - it just seems odd that Microsoft doesn't (yet)

I'm in awe we got to use controllers in AR or VR. Whole hand, maybe even body should be priority. Cannot imagine I would have to use something else if I had such mobile device in future.
Windows Central Newsletter
Get the best of Windows Central in in your inbox, every day!
Thank you for signing up to Windows Central. You will receive a verification email shortly.
There was a problem. Please refresh the page and try again.