Dolby Vision gaming hits Xbox Series X, Series S for select Xbox Insiders
Microsoft plans to expand Dolby Vision HDR support to gaming on all Xbox Series X|S consoles with a future update.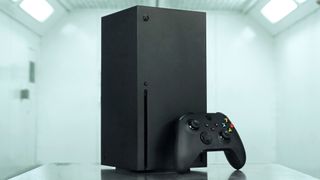 (Image credit: Matt Brown | Windows Central)
What you need to know
Microsoft has debuted Dolby Vision HDR support for gaming on Xbox Series X and Xbox Series S, first through its Xbox Insider testing program.
The feature is available to Xbox Series X|S consoles enrolled in Alpha Skip Ahead and Alpha rings connected to Dolby Vision-compatible TVs.
Microsoft plans to launch Dolby Vision gaming support to the public with a broader release at a later date.
Microsoft has announced plans to bring Dolby Vision high dynamic range (HDR) support for gaming to Xbox Series X and Xbox Series S consoles, through its Xbox Insider test program. The latest update brings the feature to games on Microsoft's latest consoles, now rolling out to Alpha Skip Ahead and Alpha rings of the Xbox Insider program.
Dolby Vision first hits Xbox Series X and Xbox Series S consoles enrolled in its bleeding-edge test rings, ahead of a broader release promised for later this year. The feature is now available to all with the latest pre-release update, after rebooting the console. Microsoft stresses this work-in-progress implementation might not represent its final experience, with plans to improve Dolby Vision support throughout the testing process.
Get ready to transform your gaming experience with full-spectrum visuals! Rolling out to Xbox Insiders this week: Dolby Vision for gaming on Xbox Series X|S. pic.twitter.com/iU2RktHvPGGet ready to transform your gaming experience with full-spectrum visuals! Rolling out to Xbox Insiders this week: Dolby Vision for gaming on Xbox Series X|S. pic.twitter.com/iU2RktHvPG— Larry Hryb 🇺🇦 (@majornelson) May 14, 2021May 14, 2021
Dolby Vision is the company's in-house High Dynamic Range (HDR) technology bringing a wider color gamut and increased contrast ratio across supported content. While Xbox consoles have supported the open HDR10 standard since 2016, Dolby Vision support brings an alternative HDR solution. Dolby Vision, superior on paper, brings improved color tuning, adjusting visuals on a frame-by-frame with dynamic data while pushing more colors and higher peak brightness. The results hinge on the content but it has the potential to upgrade visuals for many games on Xbox Series X and Xbox Series S.
Using Dolby Vision requires a Dolby Vision-compatible display, far from guaranteed in the current TV market. While many of the best 4K TVs for Xbox Series X and Xbox Series S support Dolby Vision, check with your manufacturer for specifications on your model.
Most Xbox consoles already offer Dolby Vision for video streaming, limited to select supported apps like Netflix and Disney+. The update marks its long-promised expansion into gaming, delivering similar benefits for interactive content. The feature is exclusive to the best Xbox consoles in 2021, Xbox Series X and Xbox Series S, with plans for Xbox One availability yet to be discussed.
Matt Brown is Windows Central's Senior Editor, Xbox & PC, at Future. Following over seven years of professional consumer technology and gaming coverage, he's focused on the world of Microsoft's gaming efforts. You can follow him on Twitter @mattjbrown.
Now bring on HDR10+ and everyone will benefit from dynamic metadata.

Lol who, besides Samsung, uses HDR10+?! That's their own version they made to compete with DV only bc they didn't wanna pays licensing costs for DV. Dolby Vision IS dynamic, son... It's also the most popular.

Even low end VIZIOS have Dolby Audio and Dolby Vision and it really works better.

Are we just ignoring the fact that the Xbox One X had Dolby Vision support including for gaming (although it never got out of the insider program)?

Honestly I thought it already had it on the Series consoles. I don't even know the difference obviously.

Dolby vision allows for dynamic metadata, meaning supporting greater HDR ranges. HDR10 is basically a static parameter in which the whole film is set for. HDR10+ is Samsung's proprietary "fee free" format I've not really seen get adopted but was supposed to compete with DV. The benefit in gaming is it'll slow for more realistic coloring, shading, contrast, etc. I also believe HDR10 is limited to 10-bit whereas DV is 12-bit, and FHD and UHD is 8-bit just to compare how much greater a difference it supports. https://www.reddit.com/r/VideoEditing/comments/b45b85/10_bit_12_bit_or_h...?

Good link.
Thanks.
A point to consider is that while video content is, as the link points out, limited to 8-10 bit rangers, games aren't.
Also,human eyesight isn't symmetrical across the color bands. So while 12 bit might be overkill for some applications, especially if tbe display can't actually render the full gamut, it does bring value to the equation.
Ditto for the Dolby stuff.
Bottom line: better to have than not.

EXboxNick, I believe UHD is typically 10-bit and never 8-bit. If it were only 8-bit, that would be a standard non-HDR signal. That's SDR and not HDR or UHD. Standard RGB (SDR) is 8 bit for each of the 3 red, green, blue channels, for a total of 24-bit color, 8-bit per channel. HDR is more than that, 10 per channel for HDR10 and UHD, which is 30-bit total.

Genuinely curious (not trying to criticize a new feature): is this only an issue for the very small number of screens that support Dolby Vision but not HDR10? We already have HDR10. From a quality perspective, while I know Dolby Vision is technically superior at 12-bit vs 10-bit, for appearance to a user, aren't they about the same? Of course, if your TV doesn't support HDR10, but does support DV, then this would be big news so you can finally get HDR, but does it matter to the rest of us? While 10-bit HDR looks MUCH better than 8-bit SDR, do we gain anything further going from 10 to 12-bit HDR? Isn't that about like going from 144Hz to 200Hz display -- if both already exceed what the human eye can perceive, does it matter? 12-bit over 10 also increases the amount of memory to be moved for every frame -- does that mean that we need to accept a lower FPS count on DV than HDR10?
Windows Central Newsletter
Thank you for signing up to Windows Central. You will receive a verification email shortly.
There was a problem. Please refresh the page and try again.