Domino's releases Windows Phone app for UK and Ireland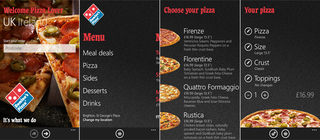 Good news Domino's Pizza lovers, the fine establishment has released a Windows Phone app (for the UK & Ireland) that conveniently allows users to order their favourite pizzas from the comfort of their handset. The Domino's iOS app is as aesthetically pleasing as they come, so our expectations are high with what can be achieved visually with the Metro UI. We have not been failed, as (can be seen above) the app is very good looking.
Should you be after drinks, sides, desserts, deals, or just the 13" beasts themselves, the Domino's Pizza app allows one to achieve this with style:
A Full Menu
Store Locator
All Meal Deals available
Ability to Customise Your Pizza with extra toppings or special requests
Payment via credit card, cash or on collection
The next version is already in the works that will introduce voucher usage, so we expect to see an update soon. You can download Domino's Pizza from the Marketplace for free, enjoy!
Thanks Carl for the tip!
Windows Central Newsletter
Get the best of Windows Central in in your inbox, every day!
Rich Edmonds was formerly a Senior Editor of PC hardware at Windows Central, covering everything related to PC components and NAS. He's been involved in technology for more than a decade and knows a thing or two about the magic inside a PC chassis. You can follow him on Twitter at @RichEdmonds.
dominos uk and dominos us are different companies, run by different management, answer to diff sharehoders.

US please! I was exicted when the pizza hut app came out, but unfortunately there aren't any pizza huts close enough to deliver rendering it useless to me.

Call it a trade, US gets Pizza Hut, UK gets Dominos :D

I wish it was reversed, I really dislike Pizza Hut pizza.

Sadly I'll happily eat either... I was all set to try this out tonight but then accidently had a Subway for lunch, pretty sure I should try something remotely healthy this evening

I had 4 Cadbury eggs for dinner if that makes you feel any better...

Ah yes, that famous Creme Egg diet that all the top celebs are raving about. I've seen some of the testimonials...

'It's done wonders for my waistline' - fat Eddy

I exercised restraint and only had 2... But there's a 3rd one taunting me right this very second!

Safeway had them at buy 2 get 2 free. It's THEIR fault!

Come on Dominos, bring it to the US!

The frack! I got all excited and then disappointment kicked in when I saw not for the US :(

YAY :D nice surprise, will try it this weekend!

HOOK YOUR US BROTHERS UP TO DOMINOS!

I prefer Pizza Hut and have the app but both Dominos and Papa John's Apps would be welcome. :D

Seriously Domino's... £16.99 for one friggin pizza? Now I remember why I don't order from there. The pizza place at the bottom of my street does 18" monsters for £11.99 that can feed 3 of us. And they are just as tasty if not more so. Saying all that though, it's a sweet looking app.

I'll be really impressed if we get an app that allows me to order from Pizza Express in the UK and have it delivered to me here in Cincinnati, OH.....

Good to see more official, well designed apps in the Marketplace.

Haha brilliant the missus used her iPhone dominoes app the other day and was gloating as I didn't have one! I'll show her...by ordering us a pizza lol

Would prefer a Papa Johns app

Well this is a reversal from the usual! Where's the app for the USA?? No love for Americans? Lol... But seriously, I actually would like this app for the US.

It always annoys me as a Windows Phone user when I pickup carryout and the door has a window cling raving about the iPhone app. Give us one too! P.S - The oven baked sandwiches are actually very tasty.

Can we get the "Tyrone's ribs, gizzards, and pigs feet" app? Please? Windows Phone needs some soul.. you jive turkeys!

WTF, all you people complaining about the fact that there is no US app. This is what the rest of the world has to deal with all of the time; there are a ton of features (let alone apps) I don't have on my phone, just because I live in Belgium. No Bing Music, local scout, no Music market (and consequently no artist displayed on the lock screen while playing Music) or even finding a streets in bing maps. How can you expect me to convince my friends to het a Windows phone if you can't even use a lot of the cool features?

Tweet @dominos and mention @windowsphone so they know we want this.

Where's the Aussie one??? We have nothing!!! :(

I'm almost cetain IOS has a Dominos app as I remember seeing one when I had an iPhone. So I don't know why one wasn't released for WP here in the states

Great to to see an official app from a company in the UK, it is annoying to just see "get our app" everywhere, but then find it's only IOS or Android. Hopefully this will start to change with more people taking up WP7.
Odd in this app that you don't log in with your Dominos account, but it seems you have to enter your details each time (although I've not ordered one yet).
Oh and about the cost of Dominos, I only ever buy them either on a "2 for Tuesday" offer or if they send me a leaflet full of other good offers, never pay full price!
Also, always add a topping or customise it, my local Dominos always get it wrong then have to send you another one free :)
Windows Central Newsletter
Thank you for signing up to Windows Central. You will receive a verification email shortly.
There was a problem. Please refresh the page and try again.