Doors for Windows Phone, solve the puzzle and unlock the passage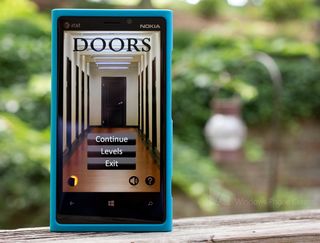 Doors is a challenging puzzle game for your Windows Phone were you are presented with a wide range of puzzles. You have to solve the puzzle to open the door and advance to the next level.
Doors has sixty-five levels of play, all that can be re-played. The puzzles range from mathematical puzzles, matching games, and hidden keys type mysteries. The game doesn't have a lot of flair but the puzzles can be challenging. All totaled, Doors isn't a bad option if you're looking for a game to pass short bits of time with.
The main menu for Doors has options to continue your game, pick a level to play, mute the sound, and access the help section. Levels are progressive in that you have to complete level one before you can play level two and so on. Once you've played a level you can go back and re-play things.
Puzzles start off a little on the easy side with movement tutorials. Puzzles can be rather self-evident while others you're going to have to use a little imagination. Some require you to shake the Windows Phone, tilt it or turn the phone upside down to solve.
Doors is a nice option if you need a game to pass short bits of time with. The puzzles can be challenging and a little frustrating at times. Doors is a free, ad-supported game for your Windows Phone 8 and 7.x devices.
You can find Doors here in the (opens in new tab) Windows Phone Store.
George is the Reviews Editor at Windows Central, concentrating on Windows 10 PC and Mobile apps. He's been a supporter of the platform since the days of Windows CE and uses his current Windows 10 Mobile phone daily to keep up with life and enjoy a game during down time.
downloaded this a couple of days ago, its great, addictive gameplay. Knew of this game due to a collegue having it on her iPhone, but with different gameplay and levels.

Fun game! Beat it on Monday!

I've been playing this for a few weeks. Some levels are easy but others challenge you big time. All in all, good game.

Looks like fun. Unfortunately it's not available in Germany. :/

Change your region and go download it.

Yeah, I just did that. Dunno why I always keep forgetting about that.

How? I changed my Region Format, System Locale, and Browser & Search Language to US and it's still not available

Same story in south Africa

This game is freakisly annoyingly brilliant!

Haha my girlfriend has been playing this for days now. Every evening she tries to open one before bed. She feels very smart if she opens one, but she can get really frustrated with some of them.

Haha my girlfriend also loves this game. Everytime we meet up, she always asked for my phone so she could play this game.

I must be a bit thick, as I can't seem to crack level 10 (the one with the 3 red and 3 white arrows)!! Clues anyone?

.you need to exchange the position of the arrows to move on..

White X 1, red X 2, white X 3... etc. If you still cant solve it after this clue, I've got bad news for you.

From top to bottom, name the arrows as R3,R2,R1,W1,W2 and W3. Now proceed as follows : R1,W1,W2,R1,R2,R3,W1,W2,W3,R1,R2,R3,W2,W3,R3. :)

Reminds me of the Encarta '95 game.

It usually pisses me off when they add more levels and you update the app then lose all previous completed levels. Seems its been fixed with this update.

never happened with me, have been playing it since there were 25 or perhaps 30 levels.

Well it happened to me everytime till this update, didn't mind at first but got tired after a few updates. Guess my phone fixed itself O_o

never happened with me either. The update only add new levels, that's all

Not available in Australia, what the??

Did it make you ponder at all?

(couldn't help it :)

great game and, yes, a recent update (with new levels) also fixed the need to reopen the last door. (I never lost the other completed levels).

Also, there's a thread in the games forum with tips and help and solutions.

From top to bottom, name the arrows as R3,R2,R1,W1,W2 and W3. Now proceed as follows : R1,W1,W2,R1,R2,R3,W1,W2,W3,R1,R2,R3,W2,W3,R3. :)

How to open door number 10?

This is just a puzzle game, right? So, why would the paid version fo this app need access to my photo, music and video libraries?

I'm pretty sure ad supported apps need those capabilities. Not to share data with MS, but to SHOW the visuals of the ads.

i need help with level 11. i feel like an idiot. the game is addicting.

Hahah I'm stuck on 10, too. WTF!? This game makes me feel stupid. Lots of fun though.

EDIT: Oh! I just did it yay! Don't ask me how though. I just started button mashing then it got me far enough to see the solution.

How the heck do you pass level 14?

Unless I am missing something, there is only two things that are interactive: Touch the door, can't open. Touch the fire, say ouch. I am not sure how to interact and do anything else....

View the numbers by placing the phone almost horizontally. You can see 28359. :)

Why does it need position services?

it is necessary to advertise

Anybody can give me a hint for level 24 please?

I have been on 24 for four days now and have not been able to figure it out. Can someone please help ???

Count the number of connection joining to each buttons. Set the total number in each field.

Need help with level 17 >_

Turn all the buttons to green as fast as possible and click the door. The door will only open if all the buttons are green.

Help me please for level 24. Anybody passed it?

Count the number of connection joining to each buttons. Set the total number in each field.

Help with level 15 please!

http://www.youtube.com/watch?v=ZZjNJTvndw0 check thisout , Kiley MacVey, i think you can easily pass away
Windows Central Newsletter
Get the best of Windows Central in in your inbox, every day!
Thank you for signing up to Windows Central. You will receive a verification email shortly.
There was a problem. Please refresh the page and try again.