Dovetail Games to create new flight sim game series using Microsoft tech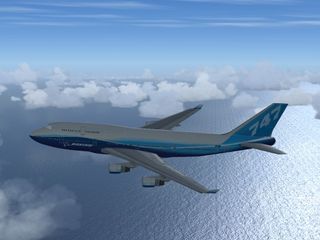 UK-based Dovetail Games has announced a new agreement with Microsoft that will have the developer create and publish "all-new flight products based on Microsoft's genre-defining flight technology" while also gaining the rights to publish Microsoft's last game in its Flight Simulator series as a digital release on Steam.
Microsoft Flight Simulator X: Steam Edition will be released in late 2014 on Valve's game download service via Dovetail Games. It will contain the content in the Gold edition of the 2006 released Microsoft Flight Simulator X combined with its Acceleration Expansion Pack.
The bigger news is that Dovetail Games will use the Flight Simulator engine from Microsoft to create new flight sim games on its own. Dovetail said that it is "currently investigating new concepts in this area and is expecting to bring a release to market in 2015." The specific financial terms of the deal were not disclosed. Dovetail Games was formed in 2009 and has released a series of popular Rail Simulator games for the PC over the past several years.
Microsoft Flight Simulator was one of Microsoft's longest running PC software products. The first version was released in 1982, even before the first version of Windows. Microsoft ended up developing and publishing over a dozen games in the series in a span of over 25 years.
In 2009, Microsoft shut down its internal Aces Studio, the team responsible for the Flight Simulator series. The company tried to re-launch the franchise as a free-to-play game called Microsoft Flight in 2012 but stopped adding extra content to the game just a few months after it went online. Microsoft plans to shut down the online servers for Microsoft Flight in October, although the single player portion of the game will still work.
If you are a long time Microsoft Flight Simulator fan, what do you think about this new plan for another developer to make games using Microsoft's flight sim engine?
Source: Dovetail Games
Microsoft can release Flight Simulator 82 on WP ....Would be awesome

Love flight simulator games

Valves hates MS, so ... Will be nice :))

Not holding my breath... Probably won't be 64-bit enabled, but even it were, add-ons won't work. In all reality, what we're probably going to see is another version of Prepar3d.

I hope for people that own Flight Simulator X Deluxe or Gold they would be able to redeem their copy on steam, that would be great if possible.

Feeling kinda nostalgic... even though i didn't understand half of the controls (in my defence, i was just a child back then) but still, loved this game!

I stick with old ones
This game will be £40 to buy and you will get 2 planes and 1 Airport, each additional Airport will be £10 and additional planes £15
Their are over 40,000 airports in the last Flight Sim, so in the new one it will cost you at least £400,000 You could get a private pilots licence and a small plane for that

But you won't die in a fiery crash with flight sim.... :)

More likely to die in a car wreck...

I think you missed the humor....

And that is why I don't like xplane. Shame really, it's a great product otherwise.

Its Microsoft, not EA or Ubisoft. Microsoft aren't quite that bad

Tell that to people who got screwed by Microsoft with AOEO.

But Dovetail has a tendency of releasing a lot of DLC for its games, and occasionally, a single piece of DLC alone can cost more than the game itself. Exhibit A: DLC for the Train Simulator franchise.

Ehmmm, keeping in mind that it is still the good ol' FSX first, it should come with most of the airports there were on the moment of its release back in 2005. They are not 1:1, but good enough for casual play. For die hard simmers there are either add-on airpots (10-25EUR a pop) or you can always find freeware airports, some of which are really good. Secondly, there will be definitelly more just two planes, again judging by the original FSX. But again, for something "more pro" one will have to pay PMDG or Majestic for a proper airplane. Unfortunatelly so is the life of a simmer. And of course, you don't need all 40000 airports to enjoy the game.

I use to play I. But I have other things to play.

Same story,Mike.Still wouldn't hurt to try something new though :p

Not make a goat simulator :D ? Yay :) finally make a flight simulator !!!

This is amazing. I'm still ( literally 5 minutes ago) playing Fsx... so I can't wait..

It's not a game you people! It made me follow and study my dream so that I was an expert even before high school,now I'm the best :)

Oh my God!!!! That is the news of the year!!!!

And it still won't be as good as x-plane

It won't be as good as Xplane, no. It will be far, far better. ;)

Both are pretty crappy unless you invest some cash into proper add-ons.

Yay!! I was really dissapointed when Microsoft discontinued FSX. Even they couldn't develop Microsoft Flight (which I didn't like btw) and discontinued it as well.

Agreed. Flight sucked big time Posted via Windows Phone Central App

They're gonna fail without super dev support from the community, including the majors at PMDG, Aerosoft, and Vatsim. Posted via Windows Phone Central App

If they can make something as 'open' as Flight Simulator, those companies will come onboard.

Dovetail have a pretty active community for its Train Simulator series of products, though many would argue that the company itself doesn't really perform up to par.

Well 2014 just started looking a bit better.

Make a flight sim for Xbox One. Think Forza 5 but flight. I don't care if it focuses on air racing or combat or cargo or passengers or free roam, just come on MS!

I doubt Xbox One will get a True Flight Sim but maybe a Arcade still Air racing or Combat shooter could be a lot of fun

+920 I have a couple thousand dollars in Hardware yet I'm stuck using old software. So this is amazing news!!!!! The Flight Simulator community is one happy camp with this annoucement!!!! I also wonder if they will do anything with FSX Steam Addition to fix any of the problems plagging FSX stability on newer software.

I love flight simulator x I have no idea why we never got a new version not shitty as ms flight which is terrible

Why not just go for P3D or X-Plane?... All of them have some great features.

Prepar3D is basically FSX, no? I personally don't like X-Plane. Flight Simulator is the best of both worlds for me.

P3D is like $200 and X-Plane has its on issues esp for the less experienced pilots in the Sim world.

This is great news! Dovetail are the company behind the Train Simulator series, which are just awesome, so they know their simulators for sure!

MS appears to be on a studio closing spree - what gives? They could shift a few more x1s if they launched the flight Sims along with others on the x1.

As a former member of the Aces team, I think the best place for Flight SIM is away from Microsoft

Care to tell us why exactly Microsoft chose to shut down Aces Studio?

As a private pilot and aviation enthusiast I welcome our new flying overlords!

Infinite flight for Windows phone I'VE had the last few years has been ok and still having fun with it , But I think MS flight simulator was much better. Be great to see that on Windows phone

If they will use the same engine I don't see how much they can bring to the series.

Pfft!!!! MS flight simulator is a joke. DCS simulator tramps allover this junk DCS A10C DCS P51D DCS Ka50 Black Shark Coming soon DCS FW190D Dora DCS F-86 Dabre DCS MiG 21 If you have skills then check em out otherwise keep deluding yourself that you got something close to what a flight simulator should be.

LOL YOU THINK MIG-21 IS ACTUALLY GOING TO BE RELEASED AND WON'T BE FOREVER DELAYED That's funny. Also comparing DCS to a civil flight sim is retarded. Did you eat the paint chips?


Flight simulator does not come close to the fidelity of DCS. Enjoy being easy to please Name suits you well.

So true sam77... But u can't explain that to an FSX dude, they believe FSX is realistic and the best choice for an simulator..

Doctorbullshit: Very easy to compair Civil vs DCS, let´s forget about the weapons. and talk about the dynamic of the flight model, DCS: A10C very close to the real plane... FSX is urealistic only simulated from wing tip to tip so rudder will allways be urealistic and 3. party developers can´t fix it because FSX not allowed it.. so all millitary or acrobatic simulation or just turn flights over 45 degreace is urealistic in FSX

Wen I started using windowsphone I craved for flight simulation games as my friends using Android and IOS enjoyed playing these games . Now I think it's time for me to enjoy ! Pls make games lik AIR NAVY in Android it's really an awesome game

Great news! Can't beat good ole FSX, love it so much!! PMDG is the best imo! Love flying 737 NG!

Flight Sim, Falcon 4.0, the games of my childhood. Want a kid to stay out of trouble? Hand him a game with a 300+ page manual and a keyboard layout the size of a playboy centerfold.

I already have Flight Simulator X, bought it when it first came out. The simulator is in desperate need for updating. There have been so many bugs and errors in the game. I think that it is bad that no one even from Microsoft could have kept it up to date for any of us, despite it has the old, yes I say OLD updates such as SP1 and SP2 from FSInsider. With regards to the other Flight simulators like X-Plane and Prepar-3D. I did purchase one of them and the other one as a trial and I must say that they are absolutely rubbish!

I want a Combat Flight Sim!!!!
Windows Central Newsletter
Thank you for signing up to Windows Central. You will receive a verification email shortly.
There was a problem. Please refresh the page and try again.