Pinball game The World of Dr. Pickaxe jumps from Windows Phone to Windows 8 and RT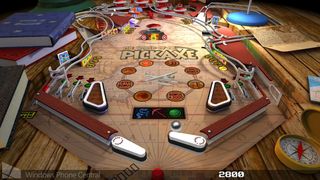 Windows Phone doesn't exactly overflow with pinball titles; we've got the cheap-but-buggy Da Vinci Pinball on the Xbox side, and a few indie games of varying quality. Two of those, Pinball League: The Juggler and Pinball League: The World of Dr. Pickaxe come from a Greek developer called Tainicom. The mobile version of Pinball FX2 sadly remains vaporware. We recently checked in with Zen Studios and they declined to give a status update, so it's either cancelled or on indefinite hold.
Windows 8, however actually does have a great Xbox-enabled version of Pinball FX2 to keep pinball fans happy. Perhaps for that very reason, indie pinball games are few and far between on Microsoft's tablet and PC OS. Still, Tainicom saw an opportunity there and has just released The World of Dr. Pickaxe on Windows 8 and RT. Despite the shortened title, it is a direct port of the phone game and was ported using MonoGame.
Read on for our full Windows 8 impressions!
Pinball in the jungle
Dr. Pickaxe consists of one primary pinball table themed around an Indiana Jones-style explorer as well as some smaller-scale bonus tables. The main table is realistic in nature and seems to be based around pre-1980s pinball technology. Retrotastic!
You'll use two bottom flippers and one secondary flipper at the top-right of the table to knock the ball around. Targets include a handful of ramps, drop targets (rectangles that drop when hit), bumpers, scoring lanes, and a spinner. It's a basic but visually pleasing design.
The game lacks a multiball mode - an essential element in any pinball videogame, realistic or fantastic. Fans can vote for multiball to be included in Tainicom's future games via this Facebook poll, though.
Thankfully minigame tables add some spice to the pinball action. By first knocking down a drop target and then getting the ball into the hole at the bottom center of the table, you'll be transported to a smaller and more fantasy-based table. These tables have moving enemies like crabs and mummies to contend with, so they instill some character that you just don't get from bumpers and spinners. I only visited Easter Island (pictured above), but Dr. Pickaxe also holds Egypt and Stonehenge mini-tables in store for adventurous players.
Rough around the edges
Dr. Pickaxe is a fun if unexciting table, but the game itself is a few updates away from greatness. The sound effects and music are downright underwhelming, though not a huge deal breaker. Controls are where things get iffy.
When playing without a touch screen, the game tells you that spacebar launches the ball – cool. After that, first-time players will scramble to figure out how to move the flippers. Nowhere in the game does it tell you, but flippers use the Ctrl keys. It would make sense for left and right mouse clicks to also move the flippers, but instead, you can only hold the left mouse button and then move the pointer to the left or right sides of the screen to activate the flippers – a useless feature. The keys and mouse buttons should be user configurable, but the only control option is a tilt slider. Also, Xbox controller support would be useful and easy to implement.
Update: A subsequent patch added proper mouse controls, with each button moving a flipper.
Menu navigation also needs work. None of the menus have an on-screen back button, so it took a little guessing before I discovered that Backspace and the mouse wheel move back through menus. Any game with mouse support needs a clickable back button, and displaying the key that performs the same function also makes sense.
Finally, this game has the least helpful store description in recent memory (with the possible exception of Double Dragon II for XBLA). Having removed Pinball League from the title, you wouldn't know what kind of game it is from the Dr. Pickaxe name alone. On top of that, the description doesn't even mention pinball either!
Wizard to be?
Assuming Tainicom gets those UI and control issues sorted out, The World of Dr. Pickaxe will feel much more polished. Even then, Pinball FX2 exists on the same platform; that's stiff competition. But for gamers who want a more realistic pinball experience for slightly less money, the only choice on Windows 8 and RT right now is The World of Dr. Pickaxe.
Windows 8 version - $1.49 – 58 MB – Store link

(opens in new tab)

Windows Phone version - $1.99 - 28 MB – Store link - QR code below
Get the Windows Central Newsletter
All the latest news, reviews, and guides for Windows and Xbox diehards.
Paul Acevedo is the Games Editor at Windows Central. A lifelong gamer, he has written about videogames for over 15 years and reviewed over 350 games for our site. Follow him on Twitter @PaulRAcevedo. Don't hate. Appreciate!
Once you sift through the oddities and UI problems and get to the actual game, it's pretty decent. Too bad there's only 1 table, but it is fairly inexpensive so I'm not upset. Still, some things about the game are strange, like there's no way to know it's a pinball game on the store without looking at all the pictures. I thought it was a mining game or something at first.

Ugh....more games.i bought on one ecosystem that can't be used on the other (Windows Phone version purchased...now want me to by same game for the tablet version).

Since the original game is for WP7, they'd have to remake the game for Windows 8 anyway. If it was WP8-specific, there'd be way less work involved. But yeah, hopefully Microsoft hurries up and introduces universal apps soon. But I'm not holding my breath.

I was excited to see actual footage of Pinball FX2 on Windows Phone a year or so ago. It's one of my favourite games on Xbox.
I asked Zen about it myself, and they said they had "No plans to make a Windows Phone version of Pinball FX2". When I pointed to the video, the screenshots, and the press releases reltaed to the the ALREADY MADE game, I got a wall of silence. Sinister.

Windows RT, baby! Slim is beautiful!

Someone should make a pinball game with a table editor. I find that these themed, photorealistic tables get boring after a while.

I love pinball. And would love a quality pinball game like fx2. It is a shame we may not see it. Buy that in a heartbeat, and any dlc!