Dragons World for Windows 10 lets you breed your own dragons
Dragons World is an epic adventure game for Windows 10 that sends you to a fantasy universe in which you breed, raise and battle dragons.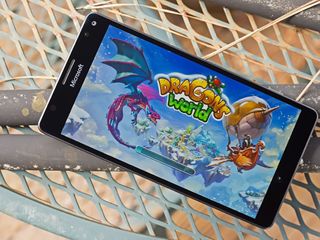 Available for Windows 10 PC and Mobile, Dragons World is very similar to the game Dragon Mania Legends (opens in new tab), but it offers a slightly grittier feel to being a dragon breeder. This Windows 10 game has more than 300 dragon breeds to discover, each with unique abilities.
The 3D graphics are full of detail and deliver a nice sci-fi environment for your dragons to roam. Gameplay is a little complex, but not frustratingly so, and it offers a nice strategy challenge as you choose training paths, teams for battle and overall management of your dragon herd. Dragons World is a free game and a fun way to test your skills at being a dragon master.
When Dragons World first launches, the Windows 10 game sends you through a brief tutorial. The tutorial covers the basics of starting your dragon herd by building a habitat, hatching a dragon, feeding the dragon, breeding dragons and increasing their experience levels. Once the tutorial is complete, you are free to pick and choose what actions you would like to take.
The game's menu items wrap around the display and include options to visit the quest list, view the top players, view your game rewards, visit the game's store, tap into the social features, access the settings and view any gaming news from the developer. Gaming statistics line the top of the display, and a map navigation button is nestled in the bottom left corner.
This map button toggles between the two main displays for Dragons World. The primary display centers on your base camp, a floating island where your dragons are raised. There is also a map display that reveals your entire floating island empire and the Dragon League that is used to compete in battle tournaments.
The dragon population begins with two modest species of these winged creatures, with additional dragons available through breeding or purchase in the game's store. Developing your dragon population is done through training and feeding. To keep up with the food demands of advancing your dragons, you need to build greenhouses to grow food. There are other facilities available, such as forges and amplifiers, that can be used to improve your dragon's armor and allow them to reach experience plateaus.
All of this requires gold or gems, which the dragons can produce over time and can be earned by completing quests, winning battles and other tasks. The quests are performance-based objectives and include missions such as breeding a dragon, building a habit and harvesting food. There are also performance based rewards that can be earned to net you gold and gems, as you reach milestones in the game.
Battles take place in the Dragon League and are turn-based team fights. You select three dragons to go up against other players' teams. Dragon attacks can be conventional (swiping at your opponent with claws) or based on the dragon's elemental abilities (breathing fire on your opponent). Each attack requires a turn or two to recharge and each can vary in impact based on the elements in play. You can pull up a reference chart for attacks from the Dragon League display.
The combat screen has the dragon's health displayed across the top, and your attack options line the bottom. You can choose your dragons and their order of participation before you jump into the battle, and as one dragon falls, the next dragon replaces them in the arena. The last dragon standing wins the match.
The gaming experience with Dragons World is good but feels limited. While it does a good job of focusing on the development of your dragons and winning battles, it lacks the storyline element that Dragon Mania Legends has. The game can survive without a storyline adventure, but if you invested any time in Dragon Mania, it feels as if Dragons World is missing something.
Graphics are well drawn up and while Dragon Mania offers a softer side of dragons, Dragons World offers a grittier rendition. Neither are bad approaches, just different.
Dragons Worlds' interface can be a little overwhelming at first with so many menus and sub-menus that pop-up. It feels cumbersome, but after you breed and battle dragons a few times, the user-interface becomes more fluid. I would have preferred to have seen a pull-up menu used, instead of the menu buttons spread around the screen. That's not a deal breaker, but it would allow the graphics to have more exposure.
Overall, Dragons World is an entertaining and challenging Windows 10 game. Gameplay can be synchronized between devices using a Facebook account, and you have access to the social features of the game (giving and receiving gifts, bragging, for example). The gameplay can easily fill short bits of time or consume larger chunks of time off the clock. If you like fantasy games and dragons, Dragons World is worth a try.
If you have tried Dragons World, let us know what you think in the comments.
Download Dragons World from the Windows Store (opens in new tab)
Windows Central Newsletter
Get the best of Windows Central in your inbox, every day!
George is the Reviews Editor at Windows Central, concentrating on Windows 10 PC and Mobile apps. He's been a supporter of the platform since the days of Windows CE and uses his current Windows 10 Mobile phone daily to keep up with life and enjoy a game during down time.
I was pretty addicted to dragon mania for a while. My friends played it on ios/android and I on windows. No cross platform but we would always compare dragons and other stuff. I actually made a few purchases during sale. We all just got bored of it after a while. It's the same for all free-to-play games, eventually they become a chore. Got to login, collect coins, collect food, make food, do this and that. It wasn't fun anymore.

...and what annoys me most is the micro transactions. Wel I would've considered it if it came with achievements.

Yes, but the way i see it is i will buy a transaction or two during a crazy sale if I find the amount of gaming time I got from it is worth the donation. I just see it as a donation really.

So a different version of dragon mania legends

Royal revolt 2 for life yeah

Is this a 100% science based dragon RPG?