Dropbox for Windows Phone can now automatically upload your photos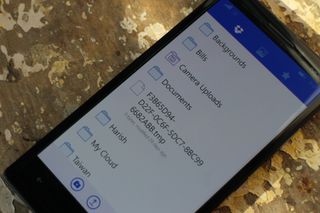 Dropbox has updated its Windows Phone app again with a big, and much requested, feature. The new 1.0.3.0 version now includes a "system camera auto-upload option" which means that any photos you take on your device can be automatically uploaded to your Dropbox cloud account.
This feature is one that is already on the iOS and Android Dropbox apps, so including it with the recently released Windows Phone version is a big step up for users. In addition, the change notes claim that the 1.0.3.0 version of the app has "fixed our most common bugs."
Thanks Rudy! Glad that MS made a "deal" with dropbox. They also could make a deal with Spotify.

you know.. maybe this is why some devs won't use rudys apps as official apps, when updates get released, everyone thanks rudy and not the company (not saying they derserve it and rudy doesnt) Just some speculation on the ordeal..

They don't have to publish the name of the Developer. Rudy made a lot of others WP apps that we don't have a clue.

I doubt that. This is official and dropbox hired him to do this. All the other apps from Rudy that have his name on them as the developer have been unsanctioned apps.

Rudy already post that he made a lot of apps, but couldn't talk about, due to their agreement.

I think when people know who the dev is, they thank them instead of the company. Take VLC for example. Nobody said "thanks VLC" when there's an update, everyone says "thanks Thomas". It's the same with some local apps I use, if I know the dev I thank the dev not the company. I do think Rudy is a bit overhyped though.

But he gave us 1st instagram vine and snapchat apps on WP.

nonono, you guys are all taking what I said in a very offensive way, I wasn't saying he didnt deserve the credit, I was just thinking out loud mostly! All I was saying is that maybe part of the reason big companies refuse apps from rudy even when hes already made it and promises to keep it updated is because companies want to be thanked for the app, not the debeloper that offered his work. it was jsut a random thought that wasnt intended to insult or downplay anyone x.x

Why not using OneDrive?
Just to know, I've never used DB.

I've used Dropbox for long time now, racked up nearly 23GB on it. So I'm using dropbox primarly, but OneDrive is my "photo album cloud", so no point in turning on auto photo upload for dropbox (at least for me).

23 GB. Lol. How much ass kissing and money did you have to give them to get that high? You can almost get that from OneDrive just by signing up.

Exactly. We should have only one app for each task and force everyone to use it. See how dumb your question wad?

I think he ws asking about db as he never used it....see how dumb your answer was

Why do you have two different Grocery Stores? 'Cause they can compete and offer promotions, features, and consumers can choose the best for him.

Dunno about anyone else but OneDrive upload on my 1520 is frustrating at times. Uploading photos or videos sometimes Will freeze up. One failed asset upload queues up everything behind it. Progress indication is poor. But who knows. Maybe dropbox will be the same. Maybe its the photo app and not the service. Option is good though.

OneDrive app for WP is, while quite good looking, really bad at functioning sometimes, especially when uploading a greater number of pictures.

At odd times...it crashes too... Not always...but it does which indicates flaws...

OneDrive is good for windows users...while people on ios, whose icloud gets hacked every now and then, speculate on the options they have... Everyoone ain't die hard ms user u see...

OneDrive works quite well on OSX & iOS (including auto photo upload I think). I used to use it on my MacBook Pro & iPhone 4. But I'm glad we have options.

My iPhone coworkers tell me photo upload to Onedrive doesn't work to great on IOS.

Bugs MSFT won't fix https://windowsphone.uservoice.com/forums/101801-feature-suggestions/sug...

I use OneDrive and just recently started using Dropbox to back up my pictures. Not sure how far that'll go with dropbox though, I take alot of pictures. I have about 160Gb free OneDrive storage through 2017...... Bing rewards

Thx Rudy! Now can you take a look at 6tag? It's been having a few unexpected crashes and sometimes it doesn't load peoples profiles.

Microsoft should make a deal with the NHL

But do they give you 15GB of extra space?

if I praise Rudy will god smite me

Nope, Rudy will never do that ;)

Cool story, fyi so does dropbox.

I really like Dropbox but I still prefer OneDrive :)

I dropped them feedback and got an email reply back. More features on the way :)

Dear Dropbox........its too late - I moved every file I had on my Dropbox account, to my Onedrive folder...........I no longer need you.......but I do appreciate you finally giving us an app. Signed..........Windows User

I've always used SkyDrive/OneDrive but have a Dropbox account for co-workers and other students who prefer dropbox

The only reason i use other services than OneDrive is the lack of password feature so please ad it

I don't use the app but damn Rudy is the best

Yipppeee, so what. I use OneDrive. What good is Microsoft service, if you don't use it? smh

Hahahaha one drive can't even do this https://windowsphone.uservoice.com/forums/101801-feature-suggestions/sug...

that's not true. I do this since the Windows Phone 7.0 ages...

What's the point of camera upload when its it's does the same thing on one drive???

Out of interest will this upload the large versions on Lumia phones that you can normally only upload through USB? I'm either on unlimited data or connected to WiFi so no bandwidth issues to be concerned about in that respect

I'm wondering about this myself! It would be nice to not have to rely on crappy AT&T Locker for that!

does anyone know how this background auto-upload works? As far as I know it's not possible to do this (API restrictions), unless the phone is connected with Wi-Fi and powered via cable? Thanks.

Snaaaaaapppppppppchhhhhhaaaaaaatttttttttt?????????????

Need the option to download and upload mp3s and other file types using the file explorer

Dropbox is better than OneDrive

Snowden had spoken in regards to drop box

I'll stick with One Drive. They give more GBs of storage.

I will give it a try just to see what the competitor offers. Most important for me is everything related to pictures so let's see if better than one drive

Well, I have been 'automatically' uploading photos to OneDrive since long time ago.

Does it support multiple accounts such as cloudsix?

i installed Dropbox in the first hour that it came out and i still dont understand how to use it. i have ticked both options for upload, and i feel that i have to force it to upload photos... I am connected all day to wifi and i still have 77 photos to upload. I was a 6 year user of Android and i came to windows 2 months ago, that is why i feel that DropBox is not as automatic as on Android phones, where i wasnt even checking for the uploads, it was always happening in the background. Any help? By the way, is there a way to upload videos as well?

Same problem here. I already contacted Dropbox support and have no reasonable answer. Just the standart bullshits you expect from customer's support - try to reinstall the app, try to switch auto upload on and off bla bla bla.... 3rd party apps like Cloud6 seems to work just fine, but as casaout already said it's not possible to auto upload on background (API restrictions), unless the phone is connected with Wi-Fi and powered via cable. But even when the phone is plugged in, locked and connected to WiFi the official app does not work and does not autoupload.
Windows Central Newsletter
Get the best of Windows Central in in your inbox, every day!
Thank you for signing up to Windows Central. You will receive a verification email shortly.
There was a problem. Please refresh the page and try again.