EE switches on 150 Mbps 4G+ network in London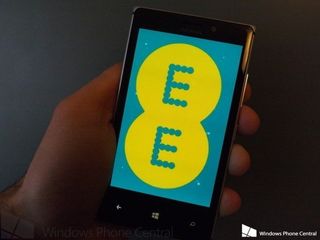 EE customers in London will be able to enjoy blazing fast speeds on their smartphones and tablets as the carrier announced the completion of its 4G+ (LTE-A) network in the city. Live at 150 sites across London, EE's LTE-A network allows you to download at 150 Mbps on a compatible device.
The carrier has stated that users in an area with 4G+ connectivity will see speeds up to 90Mbps, going up to as much as 150Mbps for 4GEE Extra or Corporate 4GEE plan customers. To access the faster speeds, you also need a device with an LTE Category 4 modem and above, which is seen in devices like the Lumia 830, the Lumia 930 and Lumia 1520.
EE's network uses the 2.6GHz high capacity spectrum, and is available across large swathes of central London, including Shoreditch, Old Street, Southbank, Soho, Westminster and Kensington. The carrier is expected to have full 4G+ coverage in London by June 2015, after which rollout will commence to other cities, like Birmingham, Liverpool and Manchester.
In addition to the 4G+ rollout, EE has mentioned that its 4G coverage has now reached 300 cities and large towns.
UK readers, are you excited about the rollout of 4G+?
30th October 2014, EE, the UK's biggest mobile operator, today switched on its 4G+ network in central London. The next step in 4G technology – also known as LTE-Advanced – will give customers access to one of the fastest networks in the world, delivering real world mobile data speeds of 150Mbps to a smartphone.
Mobile data usage is growing rapidly all the time, and faster speeds mean everyone can have quicker downloads, more efficient working, and quicker internet access. EE currently ranges two 4G+ compatible devices – the Samsung Alpha and the Samsung Note 4.
The new 4G+ technology uses EE's 2.6GHz high capacity spectrum, and is available in large parts of central London, including Shoreditch, Old Street, Southbank, Soho, Westminster and Kensington. By June 2015, EE aims to have full 4G+ coverage across Greater London, and will then introduce 4G+ across the UK's busiest cities, including Birmingham, Liverpool and Manchester.
Faster 4GEE for everyone
4G+ will deliver peak speeds of around 150Mbps, on a par with the fastest mobile networks in the world. On top of this, the additional airwaves being used for 4G+ add new capacity for all EE customers, like adding extra lanes to a motorway, giving an uplift to all customers in the 4G+ enabled locations – great news as the capital's streets fill with smartphone using shoppers in the run up to Christmas.
4G+ and the additional speeds and capacity will also be a huge boost for the tens of thousands of business customers in London, who can trust that EE will continue to invest in maintaining a highly reliable, high capacity service to support the UK's increasingly mobile workforce.
Olaf Swantee, CEO at EE, said:
"The UK is now back to being a world leader in mobile networks. Just two years since we were behind every developed market from the US to Japan, we've invested in innovation, driven competition and given people in London a mobile network that's faster than almost any other in the world, and even faster than most fibre broadband available here.
"We're delighted to be able to exclusively offer our business and consumer customers on EE plans the fastest speeds available in the UK. We're now the largest 4G network in Europe, but it doesn't stop here. We'll keep investing to make sure that all our customers can get access to the great mobile technology that can make a real difference to the way they live their digital lives."
300 4G towns and cities
At the same time as delivering new 4G+ speeds to the capital, EE continues to roll out 4G to the whole of the UK. 19 more towns and cities have been switched on this month, with Warwick the 300th 4G town and city to go live. 4G from EE is available to more than 75% of the UK population.
The 19 new 4G towns switched on this month are: Alexandria (Scotland), Banbury, Biggleswade, Blaydon, Catterick Garrison, Cookstown (Northern Ireland), Garforth, Greenock, Holmfirth, Limavady (Northern Ireland), Maltby, Oxted, Penicuik (Scotland), Tring, Waltham Cross, Warminster, Warwick, Winterbourne, and Ystrad Mynach (Wales).
Double Speed 4G
EE's unique Double Speed 4G is also expanding across the UK. The network with speeds up to 60Mbps is now available in 20 places and to more than 50% of the UK population, and will widely cover 20 more large towns and cities by the end of the year.
4GEE customers
Just two years since launching 4G into the UK EE now has more than six million 4GEE customers, making it the largest 4G network in Europe.
4G+: speeds and spectrum
Mobile data speeds in 4G+ areas will regularly be up to 90Mbps, and customers will see speeds as high as 150Mbps, for users with a compatible device on a 4GEE Extra or Corporate 4GEE plan.
The new speeds are achieved through 'carrier aggregation', combining 20MHz in each of the 1800MHz and 2.6GHz bands, enabling a theoretical maximum speed of 300Mbps.
The additional 20MHz of spectrum doubles the capacity of our network in London, increasing average speeds for all 4GEE customers, no matter what device they're using or which 4GEE plan they're on.
Fotis Karonis, CTO at EE, said:
"We're building a network for the future. We're making sure that there is enough speed, enabled by enough capacity, to let our growing 4GEE customer base do all the amazing things that are just breaking through now – 4K video over 4G, wearable technology, and increasingly sophisticated mobile business apps. Capacity is the lifeblood of a good mobile service, and we're adding more here to give our customers the best possible mobile experience, now and into the future."
Windows Central Newsletter
Get the best of Windows Central in your inbox, every day!
Harish Jonnalagadda is a Senior Editor overseeing Asia for Android Central, Windows Central's sister site. When not reviewing phones, he's testing PC hardware, including video cards, motherboards, gaming accessories, and keyboards.
Talk about "seems faster"

Still no proper coverage without 4G inside a building in east midlands. at least they got london covered

I'm in London - I work around Westminster too, and coverage is still flakey there. Max speeds aren't everything.

That bag of bones in Westminster can afford their own internet feed...lol

Try Somerset we barely get gprs around here!

Tell me about it. Where on Somerset are you? Watchet here.

Still waiting on 2g coverage, nearest 3g is 10 miles away... Nearest 4g is about 50miles away. % coverage is population not land mass, so in reality there is still very patchy coverage

Vodafone deployed 300mbps 4G here in Portugal, but it still costs you an arm and a leg just to get a couple gigs. Sense, none

Hugely busy city. So you aren't going to get much speed. Plus EE are expensive. No data limits on Three and I get 4g.

Good to know. On 4G with 930 and its fast so next iteration should be impressive.

whatsapp update is here..

Don't do it, lost all my messages....buggy as hell.

I'm with Vodafone UK and I ha 4G plan. All I can say Vodafone's 4G is great ;-)

Gave up on EE (T-Mobile as was) several years ago, flaky signal everywhere at the time and people in my village (Nr. Solihull) still using them barely get 2G. I'm on O2 which is only slightly better and my work phone is on Vodafone which is about the same, and both struggle with 4G. I think all networks need to invest in ensuring at least there is a consistent 3G service nationwide and report coverage stats based on Geo coverage not population which would be more realistic and represent real world use of mobile tech as a priority over pushing 150Mbps in to a small community of users who probably don't even have compatible handsets yet.

I'm in Solihull as well and get 4g all around the area on EE

Agree 3/4G is pretty consistent 'in' Solihull, surrounding villages no so in fact very hit and miss dropping back to 2G most of the time is my Exp on all 4 networks anyway.

Nice but not good enuff for me to stay with embarrassment everytime. I get so many dropped calls its a joke. My contract ends next month so ill either be going sim only with 3 or reduce contract and roll until a new wp device arrives as my 1020 just kicked the bucket :'(.

I get no signal whatsoever inside my house with EE. I can get a crappy 2g signal if I climb a tree in my back garden. I live half hour outside London. They can sod off.. I did..to O2.

EE why don't you fix the fact that you can't get 4G outside of the big cities!

Now you can blow through your data cap (if EE has that pay model) in seconds rather than minutes.

And drain your battery as quick :)

I dunno, this speed probably work on just one road. I live in central London and didn't even get a signal with EE let alone 4G!

Maybe, but even in <one of the home counties> my woman gets 44 down and 23 up on EE. Thats way more than anyone needs on a blinkin mobile phone.