Effectual is one of the best to-do apps for Windows Phone 8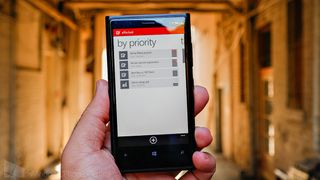 Can you have too many options for apps that keep you productive? No, choice is good period. Especially when you combine a beautiful design with spartan functionality. When you do that you get something like Effectual, a new app for Windows Phone 8 to help you conquer your tasks and stay productive. Let's check it out.
We've got a fairly killer note taking application built into every single Windows Phone – OneNote, but it doesn't exactly excel in tasks. That's why we people still continue to use apps like Evernote, Viperal Tasks, PowerTasks, or 2Day. Effectual is a relative newcomer to the fray of apps to help you get things done and it does so in an elegant and clean way.
After downloading and installing Effectual, you'll be logging into the app with your Microsoft account. Why is this app wanting your Microsoft account details? Because if you have multiple devices the app will synchronize your Effectual data. And there is an app for Windows 8 coming soon that will enable those tasks to sync there as well.
Creating a task is super easy, big 'plus' button on the app bar on the bottom launches you into the task creator. You'll be naming the task and then assigning a value, urgency, and status for that task. After that you can enter a description for the task, set a reminder, due date, and expiration. Swiping to the right will allow you to assign a tag for the task. All those features are handy and help you prioritize tasks. For example when you're assigning value or urgency you'll be selecting: low, medium, high, and critical. When selecting a status you have the options of open, cancelled, hold, expired, or complete. You can easily complete a task by opening it and hitting the little 'check' in the app bar. Adding dates to your task is equally as important.
So what's the point of giving all these tasks extra information like priority and due dates? Effectively you're giving your task a rating that aids you in prioritizing what you should be doing with your time. After you've created a few tasks you'll see how they're organized in the app. Launching the app gives you the 'today' view, swipe to the right and you'll get: by priority, tags, views, and menu.
The today view shows tasks that are either overdue or due on that day. Those tasks will be sorted by priority with the more 'valuable' items towards the top. Priority shown towards the right of the task by 5 bars. It's determined through a mix of the value and urgency ratings you applied to that task.
Any task can be assigned a tag. You can use either the tags the app has by default or create your own. A task can have as many tags as you want and are useful for separating the various parts of your life. You might have a home tag for tasks that you need to do before your significant other scolds you. While a work tag would be helpful to make sure you have a job next week. The tag view will show you the tags you currently have with opened tasks.
The views heading has various categories for all your tasks. You can look at tasks by: due date, next seven days, past reminders, date created, tag category, on hold, expired, completed, and cancelled.
The app is currently only available for Windows Phone 8 users, so we'd hope to have some features that take advantage of that. Your hope pays off since the double wide tile is actually really useful. You'll see the number of tasks you have open in the bottom right corner. The live tile itself will show your top tasks based on their priority. Going to a normal or small tile size will just give the count.
Unfortunately, there isn't any lockscreen support with the app. While it might not make sense for the app to show an image on you lockscreen, it would have been nice to choose Effectual as the app to show a detailed status on the lockscreen. Another annoyance with the app is the lack of word suggestions/spelling corrections when you're entering text into the description of a task. I found myself manually having to correct words when I typed fast for descriptions. Overtime I just gave up on entering descriptions because it was annoying.
Those two annoyances aside, it's a great app and I'm going to be looking forward to the Windows 8 version of this app. This app demonstrates all the highlights of design on Windows Phone: it's fast and fluid, has nice typography, simple and beautiful.
You can download Effectual for Windows Phone 8 free right here in the Store. Use the QR below or swipe to the right in our app.
looks like a well-designed app, will definitely try it out.
PS: Thanks guys for bringing us news even on weekends!

Yeah grabbed this last week. Really nice app. Can't wait for the Win8 cross platform sync capability.

Thank you!!! Holy crap this app looks amazing.

If it doesn't have lock screen Sam, is it still beta? I mean its cool if it is as long as its primary role is functional.
Edit: Ahh, it doesn't contain one of my biggest pet peeves on WP. Good job. It does use the .com key. I'm always annoyed with apps that know they will ask to connect with Skydrive, Live mail etc and don't use the .com keyboard. This app does. A good sign.

So they know how to set the context for web or email (.com key) but set it to text, which gives correction options?

I'm saying this dev does. Many can set the .com keyboard, but don't. Its one of my pet peeves.

Lol, love that bit about the Instagram announcement!

not down for waiting until 2015 though! lol

Uninstall.. Wouldn't sign in

Tone84, we're sorry to hear about your issue. We are of course happy to work with you to figure out your issue if you are interested. Support queries can be sent to info@effectual.ws.

Thank you I appreciate it

Might consider Tasks by Telerik. It has great Exchange server Tasks integration and it's FREE.

Tasks is my favorite to-do app. I mainly use my Outlook.com account tasks but with Tasks I can manage little projects and to-do's that I want to see listed on its live tile (as a due tasks number, but useful).

Will give Effectual a try, but if you guys haven't heard about Tasks, try it too.

Is Tasks part of Outlook.com or Office? If the former, where is it?

I'm yet to test it but it looks ridiculous beautiful.

Not feeling very comfy with giving ANY app my ms log in details...
(SkyDrive exp.)

Xaphoon148 - Effectual doesn't see your User Name or Password, it only gets a unique identifier that can be used to identify you as the same user on Windows (plus your name and your avatar).

Thanks for clearing that up!

You do understand how these apps work, right? They work similarly to a Facebook log-in on a third party site where it simply gives whatever app you're using permission to use certain privileges available through the Microsoft Account, which usually amounts to syncing files across devices through Skydrive or using your name for log-in credentials. It's not at all risking your security, Microsoft built this functionality in purposely so that third party apps can utilize your account to enrich your experience.

To some extent yes, but thanks for clarifying :)
Maybe a bit paranoia after being hacked on some other platform which name should not be mentioned... ;)

Does it start with A and end in NDROID?

Some of those letters was definitely involved, yes....

When is the Win8 app coming? I will switch over to this from Viperal once that's available.

Disclaimer: I'm the developer of the 2Day app :-)
Effectual looks very nice from a design point of view.
If you're looking for a more complete alternative with Exchange and ToodleDo support, voice commands, recurring tasks and more, you might want to try out 2Day.

:P I'm now checking out 2Day, when you tipped me the other day on Twitter I was in the middle of Effectual. Competition is good!

Yes it is :-)
We have a couple of updates in the pipeline for 2Day: a small by the end of this week, then better GTD support and Active Sync (Outlook.com...) support.

And don't miss voice commands by the way. They are too cool: "2Day, add a reminder for friday at 2PM" :-)

Yeah, I remember this app. Downloading again.

I'm not going to try out your app, 2Day, want to know why?

Because you just blatantly advertised your very own app on this page about Effectual and what it's all about.

Like honestly?

Make sense, very sorry I wasn't seeing things like this.
I just wanted to mentioned I like the design but... offer an alternative. I agree this wasn't maybe the appropriate place :-(

I understand, I shouldn't have come out like that either. I was in the wrong for being nitty like that. Apologies on my end as well friend.

I don't think it was wrong, he disclaimed his position as a developer of the 2Day and pointed out some diferences between the apps at a very small comment. I was looking for recurring tasks in Effectual (it looks like it's not possible) and found his comment and maybe it will be usefull for me :) []s!

wow. this may be the tasks app ive been waiting for. love the double wide tile and the fact it uses my Microsoft account and has a windows 8 app coming! great work! looks sexy too!

This app isn't that great. Even after tasks are completed it still shows on the double wide live tile. Why? The task is done. Are you trying to ocnfuse me?
There doesn't seem to even be a way to permanently delete a task...
Cancelled and expired? What? How bout a time to set the reminder?
Syncing with Windows 8? That's cool. I have no idea how this is "One of the best to do apps for Windows Phone 8"

This looks too complicated and bloated. I recommend a really great combination of simplicity and effectivness http://www.windowsphone.com/en-us/store/app/remindme-todo/fca8b7de-3beb-47a4-bc23-4b8aa96a8f48

I just downloaded the app. How is this complicated? this is uber simple to use! And bloated? by far not.
You should try to review apps more carefully, not bashing them from the start.

Uninstalled. Opened first time, now just crashes. Makes me remember my Android days and this is NOT good.

Absolutely loving this. The tutorial/introduction at the start is a fantastic idea, makes it so easy to get started. It would be nice to be able to batch edit tasks though, editing them one at a time after first launch if you have a lot of tasks can take a while.

UI is really well thought out, which is sometimes rare on WP (I think because VS provides good templates that people don't modify). Like the article says, detailed info on the lockscreen would be great, other than that this is pretty much a perfect little app. Which is saying something considering I'm working on something similar for the web!

Might also check out Taskete, its really simple and effective. And it has lockscreen support!

Awesome. I'll check it out.

Very nice looking app -- you can tell Spiffy Ventures LLC have Microsoft running through their veins. Can't wait to download it later. Thanks

Crashing every time after initial config.

Finally you guys pick this up! I recommended it on the forums few days ago. Love this app and the dev is super supportive on their Facebook page. Often updates plus win8 version on its way. A must for to-do apps!

This is the only 'e' app I have, can you believe that? NEED MORE APPS STARTING WITH 'E'.

Unable to sign in to my account and App crashes endlessly..Lumia 920.
Please FIX it.

We're happy to announce that we've just wrapped up an update to address some of the most common feedback we've heard - auto-suggest/spell-checking, the ability to delete tasks, the ability to track sub-tasks and a few others. It will take a few days to get through the store, but you should see it this week!
For those of you having trouble with the login process, please send us an email at info@effectual.ws. We would appreciate the opportunity to work through it with you.
- The Effectual Team

Thanks for being active in the comments and keeping us posted.

Sweet! Was gonna suggest that to you guys. Another suggestion: add a backside livetile to show even more items, instead of just the front tile showing 2 tasks

Very promising! Just two moments. How does place tags work and how can I remove assigned tag from task?

Try Simplist. It is a free app. No Ads.
Let me know if you still like effectual after using Simplist
Windows Central Newsletter
Get the best of Windows Central in in your inbox, every day!
Thank you for signing up to Windows Central. You will receive a verification email shortly.
There was a problem. Please refresh the page and try again.