Eggies review – Raise a virtual pet and play minigames for free on Windows Phone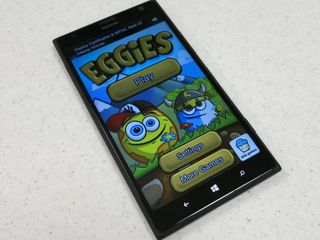 Earlier this year, Czech developer Alda Games (no relation to Alan Alda) released a couple of kid-friendly games for free on Windows Phone: Save the Snail and World of Cheese. At that time, the developer teased an upcoming tower defense game called Defend Your Life. Development on that one is nearing the finish line, but in the meantime Alda has published another new game: Eggies.
Eggies is a virtual pet simulator, sort of like Tamagotchi. It also offers nine minigames to play, some of which are pretty fun. Like Alda's previous games, Eggies is free and supported by ads. This one does have some in-app purchases, but they're totally optional and unobtrusive. It also works on 512 MB RAM devices – always a good thing for kids games. Continue reading for our full review and hands-on video!
Pick your pet
The first step is to customize your Eggy, an egg-shaped creature with a face. You can choose from different color patterns, eyes, and hats to make the perfect Eggy. Many of the customization options cost gold, the game's currency, but you still have multiple free options to choose from.
If properly cared for, your Eggy will hatch into a cute fantasy creature after a few days (an in-game calendar tracks the hatching time). These creatures will then go on to live in an idyllic field with each other. You can't interact with them any more after that. But the field itself is quite lovely to look at thanks to smart use of parallax scrolling.
Caring for your Eggy
Eggies have three stats for owners to manage: health, hunger, and happiness. Stay away for too long and you'll find your Eggy's stats depleted when you get back. I'm not sure if an Eggy can die or not.
To address any of the Eggy's needs, you can either tap the stat or select a location to visit from the town map. Closing the map if you decide not to travel somewhere is too difficult; you have to drag it closed instead of just tapping the Word map again. Players who get stuck on it can always just bite the bullet and choose to travel.
Home: Tap your Eggy to play with it, or turn off the light to give it a nap. You can also head to the bathroom and give it a shower.
Hospital: Buy a variety of medicines to get your Eggy backs on its… shell.
Restaurant: Choose from healthy and not so healthy foodstuffs like apples, ice cream, and hamburgers to feed your growing Eggy.
Game room: Play ten different minigames to boost your Eggy's happiness and earn coins.
Minigames
The minigames in the Game room vary in quality. Many offer selectable difficulty, but none of them have instructions. I honestly can't figure a few of them out, so they need in-game tutorials. On the plus side, there is no energy system so kids can play and earn coins as much as they want.
Lights: A puzzle game in which all of the nodes must be connected, much like the hacking minigame in Warframe.
Puzzle: Simple jigsaw puzzles.
Pexeso: This is the classic matching card game we call Memory or Concentration.
2048: That numbers game that people like so much. I don't get it.
Timberegg: A lumberjack minigame that makes no sense, unfortunately.
Flappy Egg: A Flappy Birds clone. The performance is terrible on my Lumia 1520, making it unplayable.
Rats: A Whack-a-mole game in which players tap rats who pop out of the scenery.
Catch Egg: Drag a basket left and right to catch eggs as they fall from the sky.
Find Sad: Tap the Eggy whose face looks sad. This is super basic for adults, but actually a valuable way for preschool-age children to practice emotional recognition.
Blacktap: Tap the black rectangles as they fall from the top of screen, turning them white. A simple but fun rhythm game.
In-app purchases
You earn gold by playing minigames, but you can also choose to buy the currency via in-app purchase. Even the cheapest 99 cent purchase disables ads, which is cool. And liking Alda's Facebook page will get you 500 free coins.
Make my Eggies over easy
Eggies skews a little young for most adults to enjoy, but some of us never outgrow the Tamagotchi-like appeal of caring for a virtual pet. Kids will definitely love the cute characters and some of the minigames.
Alda Games just needs to fix the graphical glitches that pop up now and then, add some tutorials for the minigames, and get the Flappy Egg working right. Even with those issues, Eggies is enjoyable and robust enough to be a must-download for kids of preschool and kindergarten age.
Eggies – Windows Phone 8 – 35 MB – Free – Store Link
Windows Central Newsletter
Get the best of Windows Central in in your inbox, every day!
Paul Acevedo is the Games Editor at Windows Central. A lifelong gamer, he has written about videogames for over 15 years and reviewed over 350 games for our site. Follow him on Twitter @PaulRAcevedo. Don't hate. Appreciate!
You just make developers unhappy It's good game and received reviewed 4.5

Good game for kids! -_- obviously!!

I have played it. I appreciate the job of the developer, but it's too plain to not just be a beta. Mini games controls are baaaad, mini games quantity is not as I would prefer, the whole UI is not what would keep me coming back to back to the game, so it really needs changes and optimization . It's a good effort. But it can get a really nice pou clone of it gives what I mentioned

If it was like my talking tom, it world be a killer game

Just like Pou for Android.

My little sister will like this. Ok downloading

seems better than Pou. let's try this!

Looks much like my talking tom....
Windows Central Newsletter
Thank you for signing up to Windows Central. You will receive a verification email shortly.
There was a problem. Please refresh the page and try again.