Alda Games brings Save the Snail and World of Cheese to Windows Phone for free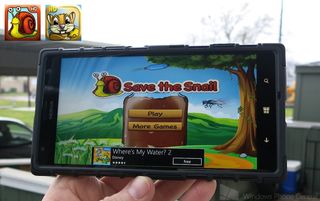 Windows Phone has grown steadily since its introduction in 2010, recently surpassing Blackberry as the third most popular mobile OS in the United States. As that growth continues, more and more app and game developers are dipping their toes in the Windows Phone ecosystem. One of the most recent game developers is Alda Games, based out of the Czech Republic.
Alda is a relatively new indie developer, with two published mobile games to its name. Both of those games are now available on Windows Phone 8: Save the Snail (a physics puzzler) and World of Cheese (a logic puzzle game). Head past the break for impressions, video, and Store links for Alda's newly-released games, which happen to be completely free!
Save the Snail
This game takes me back to the early days of Windows Phone gaming, as it happens to be a physics puzzler. Each of the 24 levels requires players to save one or more snails from various hazards like deadly sunlight and a hail of rocks, I think.
Unlike many physics games which let you place tools anywhere on the level in order to achieve a desired effect, the tools in Save the Snail can only be dropped down from above. For instance, you can drop a pencil onto the two objects beside the snail in order to create a shelter for it. The drop-down mechanic simplifies the gameplay a bit, making it appropriate for younger players or people who are new to physics games.
Levels also contain one or more stars that you can collect by dropping an object onto them or causing the snail to roll into them. These contribute to your star rating for the level. You also need to move quickly, as a count-down timer will add to your rating if you solve the puzzle before it expires. This provides a good challenge and reason to replay and perfect levels.
While Save the Snail is fun and easy to play, it does have a few rough edges. The game currently asks for users' location data, even though the gameplay doesn't use location in any way. That's surely a submission error that can be easily fixed. The actual graphics also look a bit stretched on my Lumia 1520's display, as if they weren't properly optimized for the Windows Phone aspect ratio. The "More Games" link on the title screen doesn't work. Finally, there's no music.
On the plus side, the game really is free with no In-App Purchases. Instead, it's supported by ads between levels.
Save the Snail – Windows Phone 8 – 25 MB – Free – Store Link
World of Cheese
No, this isn't a sequel to World of Goo. The premise of the game is that a couple of mice are out to do whatever they can to get some tasty cheese. I never much cared for cheese, but this game allows me to better understand the mouse perspective. I mean, cheese is like their favorite thing!
The game consists of 40 levels divided up into various themes. You might struggle to understand what's going on the first time you play, due to a complete absence of tutorial text. But once the concept becomes clear, it's actually quite a simple game.
Each level consists of a scene with a mouse and different interactive objects. One features a fence that is missing two boards, along with some wood, paint, and nails on the ground. Simply dip the paint brush in the paint, then drag it to the boards to paint them. Place the boards on the fence, add the nails, and then hammer them in. Once you've completed the scene, your mouse will get some cheese.
World of Cheese is perfect for kids since it encourages critical thinking. Without instructions, your kid will have to experiment and find the interactive objects in each scene. It's a cute game. Of Alda's two initial releases, this one also seems to be the most polished. The "More Games" link leads to the publisher's web page, and the game itself features a catchy tune. No location services either... But that Game Center icon on the main menu needs to go.
Like Save the Snail, World of Cheese is completely free. I didn't even see any ads during my brief time with it, though they might pop up later on.
World of Cheese – Windows Phone 8 – 65 MB – Free – Store Link
Next up: Defend Your Life
Alda's third game has yet to be released on any platforms. But thanks to the Unity Engine, it will launch on Windows Phone alongside iOS and Android.
Defend Your Life is tower defense game with a unique premise. Players take on the role of a human body's immune system, tasked with defending the body against viruses and other threats. You'll be able to build and upgrade four different towers as you battle 20 malevolent enemies.
Like Alda's first two games, Defend Your Life looks like it's aimed at a younger audience but has enough gameplay and polish to entertain adults as well. With 15 levels of tower defense action, it should be a fun bite-sized experience when it launches on Windows Phone within the coming months.
Seeing as how Alda's games are all built with the Unity Engine and simple touch interfaces, they would seem to be a good fit for Windows 8 and RT as well as phones. Alda Games tells us that they haven't started working with Windows 8 yet, but they're definitely interested in bringing the tablet experience to Windows gamers. All told, Alda Games has the potential to be as big a hit with mobile Windows gamers as another Alda we know...
Windows Central Newsletter
Get the best of Windows Central in in your inbox, every day!
Paul Acevedo is the Games Editor at Windows Central. A lifelong gamer, he has written about videogames for over 15 years and reviewed over 350 games for our site. Follow him on Twitter @PaulRAcevedo. Don't hate. Appreciate!
Hey Paul you were reviewing an endless runner game which had good graphics on an android tablet few days b4. I saw that video. The game was interesting. When Will it come to windows phone.

Running Shadow has not been announced for Windows Phone or WIndows 8. Game Insight does make some games for Windows platforms, but not nearly as many as they do on iOS and Android. Maybe someday!

free with no In-App Purchases ,with unity engine , looking forward to download. Thanks developers

This should be done by imangi too. They are stupid assholes.

Offensive language Denied! Have nice day.

Please don't call other people names in the comments - not even developers.

nice phone case what is it ?

Alda developers, can you please make these games available here in the Brazilian WP Store? You can use PEGI or ESRB certificates to do this and I can help. Just contact me.

change your location to USA, restart and install

If you knew anything of Guilherme's efforts to bring games to the whole Brazilian WP community, you would not have answered with such an obvious and flippant comment

I would like to just say that cariocap has nothing to do with Alda Games, he/she just gave you a suggestion. Anyway, if you e-mail us, you can believe we will handle it :-) Martin from Alda Games

Why would you need phone dialer permission for your game ??
And WoC cannot be installed with UK region.. Why?

Hello Gamato, we use all these permissions for detection problems (for instance in levels) and it helps us to improve our statistics. Thanks them we can better understand the gamers and game itself and bring to you more advanced experience. About the WoC in UK region - I am not sure, what can be wrong, we have several thousands downloads from UK. But for some reason the game disappeard from store for some time. Now it should be fixed and WoC should be available in UK region as well :) Martin from Alda Games

Rather than commenting here, the best option would be to email the developers and get their attention

Your comment is invalid, have a nice day!

lol 95% of wp games are non-xbox

Ninja boy is the new self proclaimed comment police (plz)

I've only read two articles and already I think he's a cock.

in the above video at 2:49 that's a game centre icon lol , did they completely ported this game from ios ?

I wish I could download these games, but I always get error 805a0194!! This happens on alot of other stuff too, and I don't know how to fix it. Any tips?

Táto hra je super a je už nejaký čas na store :) Hrával som na androide, vidím že musím znova stiahnuť :P

LOL @ dipping their toes. But I'm a big fan of the Unity Engine so I'm in. This passes my whimsical game test so I'm grabbing it.

Paul, can you consider an article about Sweets Mania Space Quest? It's a match three from Webelinx (though on Android it comes from Apps4Everyone, I don't get why) anyway it looks like a Candy Crush clone but it has its own style, with beautiful graphics, effects and even the music is catchy- I hate the lives system when there is no way to purchase or earn extra or to earn (or purchase) power ups a la Frozen Free Fall or Candy Crush but this game is a nice addition to what we have in the genre for WP. Link to Canadian store: http://www.windowsphone.com/en-ca/store/app/sweets-mania-space-quest/27e1b367-34f1-4b90-92f2-7d8e1a8c29a4. The game is free but to play past world two (there are four with one more "coming soon" though apparently 6 on android) you have to pay ($.99 in Canada) AND have the minimum number or stars on prior levels. I'm addicted.

He will. As you can see in the video, Paul has those critical thinking skills onboard. lol. BTW, this game isn't available in America? I tried to look at it and it says not available in my region. Great video Paul. The I have them both installed.

Yes it is- you clicked on the Canadian store link. Sorry for not giving the US one but am in Canada- if you search at your store you'll find it.

Sure, I'll check it out. :)
Windows Central Newsletter
Thank you for signing up to Windows Central. You will receive a verification email shortly.
There was a problem. Please refresh the page and try again.