Elden Ring speedrunner beats the game in under an hour
Start a new character at 8:00 and become an Elden Lord by 9:00.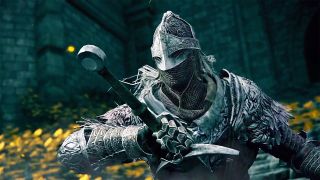 (Image credit: Bandai Namco)
Elden Ring is an absolutely massive game filled with tons of secret locations, NPC questlines, loot to discover, and bosses to take down. For most people, a full playthrough of Elden Ring will take anywhere between 70 and 100 hours to complete. For speedrunners, though, the goal isn't to stop and smell the roses — it's to blast through the game and get the credits to roll as fast as possible. And just two weeks after the game's release, someone has managed to complete FromSoftware's fantasy RPG epic in under an hour of playtime.
That someone is LilAggy, an incredibly popular Dark Souls and Sekiro: Shadows Die Twice speedrunner that has held several world records in the past and frequently completes challenge runs on his Twitch channel. LilAggy was able to finish Elden Ring in 59 minutes and 38 seconds, just shy of the one hour mark. You can watch the full sub-one hour run below.
if you're wondering how LilAggy managed to achieve this feat, it mainly came down to the use of a combination of several clever boss fight skips and shortcuts in Elden Ring's open world, a powerful Icerind Hatchet that LilAggy was able to rapidly upgrade by quickly gathering the necessary upgrade materials, and a crazy amount of skill. His choice of armor and stat upgrades when leveling also ended up saving his run, as he ultimately had enough health and damage resistance to tank a hit with just a sliver of health remaining during his fight with Elden Ring's final boss. As one viewer put it, LilAggy had "1 HP and a dream."
Overall, it's awesome to see that speedrunners are already figuring out ways to beat Elden Ring this fast so soon after the game's launch on Feb. 25. It will no doubt be exciting to watch further speedruns from LilAggy and other talented speedrunners as more speedrunning strategies develop over time.
Elden Ring is finally here, and it's available for $60 on Xbox Series X|S, Xbox One, PS5, PS4, and PC. It's one of the best Xbox games you can play right now if you're a fan of challenging RPGs, and we strongly recommend it.
The successor to Dark Souls
(opens in new tab)
Elden Ring ... oh, Elden Ring!

Elden Ring is FromSoftware's latest fantasy epic, featuring a focus on open-ended design in a universe created by both FromSoftware president Hidetaka Miyazaki and A Song of Ice and Fire author George R.R. Martin.
Brendan Lowry is a Windows Central writer and Oakland University graduate with a burning passion for video games, of which he's been an avid fan since childhood. You'll find him doing reviews, editorials, and general coverage on everything Xbox and PC. Follow him on Twitter.
Speedrunners are a special brand of beta testers.

Almost all of the fastest speed-runners I've watched exploit their games' glitches and bugs to get the fastest time. I'm curious if this is an ethical speed-run time, using only methods the developers intended. Once I beat the game I'm going to watch this one and see how impressive is, because this game demands a lot of skill and practice!

From what I've read, there are various categories of speed runs and times for those that do and don't exploit glitches are considered separate by the community. Whichever type this is, one would assume that this time will be beaten fairly soon, as more glitches and/or shortcuts are found.

Different people are excited about different things but I really can't get interested in speed-running. It just seems anathema to buy a game and then consider it a victory to play as little of it as possible. I guess most speed-runners must play most of a game first, in order to find out where the shortcuts and the like are, but it's still not something that would do it for me.
Windows Central Newsletter
Thank you for signing up to Windows Central. You will receive a verification email shortly.
There was a problem. Please refresh the page and try again.