Engadget updates their app to take advantage of Windows Phone 8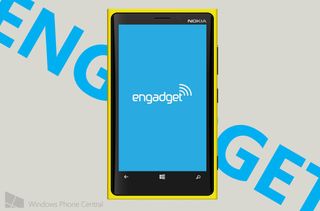 We get it, you like tech news and you don't only read Windows Phone Central. Sometimes you like to go to other sites. For example, Engadget, who just so happens to have updated their Windows Phone app to be sympatico with Windows Phone 8.
Launched back in March 2004 by Peter Rojas, Engadget quickly became one of the best technology sites around. They continually provide excellent coverage and are definitely on my list of sites I check daily for news coverage outside the Windows Phone bubble. They were one of the first major tech sites to release an app just for Windows Phone, and it was a fairly good app too. The latest update takes it to another level – it's packing a new beautiful design, faster performance, and Windows Phone 8 features. Like these:
A non-stop, daily stream of all the news on Engadget, Engadget Mobile, and Engadget HD
See features, reviews, unboxings, and hands-on coverage as it happens
Check out photo galleries of the latest gadgets
Watch streaming video of "The Engadget Show" without leaving the app
Get quick access to the Engadget Podcast
Use the in-app option to tip Engadget on breaking news
Commenting fully supported
Saving feature to bookmark articles and view while offline
Integrated mini web browser for viewing web content without leaving the app
Intuitive and clear interface
Seriously, this is app is amazing for how clean the interface is and responsive it performs. Engadget recently switched to the Livefyre for their commenting system, and it's fully supported within the app. So you can comment read the comments and add your voice to the discussion at hand. In article support for image galleries is excellent too, click view images and you get a nice view of all the pictures accompanying the post. If you're a fan of the Engadget podcast you'll get access to all those episodes as well. Another Windows Phone 8 feature you'll find is support for a double wide tile. Don't think I saw fast app resume or lock screen support though. Edit: I should clarify that the app can be used as a notification on the lockscreen, but can't be used as the lock screen background. Also, Jay pointed out to me that the comments aren't native in the app - instead it is loaded in the browser control.
The latest Engadget update is a winner in our book, you can grab it for free right here in the Windows Phone Store, use the QR code below, or swipe right in our app.
Thanks for the tip Romit M!
Windows Central Newsletter
Get the best of Windows Central in in your inbox, every day!
The change's what?? what???

Lame joke about the possessive "s" you used.

Ooh ok lolz...i use the keyboard suggestions.

Is that how you got lolz?

he is just being a smart butt

That's usually Dan's job.

This should pacify those who were desperate to see an article with a non-Samsung phone.

Give me a Samsung phone or give me a vector of one. Ok? Still looking for an 8X one. Don't get hurt over it.

I wish I could give it a dark background,...it hurts my damn old ass eyes now!!!

Agreed! I was so happy when I found out Weave News Reader has the option to darken the article background

Hey, could you tell me how to do that? I hate black on white :-/

Agree! I prefer the dark background, too. Much easier on the eyes.

Have you guys tried out the app called "Appy Geek"? It has a dark background and has all the stuff end gadget does.

That's a great app "Apply Geek" also they have a great Win8 app as well.. I use it and Weave tech app.

If you frequently use the app on a device with OLED display it will kill your battery with this mostly white UI.

fucking verge doesnt wanna create one.

seems like they mostly bash MS products when comparing it to the all mighty ipad. but i cant lie, i visit that website all the time.

Me too josh Paul and nilay are just awesome funny guys. Thats what keeps me on their site.

Funny, I've often felt they had a google/android bias. But I love the verge, too. Just wish they would write headlines about MS products without the snark sometimes. We get it: you guys prefer google!

I hope they don't ever have a WP app. The Verge is pretty biased and they've started diving into political bull crap and are liberal biased with that. Not to mention the recent feminist nonsense they've been going on and on about. Screw the verge

Sounds like plenty of good reasons for you to stop frequenting that site... so why don't you? I stopped long ago. I also stopped going to Engadget because they seem biased as well not to mention their style of writing became very old quickly.

Oh I stopped. Never again. They are ten times worse than Engadget ever was. They cant take any sort of criticism either, if you call them out, they ban you from commenting, even if you arent nasty or anything about it. I'll have to find a new site or two now besides WPC for tech stuff.

Ya, you know I started going to the Verge because of my issues with Engadget. When I first went, it seemed fresh and fairly unbiased, but that changed real quick and you are right, they are much worse. I check out some other sites from time to time, but the Verge and Engadget just kind of soured me on tech sites for now.

The "political crap" is the only thing worth reading. Outstanding reports on Bradley Manning's witch trial but they also exploded all over the scam that is Groupon. These guys can also WRITE, unlike too many of the "writers" at Mobile Nations- the ones who don't know that "its" is a word.

then support who support you ;)

I like it. To each his own.

I like it too, its almost the opposite from what it was before (colour wise).

Wow this is great! I've been waiting for this. I don't need my webapp anymore for this.

I love the fact that Engadget is tanking because they changed their comment engine. Says a lot.

Isn't Engadget always negative about Microsoft in general?

No point as such. Just asking

Not really. Some of their editors use WP.

Don't know if I can support this app after they inexplicably abandoned the platform in the past

Now I just need a Verge app, and I'll have a nice trifecta of tech apps.

There's a webapp for the verge. Just launches the web but better than nothing. There mobile site is not bad

I just use a shortuct to their mobile site pinned to my start screen. I make sure I go to the microsoft page before I save it though, then I get to miss out on most of their other crap.

Sam: "Don't think I saw fast app resume or lock screen support though."

Actually, it IS in the list of apps that can be used to display quick status on lockscreen. I believe that's for showing the unread count.

Really? Doesn't show for me. Weird.

Is it that hard to make a metro logo, jesus.

The logo is metro when pinned and updates to the theme colour too.

Does anyone have the same issues I have regarding the embedded video links in the articles? I can't ever get them to play. Once you click on the the "Play" button, I get redirected to the YouTube mobile site and says that the video is not available, or something like that. If I decide to launch the IE version of the article, video works just fine.

Are you using the "You Tube" app by Microsoft? It use to work with MetroTube app then it stopped. I had to use the "YouTube" app by Microsoft for it to work. You might want to try that if you're not already using that particular app.

I have both installed. Do I have to uninstall MetroTube for it to work?

I currently have both. I would try re-installing the Microsoft version. If that doesn't work I don't know what else to say. Then again you may uninstall both and reinstall by trying one at a time. Just a thought.

Still doesn't work. So, when you click on play, the YouTube "app" launches for you and not just open in the browser?

That's correct. Before it would state I didn't have a program to run the video even though I had MetroTube. When I installed the YouTube app my Microsoft it started working. That's all. Hopefully you'll get yours up and running soon.

Thanks for trying to help me out. Couldn't get it to work, no matter what, though. What phone are you using by the way? I'm using the L920.

Hello, I'm a product manager and engineer at AOL involved in the Engadget app. We'll be working to address the YouTube issue. Lock screen feature is in the works as well.
Thanks for downloading everyone!
Andrew

Man do I enjoy Engadget. They review and talk about all types of tech stuff. But of course there in none better than WPCentral when it comes to Windows Phone news. None!

I second that. Still this app is nice. It will complement the news I get from wpcentral

They are the ones that started the rumor, $199 Surface RT. $199 is what was expected when it came out.


Anyone who believed that was an idiot or just wishful thinking

Finally a decent update... But still not as polished as WPC! The comment system is still slow. Everything things else is cool. Did they ever get the windows 8 version fixed?

I dont think we should attack the verge just yet i dont think Dieter is going out his way not to make a decent WP app considering they cover WP and we bring traffic to their site like any other readers but apps require time and money and you'll just end up complaining once a paid one came out anyways

Its a really rice app. I'm using it instead of the verge

First of all, it's about freaking time. The previous app was impressively bad. Second, I don't read Engadget anymore since they changed the website and implemented the horrific Livefyre commenting system. Whoever decided to do that definitely lacks a brain.

They did that because on 90% of the articles the top ranked comment was a good honest critique of the bias of the writer or called out the gross inaccuracies in the post. They would delete them, but then they would get called out for that. Don't worry though, their hit website traffic is down by over 70% and Apple is no longer a direct advertiser. In other words, they are fucked and will have to bring back a comment system with rankings because that's the only thing that kept people around.

Yeah, they said they were going to add the ability to sort comments by likes, but of course they lied.

I appreciate the use of sympatico in this.

Lol Applegadget, suck an Apple ass kissing blog site.

I am disappointed that you can't share the articles using SMS and the videos are links and they don't play. I use an app called Geekbyte its night and day better even the Engadget feed is better.

I've been reading The Verge as it suits my tastes better. Yet since there's no The Verge app for WP8, I might be switching to Engadget soon... >_>

Try Geekbyte or the free one geekbit. Nice layout and you could have many tech sites in one spot the verge, WP central, Engadget, wmpoweruser, neowin, etc.

I left Engadget when they became very biased...anyone still going there know if they're still that way

A lot of the bias left with the last staffing change. Dana actually does a pretty good job covering MS at that site.

Nice. Loads fast. I like the look.

When I open the app it takes me directly to Featured section. Before it took me to Latest section. Anyway to change the default?

For me the app always takes me to the latest section. I don't see a way to change the default.

My live tile was not updating so I unpinned it and repinned it. Now it only opens to the Featured section. No way to change it that I can find.

I love this app because you can actually click on underlined links rather than having to go to links on a separate screen after swiping right like the WPC app. Hopefully they'll update their WP7 app though. It exits on its own if you let your phone go to sleep making it unusable!

So what about 7.x the app still sucks...

Sorry I'm not going to support Engadget because of their anti-Nokia stance before. Same for The Verge.

The UI is slick and it's a well-put together app, but there are a few things that keep me from using it over Weave: no orientation lock (drives me crazy), no dark background, and no ability to go to Latest upon launch instead of Featured. I'll keep using Weave but shall keep an eye on this app.

I love this update except for the very annoying fact that, much like whatsapp, it misuses the audio API, apart for that, it's both beautiful and responsive.

The font choice is horrible. The site is an effort to read now. I really wish they'd included so.e options to let us choose fonts and a dark theme.

Nice with the option to read Android and iPhone news. But I stay with Mobile Nations. I may hate my L920 but I know loyalty and quality. And the WPCentral app just unbelievable superior. I'm on WP so il read about WP only, that's frustrating enough.

This app just spies a bit much for my taste...

Well, app won't start. Goodbye.
Windows Central Newsletter
Thank you for signing up to Windows Central. You will receive a verification email shortly.
There was a problem. Please refresh the page and try again.