Enjoy doodling? Check out Didlr for Windows Phone and unleash your inner artist.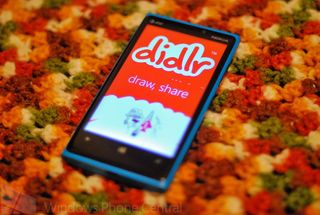 If you fancy drawing or just like to doodle out of boredom, Didlr is a fun and fairly simple, easy to use app that will appeal to you. Similar to Draw Something - minus the game aspect and frustration – once you publish your didl, it'll appear on the stream where the rest of the Didlr community can replay your masterpiece, step by step.
Of course, you can always tap through to the finished product if you don't want to sit through someone drawing a ridiculously detailed Batman for 15 minutes.
Didlr's canvas has three individual layers for you to work from and you will find that they are quite handy for blending and coloring under your line art. There are 6 pen sizes and 21 bright inks for you to choose from. That may seem like a small selection at first but it is actually quite sufficient.
You enhance your didls with the functionality to make your pen somewhat transparent (which makes layering and combining your inks to create new colors a breeze) and line smoothing, which is great for those with stubborn fingers. However, there is no eraser, but an undo button is there to take you back stroke by stroke. Didlr also has the option of tracing a photo, although it won't let you apply this to existing images.
You may also save to your drafts if you wish to return to your didl later.
Through Didlr, you'll discover and peer into the imagination of some extremely talented people, as well as a few that'll just make you laugh. You can pin your favorite Didlr users to your Windows Phone Start Screen, reply to and star their work and even share through social media. Seeing as it's a social drawing app, you will need to create an account in order to use it.
All in all, Didlr is a nice addition to your drawing apps for your Windows Phone. It's free and you can download it from the store here. It is available on both Windows Phone 8, Windows Phone 7.5 and is totally free.
Love this app on my surface and Lumia. Need to buy one of those pogo pens for a finer way to sketch

Theres no eraser, yet i clearly see the colour white among the selection?

This Is Exactly What I Want :D Good Thing with my 920 I won't have to buy a stylus seperately :P

That's a terrible name for the app lol. I have heard that phonetic word used in a much 'different' context. Other than that its a cool app

I cant belive someone thought didlr was a good name! how did that ever pass internal approval, unless it is just a ploy to get people to talk about it?!

x2
Wanted to write the same thing! They should rename it to doodlr or something...this is just a terrible name!

Maybe they got didl'd by their uncle and now its a word of comfort for them. >.<

I made it, I named it. Leave my uncle out of it.

Awesome app. My 8 year olds love it, I love it. It's great whether you can draw well or not.

This was my first thought as well. lol

This is just like Draw Idol Free, and Social Artist. I have played both, also didlr has some have advantages and disadvantages. Just giving you more options. Enjoy. I personally enjoy Draw Idol Free. I wish there was a stand alone app that had all the features unlocked. If you like didlr check out those two games.

Krys, please tell me you drew that face in the middle.

What an unfortunate name for this app :-)

LOVE the app - very addictive. Also I think the name is funny :) Like wii haha!


Weren't the developers of this app the winners of a Nokia app developer contest back in 2011? Seems like a nice app, I can't doodle, but maybe I'll give it a whirl!

It's quite amusing when you have a couple minutes with nothing to do!

HA! "I'm just going to didle with my phone for a bit" LOL

I didled for a while ;) but then got bored. You can see my creations if you search for Sholokov.

I just so love this application, I use this whenever I relax after writing my essay.

up to I looked at the draft four $4601, I didnt believe that my cousin was like truley bringing bbom and bbom
Windows Central Newsletter
Thank you for signing up to Windows Central. You will receive a verification email shortly.
There was a problem. Please refresh the page and try again.