Everything you need to scan and save old photos using Windows 10
Many still keep their memories in physical photographs, locked away in boxes. To ensure they are not lost to decay and time, it's really easy to scan and save photos on a Windows PC. Here's everything you need.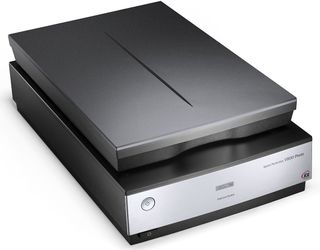 Should you still hold old photos in boxes and wallets, it's about time you extracted these and saved them digitally. Physical photos will decay over time, ruining the quality of the memory captured. Having a digital copy will ensure that these are not lost to time. Better yet, by saving a digital copy of each and every photo will allow one to share them with friends and family more easily, as well as having them displayed on tablets, phones, TVs and other connected devices.
Scanning photos
Luckily, we've already taken a look at the best photo scanners available on the market, and these will work with your Windows 10 PC to quickly save them locally.
Epson Perfection V800
The most expensive flatbed photo scanner on the list, the Epson Perfection V800 is geared toward serious photographers. This device can scan your positive and negative film, and will deliver a clear result. PCMag, in their review, named the V800 their favorite overall photo scanner:
When handling large amounts of film, the V800 has the ability to scan up to 18 frames of 35-millimeter film, or 12 frames of 35-millimeter slides, in a single tray. Coupled with ICE technology, this scanner is the perfect tool for backing up your family's memories.
If you have a lot of money to spend on a scanner, like about $680 (opens in new tab), go with the V800. Although it is heavier and larger than the other scanners on this list, it delivers the performance to back it up.
See at Amazon (opens in new tab)
Making backups
Backing up your photos can take a little planning, but there are a few ways you can go about it:
OneDrive (or other cloud services).
External Hard drives.
Network Attached Storage.
Usually, after you've scanned everything in, you'll have a copy of your photos on a machine, which could be a laptop or PC. This still isn't good enough and still people today don't back up all their sensitive information and files. At the very least, an external hard drive should be purchased. The next step up is to use a service like OneDrive to backup everything you'd not want to lose.
Keeping everything in the home (or at another premises) is a NAS. These small units can hold a lot of data, depending on the configuration you go for. Some NAS setups house a 1TB hard drive, while others can go up to 8TB and beyond. Even a single TB is more than enough for a large collection of photos.
Printing copies
Lastly, should you wish to make physical copies of said photos you've saved, this is also possible with printers (or all-in-one units) that offer such functionality. Some machines will even print at super high-quality levels to better match originals. Again, we've taken a look at some of the best photo printers available, if you're interested in doing more than merely making digital copies for safe keeping.
Canon Selphy CP1200
The CP1200 by Canon is a great little photo printer, dedicated to taking digital copies of all your favorite memories and making them physical.
It's compact, fun to use, and doesn't rely on inkjet printing. This is why the CP1200 is our number one choice for the best photo printer of 2017. Picking up the optional battery pack will ensure the unit will be able to print out memories taking full advantage of its portable size and wireless connectivity. There are also some fun little features that really add to the overall experience.
It can print on postcard-sized paper, not to mention label sizes, square and even eight small stickers at a time. That opens up a number of possibilities when you snap a stunning photo or a keepsake memory.
For a mobile world, Canon has worked on the official app solution that makes it effortless to print something from a smartphone running Android or iOS. If smartphone photography isn't quite your thing, card slots and USB ports are at hand for hooking up a camera. Overall, it's a great little unit that won't actually destroy your bank balance in the process.
See at Amazon (opens in new tab)
Questions? Thoughts?
How have you gone about making digital copies of old photos? Let us know your experiences in the comments.
Windows Central Newsletter
Get the best of Windows Central in in your inbox, every day!
Rich Edmonds was formerly a Senior Editor of PC hardware at Windows Central, covering everything related to PC components and NAS. He's been involved in technology for more than a decade and knows a thing or two about the magic inside a PC chassis. You can follow him on Twitter at @RichEdmonds.
I know OneDrive will be the preferred here, but unless you've got that TB of space it won't be worth it since you'll fill up the free space pretty quick if you have lots of photos. Most of us are Amazon Prime members, so look there for a backup solution as they offer unlimited storage for Prime members for photos (including a multitude of RAW formats as well). There's also Google Photos, but that has the photo resolution limitation, so if you're photos are higher than 16MP then it'll resize them down (not sure on RAW support here).

I think you've left out the last and possibly the most important step when scanning old images, adding context. Scans done today of old negatives or prints lack a time and place, and if you want to be able to ask Cortana "show me my pictures of Mexico" vacation pictures from 1995 should be included in that. I've spent the last two months plugging away at my families vast collection of negatives, and I've been using a UWP app called EXIFGeo Tagger to add that information to all of my scans. In an effort to encourage other family and friends to do the same I even made up (at 2:00am) a video that I've posted on YouTube that takes the most straight forward approach possible to walk them through how to do it. You can find it on my "gwydionjhr" YouTube channel.

How do you scan the negatives?

With a scanner that has a light in the lid specifically designed for scanning transparencies. They have a holder that you slide the negatives into. Check out the video I posted on YouTube, it walks you through it. You are FAR better off scanning a negative over the print. I have been amazed with how much better the images are when you scan the negative, add in what you can do to manipulate that image digitally, and they're like brand new pictures. And don't knock the Photos app built into Windows 10. A friend and I started with the same raw image from negative that was poorly exposed 25 years ago. He did his manipulation in Photoshop Elements 14, and I did it using the built in Photos app. I was able to get better results using just the Photos app. (Elements was on sale in the store a few weeks ago, and I was trying to determine if it was worth the hefty $80 price tag)

I've had the Canon selphy printer for 6 months now, and love it. It is very much like the dye sub printer that Kodak made around 10 years ago, but the kodak ones all broke easily or the rubber rollers came apart. Great color on it, reasonably fast printing time. I wish they made bigger versions for 5x7 or 8x10 printing.

You say it's ~$680 on Amazon but the cheapest I'm seeing there is ~$860...
Windows Central Newsletter
Thank you for signing up to Windows Central. You will receive a verification email shortly.
There was a problem. Please refresh the page and try again.