Evo Explores defies your meager understanding of geometry on Windows Phone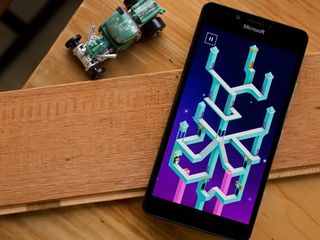 Evo Explores is a recent release to the Windows Phone Store, clearly inspired by the eye-catching and award-winning puzzle game Monument Valley. Like its inspiration, Evo Explores presents you with a collection of mind-bending 3D puzzles to solve. It's like the art of M.C. Escher brought into a 3D digital realm.
The game has clean and vibrant graphics and the puzzles will challenge your sense of imagination and concept of dimensional relationships. In short, it defies physics and geometry. In playing Evo Explores over the past few days, the only drawback to the Windows Phone game may be the limited number of puzzles to tackle. Otherwise, like Monument Valley, it is a great puzzle game to spend a little time with.
The backstory for Evo Explores has you guiding the main character, Evo, through a series of puzzles as he explores the mysterious Byte planet. The puzzles are 3D structures that at first glance appear disconnected. However, you can manipulate the architecture of each structure to clear a path for Evo to reach the exit.
The main menu for Evo Explores is a little deceptive. It too is a puzzle of sorts with the various levels of the game spread across a structure that you will have to guide Evo up. To reach a more traditional menu just hit the pause button and options to access the game's settings, rate the game, view the credits and visit the developer's social media sites will appear. This hidden menu is a nice touch and adds to the game's clean appearance.
Each level on Evo Explores' main menu will contain multiple puzzles to solve. The first level will start you out with a few tutorial puzzles to get you used to the gaming mechanics. Even after you complete these first few levels, when a new gaming feature comes into play additional tutorials will appear to explain these features.
While solving Evo Explores' puzzles is challenging, describing the puzzles is a challenge in and of itself. The structures are in many ways an optical illusion that contains a path from the starting point to the exit point. However, the design has plenty of breaks, gaps, incomplete staircases and dead end paths that have to be made complete by shifting the structure or sections of the structure.
There will times that the solution is so simple it slaps you in the face and times where you have to tap into your imagination to find a solution. The goal is to guide Evo from the starting point to the exit and to move him along the puzzle, just tap where you need him to move.
You will also run into puzzles where you not only have to create a path to the exit but will also find Evo morph into a clone and have to create two paths. Often is the case where finding a solution for one Evo is dependent on the actions of the cloned Evo.
The mechanics of manipulating the puzzles' architecture include swinging sections of walkways, rotating the entire puzzle, raising columns, sending Evo to stand on a switch and more. I think the hardest solution to grasp is removing a gap in the walkway by hiding it with a column. It shouldn't work but as the game's description states, "…trust your eyes. If something looks real, it is real." If you cannot see the gap, it must not exist. And that is the crux of Evo Explores. As you turn and shift the puzzles in this game, new paths reveal themselves. But then you turn the whole structure 90 degrees and those paths are no longer connected.
There is no time limit to solving puzzles and scoring is pass/fail in nature. While you can replay a level of puzzles with Evo Explores, you can only advance if you complete all the puzzles within your current level.
A real head-scratcher of a puzzle game
If you are the mood for a Windows game that is full of beautiful, head-scratching puzzles you need to give Evo Explores a try. The graphics are clean and colorful, and to call them creative would be an understatement. The puzzle collection holds a nice range of difficulties from those where the solution is easy to pick up on to those that can be a little nerve-wracking.
I did not experience any glitches, bugs or stability issues in playing Evo Explores. The only criticism I might offer is that the game needs more puzzles. If my count is correct, the game includes 14 levels, each with about three or four puzzles to tackle. It will take you a while to complete the game, but once you do, you'll be wanting more.
The quick take on Evo Explores is that if you liked Monument Valley (or simply like puzzle games), you should like Evo Explores. The game is not an outright copy of Monument Valley, but rather is inspired by the game and represents it really well.
Evo Explores is free to try, and unlocking the full game will cost you $1.99 via in-app purchase or by inviting a friend to try the game. The game does support low-memory Windows Phone and a Windows PC version is coming soon to the Windows Store.
Download Evo Explores for Windows Phone (opens in new tab)
Windows Central Newsletter
Get the best of Windows Central in in your inbox, every day!
George is the Reviews Editor at Windows Central, concentrating on Windows 10 PC and Mobile apps. He's been a supporter of the platform since the days of Windows CE and uses his current Windows 10 Mobile phone daily to keep up with life and enjoy a game during down time.
I dont eat cabbage at all!!

Links don't seem to be functioning in the original way intended ;)

This is a fun and easy little game, played the demo the other day when it was on myAppFree!

Made a game out of God Of War 3's puzzle,smart.

Actually, I've never played God Of War :) Please detail what puzzle do you mean.

Curious how do you save? I got far but then had no exit button so just swiped away in task manager and now have to start all over.

Nevermind. Save now. Wasn't getting quit message earlier on back button. Probably windows 10 issue at the time.

Should have used the advantage of myAppFree deal

Wow, this isn't inspiration. This is a COPY. LOL.

Hi! I took the main idea from original game and made my own game on top of that idea. The content in the game is unique, nothing was stolen or copied. And you can try it for free and then decide if you like the game or not :)

It's nice that you create this whole thing from scratch, and I'm certainly gonna buy it, because I like this kind of games. I do believe when you say that the content and the puzzles are unique, but clearly the UI is not.

All things have been done already by someone :) UI is just as minimalistic as in Monument Valley. So people find it very similar.

You mustn't stress. Game is A+.

Hi dev. How I can invite a friend in the game to get the full version as stated in this article?

Hi! Ho to Get Full Version -> Invite friend -> Give your friends that code and ask them to complete 3 chapters.

There was this puzzle in god of war 3, i bet you've played it sir.

I swear that I've never player god of war. It's intriguing to know what is that puzzle :)

It's this one: https://www.youtube.com/watch?v=4k5DNv4CBlY And GOW3 is awesome , btw

I've never thought that AAA games have puzzles with visual issusions. Very interesting!

You should have "Free trial" button. Is it missing?

Hello. Is the game totally for free?

Hi! No, the game is paid but you can try it for free. Also you can invite 3 friends and get full version without paying.

To be fair to the dev, there are some nice new concepts in the game, like playting with two characters on the same level, and playing with a tape alongside the main character, which are not present on Monument Valley.

Well would you say that all fps games are a copy of doom?

Or Quake Or Wolfenstein etc etc :P.

looks like a Monument Valley clone

Why am I not seeing the "download app" option in the WC app anymore?

Same here windows 10 mobile

I made an update today. Maybe your issue is related to it. It should work soon.

Huge thanks for an article! PC version just passed certification and should appear in the store in matter of hours.

Nice work man, I'll check it out! If people were worried about 'clones' or being inspired then pretty much no one would listen to music or watch movies! Nothing wrong with taking some inspiration and making something familiar and yet, your own!

Thanks for support! It gives me energy to work futher :)

Will it support continuum?

In future - yes. But right now this is now a part of current scope. Evo Explores is relatively short game so I don't think that it needs continuum.

It's it hard to add continuum to games? From a developers perspective? I've been using my 950xl as my main pc lately and typically like to play on the big screen. My gaming pc is connected to my tv for more hard-core gaming from steam and such.

I didn't do any continuum before but I think this must be not so hard. Just requires some time which I don't have :)

Any UWP app targeting mobile/universal should automatically work with Continuum (it's an opt-out feature from the developer's point of view). It should just work. Is your game UWP? It's a great game by the way. It would make a worthy sequel to Monument Valley.

Thanks! Yes, the game is universal. I thought wrong about Continuum. Now I read about it and understand what it about. When you connect phone to external monitor screen resolution will change. Currently Evo Explores doesn't rebuild an interface at runtime. I'll add this feature in nearest future and Continuum should work.

@Kiril Kuzyk. Awesome :). Keep up the great work.

You got me hooked man!! And I don't hook easy. :) Good job on this one. Great design

This is a total rip off, but I'm downloading it anyways. Here's hoping that it doesn't heat up my 930 as much as Monument Valley does.

Yeah, try it :) Evo consumes much less processor power then Monument. But if you want to save battery even more you can enable "Save Battery" option.

I'll be sure to share my experience when I'm done with the first level :)

I liked amd enjoyed the game but I found it kind of short for 1.99 but if you really like puzzles you'll be pretty satisfied at the end lol. He should probably make the poi t where you pay at 25% instead of 50% through the game cuz then it'll feel like there's more to unlock if that makes sense

Yeah, the game is relatively short. Making levels for such type of the game takes increadibly long time. But I will do my best to make next game longer.

You shouldn't give so many free levels. That way when you pay you feel you get a lot more than a typical person who used it for free.

This is very subtle thing. I still didn't find right balance for it.

Maybe make some more levels that could be unlocked via iap and possibly lower the initial price?

So, this or monument valley, better?

No, Evo can't even pretend to be better than Monument Valley. We are very small team with zero budget :)

It took me 4 hours to finish this game. Matches my way of thinking all thanks to ilomilo

How is this not copyright infringement? I'd love to get the app, but only if it's legal. This seems just too close to monumnet valley to be fair.

Game mechanics are not a subject to copyright. If so, there would be no first person shooters after Doom :)

Well... I'm sold! Looks amazing. And lovely to see a Dev so involved with the community :)

@Kiril Kuzyk Just tried the game. It's simply the clone of Monument Valley. 99% of your game is made up by Monument Valley creators, you stole their ideas, that's the fact. You even copied the UI, the music, animations, everything. Yes, there are few new ideas, but that is just 1%. On the other hand, I have to admit, that it totally feels like from Monument Valley creators. By that I mean every detail is polished. And I loved Monument Valley so much, that I simly must finish this game, since this is like new levels for Monument Valley. Well, I'm really curious, what MV creators think about this. Did you Kiril ask a permission from them?

I'm no one from nowhere so I think Monument Valley creators will never answer me if I wrote to them :) But you need no permission to copy game mechanics. This is not a subject to copyright. 99%? Sounds very exaggerated.

Due to fact, how good clone it is, I think they should hire you :) But still, in the name of good manners, someone should let them know.

Yes, I'm planning to write them. But I still think they will not care much.

Nobody cares what you think. Game is awesome. Period. You shouldn't comment if you don't know what is subject to copyright and how copyright infringement works.

Nobody cares what you think.

Worth every penny LOVE it!!!!

I'd say that goes a step beyond inspiration. Even the UI seems the same. I'm not saying it's a carbon copy, but for the dev to claim Monument Valley was mere inspiration is taking the p.

Played the game through after kiril was handing out free codes. Outstanding. I loved monument valley and yes, this a clone. It is however and excellent clone with many puzzle styles that extend beyond mv.id have bought it even if I didn't get a free copy. Good work fella.

Does no one notice the Boba Fett car?

I loved it! The developer, obviously a huge Monument Valley fan, was on Reddit recently and seems very receptive to feedback and is planning on adding more features such as cloud syncing. I urge fellow gamers to support great indie devs like this and buy the game for $1.99! EDIT: Just read through the comments and the dev is here too. Thanks again, Kiril for all the hard work on a great game!

Inspired by monument valley, or a complete ripoff? Posted via the Windows Central App for Android

Forget the darn demo, bought!

Great game! I'm glad this is partly free because I'm unable to pay for MV. I love how this runs better than Twitter on my 520 haha

Loved the game and bought it immediately..$2 for 3 hours of challenging fun= gr8 deal. Good job Kiril

Finally, I solved all issues with PC version and Evo Explores is out for desktop now. Please tell me if you have any issue with launching the game there.
Thanks!

I added localization support to Evo Explores. You can help me to translate the game to other languages at http://stampedegames.net/translation The least I can do to say thank is to add your name into credits section. I made localization system to download translations from server. So your translation can go live in a matter of hours :)
Windows Central Newsletter
Thank you for signing up to Windows Central. You will receive a verification email shortly.
There was a problem. Please refresh the page and try again.