The excellent Twitter client MeTweets gets updated for Windows Phone 8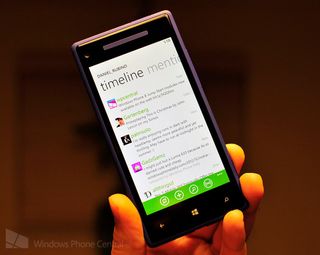 If you like straight up Twitter clients with a ton of features, you can't go wrong with the newcomer MeTweets (hopefully you picked it up for free recently). The app has quickly become one of our favorites for its no-nonsense, Metro UI take on Twitter for Windows Phone.
Version 1.2 just came on to the Store and it has numerous fixes and new features for Windows Phone 7 users and if you're on Windows Phone 8, you get quite a few too.
The change log is quite extensive for the app and we have to say so far it's working quite well:
Windows Phone 8: Wide Live Tile
Windows Phone 8: lockscreen notification counter
You can now choose your retweet-style
Suggestions for hashtags while typing
Tapping a profile image in your timelines brings you to the user's profile
Profile page now shows if a user is following you
There is no longer a limit on the number of notifications you can receive in one day
Bug fixes (the app no longer crashes when you return via the task switcher)
Not a bad set of updates. We should also mention that for Windows Phone 8 you do get the rapid resume feature too, which means when you tap the Live Tile after already having done so earlier, the app does not re-launch but instead resumes from where you left off. Scrolling is also much smoother now due to the Windows Phone 8 API enhancements and dual-core CPU support.
And for you HTC 8X owners, the full 720P ratio is supported now too, so no wasted space.
Regarding the lockscreen notifications, you can use the counter or the billboard feature, which will show your messages right on your Lockscreen. Of course you could also use both for the ultimate in Twitter awareness.
Overall, MeTweets is a solid app. Sure, it may lack personality but it's simple to use, smooth, fast and easy on the eyes. MeTweets goes for $1.49 in the Store with a free trial here. Highly recommended.
Windows Central Newsletter
Get the best of Windows Central in your inbox, every day!
Daniel Rubino is the Editor-in-chief of Windows Central, head reviewer, podcast co-host, and analyst. He has been covering Microsoft since 2007 when this site was called WMExperts (and later Windows Phone Central). His interests include Windows, laptops, next-gen computing, and for some reason, watches. Before all this tech stuff, he worked on a Ph.D. in linguistics, watched people sleep (for medical purposes!), and ran the projectors at movie theaters because it was fun.
What bugs me is when I try to write a message and want to tweet someone, when I hit @ it doesn't bring up all the people I am following. I do no have all my friends twitter handles memorized.

We must have different phones as that feature works on mine.

If I hit the + and then start typing and hit @, it will bring up maybe a third of my followers. Idk why. Even if I do @n for instance as I know my wife's twitter handle, she won't ever come up. Just strange. Maybe I should do a delete and reinstall.

It only brings up the people who follow you too, not the people who you only follow.

I been using rowi and never had problems. Excellent twit app

Have you tried this one? You should.

With time Rowi just started getting slower and slower, scrolling was jittery and laggy. I made the switch to MeTweets and I'm not looking back.

How is this compared to mehdoh?

Since I am not a heavy twitter user, I think the people hub serves my need pretty well :)

Mehdoh so far my hands down favorite. I haven't tried this one yet so I can't have any opinion about it.

"Peregrine" would be my favorite. It was the first twitter app to use Mango features and also first to release a WP8 version with WP8 features.

Just downloaded the app.. So far I'm liking the simplicity and the features that it packs. I use gleek right at the moment. This app may give it a run for its money!

Mehdoh is my favorite but MeTweets is very close. With this update, you can use more screen space on WP8 which can't right now on Mehdoh. Try MeTweets and see if you like it.

I still prefer Mehdoh because of the layout, which I think it's the best on WP7-8. Gleek and Rowi are very good but they waste a ton of horizontal space in the tweets layout.

Thanks for this. I downloaded it for free on my wp7 and didn't like it because is was laggy. Redownloaded it from my windowsphone.com account and it is awesome on my 920. Sucks though because I liked Mehdoh, and paid for it, now its no longer published so I can't redownload? Oh well I like this and Rowi better now anyway.

Mehdoh is still my favorite. I installed 3 weeks ago when I got my 8X and it works well with WP8 but the author unpublished it because some people were having problems with it. It will be updated but I'm not sure when.

MeTweets is good right now and already support WP8 and the new resolutions/features. Use it while Mehdoh get and updated version and compare to MeTweets to choose again.

please do a video review!

I updated and now the live tile is completely blank

Better than rowi, rowi ehhh good but this one takes advantage of windows phone 8

Can I have access to more than one account. I need to have access to two accounts for my business. Rowi doesn't allow it and Carbon is gone.

Not true, you can easily set up more than 1 account on Rowi, in fact I have three.

Well, I've looked and it's not simple apparently. Not under settings. No add account anywhere. Etc. On and on.

There are so many good Twitter clients in the Marketplace...but only one Facebook app? How come actually?

There's also Facebook Touch Pro, check it out

I agree... all the others that appear in the store are simply links to the mobile site.... its a little rediculous...

hmm just tried this. I think I still refer gleek. they got my money however.

I purchased gleek as well and the app is very well designed.. I do feel however that Gleek has a lot going on within the app, MeTweets on the other hand is simple and does what its supposed to... i have both installed tho...

One question here. Why can't you see replies under a tweet for all twitter apps in WP? I've tried serval twitter apps on ios devices, they all display replies!

Indeed. I asked several devs regarding this feature but didn't receive a reply from any of them. Strange, as I don't think it's a tough question! Oh well.

This app may have just taken rowi over as my preferred twitter app. Awesome

I love Rowi, LOVE it, but the reality is that its developed by very busy people & the dev cycle is slower than these other apps. I'm going to give this one a shot until Rowi hits WP8

agree 100% rowi seems very busy with their windows 8 computer app and this is more of a background project for them, ive already talked to the devs of this app and they seem very dedicated to this app, wil be using this until rowi gets wp8 support

I actually prefer gleek or twabbit since they're the only twitter apps that support twilonger. I like rowi for its speed and they have the best push notifications so far but they said they have no plans to add twilonger support :-(

This is a fairly new app and I am sure that with future updates other features will be added..

I can't get past the Add Account screen on mine. It works for a couple seconds then I get a blank screen.

Rowi is my favourite Tweet client. But, also glƏƏk, twabbit and MeTweets are good.