Exclusive: Discussing backwards compatibility, NXOE and the future with Xbox's Mike Ybarra
Recently, we were lucky enough to catch up with Mike Ybarra, who is responsible for cultivating the Xbox experience across Windows, Windows Mobile, and of course, Xbox One.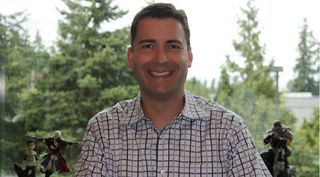 Mike leads the team behind the New Xbox One Experience, the development of backwards compatibility and the integration of Windows 10 into the Xbox.
During the interview, Mike gave us some fresh insights into the future of backwards compatibility, the possible implications the Windows Store will have for the Xbox One, as well as hints for what comes next from the Xbox One's first-rate engineering team.
Jez: I think I can say on behalf of all Xbox One fans, thanks to you and the team for your hard work and perseverance over the years. It's pretty mind blowing how much the Xbox One has changed since its reveal.
Mike: Yeah thanks, I appreciate that. It's been a crazy journey for us. We did launch, and then we really started tuning into customer feedback and some of the ideas they had. And frankly, the evolution of Xbox One since launch has been driven by the fans just as much as the engineering team. It's changed the way development sort of works for us because our engagement with the fans is so much higher and the transparency is very high. At times, that gets challenging, but it's been great.
Jez: User feedback seems to be pervasive throughout the industry now, you've got Kickstarter where fans are in a constant dialogue with the projects they're funding, you've got Steam Greenlight and sites like UserVoice, which Microsoft seem to be at the forefront of. Most Microsoft products seem to have a UserVoice page.
Mike: Yeah that's totally right, I think the company is embracing that in a major way. With UserVoice, with all the preview programs that we have, especially our MVP community who really help us out. In fact, they're here this week, we have a big MVP summit. So the engagement level is just great, I love developing products like this because, at the end of the day, with products turning into services, the customers have the biggest voice.
Jez: I spent the year prior to backwards compatibility explaining to friends and family why Xbox One couldn't run Xbox 360 games, and then you guys announced backwards compatibility despite the belief that it was impossible. I get the impression that the Xbox platform team likes a challenge, do you have any other large "game changing" plans on the same level as NXOE and backwards compatibility?
Mike: I would say, you're right - when we originally released the Xbox One the idea of us doing backward compatibility was something we didn't believe could happen. We were fortunate enough to have the right set of engineers. To Phil Spencer's credit, he pushes the teams. He knows that all engineers love to be challenged with something someone says is impossible, and then told to make it happen. When we opened up the user feedback site, backwards compatibility was number one by a large margin and it was something we didn't want to just ignore. We took on the challenge; we solved a lot of the engineering problems that existed, and frankly surprised ourselves in some ways.
I would say you're right, and I can't go into details, but our general philosophy and approach is 'go big or go home' when you're trying to create disruptive technologies that meet the needs that customers are asking for. It's something that the platform engineering team keeps as a high priority in terms of what we want to achieve for fans, and for ourselves going forward. There are two or three big items that I would put on that same calibre that we're looking at, and you know, hopefully, they become a reality and you hear about them 12 months from today.
Jez: Since Windows 8, Microsoft has been trying to converge Windows development into a single store. Given that we're practically there now with Windows 10 and Universal Windows Platform (UWP), a lot of us are wondering just how much of the Windows Store we'll see on Xbox One. There're a quite a lot of "junk" apps in the Windows Store that could impact the idea of the Xbox as a tailored experience. Are you guys going to continue to curate apps on a strict case-by-case basis? Or are you going to open up the Xbox One to full Windows 10 store?
Mike: Yeah, I think you bring up some great issues on how app stores are managed today. Most stores, if you look at competitive stores, they're curated through editorial. So a lot of the "junk", as you call it, that's in the stores - people don't find it because they're not on the top of the curated or editorialised pages in the stores. I certainly want to give people the freedom to run the apps they want in the living room, and I think they have asked us for it. The vision for the UWP, developers writing a single app that runs across all the Windows 10 devices, is a vision that everybody in the company believes in. How that applies to the TV is something we're working through right now.
There is a customer promise with Xbox One. It's a safe device; I can have my kids playing it, I know they're going to play games, they're going to have a good time, with the living room there's a set of accountabilities that I think we have to think strongly about. We're thinking through it right now; I don't think we have all the answers. Certainly from a baseline platform standpoint - we believe in the mission, we believe in empowering people to buy their apps and run them on all Windows 10 devices, but we just have to work out the details.
Jez: Looking at the some of the quality UWP apps available for Windows 10 so far, I know that the developers of Readit have expressed some eagerness to get their app onto Xbox One. Then we have Twitter, Facebook, Tweetium and other big name apps that are currently being developed for the Universal Windows Platform - many of whom are probably eager to see those apps in the living room. So it's just a matter of working out the details at the moment?
Mike: I think that on Windows 10 desktop today and the apps that you see, because of the Universal App Platform developers will be able to deploy those on multiple devices. In an ideal world, you can run the Weather app on your TV, or your phone or your PC. I think that should be a world we shouldn't be afraid to investigate and see if we make happen. All of the other apps kind of roll in. As I said, the living room is sort of a family environment, so there's a set of apps we have to be really smart about whether or not we'd allow them there. But yeah, we want to give developers all the channels we can on the Windows 10 system.
Directionally we stand behind empowering developers to release their apps in every Windows 10 endpoint. We're working through the details of what that may or may not look like but at the foundational level, through the power of Windows 10 and the app platform we've established, the common belief of making developer's lives a lot easier to span multiple devices and platforms is absolutely a fundamental promise that we want to make.
Jez: Phil Spencer talked about mouse support before, is that still on the cards? It's interesting to think about, because for some households, if you have mouse support, Office universal apps, Microsoft Edge, suddenly the Xbox One becomes an affordable PC-like solution for the living room.
Mike: Yeah, I think Phil hinted a couple of times on Twitter about mouse and keyboard support on Xbox One. We actually have keyboard support right now, not for games, but you can attach it and do input. It's on our list, we look at user feedback, some things pop and some things don't. I would say that one's kind of lower on the list relative to things like background music, and the list goes on. It's certainly in the backlog of things we're looking at and if more and more fans are asking for it, it'll get more interest. Would people would want an Xbox One Windows desktop in the living room? It's interesting to think about.
Jez: Speaking of background music. It's still on the list of things to do then?
Mike: It's on the backlog and Phil reminds me almost every day about it (laughing). The great thing about Windows 10 on Xbox One is that it really allows us to increase the efficiency of the system, other tasks that take resources to run become easier for us to implement. Background music is something we know our fans want, it's on our list, and we're definitely looking at it.
Jez: So, how far are you guys planning to push backwards compatibility? We're getting around 100 titles next week, do you have any idea of how often those titles are going to come in? Could we eventually see the entire Xbox 360 library on Xbox One?
Mike: We certainly want to have a regular cadence that we give updates for Xbox 360 titles. Our biggest obstacle there is working with publishers and getting their approval for the older titles. We continue to work on that right now, I would say, it varies in response across the publishers. Some are like "yep, let's go, rock n' roll" and others are a little bit more thoughtful about how they want to think about that. It's hard for us to promise, I'll just make something up, 20 titles a month from now on, because it really depends on the publisher enabling us to release those titles. Certainly we want to release a set of titles on a regular basis that customers are asking for, that can provide value to them.
Jez: What are the current plans for Smartglass? It seems like the Windows 10 app for Xbox has cannibalized most of its functionality.
Mike: The plan for the Xbox app on Windows 10 was for it to be a superset of everything the Smartglass apps do plus additional features. The Xbox app, to me, as it evolves and increases in features, its something that I want to have on mobile devices and everything. It is a universal Windows app, it should run on Windows 10 and all phones. Directionally, the goal would be to get a single app across all devices that you're familiar with and give you a common set of features.
Jez: Will the iOS and Android app be updated to reflect that goal as well?
Mike: Yeah we'll continue to support both of those platforms too.
Jez: Have you guys considered game streaming for the Xbox app on Windows 10 Mobile? It'd be interesting to see that combined with Continuum, as complicated as that may be.
Mike: Our fundamental belief there is that if you own a piece of content you should be able to play it on the Windows 10 devices that you own or are available to you. I did see some feedback of people wanting to stream to their phones. I think that's an interesting tech demo but it's hard in practicality to play a Triple A game on a small screen. It's not something that I can say, "hey we're bringing that to market", but certainly the ability to play content on your devices is part of the overall Windows 10 promise. We look at all those scenarios and say "okay, what would get enough usage to make sense for us to make those investments?"
Jez: One of the questions I've seen posed in our Windows Central NXOE thread pertains to Kinect gestures on the dashboard. I've noticed that they're absent from the latest build on the New Xbox One Experience - what's the situation there?
Mike: On gestures, when we looked at the New Xbox One Experience we wanted to prioritize features that customers were asking for, plus areas of improvement from the existing Xbox One UI. Then, we wanted to look at the use-case model of features that take a lot of investment and say, "is it worth continuing to invest in that area?"
With gestures, the reality was the usage was very, very low. So for now, we've cut that from the New Xbox One Experience. So when we launch on the 12th, they won't be in the product. We'll continue to monitor and listen to feedback to see if people want them in.
Jez: I still see comments across social media and on articles that debate the effect DX12 will have on the Xbox One. Given that there still seems to be some on-going confusion about the potential benefits DX12 will bring, could you explain what it will or won't do for the Xbox One?
Mike: Any new graphics capabilities we add in Windows will help developers, it just depends on the type of game you're creating. With Xbox One, we took DX11 and added a lot of extensions on top of that so that developers could get the most performance out of that fixed hardware. From launch, and frankly every time we update the XDK more benefits come out. On the generic Windows side, DX12 is doing a lot of that same thing for general hardware. Enabling developers to get higher level visuals or better effects into their games. So, a lot of the benefits are in Xbox One today, we do expect to see some incremental benefits, but really it's up to the game developers to work on that and realise the benefits or not depending on how the titles use those calls. Nobody should expect DX12 to have that dramatic of an impact.
Jez: I noticed that Windows 10 game store was recently embedded in the Xbox app. Right now there's just mobile titles in there, but we know that, Gigantic, Fable Legends, Gears of War are all coming to the Windows 10 Store...
Mike: And Rise of the Tomb Raider!
Jez: Then, is Microsoft planning to take on Steam, taking on more third party, core PC titles into the Windows 10 store? Right now it's, generally touch-based mobile games.
Mike: I don't like to use terminology like "take on Steam", I'm a big Steam user myself, I probably play more games on Windows than console. I love the fact that Steam exists on Windows 10. Will we want to have a great robust store that has first party and third party games all the way from Triple A down to mobile games? Absolutely. We want to make the Windows Store another alternative for developers to distribute their games and for customers to acquire them. We don't necessarily see it as taking on Steam, or Valve, because I think Valve is so much more than their distribution store. We love their games on our console, we love their games on Windows and we think they do a lot to help Windows gaming in general.
Jez: In closing, I'd just like to say thanks once again, I think Xbox fans are pretty excited for the future. Also! What are your favourite Xbox games right now?
Mike: Internally, I would just say we really do think of this as, practically, a re-launch of Xbox One. When you take out all of the system software and put a new system on it, it's pretty exciting for us and for our fans. Ah, my fav games - right now Halo 5 and Tomb Raider!
Jez Corden is a Senior Editor for Windows Central, focusing primarily on all things Xbox and gaming. Jez is known for breaking exclusive news and analysis as relates to the Microsoft ecosystem while being powered by caffeine. Follow on Twitter @JezCorden and listen to his Xbox Two podcast, all about, you guessed it, Xbox!
They focus to much on backwards compatibility. It will be fun for a while but in the end people want new games.

Would you say they aren't delivering new games? lol

Not enough no.. Halo been there done that.. Time for some new exclusives

They showed exclusives at E3 and Gamescom i know those feel like they happened last year thanks to sony's paris games week. Might want to go back and watch those keynotes.

What are you talking about? They've brought or are bringing a ton of new exclusives: Ryse, Max: The Curse of Brotherhood, Titanfall, Dark Dreams Don't Die, Project Spark, Fantasia, Sunset Overdrive, Kalimba, Ori and the Blind Forest, ScreamRide, Quantum Break, Scalebound, Sea of Thieves, ReCore, etc.

Go back and look at E3 and Gamescom. Crackdown 3 and Quantum Break spring to mind immediately.

I seen a lot of games out this year

They ARE delivering new games... hopefully, you'll find some that you're interested in in the coming months. But I know a lot of people who didn't want to upgrade to the One because of the lack of backwards compatibility, so this change could lead to more hardware sales, which is of huge importance to MS.

From what I'm guessing, the Xbox app will be coming to iOS and Android...hmm!!

The focus of this interview was backwards compatibility. Not new games. They are still pushing out new titles and new content - that never changed. Stating that they are now not focusing on new games and only backwards compatibilty after reading an interview about backwards compatibility, is like saying that global warming isn't real because it is cold where you are right now... There's no denying that there are probably alot of Xbox 360 users out there who are waiting for more reason to upgrade and abandon their large collection of games. Providing backwards compatibilty starts to negate one of the biggest reasons that people aren't upgrading. Plus, there's the added benefit of having access to 2 more games a month via games with gold. Additionally, it's going to prop up the used game market. It's win-win-win all around.

Ok name a new exclusive ip from microsoft? Halo? Gow? Fable? Forza? New??

Um. There's ReCore which is brand new.

Also Quantum Break, Sea of Thieves, and Scalebound.

XBox One is announced: Whaaaaa! They don't support Xbox 360 games, this absolutely sucks! I am getting a PS4. Announcement that XBox One will support Xbox 360 games: Whaaaaaa! They are focusing too much on backward compatibility! I am getting a PS4. The amount of whining about everything around here is absolutely astounding. Anything and everything that can be whined about, is. Looking through this thread, we hear that there is too much focus on BC. Some random game is not supported. There are problems with the face of the Microsoft employee. The words that were chosen for voice commands are wrong. The games released through BC look bad, why isn't the XB1 making the graphics look better? Of course, the usual OneDrive whining. And many more. And looking through these posts, many of the comments are posted by one post wonders who recently signed up, people who on their profiles that they only use Android or iOS devices, people who post to AdroidCentral or iMore praising the products those sites promote, and so on.

So because someone doesn't post much they may not state there opinion. You are a retard if you cant handle other people opinions you need to get the fuck out of here.

Yes, the usual "opinion" argument - used quite frequently by Apple and Android fanboys. If you are saying something negative about Apple/Google then you are a hater who must be silenced because you are slandering the good name of those companies and we cannot have that. But say something negative about Microsoft ro their products, and you better not dare question that opinion, point out flaws in the opinion, provide counter points to that opinion, or provide evidence that the person with said opinion may not be entirely truthful, because people are entitled to their opinion and any disagreement to that opinion is trying to take away a person's fundamental human right to that opinion.

An opinion that is supported by some facts or at least some logic is fine. You, on the other hand, are whining. Backward compatability is an OS function. The people working on the OS have nothing to do with the microsoft's game development companies or publishing divisions. They are discussing new features here. BC means you can replay old games you purchased and still enjoy. Both Xbox and PS4 fans wanted this ability whrn the consoles launched. Only Microsoft delivered. As a matter of fact, Microsoft has been adding a lot of new funcionality to their console. I haven't heard much coming from the PS4 camp, except bragging about their sales lead. The reason I personally bought the xbox is because it offered more than gaming and I knew Microsoft would bring a lot more functionality over the years than Sony. So far, Microsoft has been delivering.

If you can't post without using profanity then you're the one who needs to get out of here. You're disgusting. Calling people retarts ...seriously.

I view and comment on this site from a android device because I prefer this version of the app to the windows one. Bear in mind I also have win 10 pc, win 10 laptop, win 10 tablet, win 10 phone as well as an x1 yet my personal choice for this app is my Android. Now cos I don't comment using a windows device (even though I own plenty and probably more than quite a lot of people) should I f**k off as u rudely put it. Posted via the Windows Central App for Android

I do seriously apologize if I have harmed your sensitive ego. I know having your opinions challenged by someone who is only here to spread hate and anger towards Apple and/or Google can be very bruising to your delicate feelings. Would you like me to recommend to you a counsellor so you can work out the anger and hatred that you have been exposed to by my outbursts of hatred? Would you like to go to some governmental agency to report my transgressions against you to have me stopped by government force? Or maybe you can report me directly to Apple/Google, so that they can bring a civil suit against me to have me silenced? Perhaps a better course would be some reprogramming classes, to make sure that I am integrated into the collective properly and a way that will permit you to express your opinions without people such as myself challenging you, which can be very emotionally stressful.

You have serious mental issues... You need help. Fast.

"With gestures, the reality was the usage was very, very low. So for now, we've cut that from the New Xbox One Experience. So when we launch on the 12th, they won't be in the product. We'll continue to monitor and listen to feedback to see if people want them in." Reading this makes me really upset. Whilst I appreciate the useage is low, they are removing a function of the console that some people loved to use. I didn't user gesures, but I am particularly upset that the voice navigation isn't as well thought out as it was once. I used to be able to get to all my media without the need of picking up a controller, now a few hiccups in the layout make it either impossible or a little more awkward to get to segments of the UI and I have to use a controller to get to them. Whilst they may have listened to criticisms, they have also created a whole load of new problems for many features some people took for granted. I've been using the new dashboard for a week now and I still haven't warmed up to it and feel it's mostly a step backwards than forwards.

Spot on. The original UI was fantastic: the entire thing could be navigated almost exclusively with voice and gesture commands, precluding the need for a controller. My controller batteries, on average, lasted 5 weeks at a time because most days I never turned it on. The new UI is a disaster--forcing you to use a controller, which is not what I bought an Xbox One for. Whoever designed the original UI deserved a medal. And whoever made the decision to completely tear it apart, deserved one month of compulsory training on design and consumer rights.

I haven't found any missing voice gestures so far? do you have examples?

Say "Xbox One Guide" on the live tv menu and the last TV Guide you were in opens up, it could be 'all channels', 'favourites' or 'trending' and you are unable to switch between them by voice like you used to. You also can't use "Xbox go to Pins" instead you have to scroll down manually and this is the same on all other tabs, which is frustrating as hell. They only need to add in a "Xbox page down" option on the UI to see more content.

Well, that's more due to the changing of the page, but I think they will continue to update regularly and add the necessary functions...just gotta keep sending them the feedback so we can benefit from the improvement. ;)

You should definitely post that in the appropriate UserVoice page if you haven't already. Any big change like this is always a work in progress even after it launches, so that feedback is important. As someone with a day one console, the amount of improvement we were getting on a monthly basis in the first year leaves me confident that the Xbox team work out any lingering issues fairly quickly as long as they're getting the feedback they need.

Done https://xbox.uservoice.com/forums/251617-kinect/suggestions/10617489-nxo...

Voted, also need to bring back infrared sensor into the controller ;-)

MS never gave a damn about UserVoice, and have said that they are discontinuing it very shortly. If they had actually listened to people's comments on it regarding the NXOE they'd never have screwed up the UI as much as they have just done; turning a simply and very usable UI into a difficult to use, navigate and control mess!

Yeah I think this is more to do with the OneGuide becoming an "app" rather than an OS level feature, I bet they'll re-introduce those features at some point.

Seems a bit odd that they changed them to begin with. Whilst I can see that showing a picture in picture of the live TV over the top of the guide is a small improvement and the listing itself is more well presented, the idea of putting the additional options of the guide in a snap feature to the left is a very bizarre choice.

Jezza, the latest update of NXOE does have Page Down for voice nav. I've just tried it. And because I had two Page Downs, I needed to select which one (Item 1 or Item 2). So your issue with getting to the Pins is gone :-) Enjoy gaming ...

Another one is when you're doing something and you get an Xbox message. The notification comes up and you say "Xbox, open that" (or whatever) and it opens up the message pane in the guide and displays the message. Previously, this was a snapped app, so you could just say "Xbox, unsnap" and it would go away. Now, though, this doesn't work, forcing you to manually unsnap it using a controller. All in all, the new UI has a lot of design issues, one of which makes it completely dependent on using a controller, which is counter to the original vision of the Xbox One. It just isn't very well thought out (buried visuals, like the buried pins, buried My Games & Apps, or the fact that only one recent game/app is visibile whereas previously four were, etc.). It's kind of mind-boggling that they made so many design errors, actually, particularly given how well designed the original dashboard is.

I've started up a UserVoice trying to rectify these problems, please do vote and put your comments in on what else can be improved. https://xbox.uservoice.com/forums/251617-kinect/suggestions/10617489-nxo...

Thank you! Good to have another Jez providing support :)

Xbox unsnap works when reading messages, checking friends or using any part of the new guide, which I actually prefer and find quicker than the old way. Posted via the Windows Central App for Android

If that's true then that's a recent development, as I tested it a few builds ago before I ditched the new UI and rolled back to the old one. That seems kind of odd, though, because the guide is different than the snapped section (different side of the screen and different apps involved). What would happen if you had the guide open and an app snapped and you said "Xbox, unsnap", then? Both unsnap? Only one? Either way, that's a design flaw.

Also u can easily get to your pins by voice by just saying "Xbox select page down" and voila your pins and my games and apps. Just add a small delay between select and page down. Saying Xbox select shows you what you can say and is extremely helpful I strongly suggest u try it. Posted via the Windows Central App for Android

I just tried it and "page down" does work on every tab with the exception of One Guide for some reason, which is the first place I tried it, so I was under the belief it didn't work anywhere else. Still, "Xbox Pins" was a much quicker way of getting to them than having to use two (and in some cases three, since one "page down" doesn't show all the pins) voice commands. Regardless, I still find this layout cumbersome for voice control. Most things used to be on one page and now it's scattered everywhere.

Exactly. Design Principles 101: there is a huge difference between being visually present and being visually buried. The former is a good design principle (e.g. the location of Pins on the current UI), and the latter is a bad one (e.g. the location of the Pins on the new UI). It's just odd that Microsoft made so many bad design choices in the new UI, considering how well designed the original UI is.


And recently they also disable IR sensor from old controllers that allow Kinect to work with for Seamless Connectivity and Low Power State. Without forgetting they already stop to produce controller with infrared window since june 2015 without explanation. So it's pretty clear now Microsoft just drop Kinect. When Mike Nicholas (chief marketing officer of Xbox) said that the majority of Kinect owners use Kinect features, he just trying to make a marketing announcement and be sure to sell the last batch. As owner of Kinect I feel cheated.

I use Kinect every day. Gestures no, voice control yes. Its brilliant. Particularly for voice based TV control. (Even quick access to apps, or using voice Bing search for games) If you are a kid in a small bedroom with no TV service, then Kinect is a minor sport. But for us grown ups, Kinect is excellent - love mine.

Classic Microsoft blame the user for not using a feature when they remove a feature i would rather hear them just say we didnt have the time or patience to build and test the feature as apposed to the usual bs of blame yourselves for this.

All projects require prioritization. If a feature isn't used by many users, they will rate it low on their priority list. That is exactly what the guy says in the interview. Usage was low, so they didn't want to invest time in that feature. They focused on features that many users were requesting. Like he also said in the interview, if they see more users requesting that feature back, they will work on it.

Then, like coip said, they shouldn't force the update on those who use the future almost exclusively and let them keep the old dashboard. I know I prefer it.

I bought 3 Xbox One consoles at launch on the promises they made at launch and in ads for the first year focusing on how you could control your entertainment with gesture control. This is the thanks I get, they start stripping features away from me. Gotta love the BS excuse of usage as they remove the Kinect requirement, make it almost impossible to find the device on shelves and market the console almost exclusively without Kinect, cut development of all first party games. After all they've done to keep people from buying Kinect they start removing features from Kinect owners claiming low usage??? This is not acceptable, I am not taking this update that does nothing to improve Xbox One. It should be illegal for a company to advertise functionality, sell you a $500 product and then just take that functionality away from you against your will.

Cortana hasn't been added yet. She'll add a whole lot more functionality than the old voice system with cloud procesing. Natural speech is one of goals. Instead of learning set commands, Cortana should be to naturally listen to what you are saying and do what you ask as if a person.

I'd like to know more about the mobile side of Xbox, for example, will they open up id@Xbox for everyone to intergrate in a similar way to Google's Play Games framework etc?

I believe that's coming soon!

Yes, they announced back in the spring that ID@Xbox is open to Windows 10 and Windows 10 Mobile development. Unfortunately, Windows 10 has been out for more than three months now and we have yet to really see any new ID@Xbox games in the Windows 10 Store, so I'm not sure what the deal is. Some previously announced Windows 10 ID@Xbox games have already been 'unnannounced' (Lovers in a Dangerous Spacetime, by Asteroid Base, for instance).