Expedia relaunches in the Windows Phone Store as a native app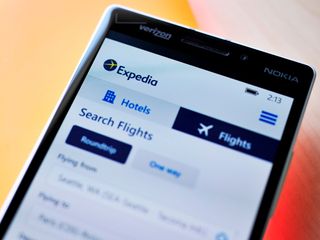 Expedia, one of the biggest online travel services, released a Windows Phone app in 2014. Unfortunately, it was just a wrapper that duplicated its mobile web site.
Today, Expedia launched an update that ditches the web wrapper for a full-featured native app experience.
The app, which is exclusively for Windows Phone 8.1, allows users to find and book the best prices on airline flights, hotels and rental cars. In fact, Expedia claims its app is the only one on the Windows Phone platform that combines the prices of rental cars in vacation packages. Here's what else they have to say about the app:
This is certainly a huge step up from the first version of the Expedia app and we hope to see more support and features in future updates.
Download Expedia from the Windows Phone Store (Fixed) (Free)
via: Blogging Windows
Since build there have been many high profile serious coming to platform

That's right bright future ahead for Windows

Hahaha actually .!! W10 had a gr8 impact on developers and I am pretty happy for it ;) good days just round the corner

Yep, always happens during, and after build.

Hell yeah! Doesn't matter if you're late to the party, you made it! :D
---
Note: Store link is for the previous version, the web wrapper, which is now unavailable.

http://www.windowsphone.com/s?appid=de4bf68e-f892-4f53-8036-7de3de0d276f

Thanks! I think they fixed it too.

Lots of good news of apps coming back to bury the combined groan and sigh of frustration over the lack of a phone build that's almost a week late. :P

Did BUILD have this effect?? or just timing coincidence, I mean it doens't seem likely all these companies put all these apps together in a week.. but it all looks good either way.

Expedia is owned by ms after all

Ya, but run pretty much independently from MS I think ( correct me if I am wrong ) but even has it's own CEO and stock


It was owned by Microsoft: now it's a separated corporation

But why they didn't take the step to make it a universal app?

Probably waiting for Windows 10.

Still looks like web wrapper shit

Wow, a lot of big name apps are coming to Windows Phone! Is it cause of Windows 10? I hope so!

Which other apps are talking about? Posted via the Windows Phone Central App for Android

Still no bank of America app smh

A rumor suggested that b of a may return along with Chase for Windows 10

Bank of America will be back. Banks are forced to keeps apps maintained on supported platforms in order to stay in business due to compliance. Because Windows 10 will change the platform drastically, they rather use their resources on Windows 10 which they know will be supported for a long time.

They will never get my business!

It might be wise to show them support if they return, because they'll see that people care about their Windows Phone services, and keep providing updates. Just my two cents.

lol no app in the world would cause me to do business with BoA. They screwed me over to the max and I almost lost out on buying my hosue because of them. I'd be happier to see them go out of business than see them make an app for WP. Chase, I'd be happy with seeing them make an app, but I do business with enough banks as it is.

BoA definitely sucks. I closed my account out over a decade ago. 2-3 years ago, I get a letter from a collections agency trying to collect on a ghost debt I never owed BoA. I sent challenge letters, file with AG in FL against them and they could never produce papers from BoA saying I had this so called debt. But they sent my info to them. BoA is the worse snake. Posted via the Windows Phone Central App for Android

Just closed out my account because they screwed me over.

Lately a lot of official full featured apps have come up...great to see...would be great if all of them gets on the Windows 10 bandwagon soon...for that MS has to push out the updates asap after the OS is launched...do something...take out your magic wand Satya...give the carriers some stick and make them push the updates super fast...and I hope everyone converts their Win 8 apps to 10 in the same manner...it wont be much of a fuss I guess !!!

What apps are you talking about? Posted via the Windows Phone Central App for Android

Can you believe there was actually a small crowd of people who thought Windows 10 was going to have no effect??

It's still way too soon to celebrate anything, I think

It's not windows 10, it's the push by MS to get the IOS and Android apps re-compiled as xaps.

When is Sonos finally going to pull theirs out of beta?

I still see a wrapper of the website?! I just download it. Is it available to everyone?

The link is for previous app.

But even the screen shots in the article are showing the mobile website. Nothing is native about that. There no settings menus or anything other than a wrapper of the mobile website!

It's actually native. There is a settings menu.

You are absolutely right. After the first page (which MIGHT be native) everything is a web wrapper. It has shown me ads to download the IOS and Android apps, even. It even remembered my login from the app in IE when I went to expedia.com in the browser!

It's been fixed now, you can check again.

Lets hope vevo returns as well as a universal app.

Heck, I didn't know Expedia was available in Windows Phone before.

This is great news. Keep them coming. Hopefully, we start seeing Universal functionality.

I believe this is only the beginning. Our patience and dedication to this platform will be rewarded.

Now it's time to say we are finally getting "our cookies" :)

Lol I just tweeted them a few days ago about it.

Does anyone have the updated link it doesn't seem to be available

Go to the external windows blog link. The correct app link is there. Just downloaded.

The link in the article has been updated.

I'm excited as I will be going on vacation next week to the Philippines and I used Expedia to purchase my ticket and hotel!

Guys..link is to the web wrapper and a search in the store for Expedia doesn't even bring up anything?? What gives?

The app was just published as a new app. It'll take a little while for it to be global.

Awesome, this is one that I've actually wanted! Great news! Now if TSN would release an app I wouldn't have much to complain about for the "app gap".

Finally! :) very useful. Until this update was a really poor experience...

I think for companies that have at least partially invested in the platform already, build gave them confidence to keep going. If there already paying a dev they won't drop them just to port Android but the fact that they have a fallback outside of just dropping support altogether I think makes them more willing to give it a chance.

Anyone know if this supports Expedia.ca?

Just tried it, and only United States and United Kingdom are options in the Country menu under Settings. Seems like Canada (expedia.ca) is not supported yet :(

does work for flights and hotels within canada, but must just be in US currency. So something to keep in mind, could be a signficant cost from expected if you didn't notice the currency!

This app looks like an Android converted app to wp.. Looks like Microsoft is giving the tool to some developers ..

I think that's going to be the future... not that I'm complaining too much. A native app that works good but looks like Android is preferable to no app at all. I would've prefered the Metro look and functionality, but that ship seems to have sailed. :/

Okay but it still takes you to the website for cars and vacations...anyone else familiar with the IOS and android counterparts to know if that is the same on those platforms?

It's the same as Android's app. I'm guessing they used the compiler tools to bring over the Android app. :)

If they were able to do that easily, that's incredibly promising for WP.

I discovered that when using this new app, it's obvious that pretty much only the front page is "native", everything else is a web wrapper pretty much. Not that it matters to me, but clearly this doesn't say anything about how easy it is to convert an Android app to WP, since it's just another web wrapper for the most part. Oh well.

Very nice. Now if only Booking.com took the hint, I would be very happy.

Sorry but this app is crap..put it next to the IOS app....night and day in terms of content and fluidity...and would bet its still a web app from its functionality and look...this is sad. Serious question for any developers out there..is there something inherent about WP that makes it impossible to have the same level of smoothness and graphic UI as say an IOS app...because that is all I seem to see there lately when comparing platforms...or is it purely laziness on the developers part? Anyone who can take a look at the Expedia app on IOS and compare please do and tell me you don't see the same thing? I would much rather take a direct port of the IOS app than the crap one they just landed in the windows store.

If it allows them to make a universal app that supports all Widnows 10 devices, which the iOS ports will not, I would rather they do that.

The app is not crap. It includes things that make it very useful including Live Tiles and Cortansa integration. I've playing around with it and it seems to function for everything I require. Sure, feature parity is an issue but have a little respect for the developers and anyone wihtin the Expedia organsation who was able to pull it off with likely a non-existent budget. Feature parity is not always because the Windows operating system lacks when it comes to specific API's but instead because of a lacking budget to support a minority userbase. It's something we'll always struggle with until Windows 10 reaches a much higher marketshare.

With all due respect it is crap when functionally and aesthetically it is about 1/4 of competing platforms and the argument that a company the size of Expedia doesn't have the resources is starting to get old. My point is I am all for direct ports of IOS and android apps if it avoids apps like this. This app would do absolutely nothing to help increase market share as its sadly inferior and feels like a web wrap even if it is not. It may be harsh but its the truth. Lets see what Marriott comes up with in a week to compare.

I would gladly..and I mean glady pay $1.99 for an official app to compensate the company if it meant we could get a quality app

Is the app not allowing you to perform an action it should? What exactly is missing when you're booking a vacation? Why would they spend their budget on a Windows Phone 8.1 app when they could wait and make a Windows 10 universal app? I'm still not really sure what's missing but I guess it's been a few years since I used Expedia on iOS or Android.

Thanks Cormango - see that's the thing. If we want to look at these apps in a vacuum without knowing what the other platforms look like or behave like then anything they throw at us will be great...its just frustrating if that is what we are forced to use. I personally don't use Expedia right now as I don't have a use for it, but when I download the equivalent on my work iphone and play with them side by side it is obvious functionality is missing very quickly (see my comment above) and also obvious it feels like a web page loading when.comparing to the IOS app. That was why I legitimately was asking if there is something on this platform that prevents that kind of fluid responsiveness in an app because that seems to be a recurring theme at least for alot of apps?

Marc - You have to remember, this is their first NATIVE app for Windows. You should be glad they even attempted it. They tested the waters with a web wrapper app, it must have done well for them to actually make a native app. You can't just expect everyone to bring full-featured apps upfront. That's not how they brought their apps on iOS or Android - it took time. The beauty with Windows 10 is that it'll allow them to recompile their existing (better) iOS/Android apps while converting them to properly designed Windows Universal apps. If the app doesn't do you justice for the time being, just use the website until it does or switch to an iPhone if it bugs you that much.

And let's not let it go unnoticed that they give coupons for bookings made on their Android and iOS apps, but explicitly say no such coupons for WP.

I've been waiting for this app! Finally!

They are coming ppl the apps are coming, we could be close to a million by the end of the year

Will WP8.1 apps work on W10M without any adjustments from developer?

Yes. All 8.1 apps work fine in 10.

This app is still largely a web wrapper for their site. It's pretty obvious when you get an advertisement to go download their app...

Haha I was just about to say that: http://s3.amazonaws.com/awesome_screenshot/8210235?AWSAccessKeyId=0R7FMW... It has an ad to download the iOS App... LOL Yes, this is basically just a web wrapper... sigh. (and yes, this is the NEW app)

The app uses Google maps to show hotel locations. Not sure what that says about whether this is a native app or a web wrapper.

Some parts of the app are still web wrapper, but the majority of the app, particularly with flights and settings is all native. I'm glad they're giving Windows a try and I'm sure when Windows 10 comes, it'll be a full functioning app.

Yo, American Airlines! Yeah you... were waiting.

At least at one point, this app has a features that other platform doesnt have (yet).

Nice! I have no idea why ANYONE woud install this app on any smartphone! But people do (I guess?) so, yay, nice! If other OSs have it, good that WP does too. Seriously, don't people just go to expedia.com and buy their trips and then never look at it again? That's what I do.

It's really nice to see all of these apps making an appearance on the platform. But just as out of curiosity Will all the current apps automatically port onto the W10 platform when the time comes or do the developers have to go back and to something? Sorry if this sounds silly but I'm a clinical research scientist not a developer/coder.

This is Great. I primarily used booking.com on my PC, But they have no Windows phone app. Only agoda.com had a good app, but they do not offer as much as Expedia does in Europe. They have found a new customer in me and probably all my colleagues who use WP as their business phone.

You can just as well use the expedia.com website. This app is just another web wrapper.

Can only book in pounds and USD, what the hell, fail.

Does this replace the Travel app?

I love the fact the we are seeing a lot of native apps. This app is great. I use Expedia a lot and the previous app needed an update. Everyone know #windows10 is the way forward!!

App looks OK, but only integrates with Expedia in US or UK. Despite Expedia having a presence in many countries, the app doesn't support it. So its useless to me in Australia.
PS. Their iPhone app supports all of the countries in which they have a presence.