Extras + Info gets updated with compatibility for Windows 10 Mobile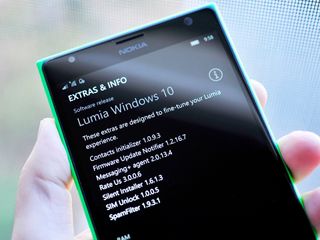 Extras + Info is a system app exclusively available for Lumia Windows Phones, and Microsoft has rolled out an update for the suite to add support for Windows 10 Mobile.
Interestingly, there are some notable differences between the extras listed on the latest version of Extras + Info when compared against an older release. Meet the more streamlined look:
Additionally, for those on Windows 10 Mobile the lead in for the app now refers to the release as 'Lumia Windows 10' instead of 'Lumia Denim'.
You can grab the update for your Lumia Windows Phone by hitting the link below.
Download Extras + Info for Windows Phone (Lumia only)
A big thanks to everyone who tipped us!
Rich Edmonds is Senior Editor of PC hardware at Windows Central, covering everything related to PC components and NAS. He's been involved in technology for more than a decade and knows a thing or two about the magic inside a PC chassis. You can follow him over on Twitter at @RichEdmonds.
When will Microsoft release Windows 10 mobile?

Probably, new phones in October then release for both the phone and OS in November.

Will the windows 10 mobile update be available worldwide or, US first then Europe and Asia?

The USA will get the update last, damn carriers

after u get windows 10 mobile... it doesnt matter is it carriers phone or not koz microsoft is going to deliver the update to u as they do update normally with other countries

US carriers will find a way to prevent this. They will probably not stock any devices unless they get final say over when an update gets pushed. Microsoft can design this any way they like, but the US carriers will demand their stanglehold is maintained.

It's now 'Extras & info' instead of 'Extras+Info'.

Yeah the metro design language further fades away.

Any news on whether windows 10 and the new flagships will support glance or not? The reason I bought an 830 instead of a 930 was because the additional hardware in the 930 wasn't enough to make me give up glance. The first thing i do after a hard reset in windows 10 mobile is enable glance before it is removed from settings after the store updates it.

Download Sysapp pusher and look for glance.

In my opinion, new flagships are using (am)oled and not LCD, so glance won't be supported :/

It's still working, all they have to do is to restyle it for W10 like they did with this one. I'd say it was not a priority, but the time has come for the settings in Extras section to get a facelift one by one.

It's not the requirement to have Glance ¬¬

??? Most LCD can't support Glance, but it's OK with AMOLED. Glance screen is even better on AMOLED, as for LCD, the whole panel is lit so it's not as energy efficient than AMOLED. My 640 (LCD) has "Glance lite" (no date, no weather indication,etc., only simplified notifications), because MS have to "hack" the lcd screen for Glance. So if new flagships are AMOLED, they will support Glance (like the 1020).

Umm most phones that support glance in the WP ecosystem have LCD panels (720, 830, 920, 1520, 640, 640 XL) and except the 920, all other phones have great battery life with glance always ON.

Sorry but I'm looking at my 1020 AMOLED and it definitely has glance. Display technology has nothing to do with having or not having glance. On the other hand I find AMOLED glance much better due to it's deep blackness. Only downside is in very poor light conditions when manufacturing darkish spots are visible but it's not a big deal.

Disadvantage with amoled glance? There is always a possibility of screen burn in if your glance screen gets stuck (software bug) but it never did for me on my 925

Display technology does have something to do with glance. Glance requires the display to something called as a display memory for it to work under low power requirements. Implementing glance without it will make glance a huge power drain.

Why do you say that the new phones will be amoled? I have gone through three 1020 screens because of burn in. Ugh. No flagship for me if that's the case.

Glance is primarily useful on oled devices, such as my 820. Not so much point in having it on a back lit LCD display (except preference). The move to oled should make glance more of a priority to include in phones. Nokia really made a mistake by not including glance capability in the 930.

Whether or not your device has/supports Glance has nothing to do with the screen technology. It depends on whether or not the screen has intelligence of it's own and can display content without the need to have the CPU/SoC active.

My Lumia 532 still has glance on setting in win 10tp.

Ask Gabe He will then tell you, we haven't announced it yet, or later this year.

Mine says Lumia Windows 10 instead of denim. Is that normal?

Yep that's what shows on my 1520

Same here on my 1520 with insider build

Probably it means, that your device doesn't have the firmware for windows 10, though it should anyway state the current firmware. Just my guess, i am not using w10m

I wonder if they will stop using code names for firmware. Just having it say what OS you're on is probably better for the average person.

Dint you know this is the latest update called Lumia Emerald which follows the namind convention after Denim ;)

Mine does the same. Not sure if it's 'normal' or not tho.

That's how it is on my 1320 too.. I think our phones are missing the firmware.. It used to say Cyan before, not denim.. Posted via the Windows Central App for Android

If you click on the "i" it takes you to a Microsoft page talking about denim, or cyan if that's what your phone's on I'm assuming

I am in Canada and have been trying to update but none available. By the way, I have a Lumia 930 (International Version) running W10M Build 10536.1004

I also have 930 in Canada. I set my region to USA, then the install works for me..

Do you use your L930 (W10M) as a daily driver. Is it working fine with the latest build? What are the problems do you face?

It works fine. Actually the preview OS is performing best on 930/1520. But it is still slow when compared to 8.1. Usual bugs that I noticed are: 1. little lag on the lock screen notifications. 2. randomly something or the other doesnt work properly. 3. you got to reset the device once for it to perform well Its my daily driver btw

i have rolled back to 8.1 several times but theres something about 10 that makes me come back to the TP.

Can't even download. Error.

Same here
Getting error : 0x803F8001
Lumia730

Coudn't update in my Lumia 640 xl it showing "Error, See details"...

me too.. not downloading showing error..

There is also one more change, the name is now 'Extras & Info', while earlier it was 'extras+info' And I also have a Messaging+ agent in my extras & info..

Mine just says Lumia windows 10, nothing about denim

just updated... mine doesnt say denim. just lumia windows 10 on my icon. 929

They will have to rewrite everything that lands in settings/ extras after the migration. BTW they really need to add QR code reader to the store app...

Let me update my brain first

Hope they update all the system apps to support Windows 10...

Looks great with the printed"Lumia Windows 10" on it. Well its grey out so I guess when the final release comes out it will change

But it's not greyed out. It's just grey (and tappable).

There's an update for OneDrive too

Not for me (Germany, L1320, WP8.1)

I like the newer versions font size. it is just right. the older one looks too big and occupies most of the space.

I was hoping this would have brought back Double Tap To Wake on my HTC One M8.

This is for Lumia phones. Why would it do anything to your M8?

Well sir, I do have Extras and installed the update after receiving it.

Odd that it let you do that. You may want to uninstall it as it will likely cause issues on incompatible phones. The best it will do is just take up space.

Did any one elses L930 show Lumia Cyan before the update on WM10?

Yes, even if the phone was running Denim

Running the 1320 on WM10 and mine still says Cyan.

Lumia windows 10 all I got instead denim...

The app doesn't update automatically by searching for updates in the Windows 10 Store, only by opening the app listing in the Store. Is that normal?

I just checked for updates and it showed me that there was an update for extras+info along with onedrive. Something must have gone wrong when you checked.

Yes, I got it via updates, too.

Me too, but as the same as lumiastoryteller, touch and display, it cant be downloaded, error 0x80073cf9.

Wish they would put the advance settings back in keyboard settings for WP10 so I can reset my suggestions.

I think you can do that through Settings>Privacy>Speech, inking & typing>Stop getting to know me. Maybe toggle it off/on. I haven't tried this myself but I did see this option yesterday when setting up my phone.

Unable to instal. Error..

There a change in the photo now it shows Lumia windows10

Not change, if you're running windows 10 it'll show Lumia windows 10. If you're running 8.1 it'll show Lumia denim.

Time for me to buy a new phone. My Lumia 720 is three years old and now I face issues like volume button not working although I can use the on screen buttons. I'm waiting for a good midrange Lumia smartphone which should have 830 like design and specs with win10 mobile packed features and even with the windows hello integration.

Windows Hello will probably be only in high-end (high priced) phones, the camera component to support that feature itself is pretty expensive.

But the 550 is expected to,get iris scanner. I guess iris scanner means windows hello in terms of Microsoft.

Dude, I dont think 550 is gonna support that. No way...

Just different with the font size. Not interesting. Lol.

Mine says Lumia Windows 10.

I keep getting error :/ 1520 AT&T

Same here
Getting error : 0x803F8001
Lumia 730

Not showing Lumia denim. It shows Lumia windows 10

I aslo don't see Denim - I see Lumia Windows 10. I wonder why there is variation. On a side note I wish I could get rid of the repeated "Photos Add-ins" installation when I check for updates. Anyone else have this issue?

I also see Lumia windows 10.

Yea same. Photo addins doesn't work anymore and it keeps downloading. Also same for Lumia windows 10

Getting error : 0x803F8001

I got an error that said I had to change the default install location to be the phone instead of the SD card. Same error repeated after I made this change. The fix was to go into the settings:system:storage:SDcard and move the existing extras & info app to the phone (from the SD card), then the new version istalled on the phone and I could change my default install location back to the SD card.

Thanks for your kind reply..
But it's Not working for me..
May be bcoz " extras & info " had previously installed in phone memory itself...
Tried moving that App for Sd card..
& once again moved back to phone memory as you said..
But not working..

When are they going to update the settings found in extras menu?

They've been updated in WP 8.1 Update 2 (limited availability) and Windows 10.

He's talking about extras menu(touch, display, extras + info etc) under settings not about UI of settings.

Now please update "transfer my data" for Windows 10, it fails update for ages now...

Didnt get this update on my L640 :/

Thanks. Wonder why the update wasn't automatic?

There is an option for it, if you want your apps to get updated automatically.. Store - - menu--settings... Posted via the Windows Central App for Android

Hoping to see Emarald after Denim as the firmware for Windows 10 Moblie.

I'm on 8.1, and the app won't open after updating :(

Link to extras + info in microsoft store is useless to me. I had to use Sys app pusher to get the update

I came across this Sys app pusher twice today. What is it?

Why does my Lumia 635 state in Extras and Info that I'm stillnrunning Cyan when windows 10 is installed on the phone?

Just in time for Christmas

Can't download on preview right now

Mine says Cyan now when I open it instead of denim which it said before It's denim tho

Does anyone know when 'Hey Cortana' will come back?

Getting tired of the latest build on my Icon. It burns out the battery so fast my Nokia Qi pad can barely charge it faster than it depletes, and that is with no apps running and the screen off.

Wtf..!! This update kinda got stuck at installation.... Can't even cancel the update

How is this update gonna help the end user?

This is (in my opinion) a sign of Windows 10 Mobile's release. I hope it will come out by the end of October or start of November.