Extras + Info update increments version number of Firmware Update Notifier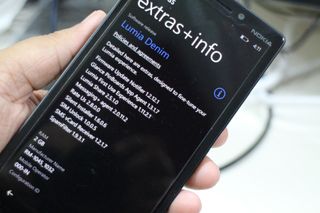 Extras + Info picked up an update to version 3.14.7.4, although the changelog does not make note of what's new other than "general fixes and improvements." Thus far, the only change we've noticed is that the Firmware Update Notifier version number has bumped from 1.2.11.1 to 1.2.12.1.
Let us know if you're seeing anything else.
Download Extras + Info for Windows Phone (Lumia-only)
Thanks to everyone for the tips!
Windows Central Newsletter
Get the best of Windows Central in your inbox, every day!
Harish Jonnalagadda is a Senior Editor overseeing Asia for Android Central, Windows Central's sister site. When not reviewing phones, he's testing PC hardware, including video cards, motherboards, gaming accessories, and keyboards.
The Application Version has changed for me Harish.

Yes it has. For a start this new version is compatible with Lumia phones. You may think that a given, but the previous version was not compatible with any Lumias, which is odd because it is supposed to be ONLY for Lumias. This version fixes a major bug.

???
Been using MyTube since 1.0 on Lumia 925. Not a single update has broken compatibility

What's this got to do with myTube? This is about the Extras + Information settings app. Are you sure you read the article properly?

What is firmware update notifier?

Expect GDR2 soon...... :) or maybe not...... ;)

Not a chance. We'll get all the GDR2 features in Windows 10.

If by faster you the the literal inability to open the extras + info section.. Then yes, you are correct.
Or is it too fast for the naked eye to see yet again.. o.o"

Waiting for Update 2 with new Lumia firmware. Maybe soon :P

Pretty sure they said its not going to happened for existing phones

Doesn't make any sense, the new keyboard can't be used unless we have this update

Or your know, Windows 10.

They said that all WP8 phones will get the Windows 10 update, so I don't see why they couldn't get Update 2 in the meantime.

Windows 10 will get all the GDR2 features anyway.

You do know windows 10 is months, MONTHS!! away.

Microsoft has not officially stated anything about Update 2 for existing devices yet. We'll just have to wait and see.

Probably not. 640 and 640XL has Denim with GDR2.

Does it fix the denim/cyan showing bug?

That'd be Hory Sheeblamaniumantus

Mars probably. But seriously, there's a bug with it..

Now my 1320 dispaly correct DENIM. Before this upgrade, showed CYAN

Updated. After the installation completes a notification banner shows up and says "welcome to lumia denim". So ya i got denim now...

Still showing Cyan on my 1020 with Denim (preview for developers on)

PFD uninstalled, Denim is still shown on my 1520. I haven't received the firmware yet. PH

Yes. I received Denim officially, I reset the phone and then Extras+Info showed Cyan. With this update it shows Denim again.

GDR2 is an educated guess for me at least.Hey Mac ,see!!we have gdr2 for our costumer:MS

Lumia 1320 in India needs Denim badly

The update was on 3/2 before 8 days , but the app was unpublished from the store
I know alooooot of people who said its not available ;)

Before extras + info had a bug with preview for developers app. I have a Lumia 925 and I'm also a registered preview for developers user. The bug was that when I enable preview for developers, extras + info showed that it was in denim but It never received the denim update. When I disabled the preview for developers app it switched back to cyan. But now its fixed. Weather I enable or not it shows cyan. So that's fixed. That's the fix.

That's a very very old thing.

It shows I am on denim even tho I never got the update. PFD is turned off as of now.

I have Denim on my 925, but with Preview for Developers active Extras & Info shows Cyan still. Does anyone know what gives? Has PfD gone extinct since the advent of Windows Insider Program?

This is a known little bug. You probably have the OS version 14219 (settings > about), which is Denim without the last Denim update. Check Microsoft's software update official website to see when it will be available in your region of the globe. There, your phone will probably have the release status of "cyan" still. We just have to wait a bit more. Cheers!

Build 14226 on the 930 does show as Denim. I wish MS would just release one build of Denim rather than a whole variety so we don't have this situation where some are on 'Denim' but not on the 'latest' Denim. Very confusing.

Now there is an option to set a time for updates downloads and installations

It came earlier with an OS Update.

Pocket tanks was updated too!

Getting close to an update :)

There's new update avaiable for Lumia 820, after installing extras+info update.

New Lumia update brings firmware 3051.50009.1451.1005 (old one was 3051.50009.1424.0004)

it's showing cyan for me, earlier it was correct

I think it is a sign of the Windows 10 Tech Preview for phones expanding to more Lumias. Perhaps this upcoming Thursday evening or next Thursday? One can only speculate at this point.

On 1020 I had updated to denim but now shows cyan..

Hey when I am on preview for developers it shows cyan and when I am checking out it shows denim .why is happening can anyone tell me

This is a known little bug. You probably have the OS version 14219 (settings > about), which is Denim without the last Denim update. Check Microsoft's software update official website to see when it will be available in your region of the globe. There, your phone will probably have the release status of "cyan" still. We just have to wait a bit more. Cheers!

My 10 PFD settings, about name, shows nothing. No Cyan, no denim, name is blank... I hit info, it says I'm on Denim.

I have updated to denim on my 1020 but the glance screen dosn't work, will the update fix that?

You probably need to reset your phone.

Update to the one app I never use...or have a use for. I like pie.

New screenshots of WP 10 build in winbeta,neowin

Denim/Cyan bug not fixed!

Glance Pinboard app agent is missing altogether. Will this be added later?

It's there on my 930, which considering it doesn't have glance is a bit rum.

Plz release Lumia denim for Lumia 520,625,820,925,1020,1320 in Bangladesh
Plz Microsoft plz plz plz plz plz plz plz plz plz :( don't forget us :(

Lol, I wish MSFT wud read this.

When will Lumia denim for" LUMIA 730"

Holy Hell. Your 730 comes with Lumia Denim out of the box..

Its just a lighter version of denim,, no mobile data toggle in notification centre

Still error 80004004. Time to reset this thing.

Seems to have fixed the Cyan/Denim bug for me ! L820

I'm on Denim, and it still shows Lumia Cyan to me after the update.

Can anyone tell me what is 'Glance PinBoard App Agent' and why is it not available in a GB CV Lumia 925?? Thank you

And yet it is available on the CV GB 930, which doesn't even have glance? I wish I understood. All I can think is that it's misnamed and isn't related to the glance screen feature at all.

Denim for 1520.3 RM-937 plsssss...ive been waiting for so looooong...haha

I am pretty sure its available for that phone and model already.

Why is this extras+info even needed? I don't understand what's the use of releasing an update to it, while no one knows for what the app is meant for..

My understanding is its for diagnostics and to manage custom settings like display motion data for nokia wp devices

This update now shows Denim on my US ATT 920, running PFD.

Somewhat off topic, but Motion Data was updated.

Think that was reported yesterday

Off topic indeed, but scroll down, there's an article about the update.

I found the article. I missed it.

ये माइक्रोसोफ्ट वाले फिरकी ले रहे हैं

Anybody tell me what is a use of firmware, is anything change

Apps corner does not work on Lumia 1520, Lumia Denim in india

http://windowscentral.com/commenting-guidelines

I received an update for motion data on windows 10 insider, anything to do with that because motion data is under extras on Windows 10.

830 and all other phones got their OS version jumping... But not Lumia 730 and 735 ??

This isn't an OS update...

It says it should go from 1.2.11.1 to 1.2.12.1. Mine is still on 1.2.10.4 (L830 Brazil). Does it have to do with it not being on full denim? Still can't use Lumia Camera 5 :(

Mas você já fez a atualização do "extras + informações"? O update notifier 1.2.10.4 foi atualizado na versão anterior a esta do extras + info.


Denim got converted into Cyan again (Lumia 520)

Now showing Lumia Emerald....

I was expecting this update to be a signal that denim update was coming to my lumia 1520. I was wrong (sadface).

Why I can see lumia cyan not denim O.O even I updated my 520 ... Any help please.

It's a known bug if you're on PD.

You mean preview for developers well I installed it now but before that It was same !

Don't know how I did it or if it is a standard feature, and I can't do it again, but during using internet explorer 'tabs' suddenly appeared like in a desk top version! If this is standard can anyone tell how to do this again.

Updated.. It says welcome to Lumia denim

Nice to see it back on mp

Wen will Lumia 1320 get update of denim??

Updated, and my Lumia 925 (Argentina Coutry variant) now says it has "denim" jajaja This update seems to have a bug and will need another update!!!!!!

My 10 PFD shows nothing. Firmware name is blank... I hit info, it says I'm on Denim.

Noticed in the change log it says "Update your phone BEFORE installing extras+info". Hmm interesting, as many have Denim already, does that mean everyone is getting an O/S bump? Edit: Checked for updates = Zero Updates. The extras+info update = visible change is the same as the article.

My AT&T 1520 shows there is no update for this when I go to the store and manually check for updates. I have Demin installed. Same for my Lumia Icon on Verizon that also has Demin, no update available.

IS THAT a LUMIA 930 ? and one more thing, after the series ending numbers... 20,30,40,50,60,70,80,90.... what MS gonna do? (like lumia 620,630,640) I think we can know the generation easily now. Would they continue like 100,110, 120.... is this too much ?


I am really disappointed by this mess. Thinking about leaving windows for good and I was using it from Lumia 800 till now...

The lock screen shows resuming when unlocked from standby after this update on Microsoft Lumia 535 and it takes around 2-3 secs for home screen to appear!

Me too. When I unlock my 1320 it says resuming and it takes few seconds for home screen to appear. Quite annoying. What mess MS is creating

I get an error... Can't install it. Error 80004004